10 Free Agency, Draft Targets Pittsburgh Steelers Must Chase for 2013
Chris Trotman/Getty Images
The Steelers will head into the offseason needing significant upgrades at several key positions. The 2012 season has exposed multiple weak spots on the personnel front resulting from injuries or substandard play by the incumbents. Those must be addressed if Pittsburgh hopes to reach the Super Bowl next year.
A successful 2013 season requires shoring up the middle of the offensive line, securing a competent backup quarterback, finding a defensive tackle who can plug up the middle, picking up a run-stuffing linebacker and selecting an every-down running back who can ease the pressure on quarterback Ben Roethlisberger.
The question for Pittsburgh's front office is whether to address these needs via free agency or through the 2013 draft. The relative merits and drawbacks of each option are obvious.
The former is financially riskier but can have a higher upside in the short run. High-profile free agents can step in and contribute from day one. However, they cost more and will not be around forever.
The latter is safer in the long term but may not address the team's immediate needs. Draft picks are bound by the rookie wage scale and have more years of service ahead of them than most free agents. But they may not be ready to step in for several years.
As a result, the direction the Steelers go for each position depends on how urgent that need is and which free agents and potential draft picks are available.
The following is a list of one free agent and one NFL-bound college player the Steelers should consider to fill each of the holes that have emerged during the 2012 season. The list runs from greatest to least need and also includes judgments on which way Pittsburgh should go in each case.
OG Free Agent Target: Andy Levitre, Buffalo Bills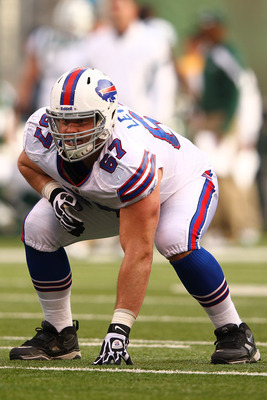 Al Bello/Getty Images
The offensive line has been dreadful this year and is largely to blame for the Steelers' underwhelming rushing attack. According to Football Outsiders, the Steelers' front ranked 27th in the league in adjusted line yards, an advanced metric that measures an offensive line's contributions to the running game.
The problem starts in the middle of the line, thanks in part to a knee injury that has kept promising rookie guard David DeCastro on the sidelines for most of the season.
Without him, the Steelers are 28th in the NFL in adjusted line yards on runs up the middle. With 74 percent of the team's runs going up the gut, it is not surprising that Pittsburgh's rushing attack has been so anemic.
Andy Levitre, the ninth-best guard in the league according to ProFootballFocus.com, would immediately improve the quality and health of the core of the Steelers' line.
The 26-year-old Bills guard has helped Buffalo's running backs average 5.1 yards per attempt this year, fourth-best in the league. Thanks to Levitre's outstanding play, the Bills' rushing attack is especially good up the middle, ranking fifth in the NFL.
The veteran guard has also enjoyed exceptional health. He has yet to miss a game in his four-year career. That kind of durability would be welcome on a Steelers offensive line that has been decimated by injuries for two straight years.
The downside to bringing in Levitre would be the cost. As the highest-rated 2013 free agent guard, he is likely to have plenty of other suitors bidding up the price of his services.
OG Draft Target: Larry Warford, Kentucky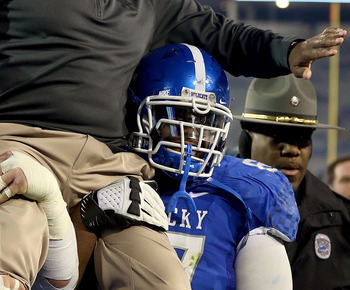 Andy Lyons/Getty Images
The 2013 draft class is remarkably deep at guard, with several prospects projected to go early. Two from Alabama alone might be off the board by the end of the first round.
None of the top three are likely to be available when the Steelers pick, but there will be quality guards available later in the draft as well. Larry Warford of Kentucky is projected to go in the second or third round and has the potential to become a solid contributor for the Steelers.
Deceptively quick and mobile for a 340-pounder, Warford did not allow a single sack in 2012. He shut down likely first-round draft picks Sharrif Floyd and Sheldon Richardson in Kentucky's games against Florida and Missouri, respectively. His explosiveness off the ball allows him to be a crushing run blocker.
As a lower-round pick, Warford would be considerably cheaper than Levitre.
Verdict: Free agent.
Given the quality of both options, Pittsburgh really can't go wrong pursuing either one. However, the team's needs in the middle of its offensive line are urgent enough that it's worth paying more for a free agent with a proven track record who can contribute immediately. Especially when one as highly rated and consistently healthy as Levitre is available.
In addition, the Steelers may prefer a veteran guard to provide added stability and mentoring for DeCastro, who will be in his first full season as a starter next year.
QB Free Agent Target: Matt Moore, Miami Dolphins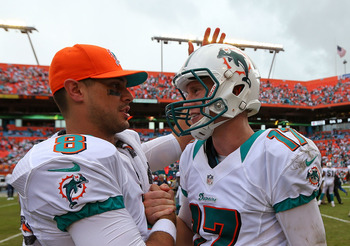 Mike Ehrmann/Getty Images
The Steelers offense went in the tank when starter Ben Roethlisberger went down against the Chiefs in Week 10.
With backups Byron Leftwich and Charlie Batch unable to move the ball down the field, Pittsburgh relied on its sputtering ground game and predictable short passes that failed to stretch opposing defenses.
Both quarterbacks are free agents at the end of this season, and neither has made a convincing case that he should be brought back.
With Big Ben now on the wrong side of 30, the star quarterback's sandlot style of play is likely to put him on the sidelines with increasing regularity. To keep the offense running, Pittsburgh's front office needs to bring in a quality backup who can pick up the reins when Roethlisberger gets hurt.
Matt Moore comes into the offseason as a relative bargain. A starter for the Dolphins in 2011, Moore was relegated to the second string when Miami drafted Ryan Tannehill in the first round of the 2012 draft.
Interestingly, what lost Moore the job was not poor play as much as average play. Proving that it's better to be an inconsistent NFL quarterback with potential than a steady one with a limited upside, Moore was benched after a solid if unspectacular year running Miami's offense. According to Pro-Football-Reference.com, the Dolphins quarterback was at or just above the league average in nearly all statistical categories for passing in 2011.
Though perhaps an uninspiring choice as a starter, Moore would make an ideal backup for the Steelers.
Having completed 60 percent of his passes while throwing only nine interceptions in 2011, the 28-year-old can be counted on to step in and take care of the ball. He may not win the Steelers many games, but he won't lose many either. And isn't that what a team wants from its backup?
The downside to Moore is that teams in need of a starter may be eyeing him for that role and bidding up his price.
QB Draft Target: E.J. Manuel, Florida State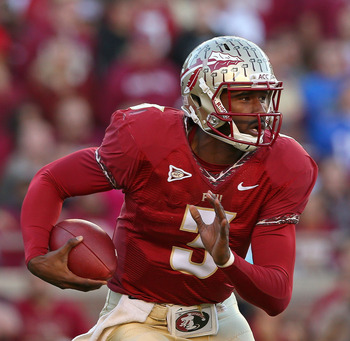 Mike Ehrmann/Getty Images
Big Ben's age and propensity to get banged up also raise questions about how much longer the giant quarterback will be able to play at an elite level. 2013 may not be too early for the Steelers to start looking for a long-term replacement.
There are no Robert Griffin IIIs or Andrew Lucks in this year's relatively weak quarterback crop, and it's unlikely that Pittsburgh would have a crack at them even if there were. If the Steelers choose to look for a franchise quarterback of the future, they probably would be better off gambling on a potential sleeper in the later rounds.
A huge quarterback with 4.61 speed in the 40 and the ability to make big plays, Florida State's E.J. Manuel has the potential to become a game-changer in the NFL.
Though less accurate than Big Ben, Manuel has the size and mobility to extend plays like Roethlisberger, meaning minimal adjustments for the Steelers offense with him at the helm.
Yes, he's a project. His performances at the college level have been inconsistent to say the least. But if he falls to the third or fourth round of the draft, it's probably worth it for the Steelers to take a chance on him.
If he realizes his potential and becomes the Steelers' post-Roethlisberger quarterback, then Pittsburgh will have gotten him on the cheap.
Verdict: Free agent. A solid backup quarterback is something else the Steelers need urgently. The team is built to contend now, and it can't wait out a rookie's growing pains if Roethlisberger misses multiple games next season. With no sure things available to the Steelers in the draft, a proven veteran is a better option.
If Moore proves too expensive, Pittsburgh could also look at Jason Campbell of the Chicago Bears. Though not stellar filling in for Jay Cutler this year, Campbell is another capable quarterback who completes 60 percent of his passes and takes care of the ball.
DT Free Agent Target: Henry Melton, Chicago Bears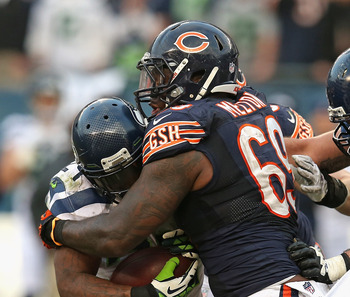 Jonathan Daniel/Getty Images
As good as the Steelers defense has been against the pass this year, it has been fairly pedestrian in stopping the run. According to Football Outsiders, Pittsburgh's defensive line is 15th in the NFL in adjusted line yards conceded. What's worse, the line is 21st in the league in stopping opponents on 3rd or 4th-and-short.
If not for Pittsburgh's tough-tackling linebackers and secondary, who rank fifth in stopping runs between five and 10 yards and third in runs longer than ten yards, the Steelers run defense would be downright terrible.
Aging defensive tackle Casey Hampton bears much of the responsibility for the team's poor work against the run. According to ProFootballFocus.com, the big man ranks 66th among defensive linemen at stopping the run. He no longer appears able to clog the middle and force opposing offenses to double team him, making life much more difficult for Pittsburgh's linebackers.
By contrast, free-agent-to-be Henry Melton of the Chicago Bears ranks second in the league in run stop percentage, which measures how many stops a defender has on running plays. Melton also has six sacks this year after notching seven in 2011.
His ability to get up the field sometimes puts him out of position and opens running lanes, but he would still represent a significant upgrade over Hampton.
DT Draft Target: Jesse Williams, Alabama
Greg McWilliams/Getty Images
Though he only started playing football at age 15, Jesse Williams's size and strength make him a probable first-round draft choice in 2013. Though not a great pass rusher, this native of Brisbane, Australia is fearsome against the run.
Williams excels at occupying blockers in the middle of the line, a critical skill for a tackle in the 3-4 defense the Steelers use. If the tackle demands a double-team, it frees up the linebackers to fill gaps and tackle ball carriers.
With Pittsburgh's talent at linebacker, Williams would step into an ideal situation for a player still learning the game. He would only be asked to plug the middle and let the team's experienced linebackers do what they do best.
Verdict: Draft. Though Melton's ability to stop the run would certainly help the Steelers in the short run, they would probably be better off going with Williams.
Melton's tendency to leave open running lanes behind him in his rush to get into the backfield makes him something of a bad fit with a 3-4 defense that really just needs him to occupy blockers. The Steelers prefer to bring pressure from the edges, sending James Harrison, LaMarr Woodley and Troy Polamalu after quarterbacks. So a stay-at-home tackle like Williams makes much more sense for the team.
Throw in the fact that Williams is projected to go about where the Steelers are drafting in the first round, and this becomes a pretty easy choice.
ILB Free Agent Target: Erin Henderson, Minnesota Vikings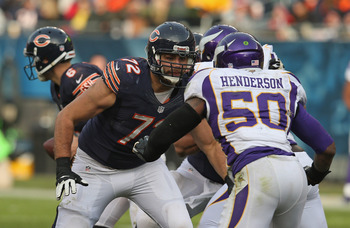 Jonathan Daniel/Getty Images
As evidenced by Football Outsiders' advanced metrics, Pittsburgh's inside linebackers are very effective at stopping opposing running backs when they get through the line. Though the Steelers run defense is mediocre, it would be a lot worse if Larry Foote and Lawrence Timmons were not such sure tacklers.
However, the veteran Foote isn't getting any younger. At 32, he is on the back side of his career, and the Steelers need to start planning for life after he moves on.
Though none of the available free-agent inside linebackers suit the Steelers' needs, the team could fill this hole with some creative thinking.
Marquee free agent Erin Henderson of the Minnesota Vikings could be an excellent replacement for Foote even though he plays outside linebacker in the Vikings' 4-3 defense. Henderson has a flexible enough skill set to shift to the inside linebacker position in the Steelers' 3-4 alignment.
Henderson is not unfamiliar with life in the middle of the defense, having played middle linebacker in college. There was some speculation when he came out of Maryland in 2008 that he might play inside in a 3-4 defense in the pros.
In the NFL, he has become one of the most effective run-stoppers in the league, ranking fourth in run stop percentage among linebackers. If Pittsburgh addresses its needs at defensive tackle, Henderson should have no problem filling the gaps and tackling opposing ball carriers from the inside linebacker position.
ILB Draft Target: Kevin Minter, LSU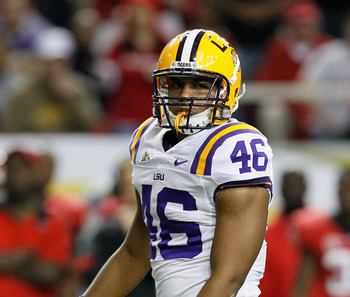 Kevin C. Cox/Getty Images
A tackling machine at LSU, Kevin Minter excels at stopping the run and should make a very good inside linebacker in the pros. He could be a very effective replacement for Foote if he's given time to learn at the feet of the Steelers' veteran linebackers.
On a team full of future pros, Minter has managed to outshine some of his bigger-name teammates during the 2012 season. He led a stacked Tigers defense with 101 tackles, 13.5 of which were for loss. He saved his best games for the biggest stage, notching seven tackles against Alabama, 10 against Texas A&M and an astounding 20 in a loss to Florida.
Despite those eye-popping numbers and a Butkus Award nomination, Minter is not projected to go in the first round of the 2013 draft.
That opens the door for the Steelers to pick up a tough run-stopping inside linebacker at a discount.
Verdict: Free Agent. Though he will cost a bit to acquire, Henderson is too versatile to pass up. Injuries have sidelined outside linebackers James Harrison and LaMarr Woodley for multiple games this season.
And at 34, Harrison can reasonably be expected to spend more time on the sidelines in the future.
So having a skilled run-stopper who can play both the inside and outside linebacker positions would be a huge asset. Minter would be a good pickup, but his skill set just isn't as broad as Henderson's.
RB Free Agent Target: Chris Ivory, New Orleans Saints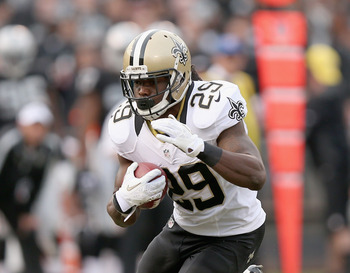 Ezra Shaw/Getty Images
From the fumbles to the inability to pick up key first downs in short-yardage situations, the Steelers' rotating cast of running backs has been a major disappointment this year.
Though the offensive line has failed to open holes for Pittsburgh's running game, the backs have done little when given the opportunity. The Steelers rank 24th in second-level yards gained and 31st in open-field yards gained. Both of these statistics measure how effective backs are when they get good blocking.
The Steelers need to improve their ground game to relieve pressure on Roethlisberger and the passing attack. With Pittsburgh's top three running backs entering free agency, the time is right look for better options.
Rashard Mendenhall, the erstwhile feature back, seems to have worn out his welcome in Pittsburgh. There's a bad vibe surrounding him this year, and he seems to be in Mike Tomlin's doghouse constantly. It would be a surprise to see him back next year.
Neither Isaac Redman nor Jonathan Dwyer have stepped up and seized the starting running back spot. Redman rips off the occasional big run, but he is probably most effective as the change-of-pace option that he has been in previous seasons.
Dwyer has also had his moments but has failed to impress on a sustained basis. He just doesn't seem able to grind out three and four-yard gains consistently. His growing midriff is also a cause for concern in the longer term, as chunky backs tend to become tackling dummies if they lose even half a step.
With those two struggling, the right free agent or rookie running back could easily step in and win the 2013 starting job.
The most intriguing free agent option for the Steelers is Chris Ivory of the New Orleans Saints. A powerful runner with a good size and a burst, Ivory has averaged 5.1 yards per carry in limited action during his career. He might be the best player in a crowded Saints backfield, but he also might be the odd man out at the end of this year.
Veteran Pierre Thomas is as much a feature back as a team using four running backs can have. With a healthy 4.7 yards per carry this year, Thomas looks like the safe bet to keep getting the most carries going forward.
Though a less effective runner than Ivory, Mark Ingram is a recent first-round draft pick. Given how infrequently NFL front offices give up on their top draft picks, the Saints probably will continue to favor him over Ivory.
Darren Sproles is the change-of-pace back and receiving threat. He offers skills that Ivory doesn't possess.
This means that Ivory should be very available come the offseason. The Steelers will have an excellent opportunity to scoop up a young, powerful running back from a team that will probably not try to sign him to a new contract.
RB Draft Target: Mike Gillislee, Florida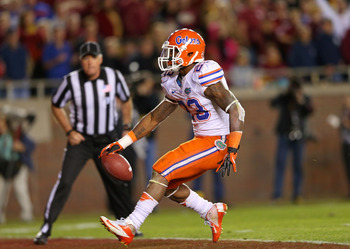 Mike Ehrmann/Getty Images
Having picked up one speedy Florida Gator running back in the 2012 draft, the Steelers may want to look at taking another next year. Chris Rainey's former teammate, Mike Gillislee, should be available in the later rounds of the draft and could have the speed and power to emerge as the answer to the Steelers' problems in the backfield.
The first Florida running back to top 1,000 yards in a season since 2004, Gillislee is, like Rainey, blazing fast. Not as fast as the Steelers rookie, but fast just the same.
At 5'10" and 210 pounds, however, Gillislee is bigger than his former teammate and built more like a prototypical NFL workhorse running back. With that combination of speed and size, he has much more potential to become a feature back in the pros. It is easy to envision him as a slightly smaller, faster version of New England's Stevan Ridley.
A projected third-round pick, Gillislee is far from a sure thing. But he might be worth a flier for a Steelers team in need of a fast, sturdy back who can keep defenses from backing too far off the line.
Verdict: Draft. Both Ivory and Gillislee are gambles. Though the former has more of an NFL track record, his 252 total career carries in three years as a pro are less than what many feature backs log in a single year. So if the Steelers opt for either back, it is with the hope, not the certainty, that their choice will realize his considerable potential. As a restricted free agent, Ivory would cost the Steelers a draft pick to sign.
Unless Pittsburgh's front office is sure that Ivory is going to be a productive starter, why not just hang onto the draft pick and take the back that is younger and less expensive?
Keep Reading

Pittsburgh Steelers: Like this team?