10 Free Agency, Draft Targets Miami Dolphins Must Chase in 2013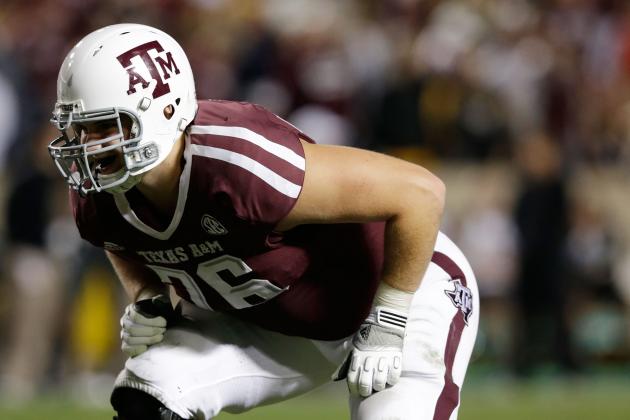 Scott Halleran/Getty Images
Luke Joeckel is the perfect replacement for Jake Long
Since the Miami Dolphins are now 5-8 and guaranteed a fourth consecutive season without a winning season, we can now look forward to next year.
Of course I've already been doing that the last two weeks by compiling a list of who Miami could take in round one of the draft, then by pointing out the Top 13 free agents Miami should look at.
Not to mention earlier this season when I broke down the cap scenario and then looked at a few players Miami should be looking at in the draft for all seven rounds.
Yes, even when we thought the Dolphins were playoff-bound (it feels so long ago that I could swear Jay Fiedler was the quarterback), I still had one eye on the future since I knew this offseason would be an important one.
It all culminates in this list of 10 players that the Dolphins should target over the course of the 2013 offseason. With an estimated $45 million in cap room and five draft picks in the first three rounds, Miami is in the position to make a lot of noise this offseason. Can they do it, and who should they go after in order to do it?
I don't know if they can (if Ireland is in charge I'm willing to say they can't), but I can tell you who they should go after on this list.
Begin Slideshow

»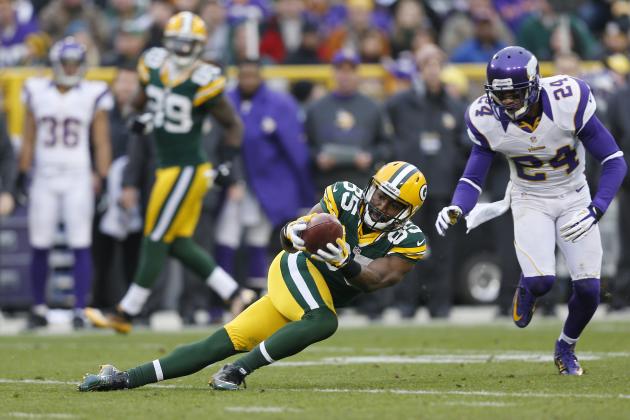 Joe Robbins/Getty Images

I probably erred in making Jennings the number one free agent target for Miami. In hindsight, I'd go with Jared Cook at that spot.
But Jennings should still be a target for the Dolphins assuming the price is right.
Jennings offers the complete package of what Miami needs. He's a receiver familiar with the playbook who still has at least two or three more years left as a No. 1 receiver.
His experience could help out whomever Miami drafts to be their No. 1 receiver of the future. He demands double teams, and he produces.
On top of that, he will also be the most affordable of the receiving prospects. But you know what you're going to get out of Jennings: A solid No. 1 that can help kick this offense into high gear.
Add him via free agency, then come draft time filling out the team's roster will be easier.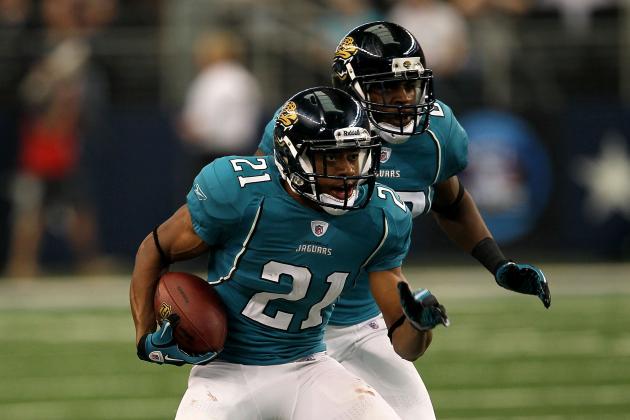 Stephen Dunn/Getty Images

The Dolphins need so much help in the secondary that they should sign a cornerback in free agency, then draft another cornerback.
Here's the cornerback that I recommend they sign: Derek Cox from the Jacksonville Jaguars.
Cox is a pretty good cover corner who has only allowed 6.4 yards per attempt against him, and quarterbacks complete less than 50 percent of passes thrown to a receiver he's covering.
This season, Cox has only played in nine games, but in those eight games, he's recorded 46 tackles, three interceptions, eight pass deflections and a forced fumble.
Signing him to play opposite Sean Smith would improve Miami's secondary. Signing him to replace Sean Smith and play alongside whichever player Miami chooses to draft also improves Miami's secondary.
I would prefer the latter obviously, since re-signing Smith would cost about the same amount that it would to sign Cox, and Cox, while he's had injury problems this season, has proven to be a more consistent and much better corner than Smith.
The reason you see so few interceptions is because teams avoid throwing it to his side of the field. You can't really say the same thing about Smith.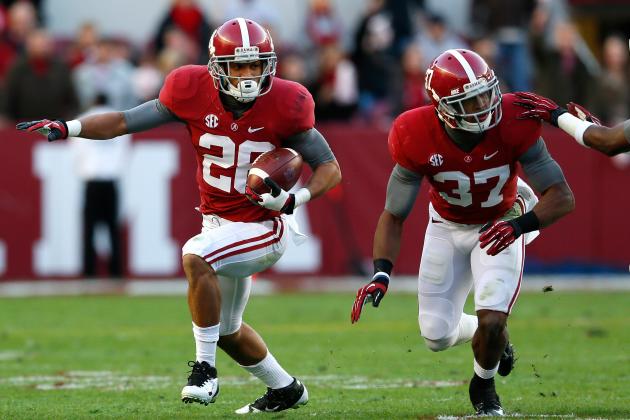 Kevin C. Cox/Getty Images

I keeping with the theme of the secondary, I bring you the best corner available in the draft, Alabama's Dee Milliner.
Alabama's secondary is the best in the country because of Milliner, who is a Bronko Nagurski Award finalist.
His size and speed allows him to match up with any wide receiver in the NFL, and his coverage is usually very tight and top-notch.
Much like many cornerbacks though, Milliner tends to have issues tackling, but it's not bad enough to warrant any red flags, since he's good enough to deter quarterbacks from throwing it his way.
He has also shown the ability to deflect or even straight-up catch any pass thrown his way (imagine the Dolphins with a cornerback that can catch the ball when thrown to him).
Originally I thought that Milliner would be long gone by the time the Dolphins came up on the clock. However with this recent losing skid, it's looking more and more like the Dolphins will be picking within the top-10. If Milliner is available up there, he should be on Miami's list at number one.
Why Milliner before a receiver?
Because there will be a good amount of potential number one receivers available in round two (where Miami has two picks) and also because of the fact that maybe the rest that Jake Long is getting by missing the final four games of the season might be what the doctor ordered for him to return to all-pro level next season (of course this is assuming the Dolphins feel the same way and re-sign him).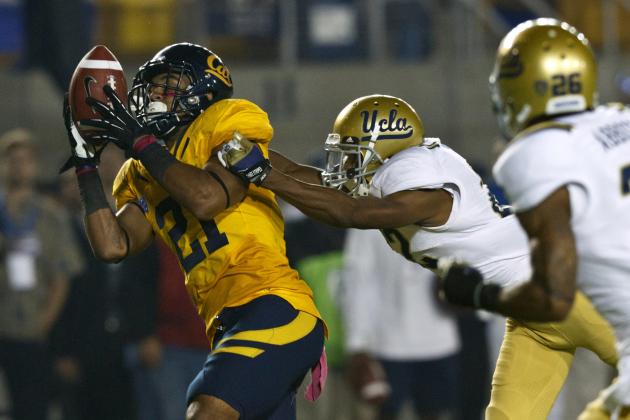 Jason O. Watson/Getty Images

We go from one position of need to another when jumping from cornerback to wide receiver. Here's Keenan Allen, regarded as the top receiver available in the draft, and almost a cinch to be available when Miami is on the clock.
Knowing the fanbase here in Miami and gauging their reactions in the past, if he's still available when the Dolphins are on the clock and they skip Allen (even for Luke Joeckel or Dee Milliner, who I personally think would be better picks), people will be upset. It's almost a foregone conclusion at this point that the Dolphins have to select him right now, right?
Well, no, I don't believe that to be the case. Now if the Dolphins re-sign Jake Long and use free agency to plug up holes in the secondary, then I could see the argument for taking Allen.
He is a number one receiver much in the mold of Percy Harvin (Bleacher Report's own Matt Miller made that comparison, but it makes perfect sense).
My only real issue with him is the fact that he is coming off of an injured knee, so I'd like to see how he does in the combine before jumping to a conclusion on him.
From the game film I've seen of Allen, he'd be a good fit in Miami's offense as a number one, and odds are a receiver of his caliber would be able to make most of the catches that Miami's receiving corps couldn't make at the end of the 49ers game.
But he most definitely should be on Miami's board. I wouldn't choose him if either Milliner or Joeckel are available, but if neither of them are, the pick should be Allen (at the very least it will throw the fanbase a bone, and he will succeed in the NFL).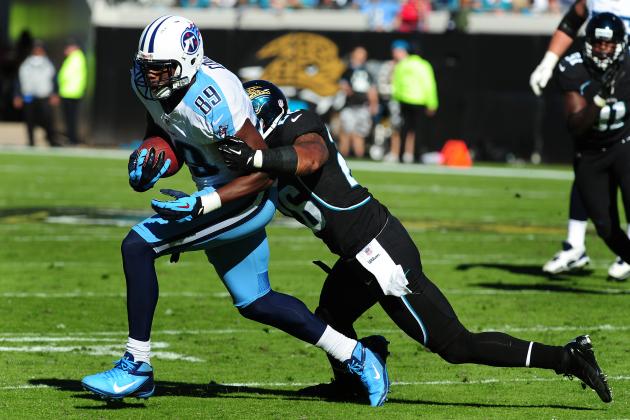 Scott Cunningham/Getty Images

When I placed Jared Cook on my list of free agents last week, the response I got was mostly positive pertaining to the young Titans' tight end.
The first thing I should mention is the fact that he will be 26 at the start of next season. The readers loved that aspect, and why not? Signing Cook to a long-term deal isn't too big of a gamble in the long run.
The second part is the fact that Miami desperately needs a tight end. Anthony Fasano, despite his fantastic catch against the 49ers, isn't built for the West Coast offense, while Charles Clay is inconsistent and Michael Egnew is on a milk carton.
Cook can solve the tight end problems and would work well paired up with Clay or even Fasano if Miami insists on bringing him back.
Then there's the fact that he's a Jermichael Finley type tight end who actually holds onto the balls thrown his way.
He's also gotten progressively better throughout his career, and right now is zeroing in on career highs in catches, first downs and yards while already setting a career high in touchdowns.
Miami needs consistent play from the tight end position in order to make this offense work. Cook can be just the man to provide that.
However if the price is too high (do you really think the Titans will let him go that easily), there is one potential round two option (assuming he lasts into round two or Miami trades back up into the first-round).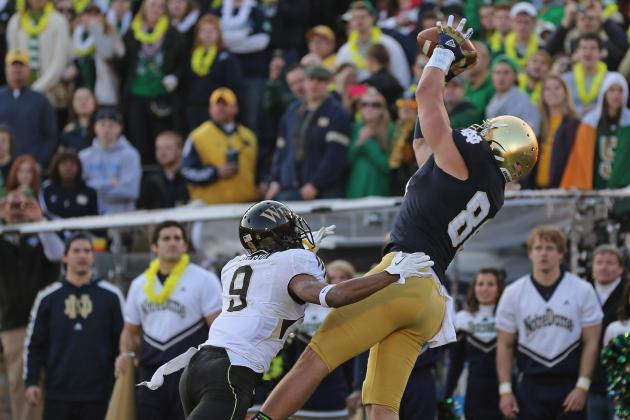 Jonathan Daniel/Getty Images

I can't really say I've watched every Notre Dame game this season. I can say I've seen two full games of theirs (against Miami and USC), and bits and pieces of the rest.
Tyler Eifert stands out the most on the offensive side of the ball, and from the first time I saw him, I thought he'd be great as a Miami Dolphin.
I didn't include him on the list of first-round players Miami should draft because he's projected to go in the late first round or early second round, and Miami has other pressing needs.
But in my first mock draft at the end of my first prospect round-up, I did suggest the Dolphins pick Eifert.
There's still the chance that they do. With two second-rounders and two third-rounders, Miami should consider packaging the early second rounder and late third-rounder to a team late in the first-round and using that pick to grab Eifert (assuming Tennessee outbids them to re-sign Jared Cook).
This would give the Dolphins the tight end that has the best hands in the draft (not just among tight ends, but wide receivers as well), and a tight end that does a great job blocking the run.
Eifert is the type of player that teams like the Packers, Giants and Patriots pick up and become superstars. He would do the same thing in Miami. This is a chance worth taking.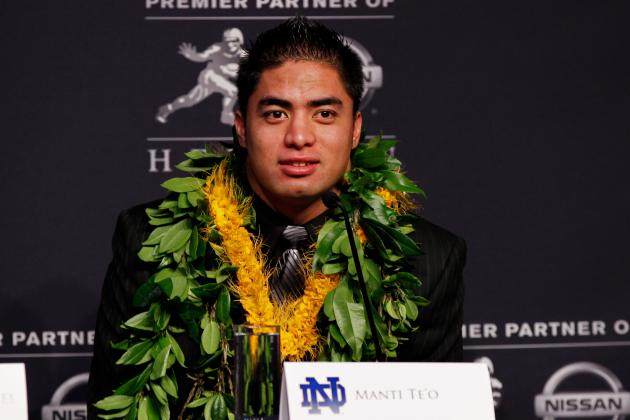 Mike Stobe/Getty Images

"We don't need a linebacker," says Dolphins fans everywhere. "Karlos Dansby has been great," they continue.
Well in 1983 we didn't need a quarterback, but the Dolphins had the chance to grab someone who was going to be special despite having other holes on the team, and went and chose one anyways.
How did that work out? Very well.
Same thing would happen with Manti Te'o. I would say he's a better pick value-wise in round one, and he will be a hot enough commodity that if the Dolphins are on the clock and he's on the board, sell the pick to the highest bidder.
But wouldn't you want someone this good for yourself?
There will be some good receivers and corners in rounds two and three that will fit in well in Miami, and if Long leaves the Dolphins could always keep Martin at left tackle while moving John Jerry to right tackle (it's just a hunch but I think it could work) while drafting a guard later in the draft.
Within two years, Te'o will be the best linebacker in the NFL. Wouldn't you want the Dolphins to have that?
No disrespect to Karlos Dansby, Kevin Burnett and Koa Misi, but when was the last time Miami had a linebacker with Te'o's football IQ? If you said Zach Thomas, you are absolutely correct.
But imagine if Zach Thomas was 6'2" 255 pounds and had Brian Urlacher's skill set (and Urlacher is not exactly a slouch in the football IQ department himself).
That package is a football player that not only is the best in his class, but has the potential to be mentioned with some pretty big names at his position (not mentioning the names but when you think linebacker, I know what names you will be going to).
Te'o racked up 101 tackles this season while also sacking the quarterback 1.5 times, and picking off seven passes. He also deflected four passes.
Miami does need someone that can successfully cover Rob Gronkowski (every team does), especially since just about any tight end has torched the Dolphins in the last few seasons.
Manti Te'o would be the answer to that, and the player that would be most likely to put fear into Tom Brady, as well as whoever is lining up under center for the Jets and Bills in 2013.
Scott Halleran/Getty Images

There are three players on the draft board this year that could replace Jake Long should Miami choose to part ways with him. For the purpose of brevity (and because I already wrote about this), I'm focusing on the absolute best option available to Miami.
Luke Joeckel is the absolute best option at left tackle for the Dolphins. At this point, I'd take him over Jake Long.
He's a better fit for the system in place for the Dolphins, which is the biggest key. We already know this due to the fact that he was recruited by Mike Sherman to play in this system, and already has experience protecting Ryan Tannehill.
Joeckel is a lot more athletic than Long, think Jonathan Martin but with a bit more bulk up top. He's the definition of an immovable object.
He should be Miami's first round pick if he's available when the Dolphins are on the clock. If I were to rank the three potential players, it would go Joeckel, Milliner, then Allen.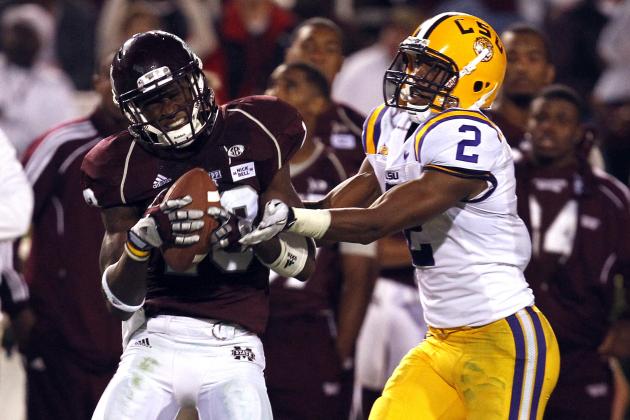 Butch Dill/Getty Images

Johnthan Banks is the second best corner available in the draft, however he doesn't blow me away at the position the same way that Dee Milliner does.
I'd draft him if available in round two, but most draftniks seem to project him as a late first rounder. While I advocated trading back into the first round for Eifert, I don't know if I'd do the same for Banks.
Banks is a good corner and looks like he'll be great in the NFL as well, but I don't see what puts him ahead of NC State's David Amerson, Oregon State's Jordan Poyer, or Florida State's Xavier Rhodes.
Banks is a big corner who could match up with any team's number one receiver in that category. But the speed isn't exactly ideal.
Notice how in this video he's lining up off of the receiver instead of at the line on his man, and when a receiver is able to fake him out on the route, he doesn't have the speed to recover well.
I'm not very sure those are the makings of a first-round pick, he just seems like another acorn to me.
While Banks has been excellent this season recording 59 tackles, four interceptions and seven pass deflections, I wouldn't be too crazy picking him in Round 1 of the NFL draft, and if anything, would feel more comfortable with Keenan Allen as the first pick than with Banks if the decision comes down to those two players.
But if it's round two, by all means Miami, pounce on him.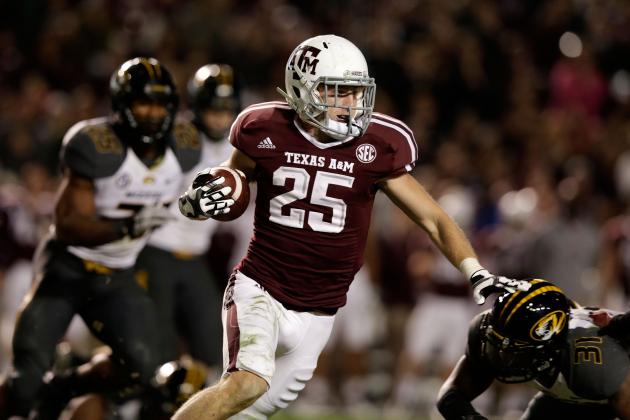 Scott Halleran/Getty Images

Great route runner that doesn't drop passes thrown his way, a favorite target of both Ryan Tannehill and Johnny Manziel, and a great NFL build for a slot receiver.
I know the Dolphins don't "need" a slot receiver with Davone Bess in the mix, but in round three Miami might want to consider looking at the Aggies wide receiver as a possibility. He brings in a built-in chemistry with Tannehill and Mike Sherman, and knowledge about the offense and how its run.
He's not the best athlete among the wide receivers, but in late-round two or in round three, he would be a solid option for the Dolphins, assuming they draft a big and speedy wide receiver like Keenan Allen or sign one in free agency.