San Francisco 49ers: Grading the Week 14 Win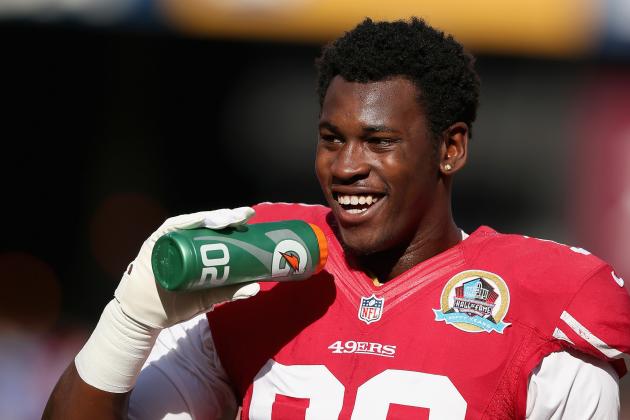 Ezra Shaw/Getty Images

I'm not all-in on the performance this past Sunday by our 49ers, but it's sure hard to complain about a two-touchdown victory margin in a home game that had to be won.
Colin Kaepernick bounced back in a major way from the loss the week before to the St. Louis Rams, sealing the game with a late 50-yard touchdown run. He minimized his mistakes on Sunday, and showed good composure in returning from the few errors he did commit.
The running game looked good, and the emergence of LaMichael James is something that should shock absolutely nobody. He looks like a younger (barely) version of Kendall Hunter, which is exactly the kind of tempo change the 49ers need with Hunter out for the season.
And, like usual, the defense was stout against Miami, though the game seemed a little too close for comfort at certain points. All said, Aldon Smith recorded two more sacks to bring him within three of tying Michael Strahan's single-season record, and Kaepernick kept a hold on the starting QB job for now.
Here is my Week 14 report card for the 49ers big 27-13 win against the Dolphins:
Begin Slideshow

»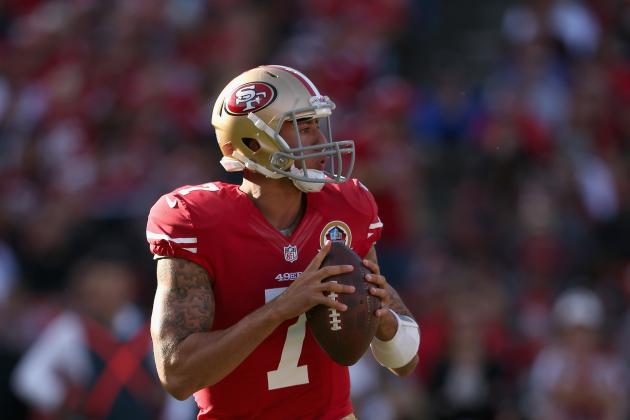 Ezra Shaw/Getty Images

Kaepernick had a good game, going 18-23 for 185 yards, no touchdowns and no interceptions. I've said it before and I've said it again: they are Alex Smith numbers, minus the touchdowns. As far as passing is concerned, I love Kap's downfield strength, but he has regressed in the passing game overall.
You have to give the guy props for hitting most of his targets, but a few things stood out to me. Most troubling was the wide open touchdown to Michael Crabtree that Kap badly missed, but he also struggled with accuracy on a couple of screen passes, forcing open receivers to make touch catches.
He took four sacks on the day, and two were with receivers wide open in the middle of the field. And clock management still leaves something to be desired. Most passes were five yards or less, and a big chunk of his passing yardage came from ridiculous yards-after-catch efforts by Crabtree and Randy Moss.
Now that we've successfully diagnosed every minor problem Kap had against Miami, let's remember that he put together a very successful game with his arm on Sunday and, most importantly, led us to a win.
But, this irony should rock you: Kaepernick was a fantastic game manager in Week 14.
Ezra Shaw/Getty Images

Frank Gore only carried the ball 12 times against Miami, much to the chagrin of fantasy owners but much to the liking of the hardcore fan.
Now normally you'd want your star running back toting the rock more than a dozen times a game, but Gore had been beaten up the week before and needed this kind of game.
He still picked up 63 yards and scored a touchdown, and was able to get a lot of rest in because of James' emergence as the new backup running back. In James' first career NFL game, he rushed for 30 yards on eight carries and had a couple runs that electrified the crowd.
Brandon Jacobs is effectively gone, and Anthony Dixon did a good job with a two-carry, one-touchdown effort in his place. Dixon will be and should be the number three, short-yardage back for this team. When given the opportunity, he's done nothing but impress.
Overall, the running game was strong again—you can add in 53 yards from Kaepernick in this game to give the 49ers and their offensive line (who played a heck of a game as a unit) credit for 155 yards on the ground.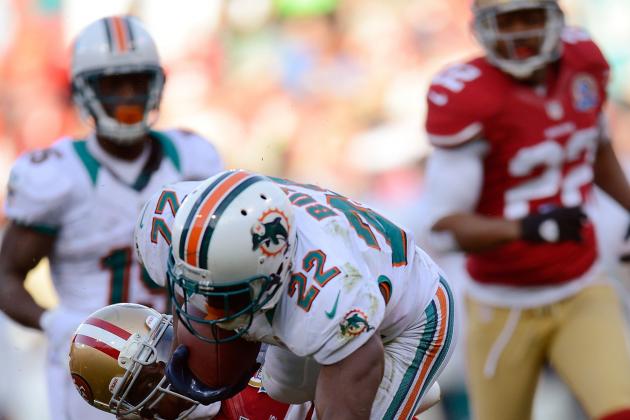 Thearon W. Henderson/Getty Images

The best student in the class came up big again—and it was the usual suspects doing the dirty work. Aldon Smith brought his season sack total to 19.5 with two more on Ryan Tannehill. Justin Smith had a nice game, batting down a pass and getting pressure in the backfield all game long.
Patrick Willis forced a fumble (that was recovered by the Dolphins) and made a team-high six tackles. Navorro Bowman tied Willis in the tackle category and assisted on two more.
A front seven that holds nearly every team under 100 yards rushing and has opposing quarterbacks whimpering for Mama on every play is worthy of an A most weeks. And Week 14 was no exception: Miami had 94 yards on the ground, but 20 came on a meaningless scramble by Tannehill.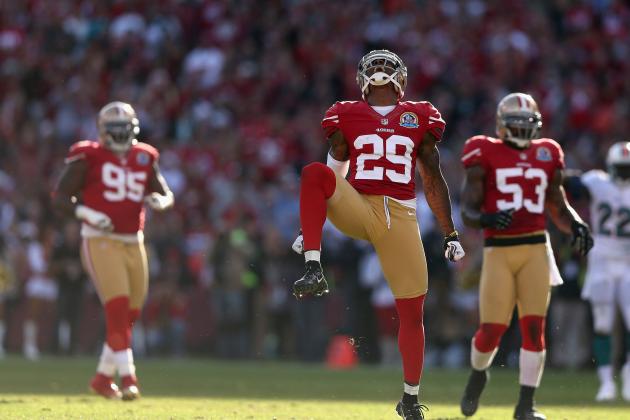 Ezra Shaw/Getty Images

For the most part, the 49ers secondary looked very good against the Dolphins.
Every week, I'm more and more impressed by Chris Culliver at cornerback. I think he's a future star. On the opposite side, however, Tarell Brown had a pretty rough game, getting called for two penalties on deep passes.
Culliver had a tackle, three passes defensed (including a sweet, leaping deflection in the corner of the end zone) and played perfect coverage for most of the afternoon. Dashon Goldson had five tackles, and Donte Whitner pounded Reggie Bush into the turf, sending a raucous crowd to its feet.
And even though Anthony Fasano caught a touchdown pass to make the game a little uncomfortable in the second half...did you see that catch? My goodness. Nobody's fault there. Davone Bess made some big plays for the 'Phins, racking up 50 yards on five catches and lowering the unit's grade a little bit.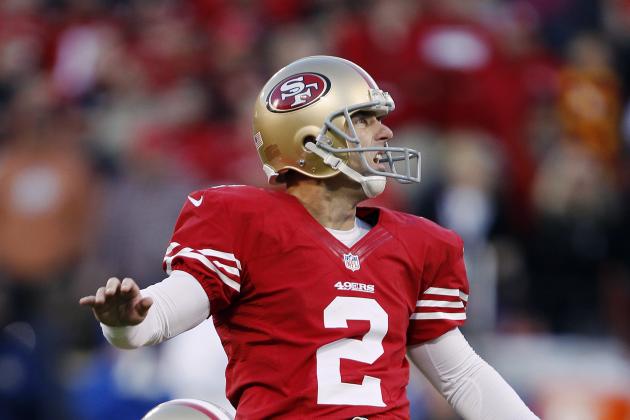 Brian Bahr/Getty Images

Sure, why not? It was a ho-hum game for the special teams. Nothing huge happened on either side of the ball. But one thing that should make Niner Nation take a big sigh of relief is that David Akers went 2-for-2 on field goals.
Hallelujah!
Andy Lee had a pretty good game—probably below average on his scale—and James returned three kickoffs for an average over 26 yards. With Ted Ginn, Jr. and James back there returning kicks, the 49ers' return team has never been more dangerous.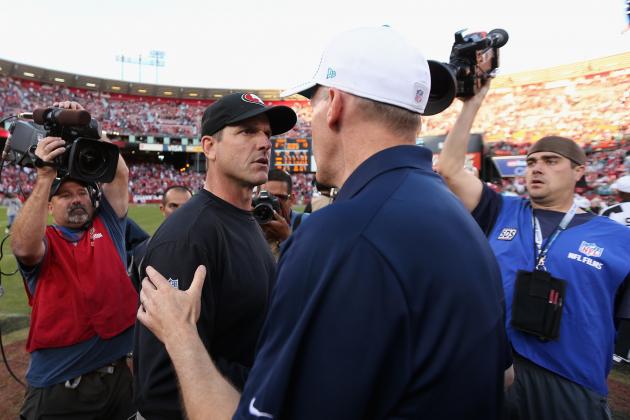 Ezra Shaw/Getty Images

I want to dock Jim Harbaugh and company points simply for waiting this long to activate James.
But I won't. I'm just a little bit excited about this kid, obviously.
Overall, it was a well-managed game. I was not impressed with the offense's movement of the football in the first half. Needless to say, nobody was feeling comfortable going into the locker room at halftime with a 6-3 lead on the hapless Dolphins.
The defensive scheme was on point as usual, but I actually would have liked to see them dial up a couple more blitzes against a young quarterback.
And the play-calling for the passing game was extremely vanilla. Those are plays reserved for Alex Smith, but this fanbase expects fireworks from Kaepernick. I'm sure those will come soon, but I'm impatient!
Overall, a win is a win. But the coaches need to be ten times as prepared for New England this week.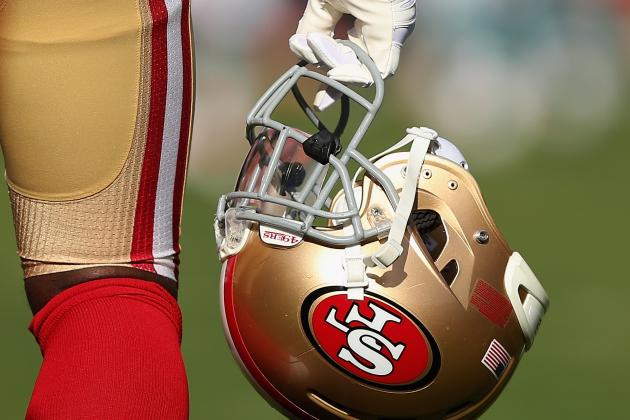 Ezra Shaw/Getty Images

I think this might be a generous grade—I was coming off such a low with the Rams game, that this could be a pick-me-up. But overall, the 49ers played a solid game. The first half was a bit questionable but they really picked it up.
Let's play Good, Bad and Ugly for this slide:
The Good
The running game, especially the emergence of LaMichael James. Anyone with half a brain can see that James is going to take off. He'll make his fair share of mistakes eventually, but he's ready to spell Gore for the remainder of this season.
The Bad
I liked Kap's performance in the pocket overall, but he's making some mistakes every single game that remind me of Alex Smith's early years. In a playoff game, taking bad sacks and having to burn timeouts is going to kill us if he doesn't figure it out.
The Ugly
The play-calling! Please, Harbaugh, please. We know he has a deeper play book than this, and he finally has his athletic, strong quarterback to utilize. It worked this week, but if the 49ers keep playing dink-and-dunk, somebody will figure us out.
For now, we'll take the win. A record of 9-3-1 is great at this point, but the Seattle Seahawks are breathing down our necks. If the 49ers pull off a big win in Foxborough this weekend, a second straight division title is all but guaranteed.
Here's to that exact result happening. Who's got it better than us?