Arsenal: 5 Players Who Should Go and Who Should Replace Them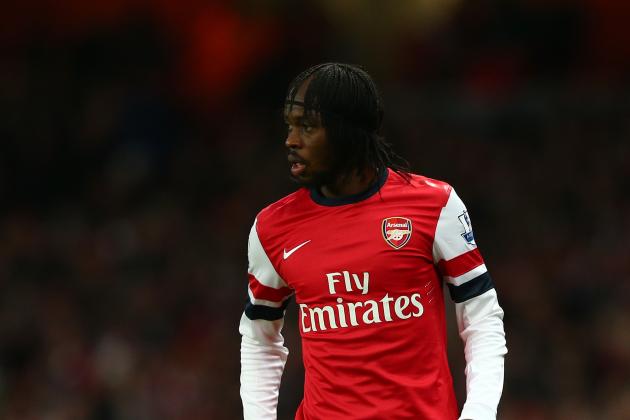 Clive Mason/Getty Images

Arsenal needs to get rid of their less useful players and find adequate replacements as soon as possible.
The January transfer window will provide Arsene Wenger with an opportunity to do just that.
The players on this list have done little in recent times to ensure their future at Arsenal.
Some were plainly not good enough to join Arsenal in the first place, while others have struggled to help the side on the pitch.
In some cases there are ready-made replacements already in the Arsenal ranks. For the most part though, Arsene Wenger will have to look elsewhere for cover.
Here are five players who should leave Arsenal and whom they should be replaced with.
Begin Slideshow

»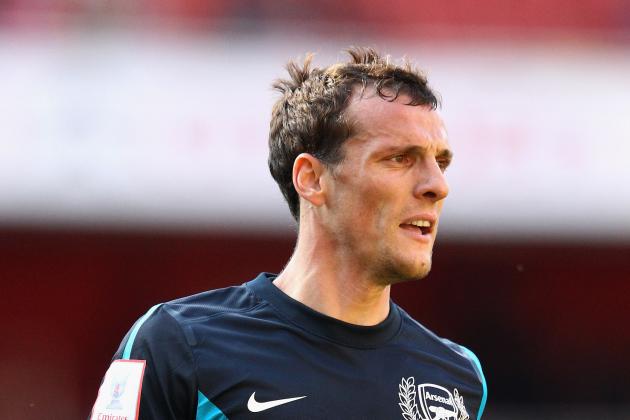 Richard Heathcote/Getty Images

Sebastian Squillaci's one appearance this season epitomizes his Arsenal career and why he should leave.
That was the team's final group game against Olympiakos in Greece which resulted in a 2-1 loss.
He was the team's worst defender in a group that included 20-year-old Jernade Meade. Thomas Vermaelen had his work cut out for him in the center bailing out his partner time and again.
While the other defender's may have had some missteps during the game, Squillaci stood out.
Squillaci has made just 39 appearances since joining the club in 2010. He stayed off the pitch for lengthy periods due to injuries or Arsene Wenger's lack of trust in him.
The French defender is taking up a decent amount on the wage bill and it would be good for Arsenal to let him go. His contract expires at the end of the season, and if Arsenal could recoup some money for his departure, that would be great.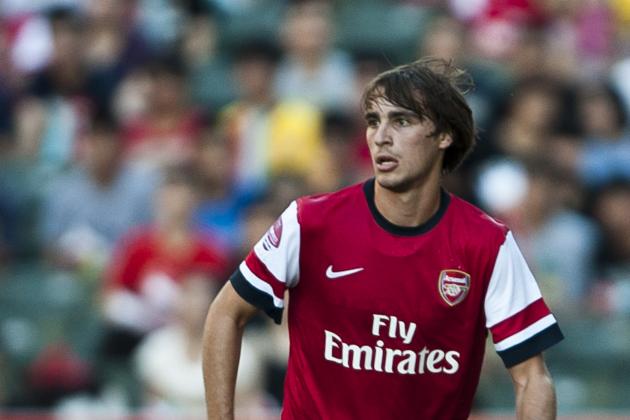 Victor Fraile/Getty Images

Ignasi Miquel should be given a chance to replace the departing Sebastian Squillaci.
For the sake of seeing Arsenal mould another defensive prospect into a solid defender, it would be good to see the young Spaniard on the pitch more often.
Arsenal produced a strong side for yesterday's Capital One Cup loss to Bradford City.
Yes, you read that right.
Ignasi Miquel should have at least been on the bench for that game. He had some decent outings last year when Arsenal suffered plenty of injuries at the back.
The only way young players can learn is through experience, and Miquel can only gain so much in the reserves.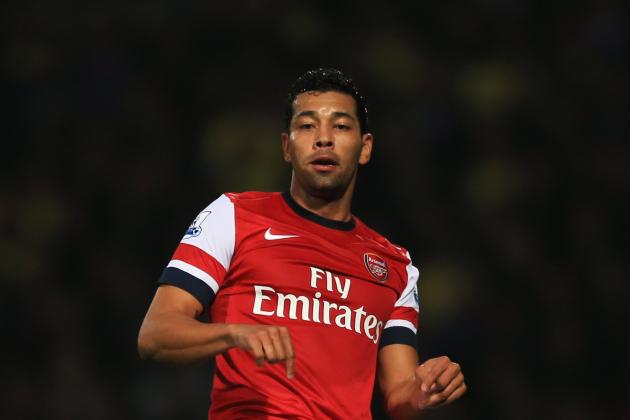 Richard Heathcote/Getty Images

Does anyone ever go on Arsenal.com to read the latest player tweets?
When Andre Santos' tweets pop up, don't you think he should spend less time on social media and more time honing what little skills he has defensively?
The very fact that he wasn't picked for a Capital One Cup game against a League Two side speaks volumes.
Santos was decent at best last year but has really been disastrous this year in each of his appearances.
He was one of Arsene Wenger's panic buys at the end of the 2011 summer window and, along with Park Ju-Young, he was the worst of the lot.
Wenger should cash in on the Brazilian as soon as possible, as he is not an adequate enough replacement for Kieran Gibbs.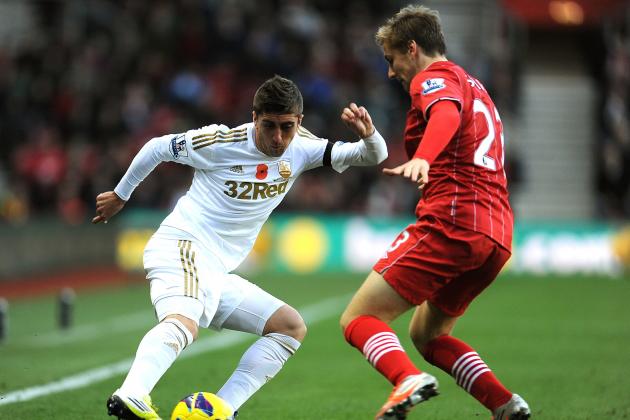 Tom Dulat/Getty Images

If we are talking about the long-term future of Arsenal, Luke Shaw would be a great buy.
Despite his youth he would still represent a decent addition for the club presently.
Shaw has begun to feature regularly for Southampton in the Premier League and has helped stabilize the team's defense somewhat.
He may face a baptism of fire should he have to participate in Europe but that may be the only downfall in his signing.
The 17-year-old was linked (via the Daily Mail) to Arsenal during the summer. Even more recently the Mirror reported on Southampton's attempt to warn of potential suitors.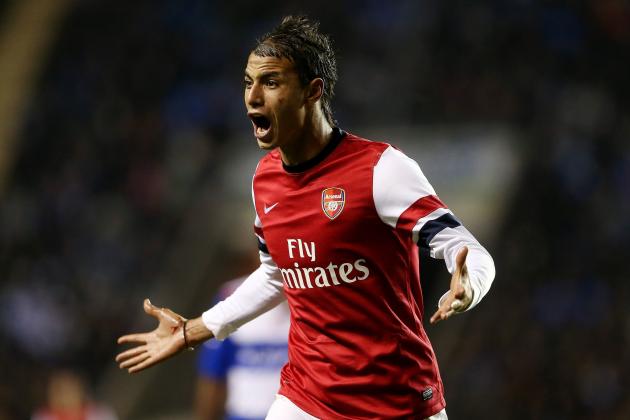 Scott Heavey/Getty Images

The tale of Marouane Chamakh is an unfortunate one.
The Moroccan had a bright start to his career as a Gunner but the return of Robin van Persie saw a dramatic change in his form and fortune with the club.
When in form he can provide solid hold-up play and be a significant part of Arsenal's build-up. His aerial threat is also provides a different dimension for the Gunners.
His form has been virtually nonexistent since the second half of the 2010/11 season though, and there have been little signs of improvement.
Olivier Giroud replaced the Dutchman and there still isn't much joy for Chamakh. His name has popped up numerous times in regard to outgoing transfers and it is only a matter of time before he does leave.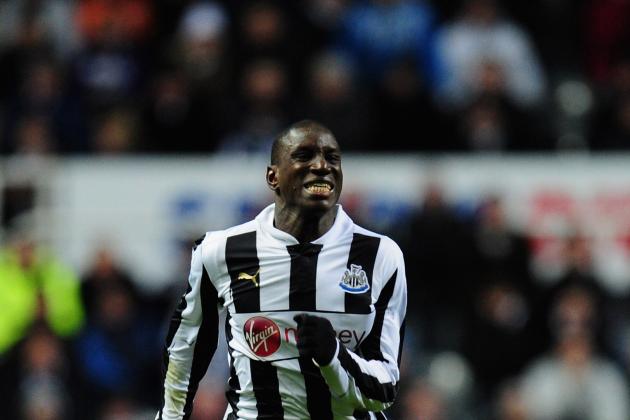 Stu Forster/Getty Images

Ba would be more than a solid replacement for Marouane Chamakh, should Wenger be interested.
According to the Daily Mirror, Arsenal could swoop for the Senegalese forward in January.
Demba Ba has started off the season by replicating his early 2011/12 form for Newcastle. The only negative last season was his lack of goals once the New Year began.
A move to Arsenal should mean a better goal return for Ba in the second half of this season.
Ba would fight it out with Olivier Giroud for a starting spot and that wouldn't be a bad thing at all for the Gunners.
Chamakh is seemingly Arsenal's next option, aside from Gervinho for whatever reason, to fill in for the Frenchman as Ba is a significant upgrade.
Clive Rose/Getty Images

Even if you are an Andrei Arshavin fan, you would have to say it's best if the little Russian leaves the Gunners.
He was one of the most sought-after players when Arsenal got him through the 2008/09 season. That situation has changed drastically.
He performed well during his first few seasons at the Emirates but a major dip in form has seen him fall down the pecking order.
He has never really played in his preferred central role and that is part of the reason why he is less effective.
His burst of pace is no longer there and his lack of work rate annoys the Gunners faithful at times.
Arshavin can still sparkle at times—good players always do—but all he provides is another body on the bench and another unnecessary wage for Arsenal.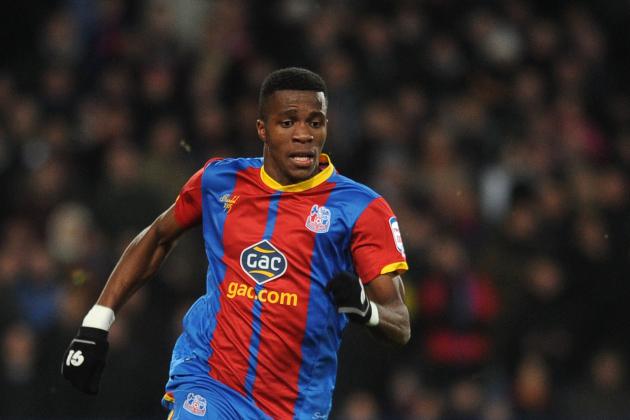 Charlie Crowhurst/Getty Images

Wilfried Zaha has been touted as a possible Theo Walcott in the past (via Daily Mirror).
While that wouldn't necessarily a bad change of personnel, it would be better for Arsenal to use the Crystal Palace star to replace Andrei Arshavin.
The Gunners have no shortage of players capable of filling in the central attacking midfield role, and Arshavin is way down on the pecking order.
What they are in need of is wingers and Zaha would fill that need. Arshavin is plainly not a fan of playing out wide nor is he particularly effective out there.
Zaha would provide pace, work rate and that youthful energy that Arsenal needs in a substitute. Arshavin doesn't provide those attributes anymore.
The Gunners have been linked (via Daily Mail) to a January move for the player and would be a great replacement should Arshavin leave.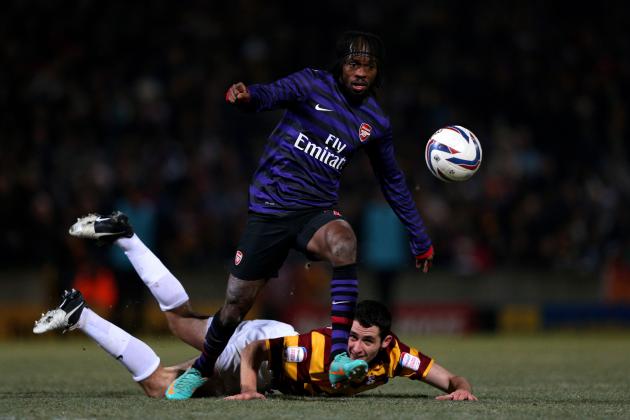 Clive Brunskill/Getty Images

Gervinho is another player that Arsenal should let go as soon as possible.
A lack of productivity and a lack of consistency has been the story of his entire Arsenal career thus far.
Arsene Wenger has used him on the right, the left and even up front, but he continues to frustrate.
While Theo Walcott may be a more suitable option to depart in terms of gaining a financial reward, he provides more on the pitch for the Gunners.
If the Englishman's contract situation cannot be resolved at all, then he should go. His performances this year have really made folks second-guess how expendable he is though.
Arsenal should be able to get a decent enough fee for the Ivorian and find a suitable replacement in the process.
He has been given more than enough chances to succeed and if the team wants to succeed, they need productivity now. Gervinho still seems to be trying to find his way.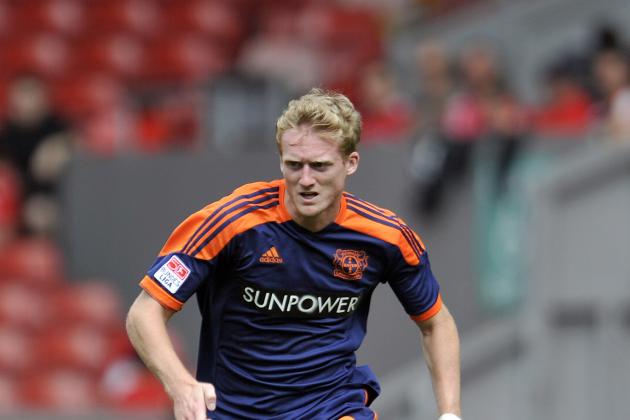 Clint Hughes/Getty Images

Andre Schurrle would certainly be an upgrade on Gervinho.
According to the Daily Mail, Arsenal was interested in the German attacker early in November.
Schurrle can play similar positions to Gervinho and, most importantly, has been more effective over the last two seasons.
His numbers have not been mind-blowing but given his abilities and the teammates who would surround him, he should improve.
While Gervinho has two double-digit scoring seasons in France as opposed to Schurrle's lone double-digit season, it has not translated well to the EPL.
The Bundesliga provides a similar style of play to the EPL and Schurrle should have no problem adapting.
The Bayer Leverkusen forward may come at a hefty fee but it would certainly be worth it.