2013 NFL Draft: 7 Hardest Hitters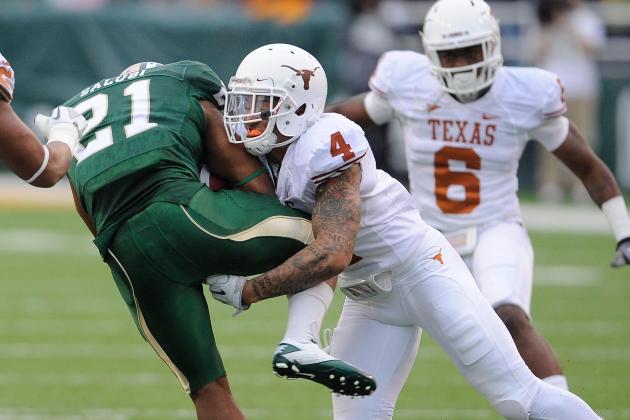 Jerome Miron-USA TODAY Sports

The ability to deliver a devastating hit won't make or break anyone's draft stock but it certainly doesn't hurt to be able to make receivers think twice before coming across the middle of the field.
This list, primarily featuring defensive backs who have the luxury of building up a head of steam before delivering a crushing blow, focuses on the hardest hitters available in this year's draft class. They're not necessarily elite prospects at their positions, but each one will wind up on the highlight reel at the next level for his ability to jar the ball loose with a well-timed hit.
Begin Slideshow

»
Vaccaro is still developing his coverage skills, but as a safety who tips the scales around 220 pounds, he'll make receivers think twice before going across the middle.
His lack of improvement over the past two seasons may limit his draft stock, but it's safe to say Vaccaro's physical tools have already caught the eye of scouts, and he should land among the top 100 picks in the draft.
Rambo isn't the most physically imposing safety, but he has a knack for the perfectly timed hit.
He will likely play free safety at the next level which will give him plenty of opportunities to catch unsuspecting receivers as he did against Alabama in the SEC championship game (see video).
If not for multiple off-field incidents which led to suspensions, we could be talking about Rambo as a late first-round prospect.
You don't see many cornerbacks appear on lists of the hardest hitters in football, but Milliner is special.
One of the few corners who isn't afraid to step up against the run, Milliner plays more like a safety at times. At 6'1", 200 pounds, Milliner has the size to level any unsuspecting ball carriers, and he will likely catch a few by surprise early in his career at the next level.
Thomas, who may also be one of the hardest workers off the field, is a terror in the secondary. He's smaller than most of the other guys on this list, but his small, compact build allows him to deliver devastating hits when timed just right.
He will likely be a late-round pick, but his physical style of play will endear him to special teams coaches and all but guarantees him a spot on an NFL roster next fall.
Addae is a late-round prospect who didn't receive much attention at Central Michigan, but he's a physical specimen who will undoubtedly impress scouts at the combine.
He takes too many risks in coverage in search of the big play, but every so often he lines up a receiver and delivers a knockout blow. He was also frequently used as a pass rusher out of the secondary by the Chippewas.
Brown is slightly undersized, which may limit the number of teams interested in him at the next level, but his athleticism stands out immediately on film.
He's quick on his feet, which allows him to deliver blows such as this one to Oklahoma's Trey Metoyer, and he causes receivers and tight ends to think twice before crossing the middle.
McDonald's tendency to go for the big hit rather than make the smart football play actually detracts from his draft stock, but there's no doubt he belongs on this list.
He's as physical as any defensive back in this year's draft class and will deliver his fair share of devastating hits at the next level (and pick up his share of penalties as well).