Los Angeles Clippers vs. Chicago Bulls: Postgame Grades and Analysis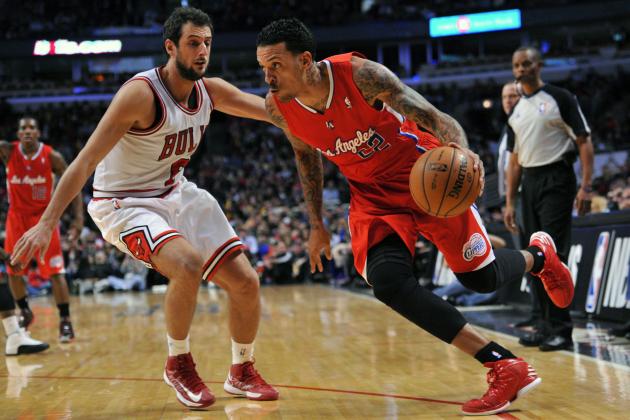 USA TODAY Sports

In an inter-conference battle, the Los Angeles Clippers prevailed by a score of 87-80 over the Chicago Bulls. It was a battle of power forwards as Carlos Boozer finished with 24 points and 13 rebounds, while Blake Griffin had 22 points and 10 boards.
So here's how we graded the all-around performances.
From Marco Belinelli's strong stat line but horrendous shooting performance to Matt Barnes' offensive eruption, there was plenty to talk about in Chicago. Even the first five minutes of the game provided interesting moments, as neither team was able to score a basket.
Hopefully the following grades excite you more than the first five minutes.
Begin Slideshow

»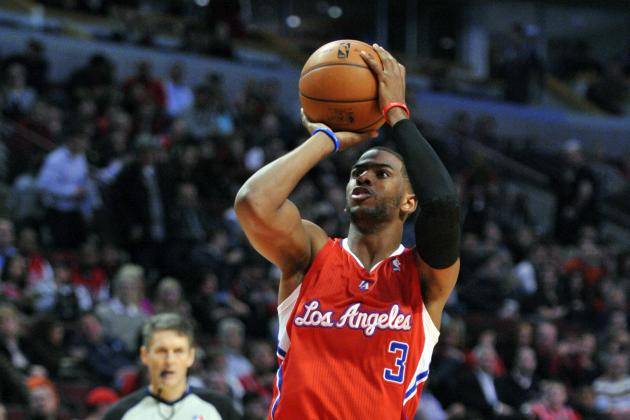 USA TODAY Sports

Chris Paul, LAC: B+
After an opening five-minute span in which both the Chicago Bulls and Los Angeles Clippers failed to score a single point, the game truly got underway. Chris Paul can be thanked for that.
During the first half, Paul finished with seven points, four assists, two rebounds and three steals.
He facilitated phenomenal dunks by Blake Griffin, created missed opportunities for Caron Butler and disrupted the Chicago passing lanes. We saw more of the same in the second half.
Kirk Hinrich had no room to breathe. Paul played him like a glove and did all he could to make his night one to forget.
Mission accomplished.
On offense, Paul danced around Hinrich during both halves and got out into transition with ease. He proceeded to connect on multiple mid-range jump shots and dribble through the defense like a hockey player cuts behind the net.
Yet another strong performance by Paul that goes beyond the stat sheet.
As for his numbers, CP3 finished with 18 points, four assists, four rebounds, three steals and a block. He also committed just two turnovers.
Kirk Hinrich, CHI: C
Kirk Hinrich had his hands full with Chris Paul.
Although he played CP3 well, Hinrich struggled on offense. He shot a respectable 3-of-7 from the floor, but he also ranked fourth on the team in assists.
He committed five fouls and continuously put the Clippers on the free-throw line.
With all of this being noted, Hinrich did hit two big three-pointers during the Chicago Bulls' third-quarter comeback. He enabled the team to compete in a game that appeared, at times, as if it would end up as a blowout.
Hinrich's tough defense on Paul prevented that from happening. His fouling and weak offense, however, helped prevent a comeback.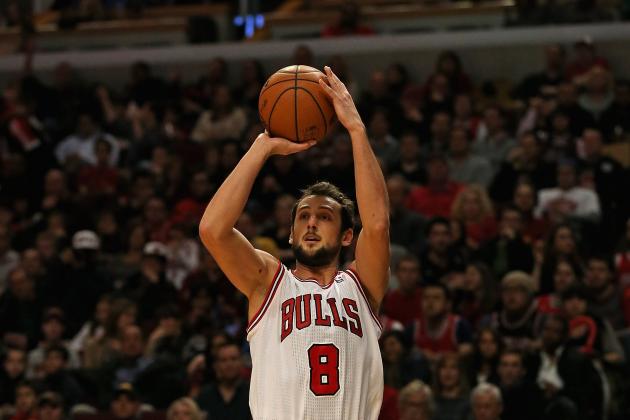 Jonathan Daniel/Getty Images

Marco Belinelli, CHI: C+
Marco Belinelli was terrible. He shot 6-of-22 from the floor, committed two costly turnovers and nearly ended the game with an unnecessary off-ball foul.
Fortunately, he also hit a three-pointer to cut the lead to two with less than a minute left.
Belinelli also put up seven rebounds, five assists and two steals. If only Belinelli had a clue as to what "shot selection" was all about.
Due to the fact that he contributed in other areas and brought the Bulls back into things, his grade is saved. Well, somewhat.
A tough grade to give when you shoot 6-of-22, but Belinelli earns a C+.
Willie Green, LAC: D
Willie Green took far too many shots and did so with a very low conversion rate. That's the story of his evening and all there really is to say about it.
Green shot 2-of-9 from the floor and 0-of-2 from beyond the arc. He also committed two turnovers and three personal fouls in 16 minutes.
How that's possible is beyond me.
Green attempted five shots in the third quarter alone, missing four of them. This allowed Chicago to fight right back into this one and nearly pull out the comeback win.
Fortunately, Chris Paul and company held on for the W.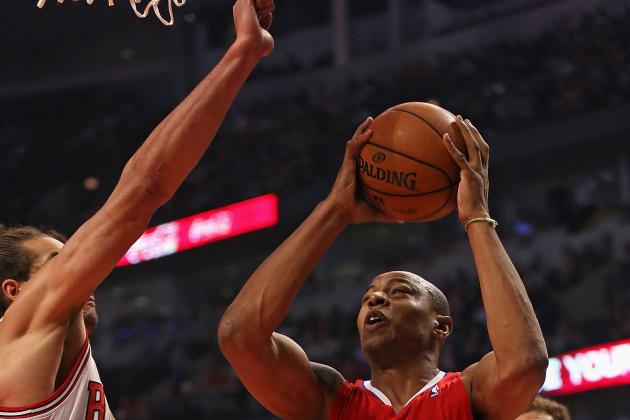 Jonathan Daniel/Getty Images

Caron Butler, LAC: C+
Caron Butler had the type of night we've come to expect from him. He was disruptive on defense, quiet on offense and provided a positive impact that went beyond the stat sheet.
See Luol Deng's struggles for the explanation of his contributions.
Butler would finish with nine points, four rebounds, one steal and a perfect 3-of-3 shooting from the free-throw line. He also shot 3-of-8 from the floor in 23 minutes of action.
His help in smothering Deng is the true story here, though.
Luol Deng, CHI: D+
On a night in which Carlos Boozer and Joakim Noah combined for 34 points and 24 rebounds, Luol Deng was nowhere to be found.
It was a rough first half for Deng, as he coughed it up four times and shot just 2-of-7 from the floor. Fortunately, those two field goals were each three-pointers, and he also managed to pick up a steal and a block.
Unfortunately, he shot just 1-of-7 from the floor during the second half. That's 3-of-14 for the game.
Deng would finish with a respectable eight points, seven rebounds, two assists, two steals and a block. The fact that he failed to show up on the offensive end of the floor severely damages Deng's grade, however, as does the fact that Matt Barnes went off.
On Deng.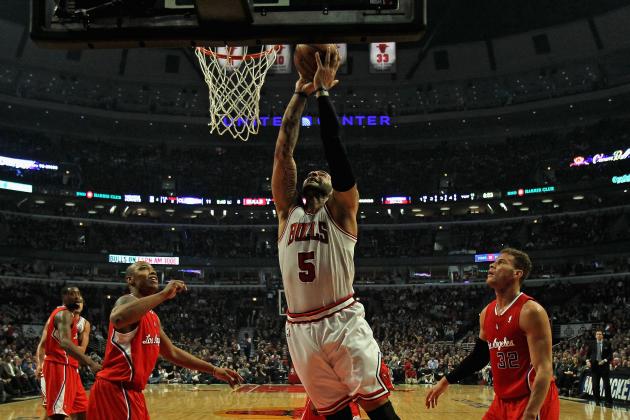 Jonathan Daniel/Getty Images

Carlos Boozer, CHI: A
During a first half in which the Chicago Bulls managed to score just 40 points, Carlos Boozer dropped in 10 on his own. He also grabbed six rebounds, dished out an assist and blocked a shot.
Thus setting the pace for a memorable evening.
Boozer dropped in a mid-range J during the third quarter and began a fast start in the second half. He'd score seven points in the third quarter, thus pushing the Bulls from seven behind to a tie when he exited the game.
The fourth quarter provided Boozer with yet another platform to thrive.
Although his team struggled to support him, Boozer put together yet another quality quarter. He quickly topped 20 points and grabbed his 10th rebound early in the fourth.
Thus giving Boozer his first 20 and 10 game since November 24.
Boozer would finish with 24 points, 13 rebounds, three assists, one block and a steal on 11-of-20 shooting from the floor. A fine evening, indeed, from the former Duke Blue Devil.
Unfortunately, a performance that could not prevent a loss.
Blake Griffin, LAC: A
If we could grade Blake Griffin based on his ability to make a highlight reel, he'd have an A+. His three first-half dunks alone are candidates to make SportsCenter's Top 10.
Griffin's back-and-forth alley-oop with Jamal Crawford over Marco Belinelli provided yet another highlight-reel finish.
Minutes later he finished another alley-oop. One of the Clippers' 10 dunks on the night.
Although Griffin relied rather heavily on his jump shot, the fact that Griffin used glass on a baseline attempt proves how far he has come from a mental standpoint. Knowing your surroundings and how to react is a key to success.
Griffin proved well aware of just that.
The two-time All-Star played virtually a mistake-free game, righting his first-quarter field goal woes by finishing as he knows best. Although his jump shot continued to falter, Griffin stayed at it and eventually made a few key buckets.
That includes a put-back tip with under 2:30 remaining and his first three-pointer of the year.
Griffin finished with 22 points and 10 boards.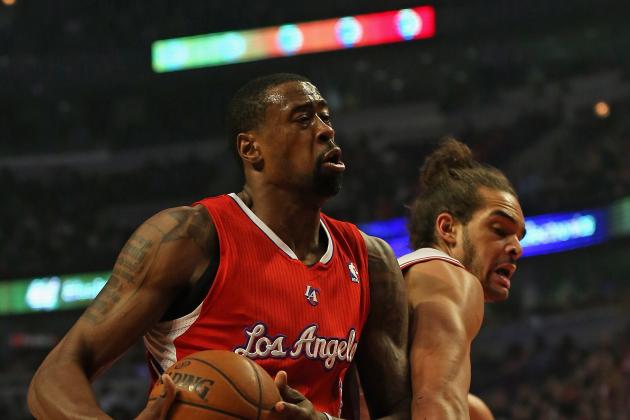 Jonathan Daniel/Getty Images

Joakim Noah, CHI: B
When he wasn't battling with DeAndre Jordan and Blake Griffin, Joakim Noah was constructing quite the impressive stat line.
Although he made just one of his first six field-goal attempts, he posted seven rebounds, six assists and two blocks through three quarters. Slowly but steadily, Noah is becoming one of the most skilled big men in the league.
Noah would make his final three field-goal attempts, including a driving baseline attempt which brought the Bulls within two. An effort that ended in a loss but still a respectable feat.
For the game, Noah finished with 10 points, 11 rebounds, six assists, two blocks and a steal.
His shooting may not have been consistent, but his performance was praiseworthy.
So much so that he earns a B+.
DeAndre Jordan, LAC: B
DeAndre Jordan had an absolutely phenomenal dunk, rising above Blake Griffin for a put-back in transition. He later threw down a put-back slam that made you forget just how phenomenal the previous finish was.
Jordan leaped up for the rebound, pulled it in with two hands, switched to his right and threw it down—all in mid-air.
Although he was limited to 24 minutes, Jordan's presence was felt. He finished with seven points and 10 rebounds, including four offensive boards.
Had he received more minutes, we'd likely have seen Jordan finish with a double-double. Unfortunately, we will only see Jordan this much most times out.
Regardless, Jordan played an excellent game against a tough assignment in Joakim Noah.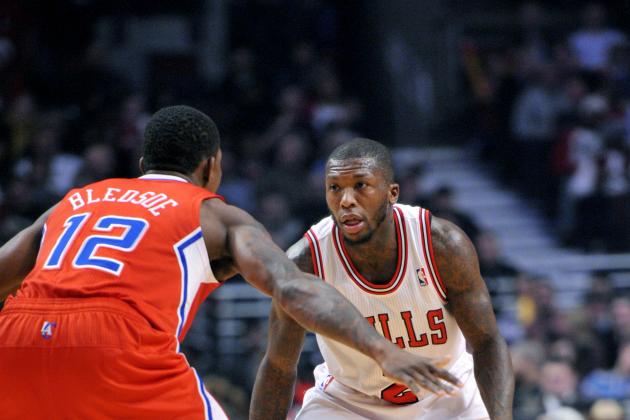 USA TODAY Sports

Jamal Crawford, LAC: B-
Jamal Crawford came out firing during the first half, putting up 10 points on 4-of-5 shooting from the floor. He also dished out two assists and picked up a steal, connecting on both of his free throws along the way.
Although he'd fail to score another point, Crawford would finish with 10 points, five assists, three rebounds and a steal.
Crawford continues to provide a transition presence for Los Angeles. He pushed the pace quite well and pulled Marco Belinelli out of position on both ends of the floor because of it.
Crawford also facilitated two of Blake Griffin's finest dunks of the evening.
Nate Robinson, CHI: B-
Nate Robinson has finally discovered how to play consistent basketball. Although he shot 3-of-8 from the floor, he also posted a very admirable stat line for a sixth man.
Nine points, five assists, four rebounds and two three-pointers in 19 minutes of play.
Although Robinson's efforts fell short of providing a victory, he continues to provide valuable energy off of the bench. He may not be Derrick Rose, but Robinson is stepping up in both scoring and facilitating situations when need be.
The only question is when will he receive more playing time?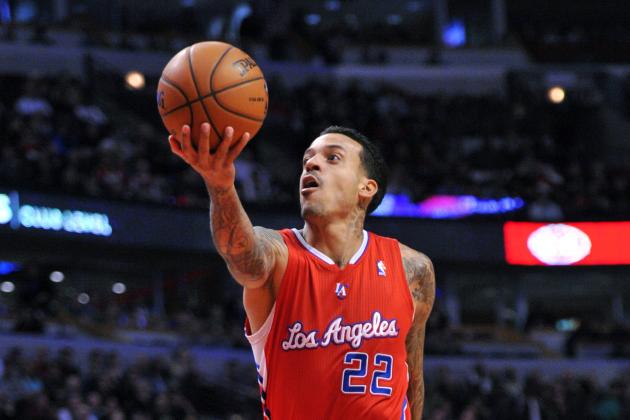 USA TODAY Sports

Los Angeles Clippers: A-
A Tribe Called Bench played quite the impressive game.
Collectively, the Clippers' bench put up 34 points, 13 rebounds, 11 assists, six steals and three blocks. They shot 13-of-24 from the floor and made two three-point field goals.
Surprisingly, the second unit's leading scorer was none other than Matt Barnes.
Barnes finished with 14 points, four rebounds, two assists, two steals and two blocks. Eric Bledsoe added six points, three assists and two steals, as well.
Lamar Odom chipped in five rebounds to round out yet another solid performance by the LAC bench.
Chicago Bulls: C+
The Chicago Bulls' second unit was rather limited against the Los Angeles Clippers. Only three non-starters saw the floor, with Taj Gibson and Jimmy Butler aiding sixth man Nate Robinson.
Together the bench finished with 21 points, 11 rebounds, six assists an a steal. They also paled in comparison to LAC.
Chicago continues to be hindered by injuries, as Derrick Rose and Richard Hamilton are both absent. This forces the team to start their potential reserves in Kirk Hinrich and Marco Belinelli.
Thus neutralizing what could be a sound second unit.