Bobby Petrino and the Degeneration of the NCAA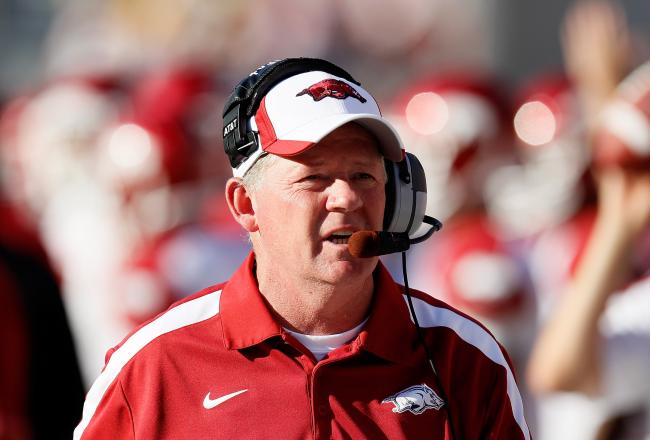 Kevin C. Cox/Getty Images
It seems that with each passing year I find NCAA football becoming more and more absurd.
It's bad enough that we have abnormalities like TCU in the Big East, playing its final game of 2012 at the Buffalo Wild Wings Bowl. I'm sure before I'm dead and gone we'll have an American Standard Toilet Bowl featuring the eighth-ranked team in the SEC and the seventh-ranked team in Conference USA.
I understand that everything is decided by money nowadays. At least the aforementioned issues are cosmetic and minor in the grand scheme of things. What I find most troubling is that institutions are supposed to set a moral example for everyone, especially in the wake of the Penn State scandal. However, they continue to lower the bar and reward vile, morally deficient individuals.
Today, Western Kentucky University hired Bobby Petrino as their head coach. I'm all for second chances, but Petrino is catching up to Steve Howe in that department. I would offer a brief recap of his past transgressions, but even the short list is anything but brief.
Despite being a proven liar and a quitter, Petrino shined with the Razorbacks for four seasons. It all came crashing down last April when Petrino's motorcycle slid off a local highway. It turned out he had a passenger with whom he was having an affair: former Arkansas volleyball player-turned-student-athlete development coordinator Jessica Dorrell. Petrino's deplorable behavior finally caught up to him and he was relieved of his duties.
I would love to say people like this are the exception rather than the rule in college football. Unfortunately, we also have people like Nick Saban. In 2005, he left his high-profile gig at LSU (after having previously left several other jobs, including a defensive coordinator post with the Browns) to take his talents to South Beach.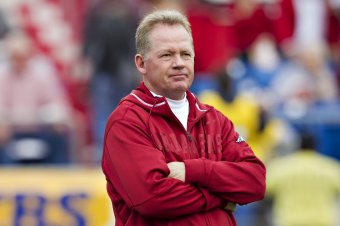 Wesley Hitt/Getty Images
In the fall of 2007, he lied roughly 624 times about his intention to interview for the head coaching vacancy at Alabama, and left the Miami Dolphins a few weeks later. He bailed on one of the most storied NFL franchises after two forgettable seasons because he was afraid to fail.
Now the Crimson Tide are on the brink of possibly winning their third NCAA National Championship in five years under Saban. No one roots harder against Alabama than I do. I want Nick Saban to get his comeuppance for being a heartless, gutless coward in lieu of being rewarded for having one of the most talented rosters in college football.
Steve Spurrier is the poster-child for college coaching giants who failed miserably in the NFL. Yes, he quit after two years. At least he had the decency to admit he couldn't cut it and went back to college with a little dignity. Saban never admitted he failed with Miami. Since his ill-fated stint with the Redskins, Spurrier has been the head coach at South Carolina and that's it. This proves to me that deep down the "Ol' Ball Coach" understands loyalty and integrity.
It bothers me when football analysts try to paint Spurrier as a buffoon who failed, as if nobody else has failed at something in their lives. Yet, Nick Saban is revered as one of the most powerful coaches in sports.
We celebrate those who deserve to be reviled. We ridicule those who deserve to be praised. Nobody seems to remember the several places Saban called home prior to Alabama. Nobody seems to remember that Spurrier took a Florida Gators program that was in the garbage and made it the gold standard six years later.
Nobody will remember what Bobby Petrino did, where he did it, or whom he did it with when he leaves WKU for the Next Big Thing—and he will. He won't be around to see his recruits reach their full potential as juniors and seniors. A degenerate like him won't appreciate the Hilltoppers brass undeservedly resurrecting his career too soon.
Bobby Petrino will keep running from failure and responsibility. As long as universities like Western Kentucky keep paying him to sacrifice morality for a berth in the Buffalo Wild Wings Bowl, I will always have a team to root for—and against.
This article is
What is the duplicate article?
Why is this article offensive?
Where is this article plagiarized from?
Why is this article poorly edited?