Report-Card Grades for Anthony Davis' Return from Ankle Injury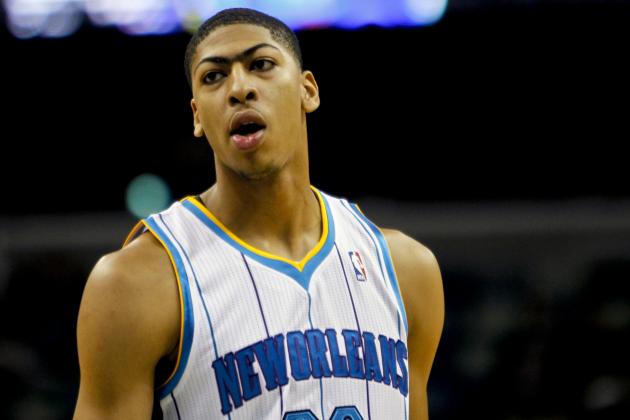 USA TODAY Sports

After missing 11 games due to an ankle injury, Anthony Davis made his return to the New Orleans Hornets in a 77-70 loss to the Washington Wizards Tuesday night. Davis finished with 13 points, eight rebounds, three blocks and three steals.
So how should we grade his all-around performance?
When a team scores just 70 points, it's hard to imagine any one individual grade being that respectable. When that team allows just 77 points, however, there is reason to believe that the letter evaluation could be salvaged.
As is the case for Davis.
Begin Slideshow

»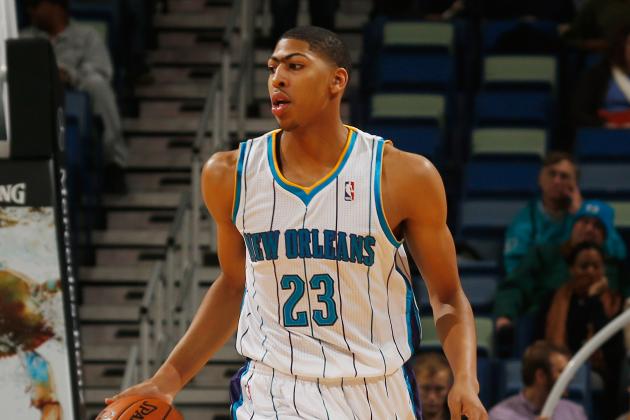 Chris Graythen/Getty Images

Overall Grade: A+
If you wanted proof that Anthony Davis could move on his injured ankle, look no further than the fact that he chased down Jan Vesely for four minutes straight.
Vesely may not be the most offensively proficient player, but he is very agile. This was on display as he, sometimes aimlessly, ran along the perimeter and dove to the baseline.
Davis was there with him, matching the Czech big man step for step.
As for the offensive end, Davis was in motion for a majority of the team's possessions. He also went up for an alley-oop, but the pass was slightly errant and thus sent Davis crashing to the floor. A scare that proved to be scathe-free.
During the fourth quarter, the Hornets attempted a second alley-oop. Davis made the most of that opportunity, throwing down a flush slam for one of the Hornets' few successful scoring attempts.
Throw in Davis' transition basket with less than two minutes remaining and you have a quality display of mobility from A.D.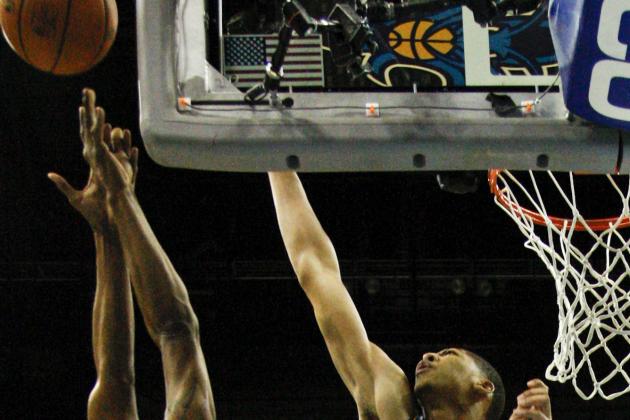 USA TODAY Sports

Overall Grade: C-
Anthony Davis had a classic case of happy feet.
Having come off a long period away from the game, Davis appeared to be the type of player that wanted to be in on every play. Davis' feet were active on both ends of the floor as he worked his way along the baseline and perimeter—sometimes to a fault.
Davis ended the game with five fouls, all of which came by virtue of his positioning.
Whether defensively or as he attempted to set screens on offense, the former Kentucky Wildcat struggled to move to the proper place. It will improve over time, but proved detrimental against the Wizards.
Something we could only expect from a player that had missed 11 games.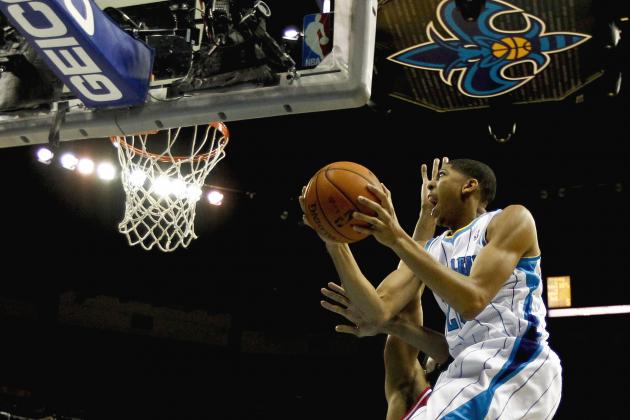 USA TODAY Sports

Overall Grade: B-
Anthony Davis' low-post scoring ability is often overstated. The truth of the matter is, his length serves as a weapon but his poorly-built frame is a deterrent for interior offense.
Which was quite evident as Davis was bullied off the low block by the likes of Emeka Okafor, Nene, Kevin Seraphin and Cartier Martin throughout the night.
With that being said, Davis displayed an interior savvy. He collapsed defensive pressures with his motion, thus opening up the mid-range game for Austin Rivers and company.
Davis also set baseline screens for Ryan Anderson, who finished with 17 points on three three-pointers. An overall solid evening, but one that offers concern due to his frailty.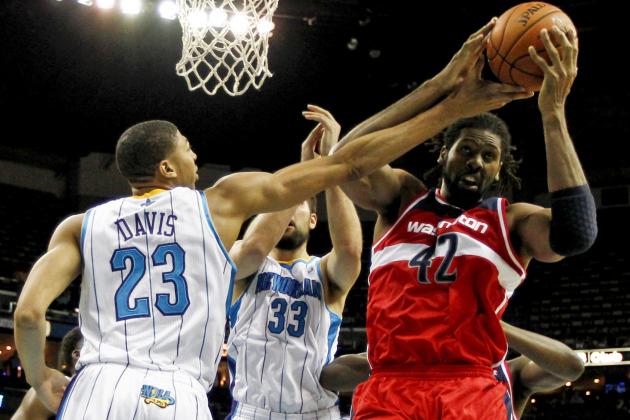 USA TODAY Sports

Overall Grade: A-
Even with his poor positioning, Anthony Davis provided a monster game on the interior from a defensive standpoint. That is, if you're judging this story by virtue of his stat sheet.
In just 11 first-half minutes, Davis accumulated two blocked shots. Considering the Washington Wizards purposely pulled Davis out of the interior to force him into motion defense, that's pretty darn impressive.
Unfortunately, Davis only blocked one more shot during the other 14 minutes he played.
With that being said, Davis did an excellent job of altering shots when he was in the game. He was active in the paint, provided help-side defense to the 4 and stepped up to protect the rim against slashers.
Such is why the Wizards were limited to 24 points in the paint.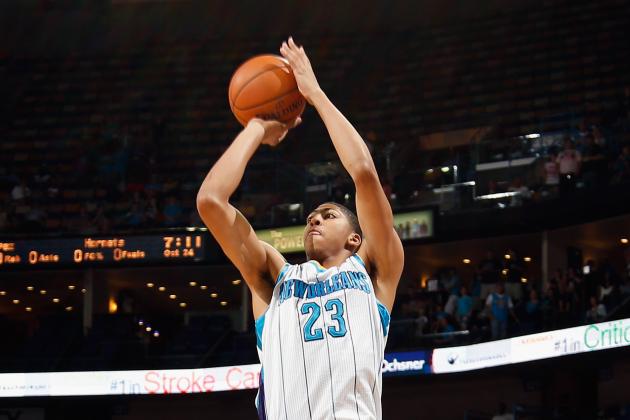 Chris Graythen/Getty Images

Overall Grade: B-
Coming out of college, one of the most underrated aspects about Anthony Davis' game was his offensive versatility. Although Davis was a respected player who had the length to finish in traffic, his most significant offensive contributions come on the perimeter.
Something he placed on full display against the Washington Wizards.
Davis hit a smooth 18-foot jump shot with 0:53 remaining in the first quarter. He did so in motion, displaying that his bum ankle was not hurting him as much as one might have believed.
He also drove from the top of the key to drop in a driving left-hand lay-up.
Paired with his ability to handle the ball and his underrated passing, Davis had a solid evening along the perimeter.
The one concern for Davis is his ability to set screens.
Davis has a tendency to set a screen and roll too closely to the ball-handler, thus creating traffic at the top of the key. The facilitator then has a small window of opportunity to find Davis on the dive and is often forced to dribble out further than he had planned.
Other than that, a fundamentally sound evening from Davis.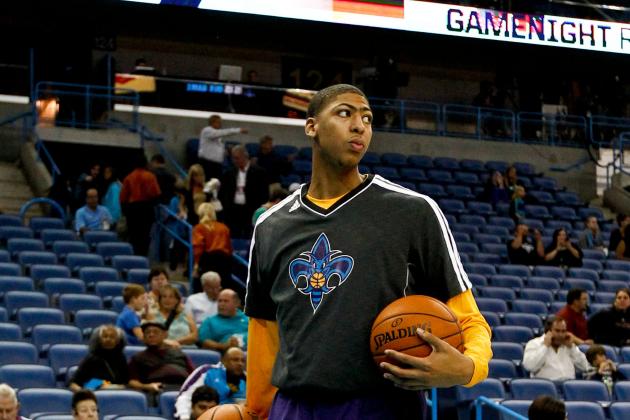 Derick E. Hingle-USA TODAY Sports

Overall Grade: A-
Anthony Davis may not be considered a perimeter defender, but he is quite sound in the area. Such was evident as he came up with three steals and went up against everyone from Jan Vesely to Cartier Martin.
As previously alluded to, a majority of Davis' perimeter defense came against Vesely. The Czech big man ran Davis around quite a bit, but he also missed his only shot attempt of the evening. Thus providing Davis with his perimeter defense for the evening.
After attempting to run Davis around early, the Wizards decided to pummel him inside during the second half. They pushed him off the block and proved that attempting to defeat him on the perimeter is not a wise decision.
Not when he's mobile enough to take a majority of players from the 3 to 5 spots.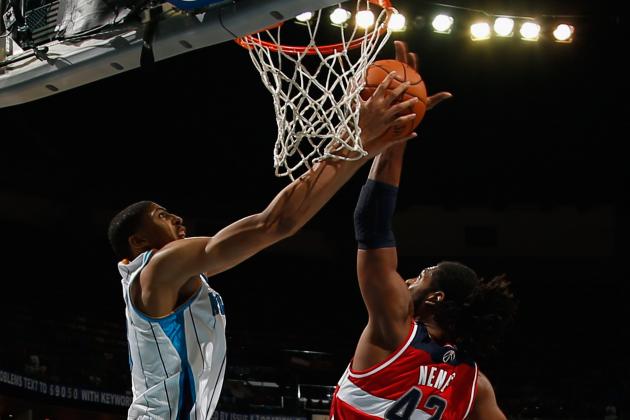 Chris Graythen/Getty Images

Overall Grade: B+
Considering Davis only played 25 minutes, his total of eight rebounds has to impress. Considering he was playing on a weak ankle, that number becomes even more indicative of the game he played.
As does the fact that he was leaping high above his opponents and teammates for the boards he corralled. The ankle is just fine.
One concern may be that Davis did not box out well against stronger defenders. He'd often extend one arm and leap instead of gaining position.
The results were positive, however, so we cannot complain just yet.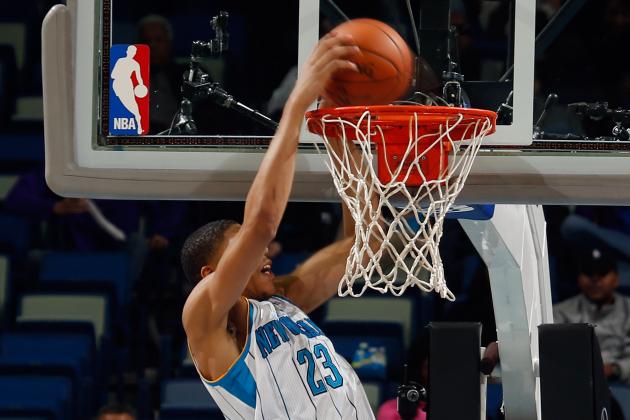 Chris Graythen/Getty Images

Overall Grade: B
Anthony Davis didn't post monster numbers, but he also played just 25 minutes. Such is the reason that his stat line of 13 points, eight rebounds, three steals and steals blocks was so impressive.
And it's also a reason his five fouls are so concerning.
Davis approached a B+ from a statistical standpoint, but lost that distinction due to his fouls and two costly turnovers. With that being said, Davis was the best player on the Hornets team.
An underwhelming level of praise for a unit that scored just 70 points against the league's 16th-ranked scoring defense.
Through all of the struggles, however, Davis was a primary reason the Hornets allowed just 77 points. He altered shots left and right, provided a quality outing on offense and crashed the boards with aggression.
An all-around solid performance from the first overall draft choice.