Los Angeles Clippers vs. Chicago Bulls: Live Score, Results and Game Highlights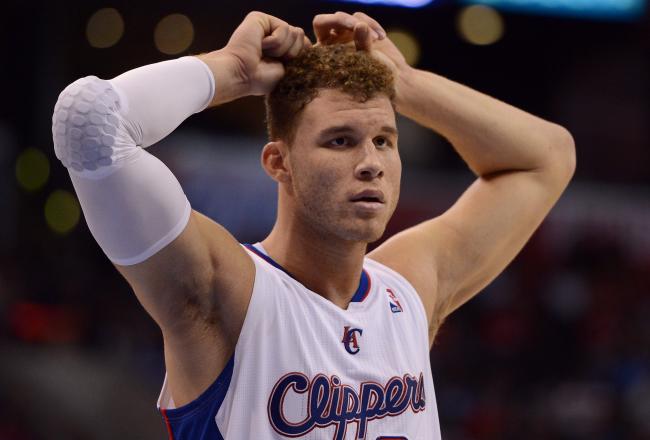 Blake Griffin and the Clips have won six straight.
Harry How/Getty Images
The Clippers reeled off their seventh straight victory tonight to extend their lead to 1.5 games over the Golden State Warriors in the Pacific Division.
The Bulls fell to 11-9 and are eagerly anticipating the return of their MVP, Derrick Rose.
Let's take a look at how the Clippers pulled off the 94-89 win against the Bulls in the United Center.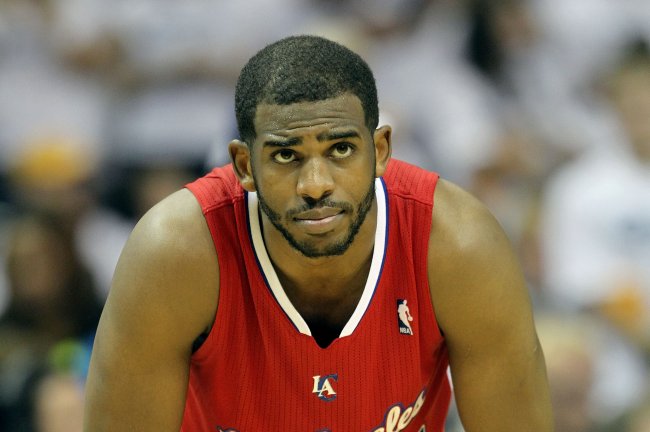 Andy Lyons/Getty Images
There really is no one better to close out a game than Chris Paul. The Bulls repeatedly made efforts to get back in the game in the closing minutes, but were answered by Chris Paul free throws.
Carlos Boozer had a phenomenal game, as I continually raved about here. But the focus for the Bulls has to be on winning games now and letting Derrick Rose return when he finally returns. The entire city of Chicago is in a frenzy at the return of Rose, but these games count just as much as the ones that they'll play when their MVP is back in the fold.
The Bulls fell to 11-9 and ended a three game win streak, while the Clips improved to 15-6 and have now won their last seven games.
CP3 and Blake Griffin are still one of the most exciting tandems in the NBA.
And the Bulls still need Rose back.
FINAL SCORE: CLIPPERS 94, BULLS 89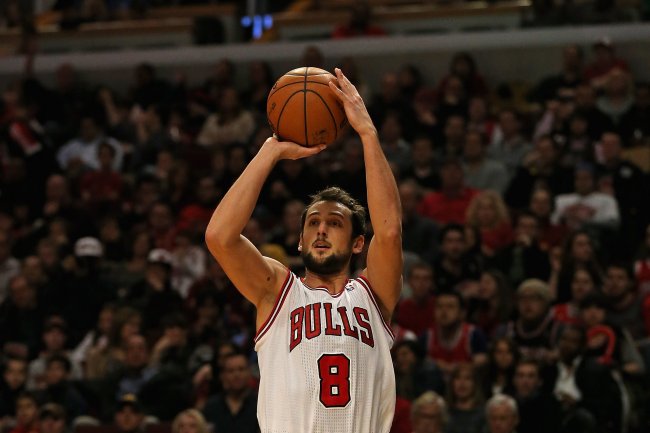 Jonathan Daniel/Getty Images
Tom Thibodeau showed his brilliance as a coach running a double-screen for Marco Belinelli, who is just 6-of-21 from the floor...but 4-of-9 from three point range. He hit it.
However, there's no one better to close out games than Chris Paul. He's able to isolate better than any point guard in the league and can always create for himself or others. Alongside of him? Jamal Crawford. Who can do the exact same thing.
CLIPPERS 91, BULLS 87 — 27.1 seconds to go, Bulls ball.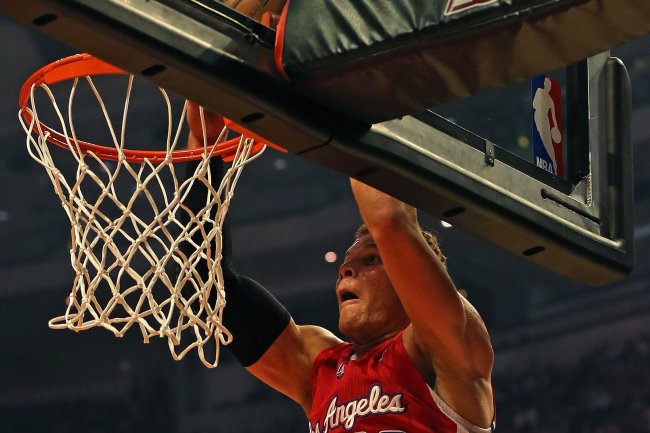 Jonathan Daniel/Getty Images
<blockquote class="twitter-tweet">
Lob City smh. Dunks occurring every time I look up at tv. #clippers
— Michael Gurganus (@MBGurganus_10) December 12, 2012
Blake Griffin has eight field goals tonight and six of them have been dunks. Of those six dunks, all of them have been highlight reel worthy. Should be interesting to see ESPN's top 10 plays. It may be 60 percent Griffin.
CLIPPERS 89, BULLS 80 — 2:11 to go in game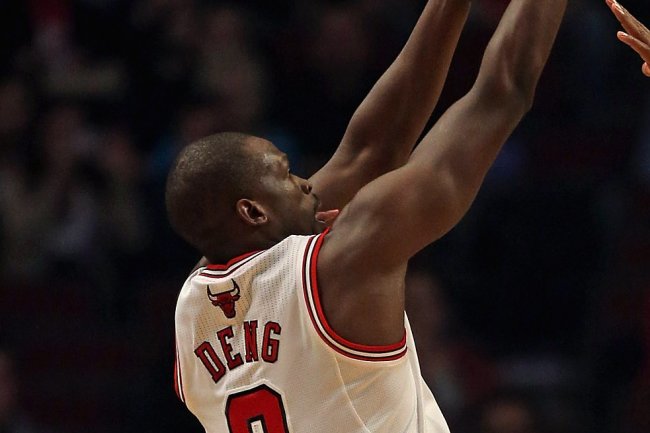 Jonathan Daniel/Getty Images
If the Bulls go on to to lose tonight's game, it won't be because of Carlos Boozer. Rather, it will be because of their All-Star from last season, Luol Deng. Deng has been ice cold all night and just isn't finding a way to get better shots on a night when his jumper isn't falling. Deng is 3-of-12 from the floor with just eight points in 35 minutes of action so far.
He's been good all season, but tonight has been an off night. Averaging 18 points per game going into the night, he may not crack double figures tonight.
With Boozer emerging and Deng regressing, the Bulls are going to be beyond ecstatic to have their number one option back in a few weeks. There hasn't been a definitive date set on Rose's return, but it's coming...and the Bulls are trying to just stay focused for the meantime.
On another note, Blake Griffin just threw down his sixth dunk of the game.
CLIPPERS 87, BULLS 80 — 3:41 to go in game
Jonathan Daniel/Getty Images
This is almost vintage Carlos Boozer. He's been aggressive all night, and he was utterly shocked to have received a charging call on his take to the basket that resulted in Lamar Odom sliding under him to prevent the basket. Boozer didn't sulk, he came back and hit a jumper, then converted on a three point play.
Boozer has 21 points and 10 rebounds. That's a line with saw with regularity during his days in Utah. With Derrick Rose about to return, it really couldn't come at a better time.
If Boozer can consistently play as he is tonight, with Rose in the fold, the Bulls will be in the conversation of the Eastern Conference favorites once again.
CLIPPERS 79, BULLS 74 — 6:10 remaining in game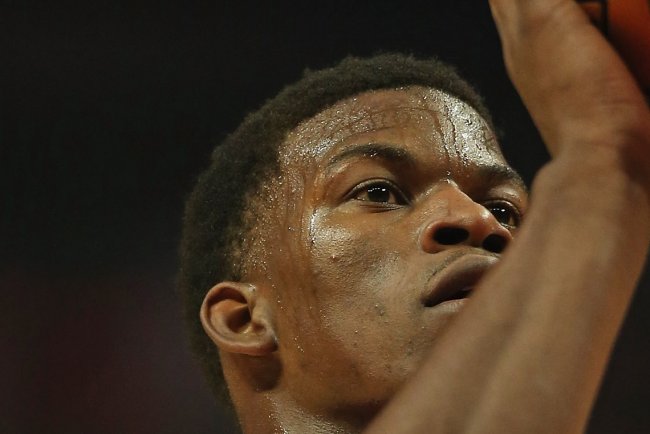 Jonathan Daniel/Getty Images
The Clippers head into the fourth quarter with four players in double-figures to the Bulls two. They're getting more balanced contributions and going deeper into their bench, employing a nine man rotation to the Bulls seven man rotation.
The Bulls have actually used eight players, but Jimmy Butler didn't do a single thing that registers on the stat sheet (or otherwise).
It should be interesting to see how Vinny Del Negro closes this game with both Matt Barnes and Jamal Crawford playing so well off the bench. After all, it matters most who closes games out, not who starts them. The Clippers have more options for a late game lineup, with more depth.
That could make the difference as legs begin to grow tired and shots start coming up short.
CLIPPERS 69, BULLS 65 — End of 3rd Quarter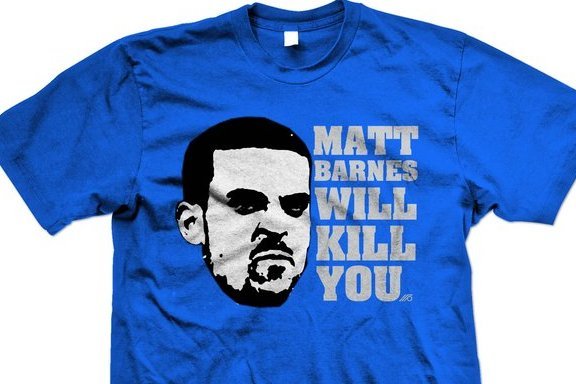 Orlando Magic fans fondly recall the "Matt Barnes Will Kill You T-Shirts."
Barnes is doing his best to kill the Bulls. He came away with a breakaway steal on a Joakim Noah pass and took off for a breakaway that led to a Noah foul.
He then banged home a triple.
Barnes may not put up huge numbers, but he makes a lot of huge plays.
And kills you.
CLIPPERS 69, BULLS 65 — End of 3rd Quarter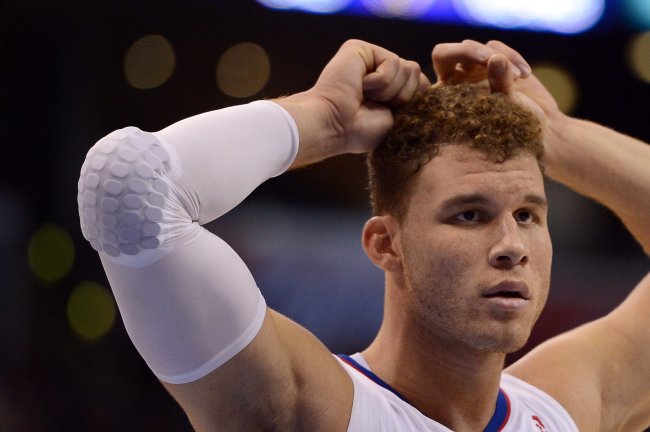 Harry How/Getty Images
Not that you won't see this dunk later, but here's one of Blake Griffin's show stopping dunks from the first half.
Notice the way Griffin continues to elevate while in the air. It almost looks like he jumped a second time without hitting the ground.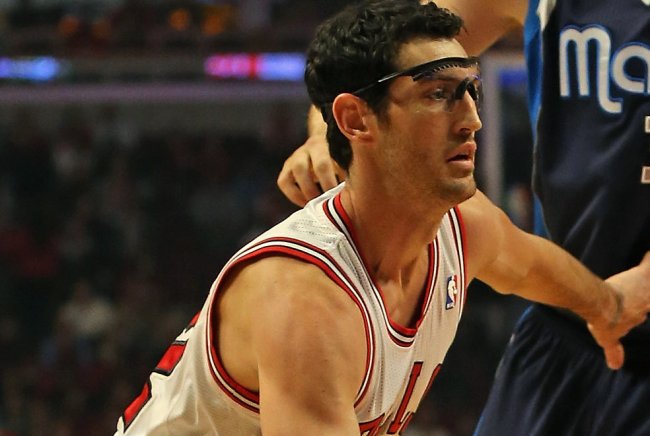 Jonathan Daniel/Getty Images
Pretty remarkable the way Bulls are shooting from 3-point land. Entered ranked 25th at .332. 8 for 10 so far.
— K.C Johnson (@KCJHoop) December 12, 2012
On that note, there's one more from Captain Kirk.
BULLS 60, CLIPPERS 57 — 5:51 Remaining in 3rd Quarter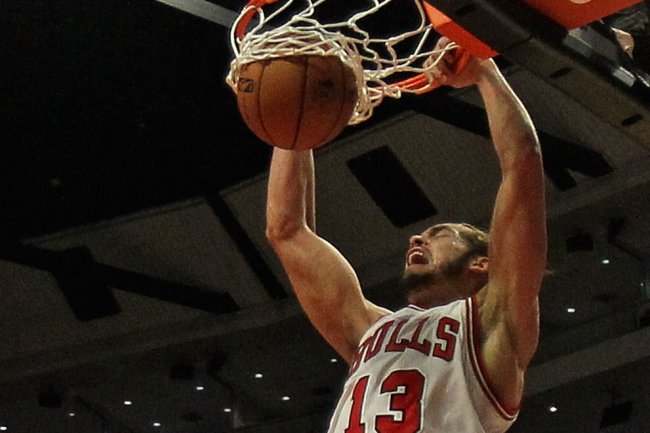 Jonathan Daniel/Getty Images
Joakim Noah still has one of the uglier jumpers in the league, but it's clear that the work he put in with NBA legend Kareem Abdul-Jabbar this summer has paid off.
Noah has six assists tonight so far, and found Carlos Boozer for a nice dunk along the baseline. Noah's also unleashed a variety of shots we haven't seen before from him, not the least of which was a running lefty hook.
Yes, Noah is just 1-of-6 from the floor, but the diversification in his shot selection leads us to believe he may be in store for something bigger in his career than just the role of a defensive stopper and rebounder.
Now, if only he can refine that jumpshot. For the meantime, just keep droppin' dimes, big fella.
CLIPPERS 57, BULLS 57 — 6:07 remaining in 3rd Quarter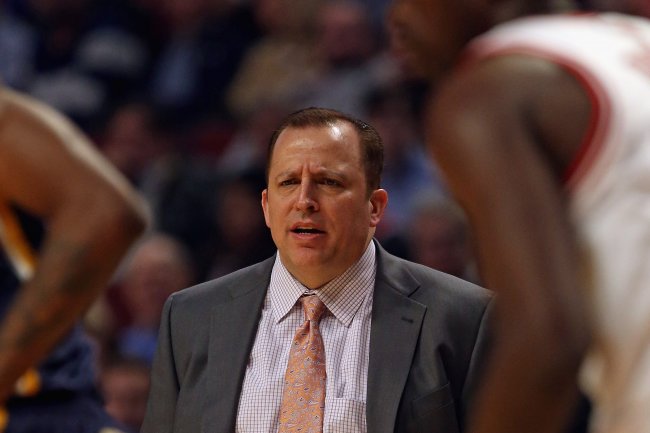 Jonathan Daniel/Getty Images
The Clippers made a run late in the second quarter to pull away. Closing the quarter on a 12-2 run, they got it done with "some defense, which led to some easy transition hoops," as Blake Griffin said before heading back to the locker room.
Griffin did his best to erase the struggles he had in the first quarter, and he may be on pace for that monster game tonight, after all. Griffin is just 4-of-10 from the floor at the half, but those four baskets were all highlights, not the least of which was hitting his first three point shot of the season.
Jamal Crawford has quietly been on fire, and as usual he is moving very well without the ball. Griffin found Crawford on a backdoor cut in the closing minutes of the first half. Crawford is 4-of-5 from the floor for 10 points.
Carlos Boozer leads the way for the Bulls with 10 points on 5-of-10 shooting. Outside of Boozer, only Nate Robinson and Taj Gibson have hit over half their shots (Robinson 2-of-3; Gibson 3-of-3).
Look for Tom Thibodeau to make some defensive adjustments in the second half to limit the Clippers transition baskets. Well, actually, it won't be as much defense as just preventing sloppy turnovers. Those turnovers are what ignited the Clips run in the second quarter.
CLIPPERS 47, BULLS 40 — Halftime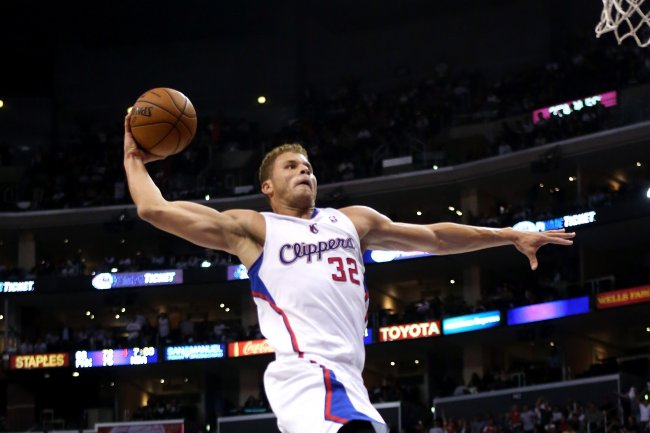 Stephen Dunn/Getty Images
The game was starting to get exciting, and I blamed it on the starters for such a boring first quarter. Blake Griffin and Chris Paul just kindly told me to shut it with a couple nice fast breaks. With Boozer back on the court, it's time for the Clippers to pound it into Griffin. Or, if they don't want to do that, they can just continue to outrace the Bulls up and down the court. Lob City is alive.
CLIPPERS 43, BULLS 40 — 2:05 remaining in 1st Half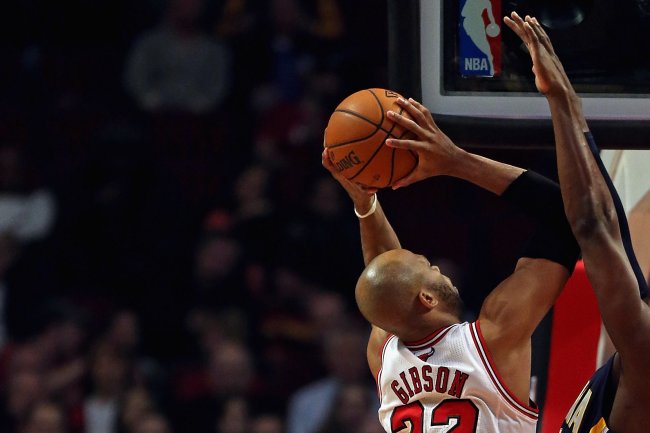 Jonathan Daniel/Getty Images
Taj Gibson is continuing to prove he belongs in the starting lineup. He's now hit back-to-back jumpers and along with Nate Robinson is providing the Bulls a huge lift.
Is Tom Thibodeau being pressured by Bulls management to play Carlos Boozer due to his hefty contract?
Newsflash: Gibson is being paid $8-plus million to backup someone that is grossly under-performing. Gibson with six points, two rebounds and a steal in just six minutes of play.
Booz had a nice first quarter offensively, but Gibson brings so much more on the defensive end (without sacrificing too much offensively), and as defensive of a coach as Thibodeau supposedly is, one would think he'd value that more.
Just make the change and sit back and count the candy, Thibbs.
On cue, Gibson gets to the line on an aggressive play for two free throws.
BULLS 35, CLIPPERS 32 — 5:44 in remaining in 2nd Quarter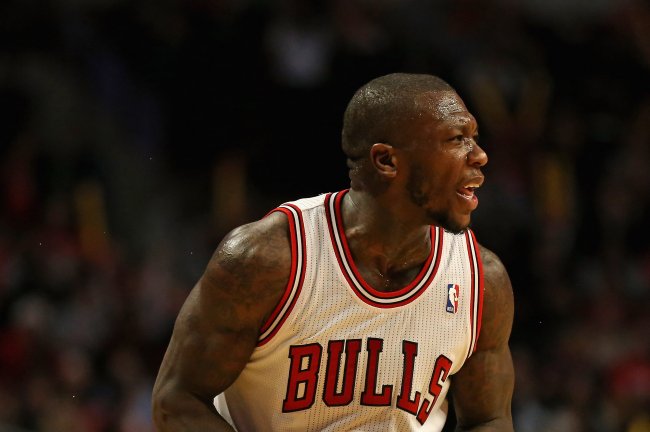 Jonathan Daniel/Getty Images
Nate Robinson has now hit back-to-back threes. With as bad as the starters were in the first quarter, we knew things could only get better. The pace has picked up, the game is more exciting, and the only starters on the court are Marco Belinelli and Joakim Noah. The Clippers are using five reserves.
CLIPPERS 30, BULLS 29 — 7:35 2nd Quarter (Break in Play)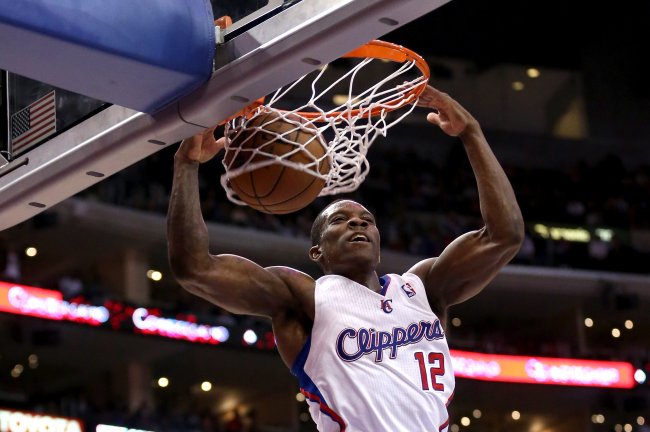 Stephen Dunn/Getty Images
Eric Bledsoe may be the one to turn this one around for the Clippers. He's brought some energy and already come up with a nice steal.
The comparisons to being a Mini-LeBron might be a bit drastic, but he's been huge off the bench for the Clips this year and will be nice insurance if they lose Chris Paul in free agency this summer.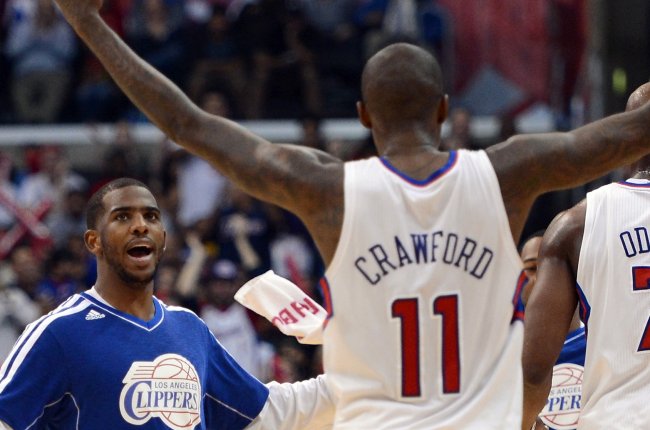 Harry How/Getty Images
And, there's the end of a horrid first quarter. The Clippers may get it going now with Jamal Crawford on the court, who has been their best player so far in the young season. Crawford is making a push for the Sixth Man of the Year award, averaging almost 18 points per game to lead the Clippers. With the team shooting 33 percent from the floor in the first quarter, the time for Crawford to make an impact is now.
CLIPPERS 21, BULLS 18 — end of first quarter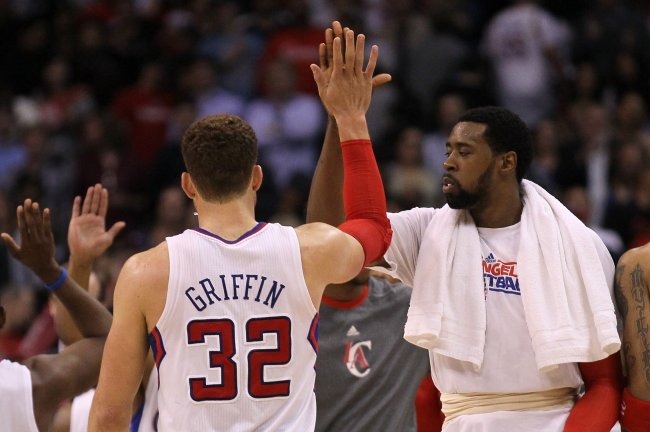 Stephen Dunn/Getty Images
No one can argue this first quarter has been pretty. The teams are shooting a combined 12-of-38 from the floor (31 percent). With only one turnover between them though, at least we can say they are getting shots up?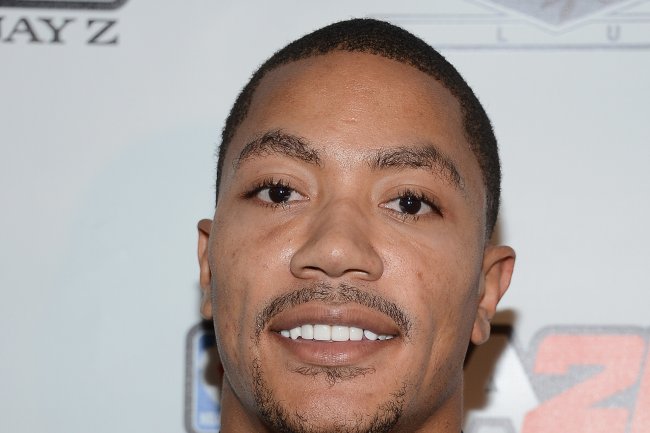 Dimitrios Kambouris/Getty Images
<blockquote class="twitter-tweet">
Without Derrick Rose, the Bulls are mad boring to watch.
— Joel Antolijao (@y0uareamistake) December 12, 2012
This seems to be the overwhelming consensus among Twitter heads. This example was one without the expletives.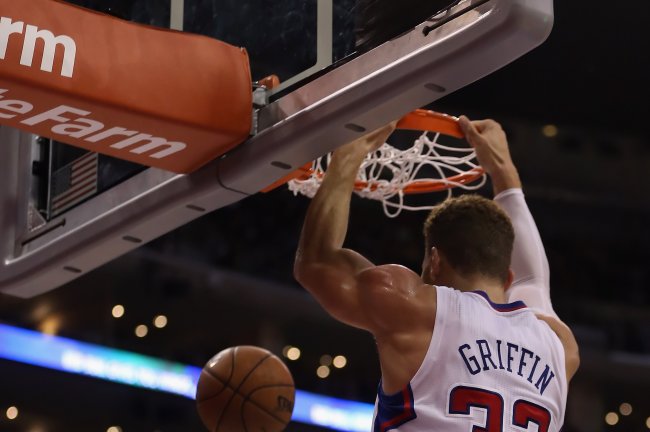 Jeff Gross/Getty Images
I'm calling a monster game from @blakegriffin tonight. He's averaging more than 30 ppg vs Bulls in career. Has a noticeable bounce pregame

— Eric Patten (@EricPatten) December 12, 2012
Blake Griffin with a monster dunk early on. Could Eric Patten of Clippers.com be right? The jury is out, as Griffin is just 1-of-5 from the floor but staying aggressive against the pathetic "defense" of Carlos Boozer.
Harry How/Getty Images
There's few things uglier than DeAndre Jordan at the free throw line.
Decades ago, I swore I would never see someone rival Chris Dudley's unprecedented futility from the free throw line, but Jordan is hitting just 44 percent this year.
Then again, maybe it's not so bad, Dudley shot 30.5 percent in 1989-90. Jordan is 1-of-4 from the line to start the game. With a little work, he could challenge Dudley's ignominious record.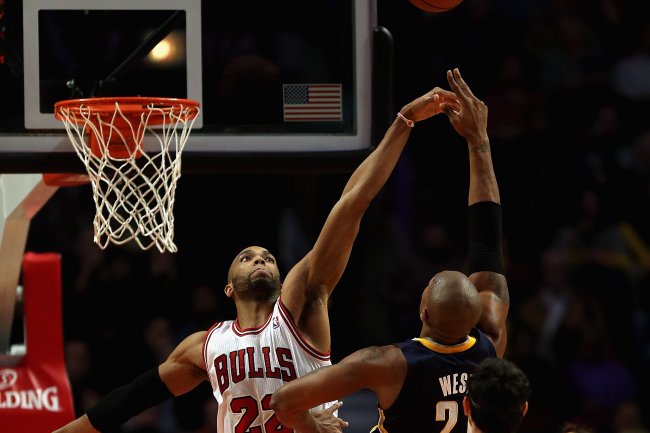 Jonathan Daniel/Getty Images
One thing to keep an eye on tonight is how many minutes Carlos Boozer sees. He's been aggressive early and managed to score the Bulls first basket, but Taj Gibson is a better defender. That would help against Blake Griffin, whose athleticism outclasses Boozer's by a factor unmeasurable to man.
Gibson signed a $38 million four-year contract extension and it seems the time to give Gibson minutes would begin with a game like tonight's.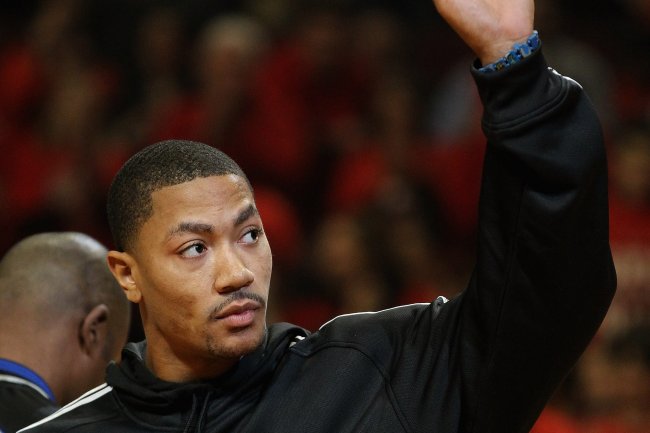 Jonathan Daniel/Getty Images
Chatter has been abundant regarding the return of one-time MVP Derrick Rose. The Chicago Sun-Times reports Rose is just "weeks away" from making his way back onto the court.
For the meantime, however, there is Tuesday night's matchup against the streaking L.A. Clippers. The Clips have won six straight and improved to 14-6 on the season. They have a half-game lead on the Golden State Warriors for the best record in the Pacific Division.
Tuesday night's game marks the first game in a four-game road trip for the Clips, with subsequent games against the Bobcats, Pistons and Bucks. Scoring a victory Tuesday night would set the Clips up nicely to propel themselves to a double-digit win streak, as the Bobcats and Pistons are both below .500 and the Bucks are just a game above .500.
One big story for the Clips has been the impressive play of Jamal Crawford, who may be making a push for the Sixth Man of the Year award. Crawford leads the Clippers in scoring despite playing under 30 minutes a night. He's posted 17.9 points per game on 44.2-percent shooting, including hitting 38.7 percent from downtown.
Blake Griffin has also got it back on track after a tough start to the season. To date, Griffin is now posting 17.9 points (with less total points than Crawford) on 52.7-percent shooting. The diversification in his game is beginning to pay dividends, as Griffin relies less heavily on dunks now and is putting the ball on the court more often and with greater comfort.
So, sit back and get the popcorn popping for an exciting night of basketball between the Luol Deng led Chicago Bulls and Chris Paul's Clipper squad.
This article is
What is the duplicate article?
Why is this article offensive?
Where is this article plagiarized from?
Why is this article poorly edited?