New York Knicks vs. Brooklyn Nets: Postgame Grades and Analysis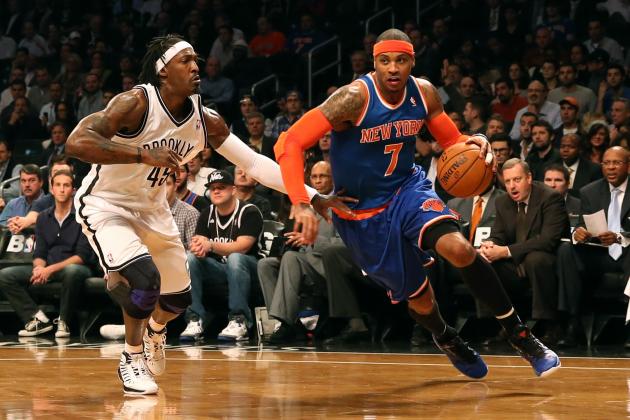 USA TODAY Sports

The New York Knicks were able to overcome a big first-half deficit to beat the Brooklyn Nets, 100-97, and even the season series at a game apiece.
The Nets broke out to a 14-point lead after one quarter. Slowly, the Knicks worked their way back into the game, outscoring Brooklyn by 10 in the second quarter. In the final frame, the Knicks really took control of the game and outlasted the Nets in Game 2 of this newfound rivalry.
Carmelo Anthony was immense all game long, scoring 45 points on 15-of-24 shooting. He scored evenly throughout and dominated the Nets' defense. He was aided by J.R. Smith, who brought 16 points off the bench.
It was Jason Kidd who was the late-game hero, though. The veteran guard nailed six three-pointers, none bigger than the one with under 30 seconds to go, which broke a 97-97 tie.
This was the Nets' fifth straight loss, all of which have come without Brook Lopez. Brooklyn falls to 11-9 on the season, while the Knicks improve their Eastern Conference-best record to 16-5
Let's hit the classroom to find out how both teams graded out in this important Knicks win.
Begin Slideshow

»
Deron Williams, Nets: B+
The New York Knicks used a great mid-game push to work their way back into things after falling behind by double digits. At this point, Deron Williams did something he needs to do more consistently; be aggressive. He scored nine of the team's first 11 points, single-handedly maintaining separation from the Knicks.
It wasn't enough in the long run and despite everything Williams did, his team failed to put the Knicks away.
Williams posted a double-double with 18 points and 10 assists, but definitely missed Brook Lopez. Andray Blatche may have made up for Lopez's absence production-wise, but his chemistry with Williams was noticeably missing from the game.
Raymond Felton, Knicks: C-
Despite being outplayed once again by Deron Williams, Raymond Felton's team was victorious. Felton can't rely on Carmelo Anthony and Jason Kidd to do this consistently against good competition. Both players really bailed Felton out of a poor game.
The Knicks' point guard had as many turnovers as assists (seven) and shot just 3-of-12 from the field for eight points.
Felton is having a good season, but struggles against great point-guard competition. The season is still young enough that he can improve, but this may be a lingering issue moving forward.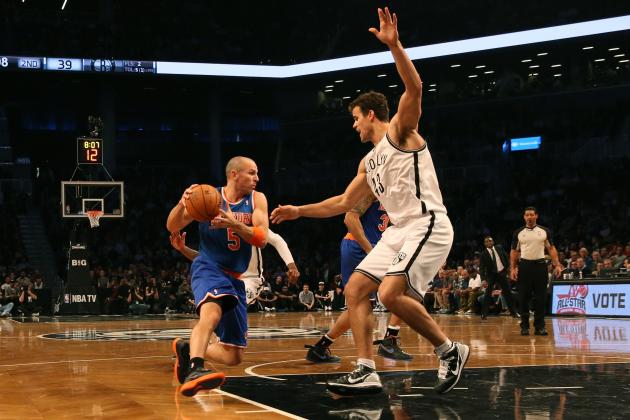 USA TODAY Sports

Jason Kidd, Knicks: A
It still feels weird trying to squeeze Jason Kidd into the label of shooting guard, but against the Nets, that is exactly what he was. His spot-up threes were huge for the Knicks in hanging with Brooklyn through the first three quarters.
He drained his fourth three-pointer late in the final quarter to tie the score at 91, but that would only be his second-biggest make of the evening. With under 30 seconds to go, Kidd sank a pressure three while absorbing a foul that wound up being the game-winner for the Knicks.
Overall, Kidd hit 6-of-8 three pointers for 18 points. He added six rebounds and six assists, as the veteran proved just how valuable he is going to be for this team moving forward.
Joe Johnson, Nets: B-
This was a solid performance from Joe Johnson through three quarters. However, in the final frame, Johnson was unable to help the Nets. He was held to just two points in the fourth quarter, putting a damper on a good game.
Johnson finished 7-of-14 for 16 points, five rebounds and four assists. Johnson has been a steady influence on the Nets thus far, but the same thing has had a tendency to plague him throughout his career. He tends to fade away in big moments and tonight was no different.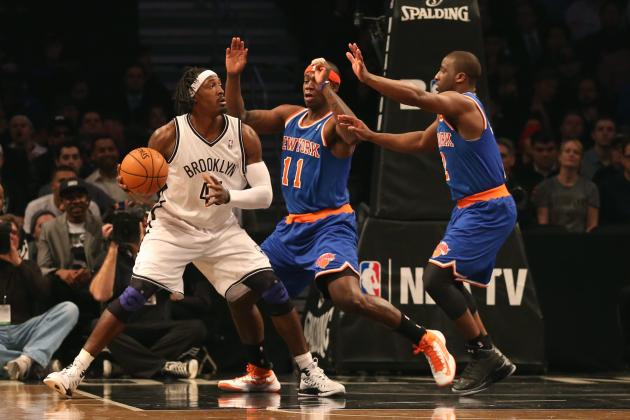 USA TODAY Sports

Gerald Wallace, Nets: C+
Gerald Wallace spent a lot of time smothering Carmelo Anthony, but when Anthony is playing this well, no one can stop him.
Wallace played an important role offensively for the Nets, getting to the line eight times. He was able to draw fouls against Tyson Chandler and Raymond Felton, which contributed to their tentative defense.
Wallace had a clutch tip-in in the final two minutes to help Brooklyn keep pace, but ultimately couldn't get enough done defensively.
Anthony had his way pretty much all evening, shooting 15-of-24 from the field. Wallace has to take the majority of the responsibility for that. He is going to be the one on Anthony moving forward and needs to learn better ways to manage him.
Ronnie Brewer, Knicks: F
To put it lightly, Ronnie Brewer probably shouldn't be starting in the NBA right now. He is a good defender and a valuable role player, but he should really be coming off the bench. Unfortunately, the Knicks are not healthy and he has been forced into the starting role.
All that being said, Brewer had about as bad a game as you can in basketball. In 12 minutes, he went 0-of-4 from the field for no points. Brewer also ran up a minus-14 on the night. Three reserves played more minutes than Brewer.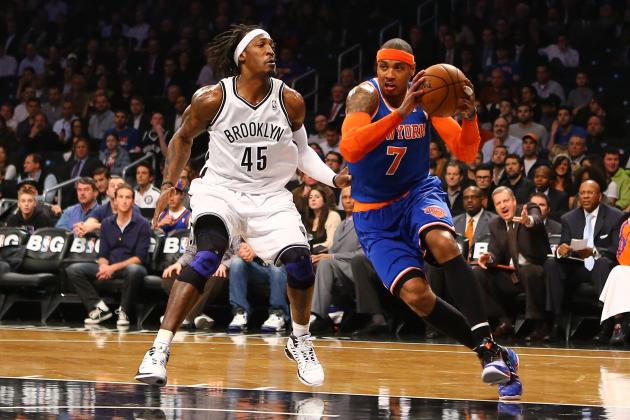 Al Bello/Getty Images

Carmelo Anthony, Knicks: A
With his team trailing by 14 points after one quarter, Carmelo Anthony poured in 14 second-quarter points to force the Knicks back into the game. From there, he continued on an absolute tear until the final buzzer sounded.
Anthony went 15-of-24 from the field for a season-high 45 points. He connected on 5-of-7 threes and 10-of-11 from the line. There was nothing the Nets could do to slow Anthony. He scored 15 points in the fourth quarter and did everything but hit the game-winning shot.
Reggie Evans, Nets: B+
Reggie Evans was surprisingly aggressive offensively in the early going. Evans went right at Tyson Chandler, causing him to pick up two quick fouls. Nothing came of this, but it was a good idea on Evans' behalf.
It was once again on the glass where Evans made his presence felt. Going up against an All-Star frontcourt in Carmelo Anthony and Tyson Chandler, Evans played his own game and demolished the Knicks on the boards.
Evans grabbed 18 rebounds and was huge in helping the Nets to 48 points in the paint.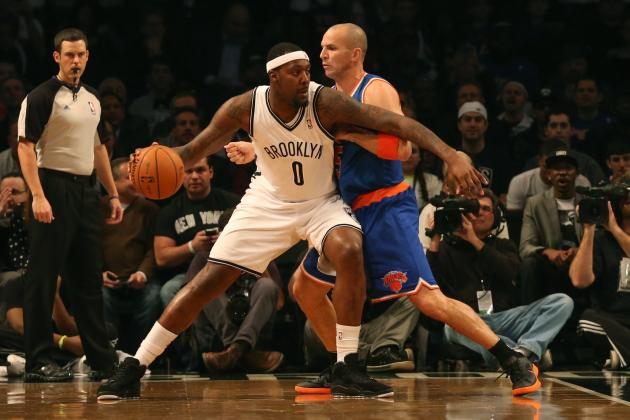 USA TODAY Sports

Andray Blatche, Nets: B+
Earning his sixth straight start, Andray Blatche put together another solid game. Since entering the starting lineup on Nov. 30, Blatche has been putting up big numbers.
He absolutely scorched the Knicks' frontcourt, shooting 9-of-13 from the field for 23 points. He dominated the painted area, shooting 7-of-9 from inside and showing up the Knicks' post defenders.
As long as Blatche is playing like this, the Nets shouldn't miss Brook Lopez too much. However, also realize they have now lost five in a row in his absence.
Tyson Chandler, Knicks: C
Brook Lopez was not playing in this game, so Tyson Chandler's defense should have been on display in full force against a frontcourt of Andray Blatche and Reggie Evans. However, the Nets managed 32 points in the paint in the first half and 48 in the game. That is a large blemish on the performance of the reigning Defensive Player of the Year.
With five double-doubles in his last six games, entering the Dec. 11 match, Chandler was on quite a run. This is a bizarre outing in an otherwise great season for the Knicks' big man.
However, he did save himself towards the end of the game, grabbing some key rebounds. Chandler finished with just five points and seven boards on the night.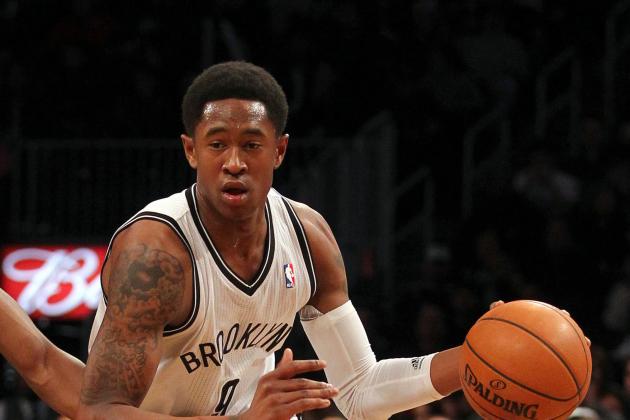 USA TODAY Sports

J.R. Smith, SG, Knicks: A-
J.R. Smith had five big points early in the fourth quarter to bring the Knicks to within five. That was just part of an excellent offensive game from the Knicks' sixth man.
Smith was shooting just 27 percent from the field in December entering this game, so going 7-of-15 on the night is definitely a confidence boost both for the player and his coach.
Smith scored 16 points off the bench and added four rebounds. He also tallied a plus-11 on the night.
MarShon Brooks, SG, Nets: B-
In the first half, MarShon Brooks looked a lot like the player the Nets saw in 2011-12. He came off the bench and provided points almost instantly. In eight first-half minutes, Brooks hit on 4-of-5 shots for nine points and two assists.
The second half was not quite as friendly to the second-year player, as Avery Johnson limited his minutes and he finished with just nine points on 4-of-7 shooting.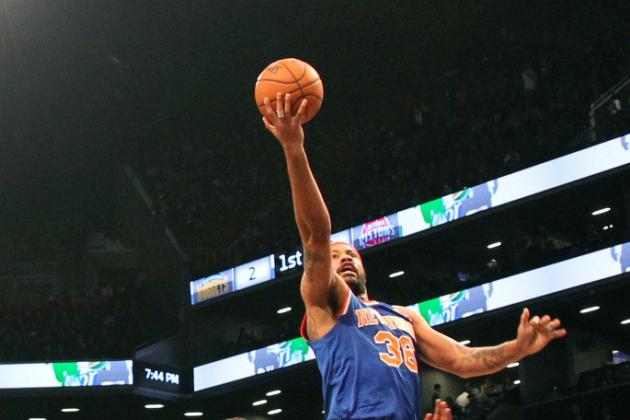 USA TODAY Sports

New York Knicks Bench: C
If we are excluding sixth-man J.R. Smith, the only reserve of note for the New York Knicks was Rasheed Wallace.
Wallace played a decent role in the first half, scoring eight points and hitting both of his three-pointers. His clever offensive play was evident on a smart pick-and-pop with Raymond Felton that led to an open three from the top of the key. He also added five rebounds and a couple of blocked shots.
Steve Novak was held scoreless through 22 minutes, but somehow earned a plus-12 rating, the highest mark on the Knicks.
Brooklyn Nets Bench: D+
The Nets' bench was very limited, especially in the second half when the game was slipping away.
Jerry Stackhouse was held scoreless in 21 minutes off the bench, but C.J. Watson did score seven points on 3-of-5 shooting to salvage things for this unit.
Still, as a whole, this group was unable to have an effect on the outcome of the game.