Dallas Mavericks: Handing out Team Awards Through the Season's 1st Quarter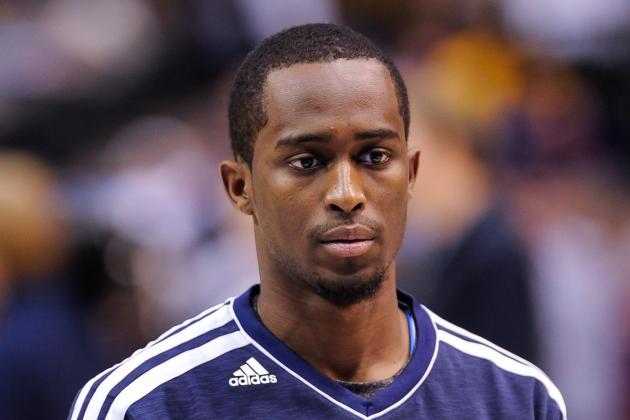 Jerome Miron-USA TODAY Sports
Roddy "No Buckets" Beaubois
O.J. Mayo has a little Robert De Niro in him. Sounds absurd until you look at the multiple awards Mayo is clutching.
O.J. has played the leading man for the Dirk-less Dallas Mavericks and is nominated for several team awards through the season's first quarter.
The Mavs' 11-10 start would be more like 7-14 without their new shooting guard. It's no joke when you consider Rodrigue Beaubois may have been featured if not for the Mayo signing.
But Roddy "No Buckets" won't go scoreless in our awards presentation. That alone makes this more suspenseful than any edition of The Oscars.
* statistics accurate as of Tuesday, Dec. 11
Begin Slideshow

»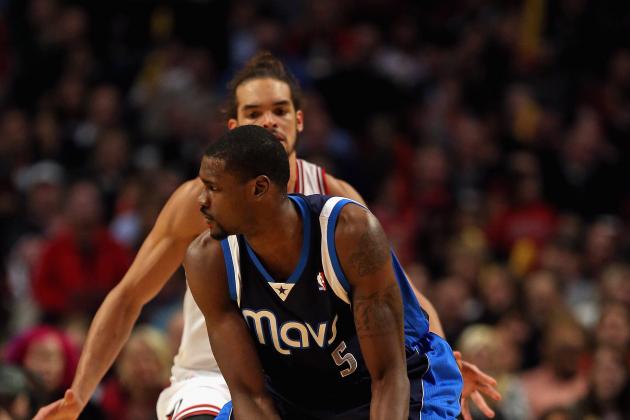 Jonathan Daniel/Getty Images

Mavs Rookie of the Quarter Nominees:
1. Jae Crowder
2. Bernard James
3. Jared Cunningham
Ironically, these nominees are listed in the opposite order from which they were drafted this summer.
Crowder was considered the most NBA-ready Mavs rookie despite being picked 34th overall. Sure enough, Crowder looked good early and has even started eight games.
However, Crowder's play has been very inconsistent. He shot 5-9 from the field Monday against Sacramento but was 5-35 (14.3 percent) in his previous six games.
For the season, Jae is averaging 6.3 points in 19.7 minutes per game. His shooting has slipped to 39.7 percent from the field and 31.7 percent from downtown.
That being said, Crowder almost locked up "Rookie of the Quarter" with a buzzer beater at Philadelphia. Unfortunately, he missed and left this award up for grabs.
Bernard "Sarge" James is a huge fan favorite for obvious reasons. James was a Sergeant in the Air Force and served in both Iraq and Afghanistan.
James was selected 33rd overall in the NBA draft at the age of 27. The Mavs were hoping he would become a solid backup center.
Arguably, Sarge is already there. James is averaging 3.5 ppg, 3.4 rpg and 0.9 bpg in just 11.4 minutes per contest. Nothing spectacular but rock solid every night.
Jared Cunningham is potentially spectacular, and that's why he was the 24th pick in the draft. However, he's also the youngest Mavs rookie at age 21 and has played sparingly.
And the Mavs Rookie of the Quarter is...
Bernard "Sarge" James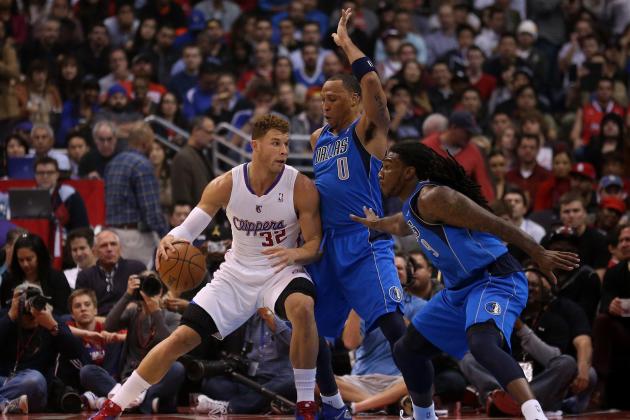 Stephen Dunn/Getty Images

Mavs Defensive Player of the Quarter Nominees:
1. Shawn Marion
2. Dahntay Jones
3. Bernard James
This is a short list because the Dallas defense has been pathetic thus far.
Marion was installed as the early favorite because he routinely defends the opposition's best player.
"The Matrix" also joined Hakeem Olajuwon, Karl Malone, Julius Erving and Kevin Garnett in a very elite defensive club two seasons ago. Marion became the fifth player in NBA history to register 1,500 career steals and 1,000 blocked shots.
A 6'7" forward with the ability to defend point guards, Marion is arguably the most versatile defender on that list cluttered with Hall of Famers.
Marion has missed a few games due to injury this season, so we should consider two other Mavs for "Defender of the Quarter."
Dahntay Jones has taken on the role voided by DeShawn Stevenson after the Mavs won the 2011 NBA title. Jones is a shutdown defender who came over from Indiana with Darren Collison in exchange for Ian Mahinmi.
Jones' physicality has helped keep that trade on the plus side for Dallas. It's too bad his offense is basically non-existent.
Jones and Bernard James both average around 12 minutes per game; playing only a quarter per contest won't garner you this award.
The Mavs Defensive Player of the Quarter is...
Shawn Marion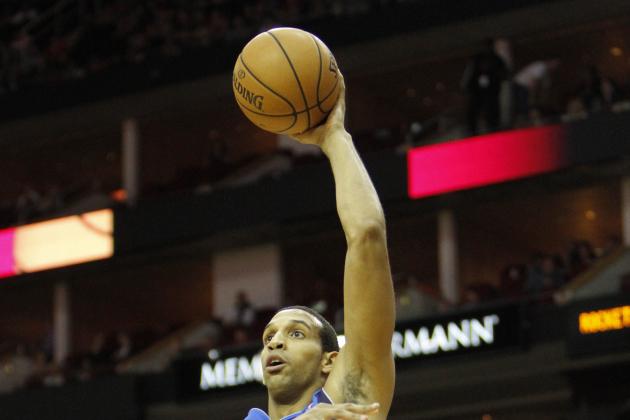 USA TODAY Sports

Mavs Most Improved Player of the Quarter Nominees:
1. Vince Carter
2. Dominique Jones
3. Brandan Wright
There aren't many viable candidates here because the Mavs revamped their roster so much. Carter has been asked to score more this season with the departures of Jason Terry and Delonte West.
Vince has responded, upping his scoring average from 10.1 ppg to 12.7 ppg so far this season. His 39.8 three-point percentage is his best since 2004-05.
"DoJo" has shown more improvement than Roddy Beaubois, but that is the definition of a back-handed compliment. If either one had improved much, the Mavs wouldn't have brought in 38-year-old Derek Fisher.
Wright has recently dug his way out of coach Rick Carlisle's doghouse. It remains a mystery why he was put there in the first place.
My theory is that Carlisle detests any sign of softness. That's why Collison and Beaubois have been demoted on the Mavs long ladder of point guards.
Wright needs to pick up his rebounding but has displayed a feathery shooting touch near the hoop. Carlisle seems to have struck a chord, because Wright is flying around on defense during the Mavs current three-game win streak.
Wright is on pace for new career-highs with 8.5 ppg and an impressive 63.5 field goal percentage.
O.J. Mayo would have been the obvious pick for this award if he was eligible. However, since he played for Memphis last season, Mayo doesn't meet the criteria for this particular honor.
The Mavs Most Improved Player of the Quarter is...
Brandan Wright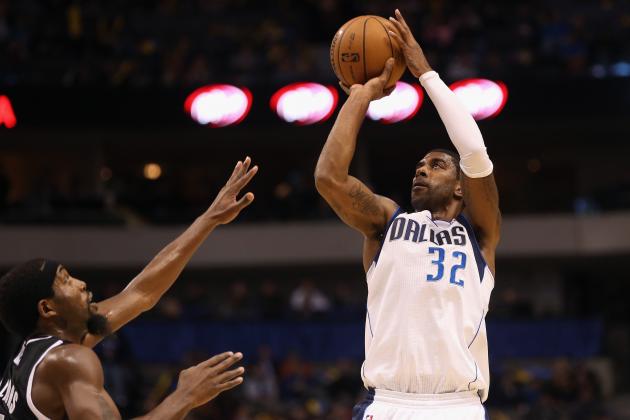 Ronald Martinez/Getty Images

Mavs Best Acquisition of the Quarter Nominees:
1. O.J. Mayo
2. Chris Kaman
3. Darren Collison
4. Derek Fisher
O.J. Mayo has carried the Mavs by shooting a stellar 53 percent from three-point range. His 20.8 scoring average hardly tells the whole story.
Mayo's 40-point road effort against the Houston Rockets Saturday is the classic example of his All-Star caliber season. Dallas' record is 6-1 when Mayo scores at least 25 points, and the Mavs are 3-0 when O.J. tallies at least 30.
Mayo's 40-point game tied a personal career-high set with Memphis in 2008-09. He finished second to Derrick Rose that season for NBA Rookie of Year.
Chris Kaman has also been a good free agent signing for the Mavs offense. Kaman is averaging 14.3 ppg in 26.1 minutes per contest, while shooting 53.9 percent from the field.
As mentioned earlier, Collison was acquired via the trade route from Indiana. After one week, Collison was the front-runner for the Mavs Best Acquisition award.
Since then, the lightning quick point guard has lost his starting job to Fisher. However, that does make Collison a leading candidate for our next award. Stay tuned.
The Mavericks have played much better with Fish starting at the point. In fact, Dallas owns a 4-1 record since the veteran's arrival. Derek's individual numbers don't look great, but he personifies the toughness Carlisle demands on the floor.
The Mavs Best Acquisition of the Quarter is...
O.J. Mayo in a landslide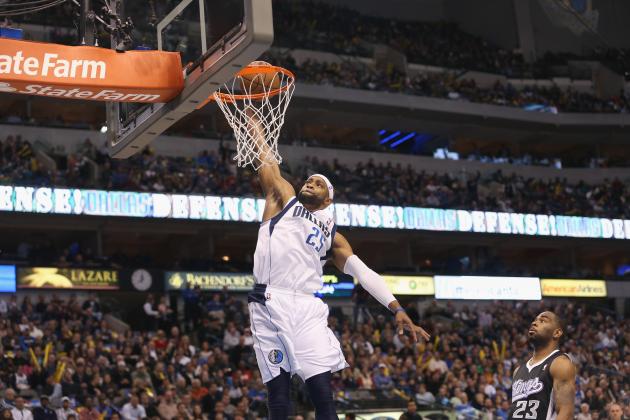 Ronald Martinez/Getty Images

Mavs Sixth Man of the Quarter Nominees:
1. Vince Carter
2. Darren Collison
Rick Carlisle has used 10 different starting lineups this season. Vince Carter hasn't been involved in the juggling act because of his prowess off the Mavs bench.
Carter provides instant offense at both the 2 and 3 positions. The former superstar has embraced his new role as the Mavs sixth man.
Several key statistics back up this fact:
Vince Carter's Two Seasons in Dallas
2011-12 2012-13
Starts 40 0
Games Off Bench 21 21
Minutes Per Game 25.3 23.4
Points Per Game 10.1 12.7
Field Goals 41.1% 41.6%
3-Point Field Goals 36.1% 39.8%
Darren Collison has busted out of a bad slump after being supplanted as the Mavs starting point guard. He's scored in double figures in three straight games, all Dallas victories.
If Carlisle continues to play Collison large minutes off the bench, this award could change by season's end.
Mavs Sixth Man of the Quarter is...
Vince Carter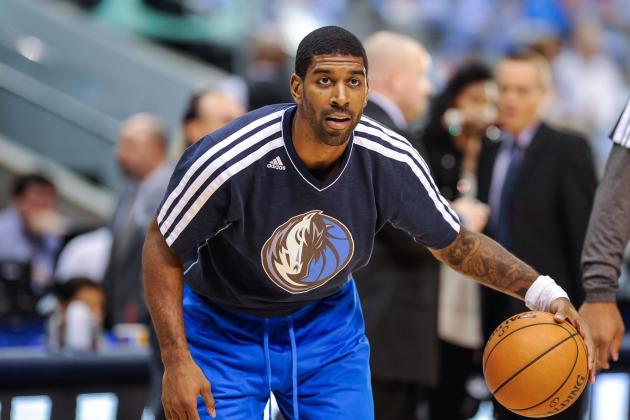 Jerome Miron-USA TODAY Sports

Mavs Most Clutch Performance in a Single Game Nominees:
1. O.J. Mayo vs. Golden State Warriors
2. O.J. Mayo at Houston Rockets
If you notice a theme developing, get used to it.
There is no way around the fact that O.J. Mayo is the Mavericks only viable 2012-13 NBA All-Star Game candidate.
However, Mayo's most clutch performance as a Mav is hardly clear-cut.
On Nov. 19, Mayo got off to a slow start at the AAC against Golden State. However, he absolutely dominated down the stretch.
After being held to nine points in the first three quarters, Mayo erupted for 18 points in the fourth quarter and overtime.
O.J. reeled off 11 straight points for the Mavs to end the overtime session. He single-handedly led Dallas back from a seven point deficit to tie the game 99-99, before Dallas succumbed 105-101.
Mayo became the first player since Russell Westbrook in 2010 to score all of his team's points in overtime (minimum: 10 points scored).
This past Saturday, Mayo put on a clinic at Houston. He scored a career-high tying 40 points in the Mavs 116-109 win.
Mayo shot 15-26 from the field, including 6-9 trifectas. He even chipped in with a team-high eight rebounds.
As for being clutch in Clutch City, Mayo scored 12 of the Mavs last 14 points. This included 10 points in final three minutes of the Dallas victory.
And the winner of Mayo vs. Mayo for the Mavs most clutch performance in a single game is.......
Mayo's 40-point game at Houston in a tight vote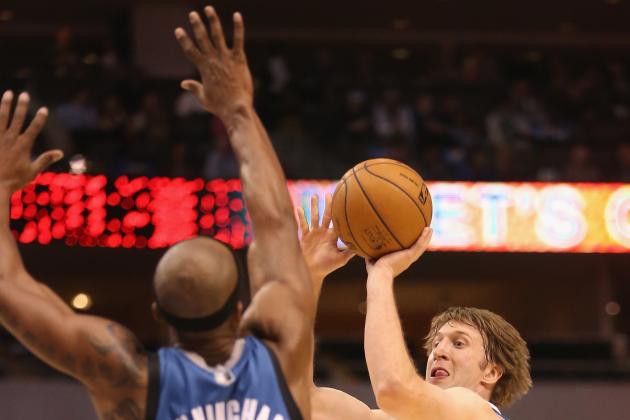 Ronald Martinez/Getty Images

Mavs First Quarter Clunker Award Nominees:
1. Roddy "No Buckets" Beaubois
2. Troy Murphy
At least Roddy B. is still on the Mavs roster. Is that enough for him to avoid the First Quarter Clunker Award?
Troy Murphy has been sent back to his couch after Rick Carlisle gave him every opportunity to stay off it.
But hey, being a couch potato is a tough thing to give up. Right?
Apparently, it was for Murphy. A rugged rebounder earlier in his career, Murphy added nothing to the Mavs woes on the boards. He was more than content to just launch a few three-point shots and call it a night.
In stark contrast, 38-year-old Derek Fisher couldn't wait to get off his couch. As a result, Roddy B. has been demoted again to fourth string point guard.
The artist formerly known as "Roddy Buckets" is averaging 3.8 ppg on 32.7 percent field goals. His defense is even worse than his offense and it's time to declare Beaubois a bust by every conceivable basketball measure.
And the Mavs First Quarter Clunker Award goes to...
Roddy "No Buckets" Beaubois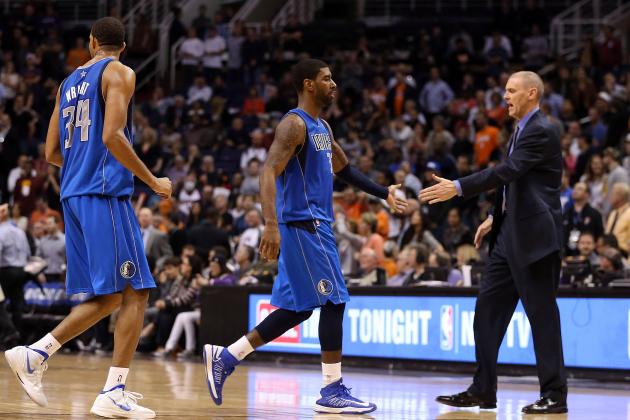 Christian Petersen/Getty Images

Mavs First Quarter Most Valuable Player Award Nominees:
1. O.J. Mayo
2. Dirk Nowitzki
Remember the old sports argument that an injured player could be deemed the team's MVP if they lost a lot more games without him than with him.
Well, it doesn't apply here because Dirk has yet to play a game this season.
Hey, it was worth a shot, right? If your answer is "not really", I apologize.
On a serious note, Dirk could easily be the Mavs MVP by season's end. Let's hope so anyway.
At the quarter pole, the academy has unanimously voted for O.J. Mayo. Any further attempt at suspense would be like trying to deny De Niro had an Oscar winning performance as Best Supporting Actor in The Godfather Part II...or more fittingly, as Best Actor in the sports classic Raging Bull.
When we take a closer look at Mayo's epic performance Saturday in Houston, we notice that the only other Mavericks starting guard to score 40+ points over the last 18 seasons was Michael Finley (42) in a 2002 game. Very ironically, Roddy B. scored 40 off the bench in a 2010 game against the Golden State Warriors.
Let's just make this official:
The Mavs First Quarter Most Valuable Player Award goes to...
O.J. Mayo