Los Angeles Lakers vs. Cleveland Cavaliers: Postgame Grades and Analysis for LA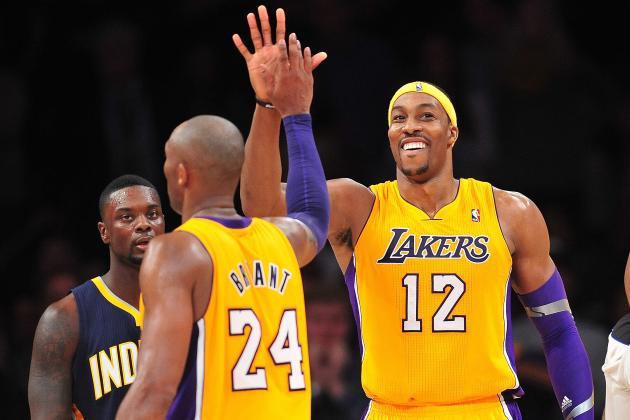 Gary A. Vasquez-USA TODAY Sports

Despite getting 42 points from Kobe Bryant, and 20 rebounds from Dwight Howard, the Los Angeles Lakers were unable to muster a win on the first night of their four-game road trip, falling to the Cleveland Cavaliers, 100-94, Tuesday night.
The Lakers turned the ball over 18 times and trailed this one seemingly from the opening tip. They clawed back from a double-digit deficit in the fourth quarter, but could never get over the hump and claim the lead.
Throughout the night, Cleveland wisely decided to use Utah's blueprint from their victory over Los Angeles Sunday night: every time the Lakers shoot, send your guards up the court for a quick outlet.
If the Lakers' transition defense continues to struggle, winning games—especially on the road—could be a rarity.
Begin Slideshow

»
In 33 minutes, Chris Duhon attempted two shots, scored two points and tallied three assists. That's not good.
As the journeyman point guard continues to fill shoes that are much to large for his feet, Los Angeles will continue to find themselves getting overmatched in backcourt show downs.
On the other end, Cavaliers point guard Kyrie Irving torched Duhon and the Lakers for 28 points.
Grade: D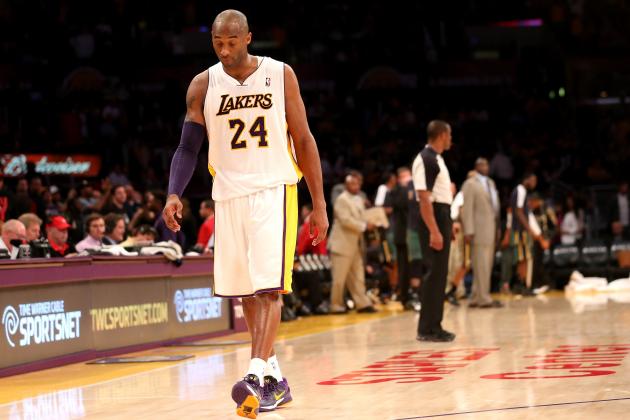 Stephen Dunn/Getty Images

Kobe Bryant had 31 points when he reentered the game with a little less than seven minutes left in the game and the Lakers trailing by five. It was a moment that felt like he had Cleveland right where he wanted them, but the Cavaliers (and Kyrie Irving) had different plans.
After stealing the ball from Irving with a little over 30 seconds left to go, Bryant attempted a three-pointer that would've cut the deficit to two, but missed. He then hit a ridiculous fall-away three in the corner to make it a three-point game, but missed a wide-open opportunity with 16 seconds left.
Bryant scored 42 points on 28 shots, but turned the ball over five times and left his man, C.J. Miles, repeatedly open in transition.
Grade: A-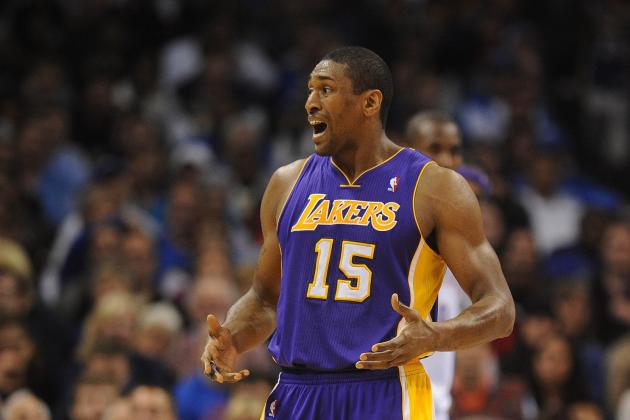 USA TODAY Sports

Metta World Peace went to the locker room to get stretched out in the third quarter, but returned in time to hit a big three-pointer with just over three minutes left in the game to cut Cleveland's lead down to three.
Unfortunately, on the very next trip down the court, he failed to rotate over on a Kyrie Irving/Anderson Varejao pick-and-roll and the Cavaliers immediately answered with a layup.
Coming out of a subsequent timeout, World Peace was called for traveling on a drive to the basket. He finished with 13 points, nine rebounds and zero assists.
Grade: C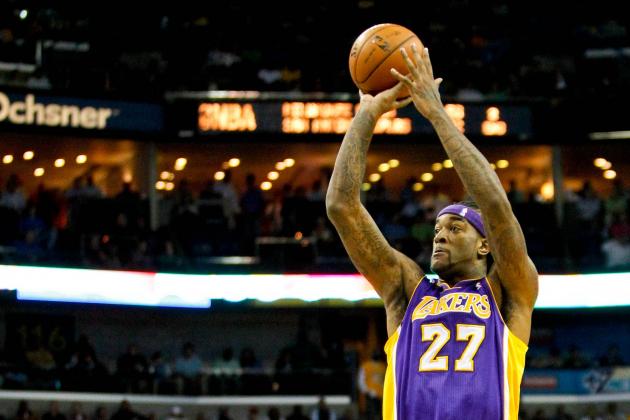 USA TODAY Sports

Hill had two points on six shots in just 25 minutes of action (almost four fewer than sub Antawn Jamison), but his presence on the boards (10 rebounds) and on the defensive end of the court was more than noticeable.
Grade: C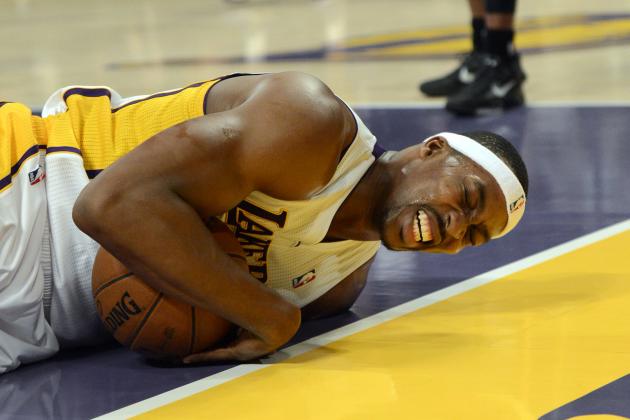 Richard Mackson-USA TODAY Sports

Dwight Howard filled up the box score like we're accustomed to seeing him do, with 20 rebounds, 22 free-throw attempts (making 13) and 19 points. But in 41 minutes he only attempted nine shots, which is unacceptable.
Defensively, Howard doesn't look anything like the player who won three Defensive Player of the Year awards. He was repeatedly beat in space, and continues to be a half-step slow on dribble drives to the basket.
Grade: B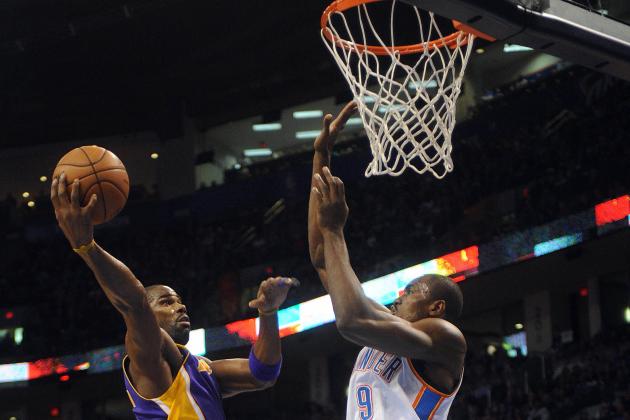 USA TODAY Sports

Jamison made just one of six attempted three-pointers and finished with nine points in 29 minutes.
As can be expected, both his on-ball and help defense was atrocious.
Grade: C-
USA TODAY Sports

Apart from Antawn Jamison, the Lakers bench was basically non-existent. Jodie Meeks contributed seven points and missed three three-pointers out of four, and Devin Ebanks and Darius Morris combined to go scoreless from the floor with two shots total.
Grade: D