TUF 16 Finale: Info and Predictions for Nelson vs. Mitrione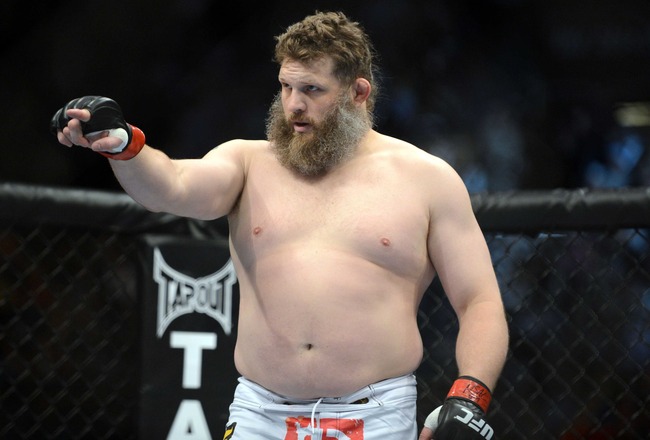 Ron Chenoy-USA TODAY Sports
The Ultimate Fighter 16 will come to a close on Saturday, when coach Roy Nelson takes on replacement opponent Matt Mitrione in main event of the season finale. Nelson was originally expected to fight opposing coach Shane Carwin at the event, but the former heavyweight champion was forced out of the matchup due to injury.
A welterweight tournament was featured in the 16th season of the show. The finalists of that competition, Colton Smith and Mike Ricci, will compete in the co-main event of the evening. The winner of that bout will earn a guaranteed six-figure contract with the world's top MMA promotion.
The UFC has filled the rest of the fight card with more intriguing fights, so let's take a look at the entire event and some predictions on which fighters are most likely to walk away with a win.
Jared Papazian vs. Tim Elliott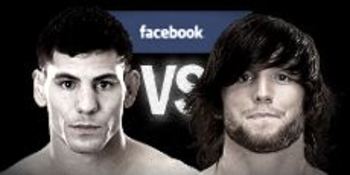 UFC.com
How to Watch
Facebook at 5:30 p.m. ET
Preview
Dropping to flyweight from the bantamweight division, Jared Papazian could find a size advantage over his opponents. Unfortunately for the 24-year-old, that alone will not fix the holes in his ground game that have led to five submission losses.
Coming off of a competitive fight against top contender John Dodson, Tim Elliott has the potential to become a contender in the newly formed 125-pound division.
Neither Papazian nor Elliott are great technical strikers, but both fighters are scrappy and capable of winning a stand-up bout. Should the fight go to the ground, though, Elliott is far more capable of finishing the fight than Papazian.
Prediction
Elliott defeats Papazian by submission (rear-naked choke) at 2:12 of the first round.
Mike Rio vs. John Cofer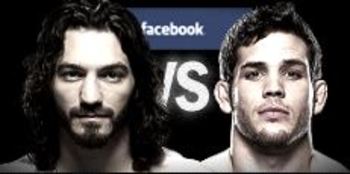 UFC.com
How to Watch
Facebook at 5:30 p.m. ET
Preview
With John Cofer coming off of a loss in his UFC debut and Mike Rio fighting for the first time since appearing on The Ultimate Fighter, it's likely both fighters will be competing for their jobs on Saturday.
Both men come from wrestling backgrounds, so this fight could come down to takedowns should it go to the scorecards. If that's the case, Cofer would probably have the edge as a former member of the University of Tennessee-Chattanooga wrestling team and a current Team Alpha Male member.
Cofer also has the advantage of already experiencing his first fight inside the Octagon. For Rio, nerves could play a much bigger factor in his performance.
Prediction
Cofer defeats Rio by unanimous decision (29-28, 29-28, 29-28).
Reuben Duran vs. Hugo Viana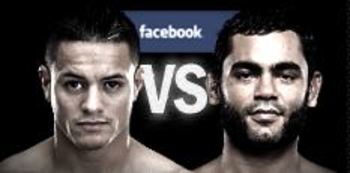 UFC.com
How to Watch
Facebook at 5:30 p.m. ET
Preview
Reuben Duran has not competed since his submission win over Francisco Rivera more than 18 months ago. However, as a fighter who nearly defeated Takeya Mizugaki in his UFC debut, Duran should be considered a sizable favorite in this matchup with Hugo Viana.
Viana barely kept his spot on the UFC roster by beating John Teixeira via split decision in his Octagon debut following an appearance on The Ultimate Fighter: Brazil.
While past results suggest Duran is the significantly more skilled fighter, Viana has gone to decisions in every one of his fights, so he should find a way to take this bout the distance as well.
Prediction
Duran defeats Viana by unanimous decision (30-27, 30-27, 30-27).
T.J. Waldburger vs. Nick Catone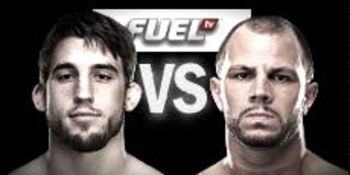 UFC.com
How to Watch
Fuel TV at 7 p.m. ET
Preview
Nick Catone may have gotten stopped by Chris Camozzi in his most recent appearance, but that followed a yearlong hiatus from competition. This is a fighter who holds a win over Costa Philippou and one who could make a serious impact in the welterweight division.
With 12 submission wins already, 24-year-old T.J. Waldburger is a dangerous opponent for anyone on the ground. The problem in this matchup is that he'll have a lot of trouble taking down a large wrestler like Catone.
He may not be Johny Hendricks, who knocked out Waldburger in March 2011, but Catone brings a similar style into this fight.
Prediction
Catone defeats Waldburger by technical knockout (punches) at 1:32 of the first round.
Vinc Pichel vs. Rustam Khabilov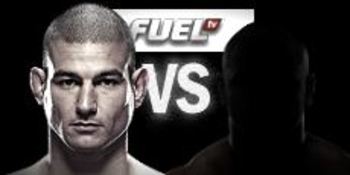 UFC.com
How to Watch
Fuel TV at 7 p.m. ET
Preview
Vinc Pichel is a dangerous opponent for an unproven fighter like Rustam Khabilov. The former The Ultimate Fighter contestant has knocked out every one of his official opponents within the first two rounds.
However, a combat sambo world champion like Khabilov probably isn't going to choose to stand with Pichel for very long. As long as he can work inside and get his hands on Pichel, Khabilov should be able to dominate this fight on the ground.
Prediction
Khabilov defeats Pichel by unanimous decision (30-27, 30-27, 30-27).
Johnny Bedford vs. Marcos Vinicius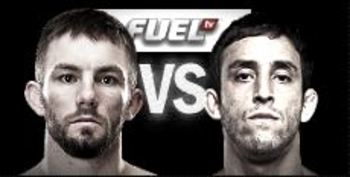 UFC.com
How to Watch
Fuel TV at 7 p.m. ET
Preview
After appearing on The Ultimate Fighter: Brazil, Marcos Vinicius needed a come-from-behind victory over Wagner Campos to keep his spot on the UFC roster.
If former Cleveland State University wrestler Johnny Bedford watched tape of Vinicius' UFC debut, he should have all the information he needs to remain undefeated inside the Octagon.
Campos took Vinicius down twice in that fight, and Bedford is a much more experienced wrestler than Campos. The 29-year-old shouldn't have much trouble at all taking Vinicius to the canvas and controlling him on the ground.
Prediction
Bedford defeats Vinicius by unanimous decision (30-27, 30-27, 30-27).
Mike Pyle vs. James Head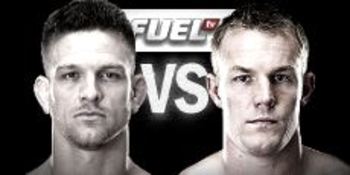 UFC.com
How to Watch
Fuel TV at 7 p.m. ET
Preview
James Head picked up a big win in his most recent fight, upsetting Brian Ebersole in a split decision. However, that was a fight Ebersole took on short notice, and Head will now be taking a step up in competition to face Mike Pyle.
A jiu-jitsu brown belt with knockout wins in his past two fights, Pyle should have an advantage over Head in all areas. Head has only been stopped once in his career, but Pyle should be able to control this fight when standing and on the ground.
Prediction
Pyle defeats Head by unanimous decision (30-27, 30-27, 30-27).
Dustin Poirier vs. Jonathan Brookins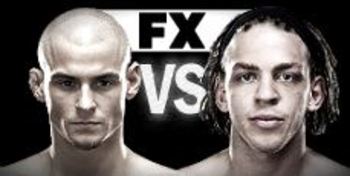 UFC.com
How to Watch
FX at 9 p.m. ET
Preview
Dustin Poirier has had the most trouble with grapplers, so Jonathan Brookins has a good chance of getting this fight where he wants it. However, rolling with an American Top Team fighter like Poirier won't be too fun.
Coming off of a submission loss to Charles Oliveira, Brookins is going to see submission attempt after submission attempt should he take Poirier to the ground in this fight. Eventually, the 23-year-old Poirier is going to catch Brookins with something to get himself back on a winning track.
Prediction
Poirier defeats Brookins by submission (armbar) at 2:07 of the second round.
Melvin Guillard vs. Jamie Varner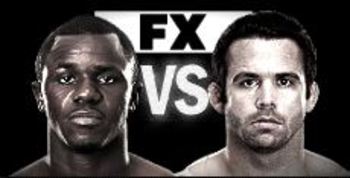 UFC.com
How to Watch
FX at 9 p.m. ET
Preview
Melvin Guillard and Jamie Varner are two lightweights who are going to come out swinging early.
Both fighters have solid chins, though, with Guillard's knockout loss to Donald Cerrone being the only one either has suffered. Therefore, there's a good chance this bout will last longer than the initial onslaught and possibly go to the scorecards.
Guillard is known for having poor submission defense, and Varner does have a number of submission wins. However, most of those victories came against low-level competition.
After both fighters survive a back-and-forth slugfest in the first round, Guillard will focus more on his wrestling in the second frame. Then, there's a good chance Varner could take control as Guillard fades in the final stanza. Ultimately, a close decision will be decided by the opening moments, and whichever fighter got off to the stronger start will walk away with the victory.
Prediction
Guillard defeats Varner by split decision (29-28, 28-29, 29-28).
Pat Barry vs. Shane del Rosario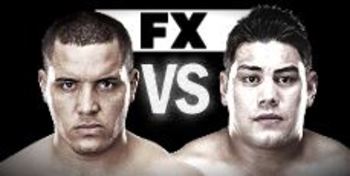 UFC.com
How to Watch
FX at 9 p.m. ET
Preview
Shane del Rosario may have a significant advantage over Pat Barry on the ground, but this fight will stay standing unless a rocked fighter shoots in for a takedown out of desperation.
Both fighters have kickboxing backgrounds, but there was a good reason Barry left that sport for MMA. He had lost half of his final eight kickboxing matches and recognized the chance to take advantage of the fact that striking technique in MMA was far behind striking technique in kickboxing.
Del Rosario, on the other hand, left behind the WBC muay thai heavyweight title to chase his career in MMA. The 29-year-old is a better striker than Barry, and it will show on Saturday when he should pick up his first UFC victory.
Prediction
Del Rosario defeats Barry by technical knockout (knees and punches) at 3:39 of the first round.
Colton Smith vs. Mike Ricci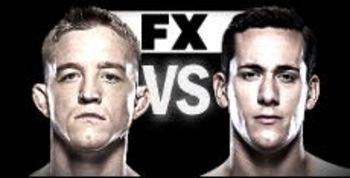 UFC.com
How to Watch
FX at 9 p.m. ET
Preview
Colton Smith's game plans are about as one-dimensional as they come. He's going to try to take Mike Ricci down and hit the Canadian with punches until he curls up or gives up his back.
While the live format of The Ultimate Fighter was fun, this is where the taped format makes more sense. Ricci has had a full training camp to prepare for what he knows is coming at him. With the Tristar Gym behind him, that is bad news for Smith.
Though Smith might be able to press Ricci to the cage early, he's going to have a tough time taking down a fighter of that skill level who has probably spent the past few months focusing solely on takedown defense. Eventually, Ricci is going to break loose and start blasting away on Smith, who has been knocked out before appearing on the reality series.
Prediction
Ricci defeats Smith by technical knockout (punches) at 3:53 of the first round.
Roy Nelson vs. Matt Mitrione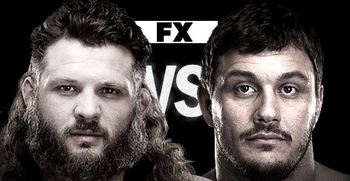 UFC.com
How to Watch
FX at 9 p.m. ET
Preview
There's a good chance Roy Nelson could stand with Matt Mitrione and walk away with a knockout or definitive decision victory. However, Nelson's biggest advantage over Mitrione comes on the ground, where he should try to take this fight early.
Nelson should have little problem taking Mitrione down, and once he does, this fight might not make it out of the opening round. After being pounded on from Nelson's signature mounted crucifix position, Mitrione will eventually give up his back.
From there, Nelson will have his choice between finishing the fight with a number of unanswered punches or with a rear-naked choke.
Prediction
Nelson defeats Mitrione by submission (rear-naked choke) at 4:28 of the first round.
Keep Reading