Bradford City vs. Arsenal: 6 Things We Learned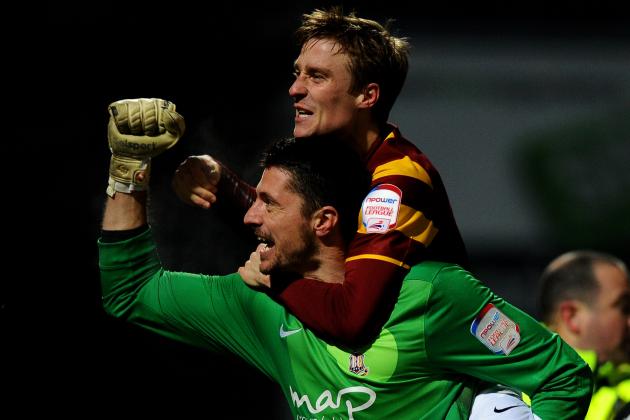 Laurence Griffiths/Getty Images
Heroic Bradford celebrate victory over a dreadful Arsenal
This game will be remembered for many reasons. First of all, because it will go down as one of the great cup upsets, in this or any other competition. For Bradford City, it will become the famous night when they conquered the Champions League elite. For Arsenal, it will forever mark a humiliating low point in the esteemed career of Arsene Wenger.
At this stage it's hard to say what the long-term ramifications of such a result could be for both Wenger and Arsenal. In the short term, however, a few things have become immediately clear. Go to the next slide as we begin to dissect this extraordinary result.
Begin Slideshow

»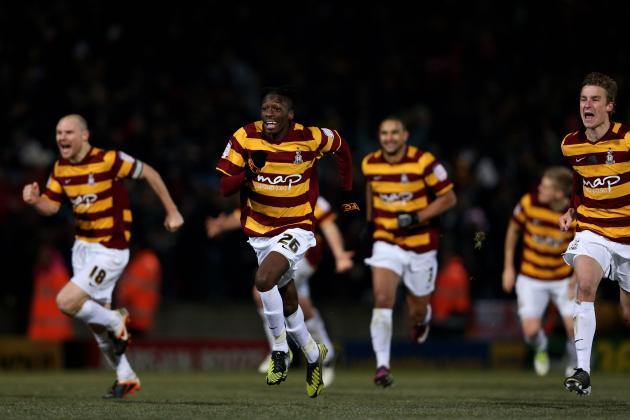 Clive Brunskill/Getty Images
Bradford celebrate a historic victory
On paper, Bradford City should not have stood a chance in this game. Football, however, is not played on paper but on grass, and in this match it was impossible to argue with the fact that The Bantams deserved the victory.
Arsenal will point to missed chances, particularly a glaring Gervinho miss and a Santi Cazorla thunderbolt that cannoned off the crossbar. Bradford, however, will contend that they kept Arsenal from mustering a shot at goal until the 69th minute, whilst they themselves missed two one-on-one opportunities and forced Kieran Gibbs to clear off the line. Arguably, by the time Thomas Vermaelen nodded a late equaliser, Bradford could have been out of sight.
How does this happen? How do a side of such comparatively limited technical ability manage to overcome the odds and defeat a club with resources like Arsenal?
Perhaps an Arsenal squad member himself sums it up best. Speaking on his twitter feed, young midfielder Nico Yennaris, not involved against Bradford, said,"Hard work beats talent when talent fails to work hard!!!"
On the night, Arsenal simply did not do enough.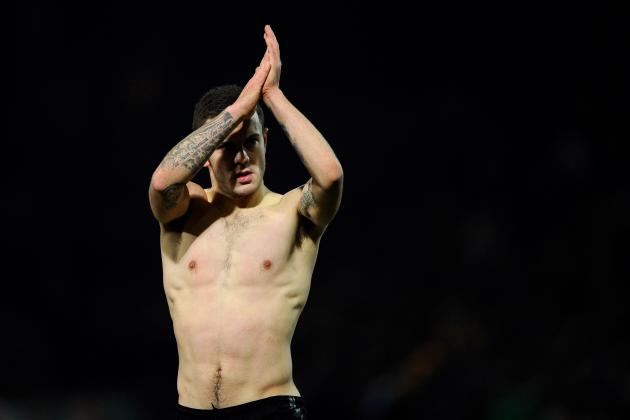 Laurence Griffiths/Getty Images
Jack Wilshere after the Bradford defeat
It's hard to take any positives from a result like this, but Arsenal fans will be heartened by the sight of Jack Wilshere completing an entire 120 minutes of action. Uncharacteristically, both British players who took penalties in the shoot-out scored: Wilshere and Alex Oxlade-Chamberlain.
Whilst other, more senior players were sloppy during both the match and the shoot-out, these two youngsters were focused throughout, from the moment they entered the field to the moment they confidently dispatched their penalties. It was a significant show of spirit from two young men who will surely be at the heart of any future Arsenal revival.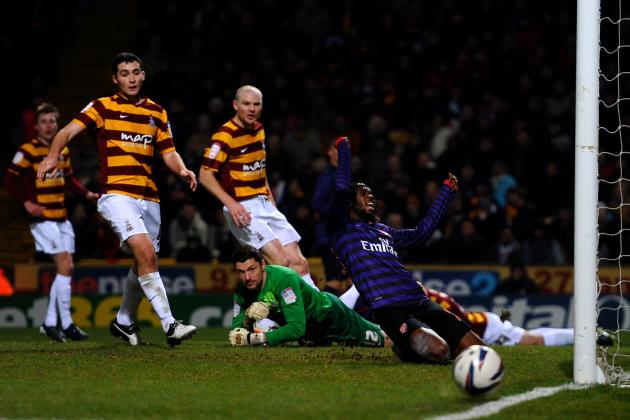 Laurence Griffiths/Getty Images
Gervinho misses an open goal against Bradford
It's a big statement to make about a player who has won Ligue 1 with Lille and is a current Ivory Coast International, but I am increasingly of the opinion that Gervinho will never be able to provide the consistency and quality of performance you associate with a club like Arsenal.
There are strengths to his game: his makes tireless runs off the ball, and his movement is occasionally dangerous and deceptive (although possibly by accident). However, his decision-making is erratic and his finishing appalling. Last night we saw the nadir of his Arsenal career to date, as he conspired to miss an open goal from about four yards out.
At his best, he is a squad-member. At his very best, he is a hard-working, unpredictable winger. However, he is never to be regarded as a starter, and certainly never at centre-forward.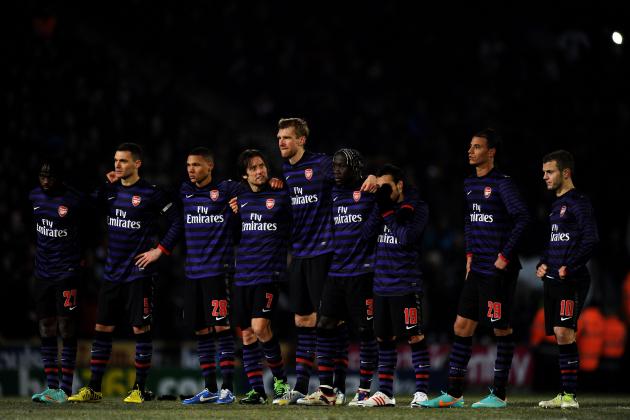 Laurence Griffiths/Getty Images
Plenty of talent, but no natural goal scorer
Gervinho's travails at centre-forward are only half of the story. At least he has the good grace to compensate for his lack of technical ability with hard work. When Marouane Chamakh entered the game as a second half substitute, he sauntered around the pitch with all the lackadaisical negligence of a player who is happy to collect his pay-packet and run down his contract without ever seriously challenging for a first-team spot.
In the absence of Olivier Giroud, Arsenal do not have a respectable option to play as a striker. Come the opening of the January window, that simply has to be amended.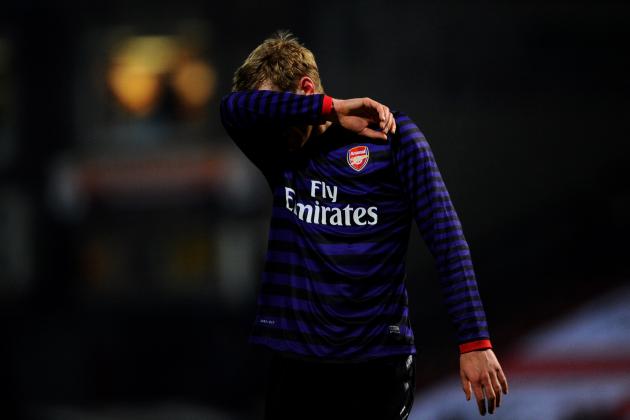 Laurence Griffiths/Getty Images
Per Mertesacker against Bradford
I do not believe that zonal marking is in itself a flawed system. Other teams have successfully deployed it before. Arsenal, however, seem incapable of such a feat.
Opposition teams have now identified a weakness, and are using set pieces to send runners from deep with the knowledge that should they get to the ball first, they'll have an uncontested jump. Arsenal have players capable of winning the ball in the air, like Thomas Vermaelen and Per Mertesacker, but they're paralysed by being locked in to an ill-functioning zonal system.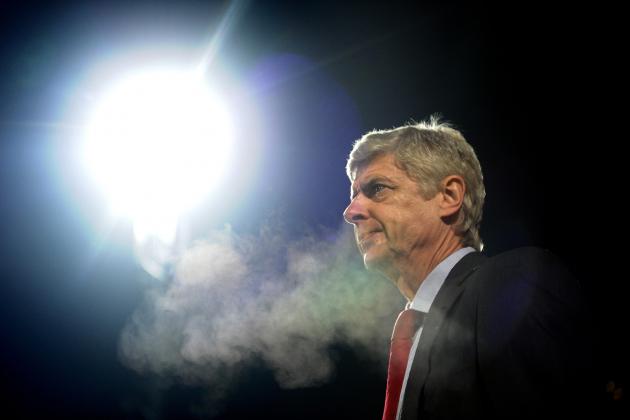 Laurence Griffiths/Getty Images
Arsene Wenger feels the chill
I've long been a staunch supporter of Arsene Wenger. I don't doubt that he's been a great manager—and a great man—for Arsenal. However, I know I'm not alone in wondering if his time at Arsenal is beginning to wind down. The team seems to have gone stale under his command, and he is no longer extracting the best from the set of players available. The Bradford game is a great example.
I don't expect immediate change. Arsene has never broken a contract in his managerial career, and the current board at Arsenal doesn't see dismissing him as a necessity or even an option. It wouldn't surprise me if he stayed and saw out his contract until 2014. However, what I mean by the 'beginning of the end' is that I have begun to accept things may not get any better under Arsene. The decline may be terminal.
Arsenal fans have settled for several seasons without a trophy, making do instead with Champions League qualification, in the hope that Wenger would soon be able to return them to English football's top table. They crave titles and glory, and I think the majority of the fan base has been united in hoping that Arsene could be the man to deliver that. For the first time, I'm beginning to suspect that those glory days won't return until there is a new man at the helm.