10 Free Agency, Draft Targets the Detroit Lions Must Chase for 2013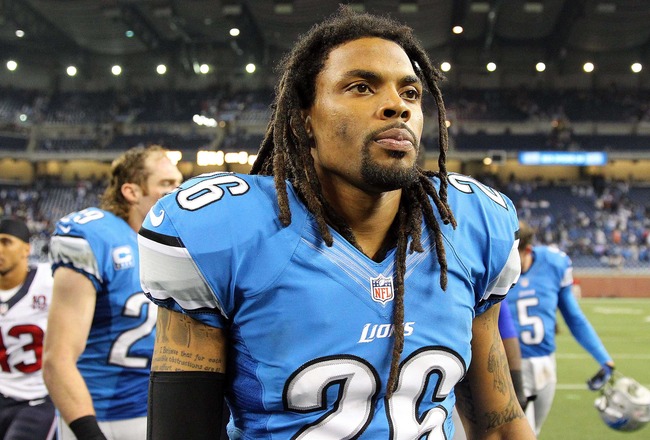 Mike Carter-USA TODAY Sports
Describing the 2012 version of the Detroit Lions as extremely disappointing is mild, and to get the train back on the tracks, they must make the right moves in the upcoming free agency period and the 2013 NFL draft. The Lions have enormous salary cap issues, and the situation looks to be terribly complex. One thing is clear: General manager Martin Mayhew and the decision-makers will earn their money this offseason.
There are going to be significant roles that have to be filled with many of their own players set to enter free agency. The Lions will not get all of their players to return, and the decisions they make are going to be critical to the success of the team going forward. Clearly, the Lions will need a few players from the 2012 draft to emerge for them.
According to spotrac.com, the Lions have 28 players set to hit the market, 14 on each side of the ball. 10 of these defensive free agents have played key roles for this defense on 2012, from defensive end Cliff Avril to cornerback Chris Houston. Safety Louis Delmas and critical backups like Corey Williams, Willie Young and Lawrence Jackson all have the opportunity to leave.
On offense, the outlook is not as bleak as it is on defense, but decisions will have to be made, especially along the offensive line where starting right tackle Gosder Cherilus and backups Jason Fox and Corey Hilliard are set to become free agents.
It is going to be a difficult chore, but the Lions need to be right with the players they choose to pay and what positions they address. Let's look at the free agents and draft prospects the Lions have to get in 2013.
Let Cliff Avril Walk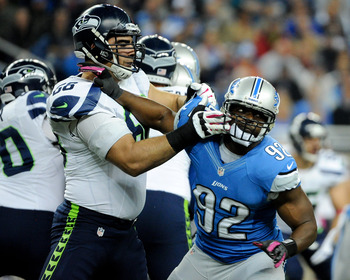 Tim Fuller-USA TODAY Sports
Detroit Lions defensive end Cliff Avril is making $10.6 million in 2012. He was franchise tagged by the Lions when they were unable to agree to terms on a long-term deal before the 2012 season began.
A move to allow Avril to play elsewhere should be the first move the Lions make in free agency in 2013, but it isn't because Avril doesn't deserve to be paid well. He has performed extremely well as a member of the Detroit Lions and deserves to be paid for his services, but the Lions simply can't afford another player with a massive contract with the salary cap issues they are going to have.
Avril is a very solid defensive end, but he is not an elite player deserving the huge money that elite defensive ends warrant. In any case, the Lions can't afford to pay a maximum contract to any player not named Matthew Stafford, Calvin Johnson or Ndamukong Suh.
The bottom line here is the Lions desperately need the money that Avril makes to pay some of their other players that are set to test the open market in free agency.
Franchise Tag Safety Louis Delmas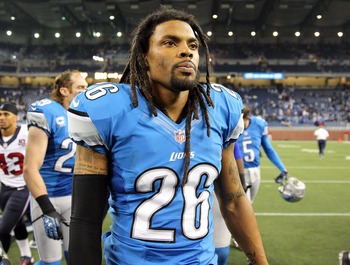 Mike Carter-USA TODAY Sports
Safety Louis Delmas is in a position to get paid very well for his play during the 2013 NFL season. Delmas is a very solid football player and the impact he makes on the defense is easy to see, as the Lions secondary always plays better when Delmas is in the lineup.
There lies the problem though. Delmas is an injury risk, and he has missed a lot of playing time over the past two seasons. Delmas played in 15 games in both his rookie season and his second year but played in 11 games in his third year. This year, he has played in only five games, and he is becoming a liability because of his inability to stay healthy.
The perfect scenario is for the Lions to franchise tag Delmas. Per NFL rules, a player who has been franchise tagged has to get paid at least the average of the top five players in the game at his position.
Delmas would get paid a salary of more than $6 million for the 2013 season, but it gives the Lions the flexibility of another year of evaluation to determine if Delmas can be a long-term solution to safety position.
Re-Sign Cornerback Chris Houston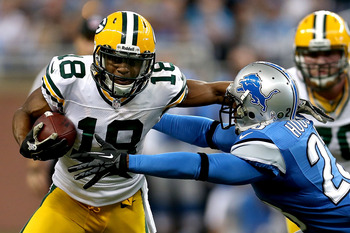 Matthew Stockman/Getty Images
Lions cornerback Chris Houston is a player the Lions must keep in the fold. The Lions need stability in their secondary, and they can't afford to lose Houston to another team in free agency.
The Lions signed Houston to a one-year deal for $4.625 million in the 2012 free agency period, and he has performed well enough to deserve a contract from the Lions. It is in the Lions short-, and long-term, interests to get Houston signed and on the field in 2013 and beyond.
Draft a Difference-Maker at Cornerback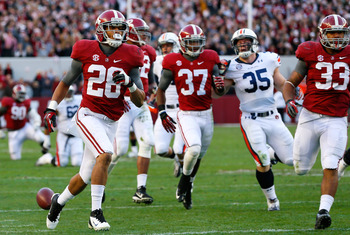 Kevin C. Cox/Getty Images
The Lions are desperate for a player that can make plays in the secondary. That player can't be a riverboat gambler though, as consistency is as valuable as any other trait a cornerback has. The addition of a top-tier cornerback allows the Lions to move Chris Houston down the depth chart into the No. 2 cornerback role.
This brings us to Alabama cornerback Dee Milliner and what he can do for the Lions. It is clear that the Lions would be spending a first-round pick on Milliner if they are to draft him, as he is this draft class' highest-rated cornerback. If the Lions are to go cornerback in Round 1, the target has to be Milliner.
Milliner has great size at 6'1" and 199 pounds. It is rare to find a cornerback with Milliner's size and coverage skills, and he would instantly upgrade the Lions secondary.
Re-Sign Defensive End Lawrence Jackson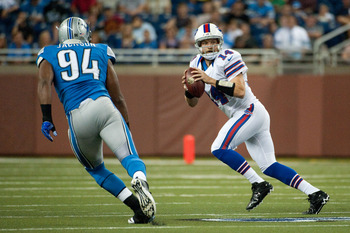 Tim Fuller-USA TODAY Sports
This move presumes that the Lions have allowed defensive end Cliff Avril to sign a contract with another team and that the Lions need to replace him with a cheaper version. Can Lo-Jack be "Avril-ish" in the Lions scheme? Can he be a productive defensive end playing next to the defensive tackles that the Lions have?
The answer is yes to the above questions, but his ceiling isn't where Avril's is. He is, however, a very productive player who could play a vital role if the Lions needed him to do so. The Lions defensive line would get a little downgrade, but the cost savings make it a necessary move.
Draft a Defensive End Early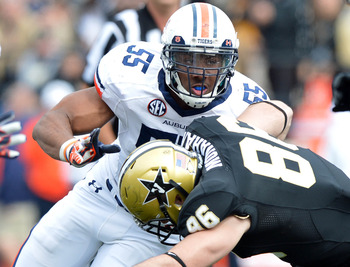 Don McPeak-USA TODAY Sports
We have the Lions drafting a cornerback in the first round of the 2013 NFL draft, so we have to go down the list to find the defensive ends that will realistically be available in the early part of Round 2.
Russ Lande of the National Football Post has published a list the top 200 players for the 2013 NFL draft. This is as realistic of a list as we can find, as it is determined by what talent evaluators see on tape and what they are hearing from NFL teams themselves.
The players that could be available in the range where the Lions are picking in Round 2 are Auburn's Corey Lemonier and Florida State's Brandon Jenkins. There is a chance that LSU's Sam Montgomery falls to the Lions, but that is too much to count on in this conversation.
In any case, the Lions need to find long-term replacements for Avril and the aging Kyle Vanden
Bosch. All of the players above have the skill set and size to help the Lions right away.
Draft a Safety Early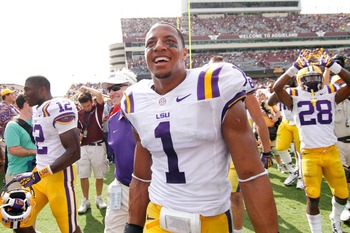 Brett Davis-USA TODAY Sports
Much like the previous slide, the Lions are in a position that required them to draft a safety early in the 2013 NFL draft. The Lions are missing so much talent in the secondary, with starting safeties Amari Spievey and Louis Delmas banged up all year.
Spievey is on IR with a bad concussion after suffering one late in the 2011 season. There is some concern that Spievey might not return to the Lions because of the concussion problems and that paired with the growing Delmas concern gives the Lions twice the reason to add talent to the back end of the defense.
Whether it's Round 2 or Round 3, the Lions really need to add a playmaker to their secondary. The player that could be available in the range where the Lions are picking in Round 2 is LSU's Eric Reid. Reid is a physical corner with great size and very solid coverage skills.
Players that could be available in Round 3 are Oklahoma's Tony Jefferson and North Carolina State's David Amerson, a college cornerback who could be transitioning to safety in the NFL. Amerson is very intriguing, as he was a very highly touted cornerback with great size at 6'3" and 194 pounds.
The addition of Reid or Amerson in Round 2 or 3 gives the Lions a legitimate playmaker in the back end of the defense, and that is something the Lions desperately need.
Re-Sign Defensive End Willie Young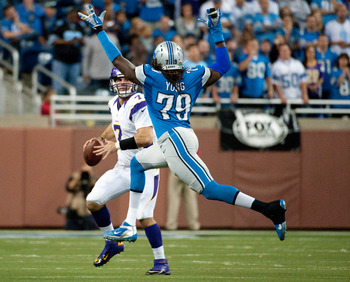 Tim Fuller-USA TODAY Sports
This is another move that presumes that the Lions have allowed defensive end Cliff Avril to sign elsewhere and that the Lions need to replace him with cheaper talent. Willie Young was drafted by the Lions in the seventh round of the 2010 NFL draft, and he really made an impact as a rookie and again in his second year.
He has had a quiet year in 2012 with very limited opportunity, but he is a talented football player, and the depth he provides is going to be crucial going forward. Again, the Lions defensive line would get a little downgrade, but the cost savings make it a necessary move.
The option of playing Young and Jackson in a rotation that saves the Lions loads of money they desperately need makes a lot of sense.
Draft an Athlete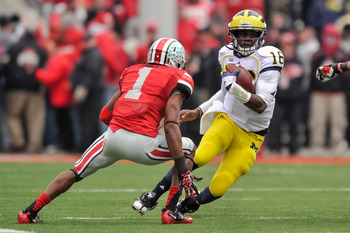 Jamie Sabau/Getty Images
The Lions need some speed on offense, and in a perfect world they could really use it in the back field. The offense was electric when it had running back Jahvid Best wreaking havoc on defenses with his speed.
It is obvious that the offense is really missing that element, and they would be wise to replace it in this year's draft. The best way to do it is to draft Michigan quarterback/athlete Denard Robinson to play the "Percy Harvin" role for the Lions in Round 4.
Robinson's blend of speed and athleticism would really give defenses fits, much like Best did. Simply lining him up and letting him run routes out of the back field would pull defenders to his side of the field. The extra step a defender might take to Robinson would give Lions quarterback Matthew Stafford a little more time to hit his wide receivers down the field.
It's a game of inches and that false step the wrong way takes a cornerback who has straight-line 4.6 speed and turns him into a player with 4.8 speed. That false step means more completions for Stafford and company.
The addition of the speed that Robinson has to the Lions offense is very intriguing. Make no mistake, he isn't the kind of player that you want running between the tackles. He is not the type of running back who is going to carry a big workload.
There are a bunch of plays the Lions could draw up for him though, much like the Vikings do with Percy Harvin. Before you knock Robinson as too small, consider that Harvin is 5'11" and 184 pounds and Robinson is 6'0" and 197 pounds.
The addition of Robinson to the Lions offense adds something that it is missing, but it would require a lot of creativity from the offensive coordinator. Denard Robinson is as explosive of a playmaker as there is in college football, and he brings an incredible amount of playmaking ability to the NFL with him.
Take a Flier on Tyrann Mathieu as a Slot Cornerback and Punt Returner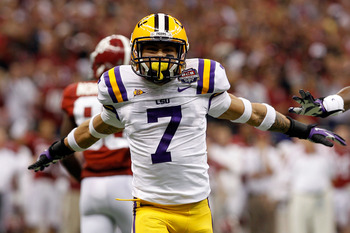 Chris Graythen/Getty Images
This is a wild card, but Mathieu is a baller, a player who simply makes plays, and it has been a long time since the Lions secondary had a player with that pedigree. The Lions need a jolt of playmaking on the field, and Mathieu certainly finds his way to the ball.
Mathieu also fills another huge need, and that is as a punt returner. Gone are the days of having an extra roster spot for a returner who can't help the team in other ways. Not only is Mathieu an elite punt returner, but he is also an incredible slot corner.
The slot corner position is becoming a vital part of NFL defense as teams are lining up three wide constantly. There needs to be three cornerbacks on the field almost all the time in today's NFL, and the slot receiver is becoming a deadly weapon for NFL offenses.
Slot corners need to have super loose hips. They need to get into and out of a backpedal quickly because the player they are defending is a shifty, very difficult player to cover. Slot corners don't have to cover a lot of ground, they just need to be able to stay with their man over short areas.
His job is to read the short passes and the running assignments, and play that well enough to allow his teammates to have an easier job to do in coverage. Mathieu is an interesting player, and he certainly adds some skills to the position that the Lions do not have today.
Keep Reading

Detroit Lions: Like this team?