NBA Teams Benefitting from Addition by Subtraction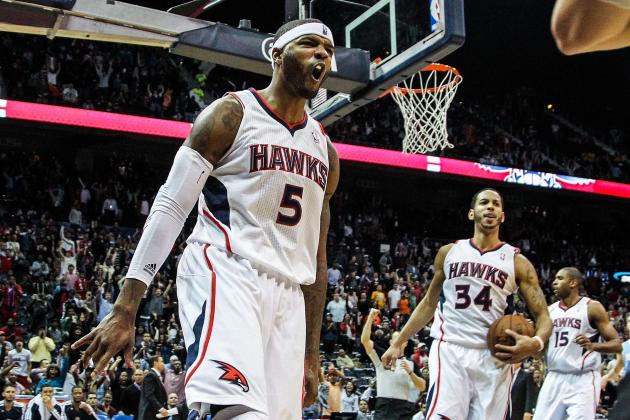 USA TODAY Sports

In the NBA, sometimes the best formula for winning is merely to dump dead weight. The then-New Jersey Nets did this in the summer of 2001, trading selfish point guard Stephon Marbury to the Phoenix Suns for Jason Kidd. Sure enough, they made the NBA Finals in 2002.
The practice of addition by subtraction has since become common in the NBA. Teams may be a significant move or player away from seriously contending, and if that means getting rid of a key member, so be it. Winning doesn't come easy, and sometimes, risky sacrifices need to be made.
Quite a few teams have succeeded this year thanks to addition by subtraction. The Golden State Warriors are finally free of the poisonous contract of Monta Ellis, and the Philadelphia 76ers are now finally taking full advantage of their youth after trading Andre Iguodala.
It may seem like an odd choice at times, but addition by subtraction clearly works. In terms of the NBA teams that have used it recently, the results speak for themselves.
All statistics in this article are accurate as of Monday, December 10, 2012
Begin Slideshow

»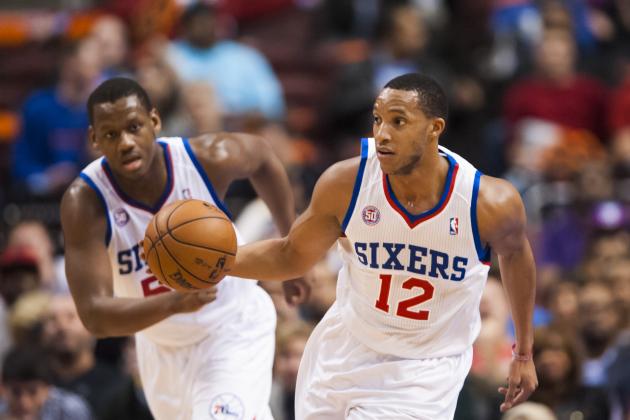 USA TODAY Sports

The Sixers looked great at one point last season, but their lack of a go-to star led to a late-season collapse that made them just barely make the playoffs as a No. 8 seed. The team made it to Game 7 of the conference semifinals against the Boston Celtics, but wouldn't have even made it that far were it not for Chicago Bulls point man Derrick Rose injuring his knee.
Over the summer, team management saw a hole at center and opted to include face of the franchise Andre Iguodala as part of the Dwight Howard trade. In return, Philadelphia received guard Jason Richardson from the Orlando Magic and center Andrew Bynum from the Los Angeles Lakers.
Some may argue that the trade has been a bad move thus far. Bynum has yet to play a game due to bad knees, and the Sixers do not appear to have a star who can take control in crunch time.
The case is actually quite the opposite. Philadelphia has seen increased production and great improvement from young point guard Jrue Holiday and third-year forward Evan Turner, both of whom are providing an excellent 1-2 punch. Holiday is becoming a great scoring point guard, and Turner is taking Iguodala's role as point forward, doing everything from scoring to rebounding to even passing the ball.
The fact that the Sixers are performing this well without the man who was to be their star is incredible. This is a young team that doesn't look like it could be a winning group, yet it has already beaten the Boston Celtics twice. As of now, it looks like Sixers fans and management are going to be getting more out of this team than they ever could have gotten out of Iguodala.
Even if Bynum is healthy enough to come back at some point, the Sixers shouldn't immediately rush to insert him into the lineup. This young crew is playing some great basketball, with people stepping up and playing like stars in the absence of an actual one. As talented as Bynum is when healthy, it would be a shame to upset the apple cart so soon after he is ready to return.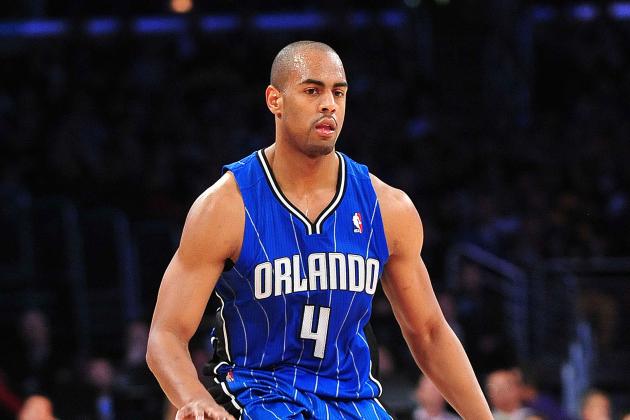 Gary A. Vasquez-USA TODAY Sports

One thing was certain when the Magic entered the offseason: All-Star center Dwight Howard had to be traded.
GM Rob Hennigan tried talking with him about staying in Orlando, but the three-time Defensive Player of the Year's mind was made up. He wanted out; the sooner the better. A deal needed to be made, but only if the Magic were compensated enough that they could move on from Howard and not have to completely rebuild from the ground up.
The famous blockbuster trade took place a short while later, and Orlando received the following: Josh McRoberts and Christian Eyenga from the Los Angeles Lakers, Moe Harkless and Nikola Vucevic from the Philadelphia 76ers and Arron Afflalo and Al Harrington from the Denver Nuggets, plus draft picks.
Afflalo and Vucevic have had the greatest impact in Orlando thus far. Vucevic is averaging 9.7 points and 8.7 rebounds on the season and has averaged 10.4 and 11.8 his past five games. He isn't as dominating a presence as Howard was, but can still get the job done in the new system of new coach Jacque Vaughn.
Afflalo has become the team's go-to guy on offense. He is only averaging 16.1 points per game and shooting just 32 percent from long range, but that can be chalked up to him learning about being the best scorer on a team. He receives plenty of help from Glen "Big Baby " Davis, who is coming into his own as a fine low-post power forward.
Orlando is currently 8-12 and just 2.5 games out of the final playoff spot in the Eastern Conference. Granted, it's still early, but its performance over the first month of the season is better than anyone could have anticipated.
What makes it even better is that it has yet to have Al Harrington in the lineup all season, as he is recovering from knee surgery. Once he returns, its offense will be complete, and the team as a whole could be on the verge of quickly entering the post-Howard era.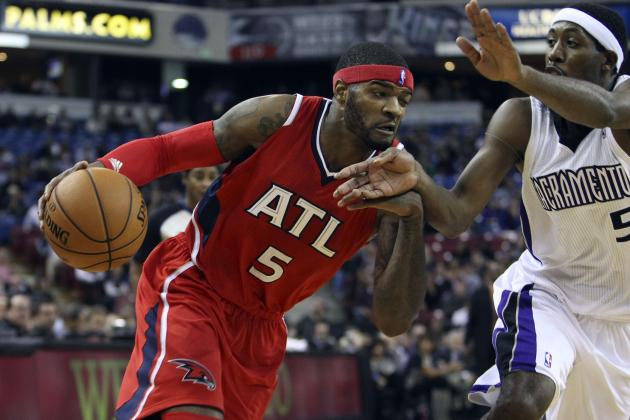 Kelley L Cox-USA TODAY Sports

When the Hawks traded Joe Johnson to the Brooklyn Nets for a handful of reserve players, it looked as though GM Danny Ferry was just dumping some salary and preparing for an eventual rebuilding phase. Instead, it's proving to be one of the most genius moves of the offseason.
Atlanta is currently ranked third in the Eastern Conference and has won nine of its last 11 games.
Head coach Larry Drew now has a balanced trio of players who can help carry the team to success. Josh Smith (pictured) can score points and also play incredible defense, while center Al Horford handles the defensive duties in the paint and provides solid inside scoring. Jeff Teague is a young point guard who still has a lot to learn, but is proving to be incredibly dynamic on both sides of the court.
It appears that Atlanta management just figured that Johnson was an over-priced scorer who brought little else to the table, and that more could be accomplished with the core group that they have now. Keep in mind that of the players acquired from the Nets, the only one receiving significant minutes is shooter DeShawn Stevenson, and he primarily comes off the bench.
It was an unconventional move, but it has clearly worked in Atlanta's favor. The team is 12-6, just 1.5 games behind Miami for first place in the Southeast Division, and does not appear to be slowing down any time soon.
The stage is set for it to go far, and with its key players' passionate approach to the game, it will do so, even without a pure scorer like Johnson.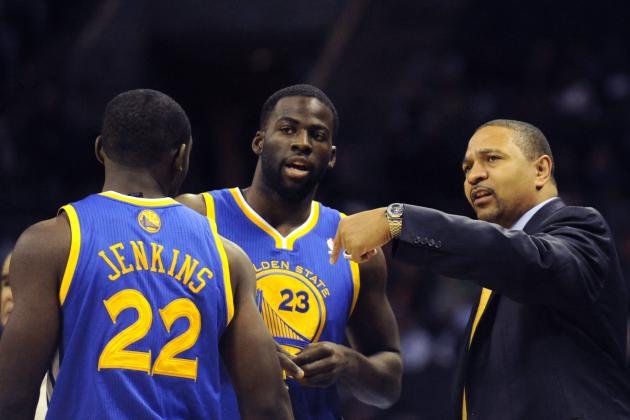 USA TODAY Sports

Over the past few years, the Golden State Warriors had one problem: no defense to help counter their strong offense, led by guards Monta Ellis and Stephen Curry. The front office took a big step forward in acquiring some defense last season, trading Ellis and center Ekpe Udoh to the Milwaukee Bucks in exchange for Andrew Bogut, who was injured at the time.
The team did not fare well the rest of the season, primarily due to Curry's recovery from ankle surgery, but looks like a whole new squad this year.
Bogut has been limited to four games due to injury, but Curry is fully healthy, and David Lee has stepped up his efforts on defense with help from rookie Festus Ezeli. As a result, Golden State ranks fifth in the NBA in rebounding and looks like a fully-balanced team for the first time in what seems like years.
Ellis is a big loss, but second-year man Klay Thompson is slowly starting to fill his shoes. He is a pure shooter and doesn't play with the same athletic intensity as his predecessor, but is still young and will eventually play a key role in the future of the franchise.
Yes, trading Ellis was a big risk, but look at how well the move has paid off. Rather than rely on the backcourt to carry them, the Warriors are now relying on play creation, focus and defense rather than just playing the run-and-gun game that sunk them in years past.
This season's team is special, and will be even moreso once Bogut gets back on the court.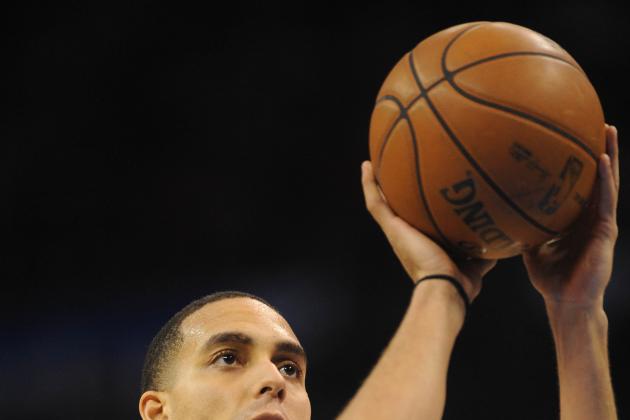 USA TODAY Sports

The Oklahoma City Thunder turned a lot of heads right before the start of the regular season when they sent James Harden, the reigning Sixth Man of the Year, to the Houston Rockets in exchange for Kevin Martin. Team management was unable to come to terms with Harden on a long-term extension, so they chose to trade him and his well-rounded game rather than risk losing him for nothing via his upcoming free agency.
It seemed like a bad trade at first glance. Not only was the team losing a great shooter, but Harden was a fine defender and playmaker as well. Martin, on the other hand, was, and still is, little more than a three-point threat who plays limited defense.
Even without Harden, however, Oklahoma City has continued to play some great basketball. It is currently 17-4, first place in the Northwest Division, and are just a half game out of the top spot in the Western Conference.
Martin has averaged 15.8 points per game off the bench acting as a pure sixth man/shooter and has made an excellent 48 percent of his threes. As a result, Kevin Durant has upped his playmaking skills and Serge Ibaka has further developed his offensive game.
Harden has done well in Houston, but his team is still struggling mightily. Oklahoma City has just continued to build off of last season and looks even more dangerous this year.