15 Up-and-Coming Fighters Destined for Greatness
Joe Nicholson-USA TODAY Sports

A new year is nearly upon us, which means a changing of the MMA guard is in short order. The sport is in a constant state of change, every year bringing in a new crop of up-and-comers eager to supplant current stars as the cream of the mixed martial arts crop.
Here, we will take a look at some of those up-and-comers who have the greatest chance of making a real impact on the sport.
For the purpose of this list, we are looking for guys on their way up, but who have garnered enough success to this point in their career that they are more than long-term projects that are as likely to miss as to hit.
On the other hand, I've stayed clear of fighters that have already solidified themselves as bona fide stars, even those still clearly growing. That means no Jose Aldo, or the like.
If you feel like there are any omissions worth mentioning, feel free to add them in the comments section.
Begin Slideshow

»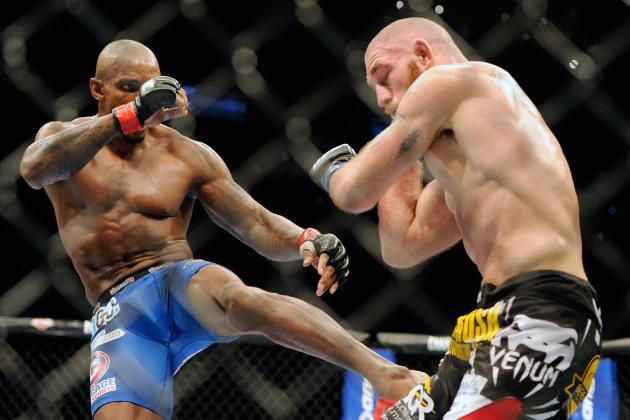 Eric Bolte-USA TODAY Sports

I would have put Carmont on this list without hesitation prior to his lackluster performance at UFC 154. As it stands, he squeezes in on the strength of his previous UFC performances.
Carmont is 4-0 in the UFC and has looked dynamic for all but 15 minutes of his time in the Octagon. With brute strength, considerable athleticism and a terrifying submission game, the Frenchman could become a real factor at 185 before long.
If he comes back stronger for having struggled against Tom Lawlor, he could do some serious damage over the next few years.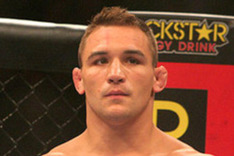 Photo by mmabay.co.uk
MMA greatness is very much intertwined with UFC success these days, so Chandler has a bit less to work with than many of the other guys on this list. But when we talk talent—just talent—he fits right in.
At 10-0 in his professional career, Chandler is one of Bellator's fastest rising stars. He currently holds the promotion's lightweight title, which he took from Eddie Alvarez in emphatic fashion, and he seems poised to make a lengthy run as champion.
Chandler's bread and butter is his wrestling, which he complements with advanced submission skills. He has also developed a sound striking game. In fact, the submission he used to finish Alvarez at Bellator 58 was set up by a punch that dropped and stunned his opponent.
The Bellator up-and-comer is definitely someone to keep your eye on over the next few years.
Photo by sherdog.com
He's certainly more established than most of the guys on this list, but he's really only beginning to come into his own, and his association with Bellator has kept him from the mainstream limelight.
That, and the fact he is still just 25, justifies Curran's inclusion on this list.
The Bellator featherweight kingpin is a very well-rounded mixed martial artist with roots in wrestling and jiu-jitsu. He's also developed a solid striking game as well as something of a reputation for viciousness.
He's still making significant gains as a fighter and it seems likely that Curran is only really stretching the surface of his immense potential.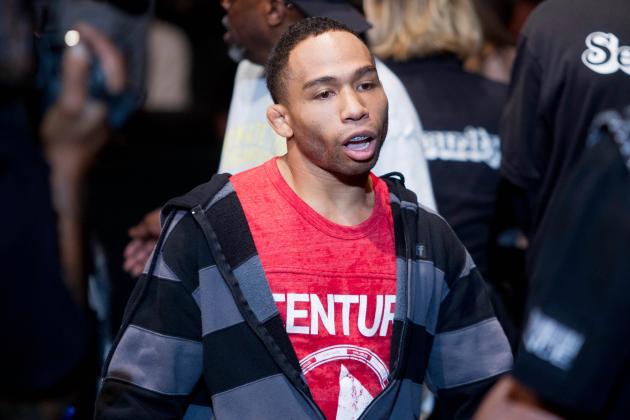 Bruce Kluckhohn-USA TODAY Sports

Dodson inhabits that liminal space between up-and-comer and already there. At 3-0 in the UFC, his secret is definitely out, but he certainly has not yet plateaued. Not even close.
Since coming off his Ultimate Fighter championship, Dodson has run amok in the UFC's newly formed 125-pound weight class. He's posted a 3-0 (1-0 at bantamweight) record and has flashed some serious KO power, a commodity most rare among the more diminutive divisions.
Dodson will get his chance to jump from future star to current star when he competes for the flyweight title in January.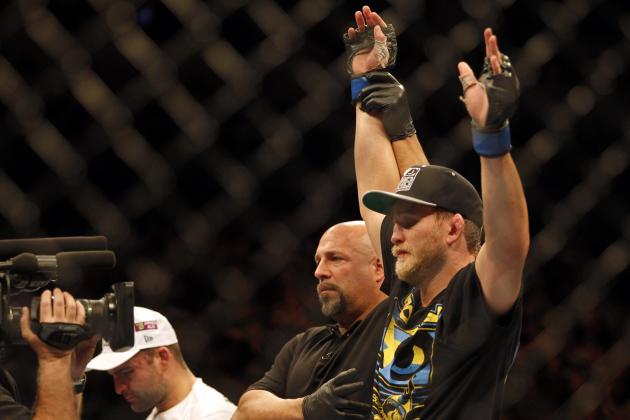 Joe Nicholson-USA TODAY Sports

Gustafsson looks like one of the better talents to enter the 205-pound weight class in quite some time, but can a fighter that competes in a division ruled by Jon Jones really be destined for greatness?
I mean, his upside is through the roof, but Gustafsson might never wear UFC gold. His chances seem nearly as good as anyone else's since he handled Mauricio Rua earlier this month, but that still doesn't make his chances that good.
It might prove to be a case of the wrong place at the wrong time for Gustafsson, who would likely become a champion in any other era, but that he happened to be born the same year as Jones could deny him the honor.
Or maybe Gustafsson will dethrone Jones. Who knows? It just seems unlikely that anyone's star will eclipse Jones' within the next decade.
Still, Gustafsson could do big things in MMA.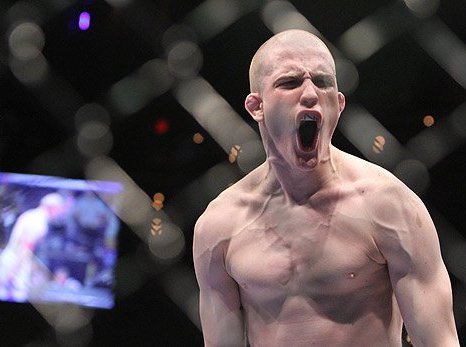 Photo by mmaweekly.com
One of the incoming generation's standard-bearers, Koch is a freakish athlete who has been honing a holistic set of MMA skills from early on in his training.
Though he was more inclined to exercise his submission game early in his career, the 24-year-old has lately developed a penchant for using his rapidly improving striking to batter opponents into darkness.
An injury has kept Koch on the sidelines since September 2011, but he'll soon look to get back to his winning ways when he takes on Ricardo Lamas in January. It is widely assumed that the match will strongly impact the UFC's featherweight title picture.
When it comes down to it, few fighters wield a more appropriate moniker than Koch's "New Breed," because he truly is the prototypical fighter of the sport's future—athletic, well-rounded and outright explosive.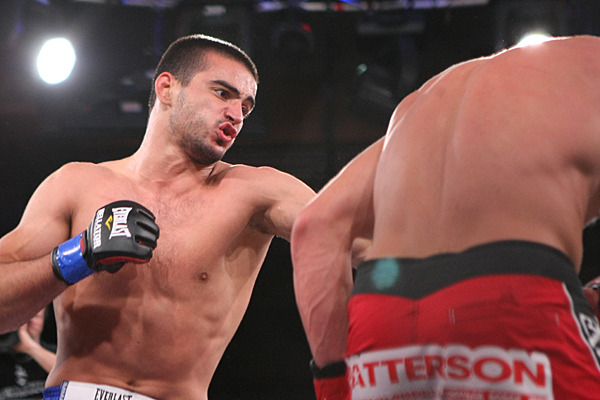 Photo by sherdog.com
Koreshkov doesn't receive the same attention as fellow up-and-coming Russian star Khabib Nuragomedov because he fights in Bellator rather than the UFC, but he isn't far behind in terms of talent.
A striking phenom who fights with poise beyond his years, Koreshkov laid waste to Bellator's welterweight division in 2012, racking up a 5-0 record with three knockouts.
His ground game is a work in progress, but he's just 22, so there is definitely time for Koreshkov to bring it up to speed. His standup game, on the other hand, looks spectacular.
You might expect a lot of flash from a brash young fighter, but Koreshkov is a composed, tactical striker who likes to keep the distance and pick opponents apart. His penchant for doing so was on display when he defeated Lyman Good earlier this November.
Koreshkov's bid to become a Bellator champion will culminate in 2013 when he faces Ben Askren.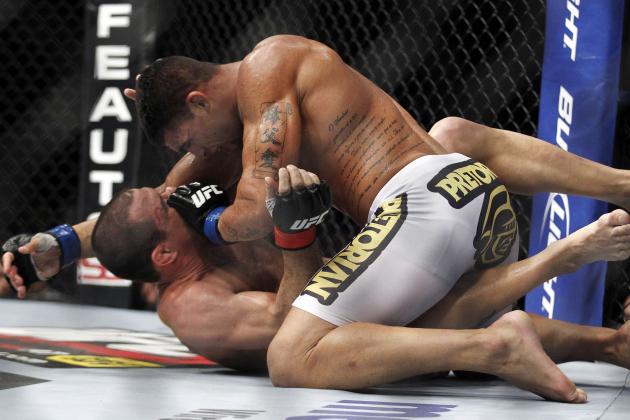 Matt Ryerson-USA TODAY Sports

Here's your under-the-radar special!
Markes, a 13-1 career fighter, has begun his UFC tenure going 2-0. Both victories has come via decision, but are notable in that he was able to out-wrestle two opponents highly regarded in that area of competition.
When you get a 24-year-old, not known for his wrestling, out-wrestling guys like Karlos Vemola and Aaron Simpson, that's a telltale sign of a bright future.
Markes will look to continue his slow climb into MMA relevancy when he takes on fellow upstart middleweight Andrew Craig in January 2013.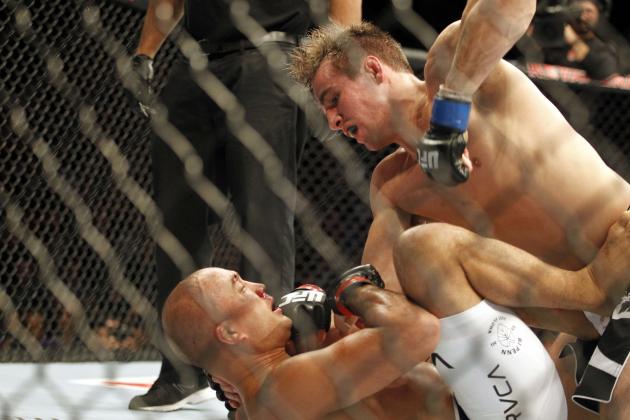 Joe Nicholson-USA TODAY Sports

UFC on Fox 5 was a coming-out party for MacDonald, who absolutely obliterated an over-matched B.J. Penn.
MacDonald has long been heralded as a future superstar and he's really beginning to show why on a consistent basis. Each time out, he demonstrates considerable improvement, and seems to be leaping, not crawling, towards fulfilling the prophecies bestowed upon him.
The Canadian is still just 23, but its already becoming very clear that he's ready to jump into the fray at welterweight and impact the sport without delay.
MacDonald possesses a very well-rounded skill-set that starts with technically impressive standup, moves through powerful wrestling and ends with slick submission skills. He has also exhibited some real poise over his past two bouts.
There isn't much not to like about the youngster's chances of becoming a UFC champion.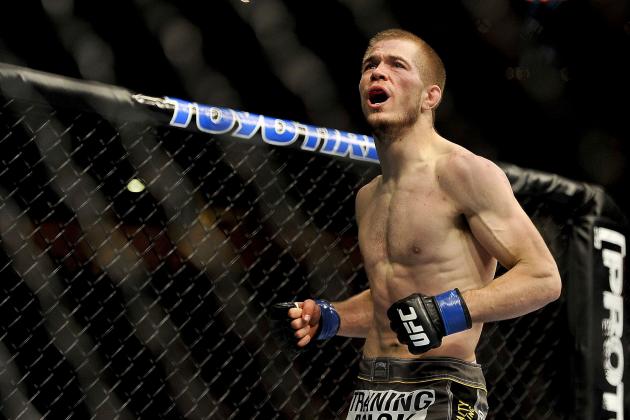 Paul Abell-USA TODAY Sports

Though he gets overshadowed by bantamweight colleague Renan Barao, McDonald looks every bit the part of a future UFC champion.
Barao, the current 135-pound interim champ might be a couple steps ahead of McDonald on the learning curve, but he is four years the senior of "Mayday," and not all that far ahead in terms of accomplishments.
In fact, Barao and McDonald will face off in February to determine which one of them will sit in for absentee champion Dominick Cruz, as well as the right to be called the division's future.
McDonald will enter the contest as the underdog, but at such a young age, whatever result he finds will not diminish his potential to impact the sport down the road.
In addition to solid grappling, underrated wrestling, sensational hand-speed and outstanding boxing technique, McDonald possesses the greatest equalizer in combat sports—one-strike knockout power—and that is a rare commodity in the lower weight classes.
Add it all up and the youngster is a lock to become a member of MMA's card-carrying elite.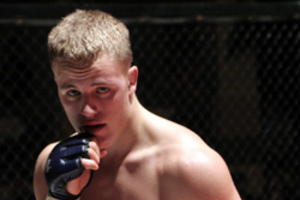 Photo by bloodyelbow.com
The fighting pride of Iceland burst onto the UFC scene this fall by scoring a first-round submission win over TUF alum DaMarques Johnson. The win ran Nelson's record to a perfect 10-0 and marked his 10th career stoppage.
A ground specialist by trade, Nelson is a powerful fighter who terrorized the European fighting circuit before making the jump to the UFC, where he looks poised to do big things.
It's difficult to project the type of learning curve Nelson will travel, but he certain packs enough talent to suggest he'll come out the other side very strong.
2013 will be a pivotal year for "Gunni," who will look to solidify his prospect status in a tough 170-pound weight class.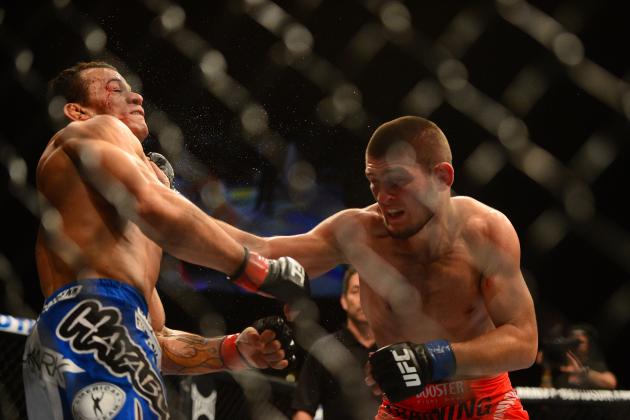 Mark J. Rebilas-USA TODAY Sports

Nurmagomedov has shown an abundance of talent during his two-fight run in the UFC, scoring wins over Kamal Shalorus and Gleison Tibau.
Though he isn't a star just yet, Nurmagomedov has the tools to develop into one, and at 24 years of age, he has plenty time as well.
The Russian lightweight's well-rounded game is exhibited by his six knockouts, seven submissions and five decisions.
Nurmagomedov's next match will come against former top prospect Thiago Tavares next January at UFC on FX 7.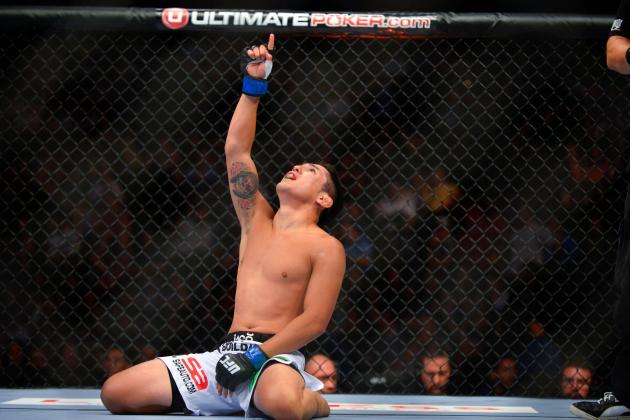 Ron Chenoy-USA TODAY Sports

Going pro as a teenager resulted in some growing pains and a few losses for Perez, but the 23-year-old seems to really have found his niche.
Now training with Greg Jackson, Perez looks every bit the part of a future contender at 135 pounds. Since joining the UFC, he has scored a pair of first-round finishes, one of which was a 17-second knockout over Ken Stone.
"El Goyito" will look to continue his rise towards stardom when he takes on de facto steppingstone Byron Bloodworth at UFC 155 this Dec. 29.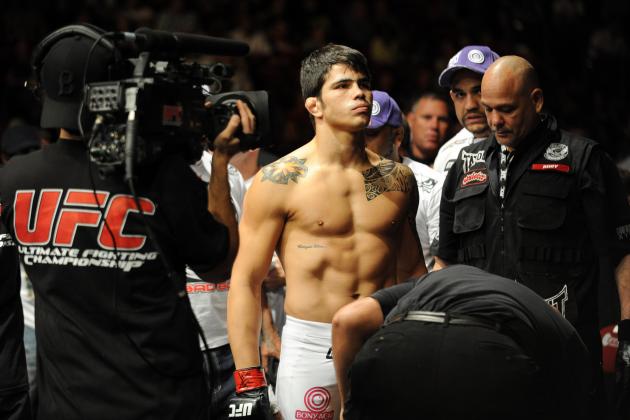 Steve Mitchell-USA TODAY Sports

Silva was dominated by Jon Fitch at UFC 153, but he could conceivably use the experience to grow as a mixed martial artist.
If he is indeed able to take the disappointment and frustration from that loss and channel it into shoring up the lagging areas of his game, he'll become a true force to be reckoned with at 170 pounds.
Known by most UFC fans for his otherworldly punching power, Silva actually wins most often by submission. Far from questioning his striking power, that stat only serves to confirm Silva's well-rounded abilities.
At 28 years old, Silva is no baby, but he's yet to truly enter his prime. The potential is definitely there for him to be great.
Kyle Terada-USA TODAY Sports

Weidman is straddling the line between current and future star. He gained notice for his impressive 2012 escapades, which included wins over Demian Maia and Mark Munoz, but he is still nowhere near where he will be once he peaks.
Multiple NCAA Division I All-American honors, Grappler's Quest titles and an ADCC Submission Wrestling World Championship appearance say a lot about Weidman's pedigree. And also about where he is going as a mixed martial artist.
Throw in that Weidman implemented advanced striking skills to thoroughly outclass Munoz this summer, and there is seemingly no limit to what he can accomplish in the sport.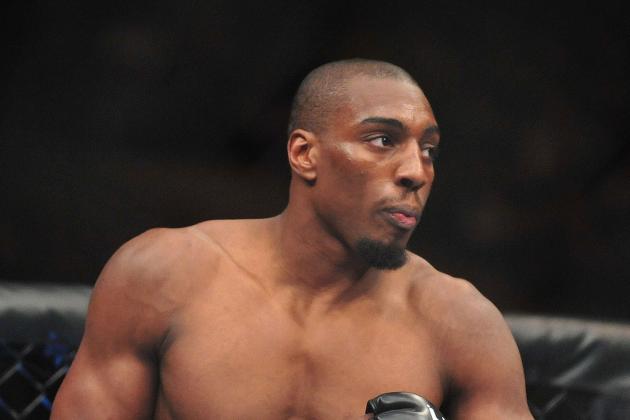 Gary A. Vasquez-USA TODAY Sports

Siyar Bahadurzada - We know he has ridiculous power, but he needs to show us more to earn a place on this list.
Edson Barboza - I can give him a mulligan for the loss to Jamie Varner, but he needs to convince me he can handle a solid wrestler before I do.
Chris Cariaso - He's looked good of late, but "greatness" is a bit of a stretch. I think his ceiling is a bit too low to become a star.
Phil Davis - If Davis can figure that whole striking thing out, he'll be great. If not, he'll never make a huge impact in the sport.
Mike Easton - What the heck was that at UFC on Fox 5? Easton looked thoroughly outclassed by a tough, yet not elite opponent. Can he right the ship?
Jim Hettes - He still could do big things, but it's difficult to ignore a decisive loss to Marcus Brimage.
Lorenz Larkin - We know he's dangerous on the feet, but greatness requires a more well-rounded skill set. His January tussle with "Jacare" Souza should be telling of Larkin's upside.
Jimi Manuwa - He's looked the part of a future star his whole career, but he needs to bag bigger game to make the list. His February fight with Cyrille Diabate should be a blast.
Stipe Miocic - Is he still the future of the UFC's heavyweight division? Possibly, but he won't coast there like some expected him to.
John Moraga - He looked great in his UFC debut. His Dec. 29 fight with Chris Cariaso should tell us a lot about his future.
Michael Page - He's looked almost comically good, but take the results with a grain of salt. His best win is over Haitham Tantawy. Yes, Haitham Tantawy.
Stefan Struve - He continues to improve with every fight. He still needs to get better at avoiding damage, but he's quickly going from mediocre to very dangerous.