TUF 16 Finale: Pat Barry vs Shane Del Rosario Head to Toe Breakdown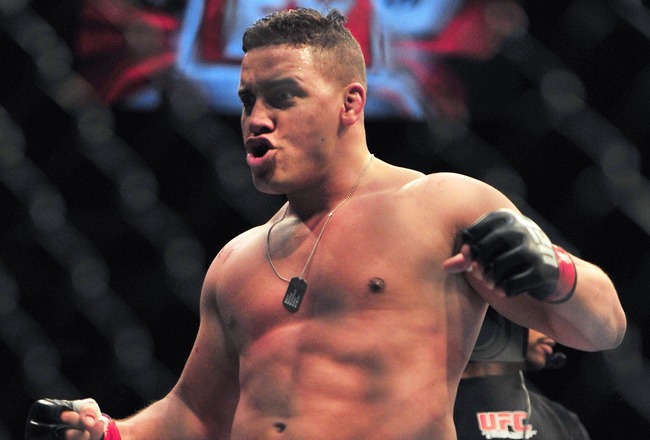 Don McPeak-USA TODAY Sports
On paper, UFC heavyweights Pat Barry and Shane Del Rosario are very similar fighters. Both are lethal with their hands with a solid kickboxing record behind them. They're strikers who look for the finish early in the fight.
But that's where the similarities end.
Del Rosario has proven himself a much more versatile fighter, having developed a solid submission game, tapping out Lavar Johnson in his last Strikeforce match and never having been submitted himself. He also has a solid 11-1 MMA record and, but for an unfortunate second round TKO loss to Stipe Miocic in his last match, would be coming into this match with an undefeated record.
Barry is a different story. Having gone 7-5 in his MMA career, and 1-3 in his last four matches, he's lucky to still be in the UFC. He is, perhaps, the most one-dimensional fighter in the UFC and one hopes that since his second round submission loss to Stefan Struve in October 2011, he will at least be coming into this match with an acceptable level of jiu-jitsu.
But both fighters are finishers, and in the unpredictable world of heavyweight mixed martial arts, anything can happen on the night.
The two fighters will face each other this Saturday at The Ultimate Fighter 16 Finale in Las Vegas. Here's how they break down.
Striking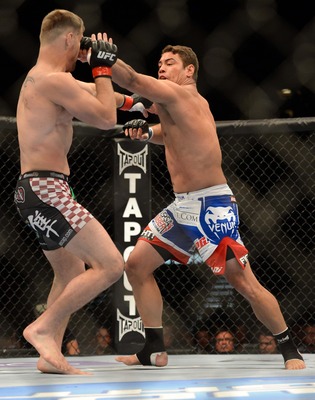 Ron Chenoy-USA TODAY Sports
It's hard to choose between the two in the stand-up aspect of the game.
Del Rosario started off as a pure kickboxer and holds the distinct honour of being the first American WBC Muay Thai heavyweight champion. His Thai game is sizzling and replete with cleaving low kicks and brutal clinch knees which he's used to brutal effect in eight TKO victories in his 12 career fights.
But on the other hand, Barry is, in many ways, a more accomplished striker.
He's fought more kickboxing matches than Del Rosario and is a K1 World Grand Prix veteran. In the UFC he's used his head kicks and punches against opponents such as Mirko Filipović, Cheick Kongo and Stefan Struve. And, even though he lost to all three opponents, he was the better striker.
Perhaps, there's not much to choose between the two in the striking game, and Del Rosario's height and reach advantage could edge it for him in this aspect of the game, but I'd still favour Barry as a striker overall.
Advantage: Pat Barry
Wrestling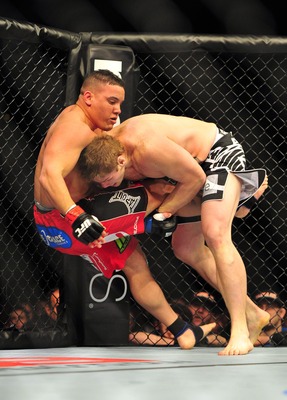 Don McPeak-USA TODAY Sports
Neither Barry nor Del Rosario are great grapplers and you rarely see either going for the takedown. But there's more to the wrestling game than taking your opponent to the mat.
Up against the cage and in the clinch Del Rosario has stellar Greco-Roman technique. What's more, he can keep an opponent down better than Barry.
However, don't expect wrestling to be a factor on the night as both men are likely to prefer to keep it standing.
Advantage: Shane Del Rosario
Submission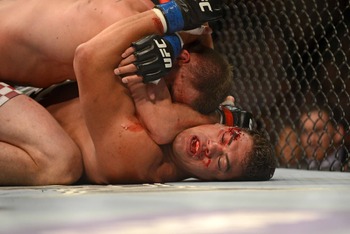 Ron Chenoy-USA TODAY Sports
Barry's submission skills—both defending against them and applying them—are an embarrassment.
He's never tapped out anyone in his career and he's not likely to on Saturday night either.
On the flipside, the majority of his losses have come via submission. He's been hopelessly vulnerable in that area.
That's not to say Del Rosario is a great submission artist. But he doesn't have to be. He's never come close to being submitted himself and has surprised everyone in submitting the likes of Lavar Johnson and Brandon Cash.
Advantage: Shane Del Rosario
Strength and Conditioning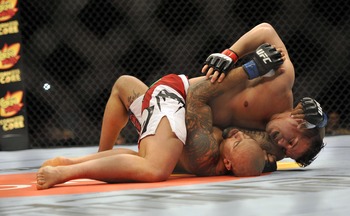 Joe Camporeale-USA TODAY Sports
Shane Del Rosario has never gone the distance, rarely leaves the first round, and when he did get into the second round against Stipe Miocic, he was TKO'd.
That's not that unusual for a heavyweight and Barry himself has only ever gone into the third round twice, which includes a decision win over Joey Beltran.
But in April 2011 Del Rosario suffered a horrific car accident, and we saw in the Miocic fight that he was not the same fighter who'd lit up Strikeforce since his debut in 2009.
Barry is a ferocious fighter, and the heart and pace that he shows in his fights is the reason why the UFC has kept him around despite his poor performances.
Advantage: Pat Barry
Intangibles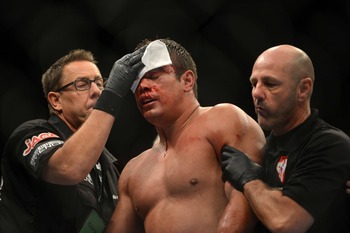 Ron Chenoy-USA TODAY Sports
Both men are of similar age and have fought a similar amount of fights in their professional MMA careers, and both are coming off losses.
However, Barry is in a much more desperate situation. It's hard to imagine the UFC would put up with another loss from Barry, especially against a man who has yet to make a name for himself like Del Rosario.
That could make Barry hungrier coming into the match. He also has far more big-fight experience than Del Rosario, having fought in the UFC since 2008.
Barry's fighting style and persona is popular with the fans and this could help carry him through the night.
Advantage: Pat Barry
Prediction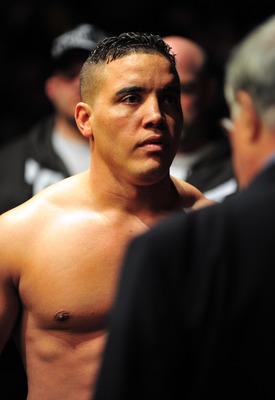 Don McPeak-USA TODAY Sports
Breaking down the two fighters, one thing becomes clear: Del Rosario is a far more rounded fighter than his opponent and only has marginal disadvantages when it comes to things like striking, strength and conditioning and the intangibles.
As exciting a fighter as Barry is, his lack of grappling could be his undoing again.
Winner: Shane Del Rosario, submission round two.
Keep Reading