What SEC Players Will Challenge Johnny Manziel's Heisman Trophy in 2013?
Use your ← → (arrow) keys to browse more stories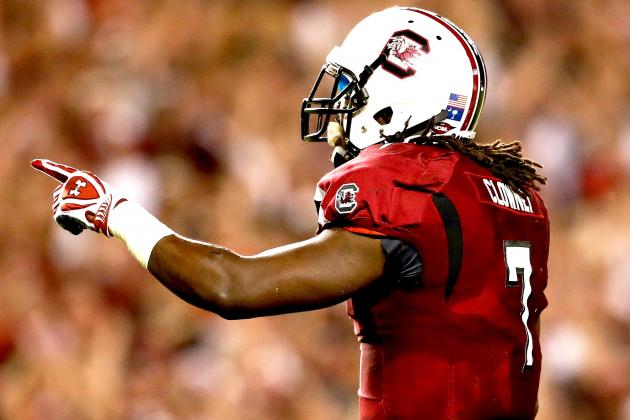 Johnny Manziel exited the Best Buy Theater in New York City on Saturday night with the Heisman Trophy in tow. With a few more years of college football in his future, "Johnny Football" will undoubtedly be in the mix to become the second repeat winner of the Heisman before he departs College Station.
But he will have plenty of competition, including from players from within his own conference.
Who are the top five SEC contenders to challenge Manziel for the 2013 Heisman Trophy? Here's our list (under the assumption that Jarvis Jones, Damontre Moore, Cordarrelle Patterson, Justin Hunter and Eddie Lacy will be playing on Sundays).
5. Alabama RB T.J. Yeldon
Yeldon burst onto the scene this seasons with 111 yards in the season opener vs. Michigan and never looked back, finishing the year with 1,000 yards and 11 touchdowns as a backup. Assuming Eddie Lacy bolts to the NFL, Yeldon will assume the feature back role.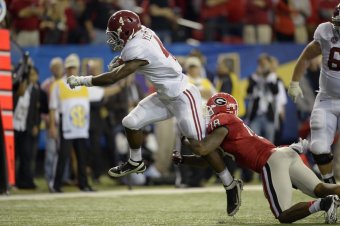 USA TODAY Sports
In other words, his stock is only going to rise.
Alabama wins by running the ball and playing defense, and never suffers from lack of exposure. That sounds like a recipe for Heisman success for Yeldon.
At 6'2" and 216 pounds, Yeldon has the body to take the pounding between the tackles, but also has the quickness to break outside and hit the home run.
He's everything you want in a running back, and should get the chance to be a feature back in 2013.
T.J. Yeldon TD vs. Missouri
4. Georgia QB Aaron Murray
Murray said last month that he will decide on the NFL after the season, but the rising senior signal-caller for the Bulldogs should stick around and play his senior season between the hedges.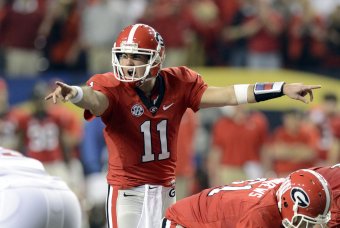 USA TODAY Sports
He was inconsistent at times this season, but was hot down the stretch, tossing 14 touchdowns and one pick over the last five games of the season and coming within five yards of getting his team to the BCS National Championship Game.
Murray finished as the second-most efficient quarterback in the country, getting edged out by Alabama quarterback A.J. McCarron by just 0.8 points.
Murray will have star wide receiver Malcolm Mitchell back, along with Michael Bennett—who will be coming back from a torn ACL.
He will cut down on mistakes, but did so during the final month of the season. If he plays like that out of the gate in 2013, don't discount the possibility of Murray making it to New York.
Aaron Murray vs. Georgia Tech
3. Georgia RB Todd Gurley
Gurley came into fall practice as "the other freshman running back" behind fellow true freshman Keith Marshall. That quickly changed, as Gurley rushed for 100 rushing yards, two touchdowns and an 100-yard kickoff return for a touchdown.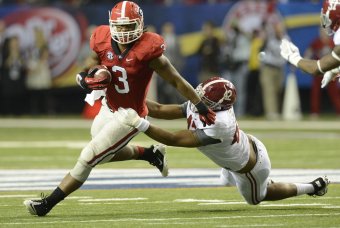 USA TODAY Sports
Not a bad debut.
Gurley established himself as the workhorse for the Bulldogs throughout the season, rushing for 1,260 yards and 16 touchdowns en route to being named to the SEC All-Freshman Team.
He's big, fast and physical; and will get plenty of opportunities to impress voters in 2013—especially if Murray declares for the draft.
2. Alabama QB A.J. McCarron
McCarron danced around the Heisman discussion, but in the end, he wasn't able nor given the opportunity to put up the video game numbers that Johnny Manziel did.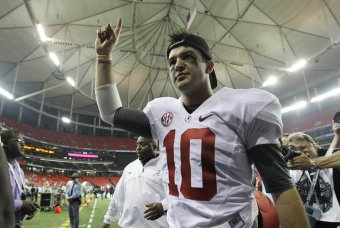 USA TODAY Sports
But make no mistake, McCarron isn't a "game-manager," he's a gunslinger that has played within the system for the greater good of the team.
He led the nation in passing efficiency with a 173.07 rating, tossed 26 touchdowns and only three interceptions. He struggled at times, including in the second half of the SEC Championship Game, but hit the big pass to Amari Cooper when it counted most.
There will always be quarterbacks with better numbers than McCarron, but stats don't tell the entire story. McCarron is an outstanding player, and will be in the mix.
A.J. McCarron TD to Amari Cooper vs. Texas A&M
1. South Carolina DE Jadeveon Clowney
Clowney finished sixth in this year's Heisman Trophy vote with 61 points and four first place votes. Not bad for a defensive end whose impact isn't always displayed in the box score.
Kim Klement-USA TODAY Sports
He set the South Carolina single-season record with 13 sacks in 2012, totalled 21.5 tackles for loss and 50 tackles
But it wasn't just on the stat sheet where Clowney dominated. He finished with only four tackles and one sack in the 35-7 win over Georgia, but was essentially camped out in the Bulldog backfield the entire game.
Clowney is a dominating force that will have the exposure and stats to make a legitimate run at earning the 2013 hardware.
In the Mix: LSU RB Jeremy Hill, Auburn RB Tre Mason, Mississippi State RB LaDarius Perkins, LSU QB Zach Mettenberger, Mississippi State QB Tyler Russell, Alabama WR Amari Cooper