10 Greatest Games in UEFA Champions League History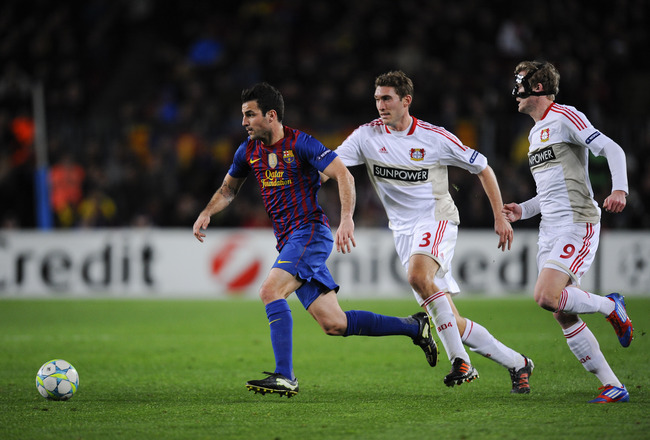 David Ramos/Getty Images
With the group stages of the 2012-13 Champions League campaign now over, we enter a moment of respite to be used for reflection for not just the months, but also the years gone by.
Europe's most prestigious tournament has thrown up its share of mammoth matches since its introduction in 1992, and it's vital that we don't forget what a pleasure it has been to watch these minutes of majesty.
In retrospect, the thousands of Champions League fixtures to have taken place in the last 20 years leave us with far too much material to officially say which matches are truly the best, but we shall try nonetheless.
Without further ado, it has been decided that the following 10 meetings have given audiences the most appropriate amount of thrills, spills and emotional rollercoasters in order to be dubbed the competition's greatest games.
10. Manchester United 4-3 Real Madrid (2002-03 Quarterfinal, Second Leg)
To kick matters off, two of the continent's giants put on a performance of titanic proportions in an era that saw both clubs enjoy periods of massive success, respectively.
Real Madrid, the reigning champions of Europe, came into the match with the "Galacticos" squad in full footballing motion and comprising a star-studded cast led by the prolific Ronaldo and an in-form Zinedine Zidane.
For Manchester United, the match represented a valiant effort in overturning arguably the world's greatest side at the time, but it was all for nothing.
In what has since gone on to become classic Red Devils form, Sir Alex Ferguson's men conceded first at Old Trafford, before then coming back to stage a 4-3 victory.
Unfortunately for the English stalwarts, the nervy 3-1 loss in Madrid during the first leg meant that the deficit simply wasn't reduced enough to earn further progression in that year's edition of the Champions League.
A Ronaldo hat-trick against an uncertain Fabien Barthez was probably the biggest highlight of a seven-goal thriller at the Theatre of Dreams, where the home fans watching were handed a nightmare of an aggregate defeat.
9. Dynamo Kiev 3-3 Bayern Munich (1998-99 Semifinal, First Leg)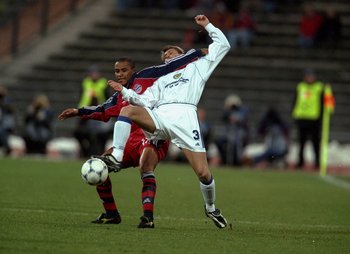 Phil Cole/Getty Images
The last time Dynamo Kiev made their way past the group stage of the Champions League, they advanced all the way to the semifinals of the 1998-99 campaign and were unfortunate not to go further.
Were it not for a resilient group of well-structured Bavarians, they might have made their way to the final, too, but they ended up falling in the second leg of their semifinal encounter with Bayern Munich.
However, the Ukrainian outfit did stage a surprisingly strong stride into the lead, thanks to goals from Andriy Shevchenko and Kakha Kaladze.
Michael Tarnat was on hand to provide Bayern with an absolute worldly of a free kick from all of 35 yards just before half-time.
Despite an incredibly high standard of football being shown in the first half, the second period was equally, if not more, entertaining, as three more goals, including a late, late equaliser (courtesy of Carsten Jancker) brought the German visitors back to level pegging at the Olympic Stadium.
8. Chelsea 4-4 Liverpool (2008-09 Quarterfinal, Second Leg)
Goals don't necessarily make for good games, but that kind of correlation would appear relevant after Liverpool and Chelsea were matched up for the fifth season in a row in 2009.
Although the first leg was anything but boring, the second leg of this English encounter took just about everyone by surprise, in terms of entertainment levels.
While it would seem as though Petr Cech temporarily lost all use of his usual goalkeeping abilities, the Chelsea stopper was fortunate that the likes of Didier Drogba and Frank Lampard were able to revive some of their finer form on the night.
After earning an away win in the first leg, the draw at Stamford Bridge was enough to see the Blues through to the semifinals of that season's tournament, where they proceeded to be knocked out by Barcelona.
Both sides exchanged the lead several times in a match where the balance of power shifted all but too regularly for those seeking a bit of entertainment.
7. Barcelona 7-1 Bayer Leverkusen (2011-12 Round of 16, Second Leg)
In a match that broke a bevy of Champions League records, Barcelona's Lionel Messi truly established his standing as one of the greatest players of all time, with a five-goal haul against Bayer Leverkusen.
Despite already setting the bar considerably high with a 3-1 win in Germany during the first leg, it was anything but enough for the current Champions League title holders.
At the time, die Werkself were anything but easy opposition; but the strength of their Catalan counterparts was very much exemplified in the European routing.
Having taken place in March, this match was still just a momentum-setter for Lionel Messi in 2012, who would eventually go on to break the record for amount of goals scored in the calendar year, previously held by Gerd Müller.
It's performances such as this that allow the Argentine to be justifiably labelled as one of the greatest of all time.
And while Bayer may not have deserved it, their demolition at the hands of Barça made for entertaining viewing from the neutral perspective.
As reported by BBC Sport, Bayer Leverkusen boss Robin Dutt described the link between Barcelona and Messi by saying, "His class is just extraordinary, there's no discussion. Without Messi, Barca are the best team and with him, they are in another galaxy."
6. Inter Milan 2-5 Schalke 04 (2010-11 Quarterfinal, First Leg)
Considering Inter Milan were current champions of Europe and playing with home advantage, the Italians' battering at the hands of relative minnows Schalke 04 was a surprise to many in 2011, not least of which those at the San Siro that evening.
Die Knappen had only made it past the group stages of the Champions League on one other occasion prior to the 2010-11 season, making their result at one of Italy's most famed grounds all the more unbelievable.
The game got off to an equally famous start thanks to Dejan Stankovic. The Internazionale veteran capitalised on some shaky defending from The Miners, powering his side in front with a half-volleyed effort from around 40 yards out.
However, Schalke showed the resolve required of any team expecting to survive amongst Europe's elite, twice coming back from losing positions before going on to see out an absolute hammering in Milan.
Raul led the line excellently in what grew to become standard fashion for him, while Goncalves Edu, Joel Matip and an Andrea Ranocchia own-goal also helped the Germans ease through to a semifinal with Manchester United—where they would eventually bow out.
5. AC Milan 4-0 Barcelona (1993-94 Final)
In terms of final upsets, AC Milan's 1994 victory over the mighty Barcelona of that age ranks amongst the highest, perhaps not because of the differences between the two clubs but merely because of the magnitude of the result.
Ronald Koeman, Romario and Hristo Stoichkov all featured for a Catalan side that had won the European Cup just two years previous to the 1993-94 season and were marked as clear favourites to come away with the silverware in hand this time, too.
AC Milan captain Franco Baresi was absent through suspension for the Rossoneri, significantly diminishing their chances of winning at the Olympic Stadium in Athens.
However, it would seem that morale transferred from the stands that night, as two first-half goals from Daniele Massaro helped push Fabio Capello's men into an early lead.
Despite their best efforts, the offensively orientated Barça found it nigh impossible to break down a staunch Milan defence, even with the considerable attacking talent amongst their ranks.
Such was the dominance of Milan that Dejan Savićević saw fit to add a third goal to his side's tally. Marcel Desailly capped off the remarkable display and, having won the tournament with Marseille the previous year, became the first player ever to win consecutive European Cups with two different clubs.
4. Deportivo La Coruna 4-0 AC Milan (2004-05 Quarterfinal, Second Leg)
While AC Milan may have staged a substantial shock roughly a decade earlier, the Italian giants fell on the wrong end of one equally as embarrassing in April 2004.
Although the result of the second leg was entertaining enough in itself, it was the context in which Deportivo's 4-0 thrashing came about that made for such good viewing during this clash.
The Spaniards had lost the first leg of this quarterfinal 4-1 and were being pretty much written off as contenders for the semifinal because of it.
The other reason this upset was so astonishing was because AC Milan, the then-holders of the Champions League title, were just so defensively strong at the time, having conceded just five goals in the nine tournament games prior to this one.
In what was the worst half of defending any Rossoneri fan would have seen for some time, Deportivo reduced Milan's three-goal aggregate advantage to rubble in the first 43 minutes of the encounter in Spain.
Goals from Walter Pandiani, Juan Carlos Valeron and Albert Luque ensured that Deportivo were back on a level playing field at halftime, before Fran's second-half winner sealed the deal for SuperDepor.
By the time the aggregate score was back to 4-4, there was a sense that nothing was going to restrict The Turks from claiming their spot in the semifinal.
They went on to do just that.
3. Juventus 2-3 Manchester United (1998-99 Semifinal, Second Leg)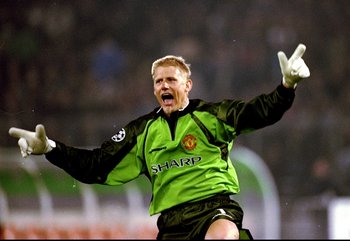 Getty Images/Getty Images
Nothing worth having ever came without struggle, and to say that Manchester United struggled on their route to the 1999 Champions League final would be an understatement.
Roy Keane shone for a Red Devils side that fought tooth and nail for their away victory against a team that contained the likes of Filippo Inzaghi, Zinedine Zidane, Edgar Davids, Didier Deschamps and other worldly talents.
The United captain led from the forefront and put on the perfect example of how a team should be guided through enemy territory, bringing his side back from a 2-0 deficit thanks to an early Inzaghi double.
However, the Englishmen have become famed for their comebacks for a reason, and Keane scored, along with Dwight Yorke, to draw his side level at the Old Lady.
Even though United were then winning the two-legged fixture on away goals, Sir Alex Ferguson chose to push on with his attacking strategy, and an Andy Cole finish guaranteed that the Manchester outfit would play on the final stage.
When it comes to comeback victories, this particular fixture would rank amongst some of the highest.
2. Manchester United 2-1 Bayern Munich (1998-99 Final)
If the manner in which they reached the final was a rollercoaster journey, Manchester United's 1999 Champions League final comeback against Bayern Munich was of equal, if not undoubtedly larger, proportions.
Noted as one of the best matches—not just in the European facet of the sport, but in football in general—the 1999 edition of the Champions League crescendo is an occasion forever etched in the mind of anyone lucky enough to have been watching at the time.
Roy Keane and Paul Scholes both missed the final through suspension, leaving David Beckham and Nicky Butt to challenge for midfield dominance, an area of the pitch Bayern Munich were particularly strong in.
Andy Cole and Dwight Yorke were preferred as the starting strike combination, leaving Teddy Sheringham and Ole Gunnar Solskjaer to start on the bench, although they would ultimately play massive roles in the encounter.
Der FCB had their share of injuries too, with Bixente Lizarazu and Élber missing at left-back and striker, respectively. Samuel Kuffour, a Ghana international at the time and central defender, was the only non-German in Bayern's starting XI.
It took just six minutes for Mario Basler to hit home a deftly curled free kick from just outside the United area, establishing the tempo for the remainder of the first half. United struggled to create chances, whereas the German outfit were unfortunate not to increase their lead, testing Peter Schmeichel on the counter-attack numerous times.
Despite the introduction of Teddy Sheringham in the second period, Bayern continued their dominance in attack, and it was only when Ole Gunnar Solskjaer came on with 10 minutes remaining that United really started to task Oliver Kahn's goal.
With four minutes of injury time being signalled, the Germans failed to clear a David Beckham corner, and with Peter Schmeichel even up for the set piece, it was Teddy Sheringham who messily swept Manchester United level.
The Nou Camp adventure didn't stop there, though, as it was that other late substitute, Ole Gunner Solskjaer, who capitalised on another corner to power the ball into the roof of Oliver Kahn's net with the time clocked at 92:17.
The emotion of the Bayern players after the third goal went in is enough to see how much this sport can impact the lives of some, with some of their sobbing figures since becoming iconic in the game.
1. Liverpool 3-3 AC Milan (2004-05 Final)
While neither club now holds quite as much weight on the continental stage as they once did, the 2004-05 Champions League final is a steady reminder of what Liverpool and AC Milan fans are hoping to get back to.
Another shock final comeback, another early start to the action.
Within the first minute, Paolo Maldini had become the oldest player ever to score in the Champions League after volleying in an Andrea Pirlo free kick.
Although both teams enjoyed their sample of scoring opportunities, it was Milan that had the better of the chances, even going as far to put the ball past Jerzy Dudek before Andriy Shevchenko was judged to have been offside.
Kaka and Hernan Crespo were proving to be a bane for Liverpool, and in the space of five minutes, the two created two clear-cut chances, with Crespo scoring both.
The cruel fate of Milan tripling their lead just before halftime was enough to despair even the most vigilant of characters, but of course it didn't end there.
Within 15 minutes of the second half commencing, the English outfit had scratched the Rossoneris off the record, reducing the Italians' advantage to nothing.
Who else would it have been but team talisman Steven Gerrard, who got his team back into the fixture before first-half substitute Vladimir Šmicer hit one past Dida to make the score 3-2 in Milan's favour?
Chances continued to arise for the last half hour of regulation time, but both sets of players lost some of their clinical edge while the keepers in both goals gained some.
This stalemate in Istanbul would continue through to extra time, where Jerzy Dudek would again keep his side in the running, while his Liverpool teammates began to feel the fatigue of the 120-minute fracas.
Referee Manuel Mejuto Gonzalez signalled the end of extra time, meaning the trophy's next home would be decided by penalty shootout, where Dudek's talismanic display continued.
The Pole chose to mimic Bruce Grobbelaar's "spaghetti legs" tactic, forcing Serginho to fire his effort over the bar. After Dietmar Hamann put the Merseysiders ahead, Dudek would continue his dominance by saving Andrea Pirlo's spot kick, inspiring yet more belief in Liverpool audiences.
Second-half introduction Djibril Cissé doubled Liverpool's penalty tally, but the result was once again put in doubt after Jon Dahl Tomasson and Kaka scored on either side of a John Arne Riise miss to make the count 2-2.
Šmicer put the Reds back in scoring ways, and it was Andriy Shevchenko who shouldered Milan's final kick. Despite diving to his right, Dudek stretched out a left hand to deny the Ukrainian.
Cue a Liverpudlian rapture of massive scale, as well as the disbelief of millions.
A greater match, perhaps, there has never been.
Keep Reading