2013 NBA Mock Draft: Rising Stars Every NBA Fan Must Watch This Season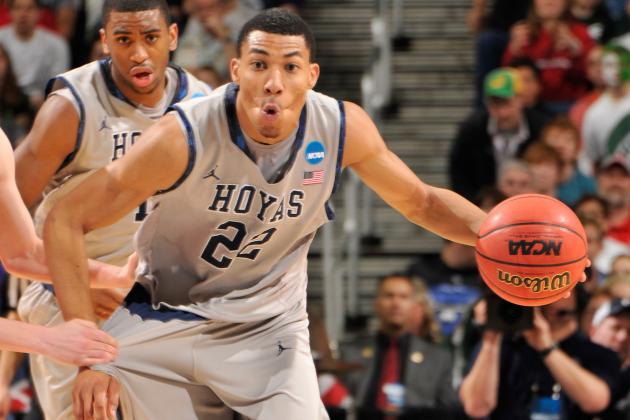 Jamie Sabau/Getty Images

With another 2013 NBA mock draft comes new NBA prospects.
This past week, we saw a number of college shooting guards stand out amongst the pack, with new faces appearing on the NBA first-round radar.
Our top three remain the same, but it's a mess after that. This could end up being one of the most unpredictable drafts in recent memory.
Statistics updated as of 12/10/12
Begin Slideshow

»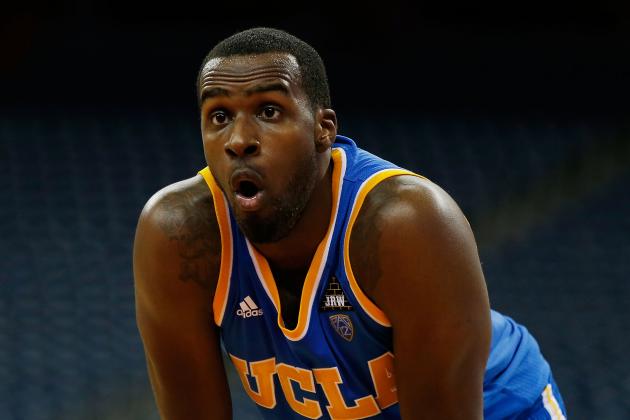 Scott Halleran/Getty Images

It's frustrating to watch UCLA, which rarely puts its best player in position to take over.
Shabazz Muhammad scored 16 against Texas, but you felt it could have been more. In fact, you feel that way after every game he's played.
It's not his fault, as he's finding creative ways to score at the rim and on the perimeter. I'm hearing a lot of chatter about his jumper needing work, but he's taking the ones he can make and passing on those he can't.
He's shooting 46 percent from three on the year and averaging 16 points and five rebounds.
Muhammad is certainly not the reason for UCLA's disappointing start and remains our top pick overall just a few weeks before conference play.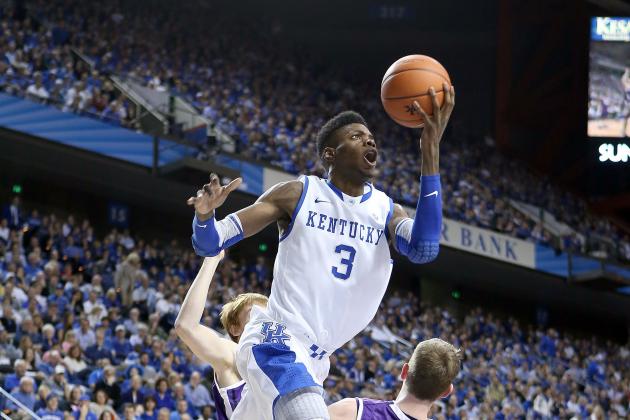 Andy Lyons/Getty Images

Nerlens Noel totaled 12 blocks against Samford and Portland, only missing three shots in both games combined. Granted, he only took 11, but he's at least staying efficient.
Noel's stock will remain the same after a week playing against inferior competition. He's averaging 3.6 blocks per game on the year to go along with nine boards and 11 points.
I'm seeing more and more of a Tyson Chandler-type impact player at the next level. Neither can generate much self-offense, but both can finish and protect the rim.
If Chandler went No. 2 overall, so can Noel. With so many scorers in the NBA, rim protectors are increasing in value.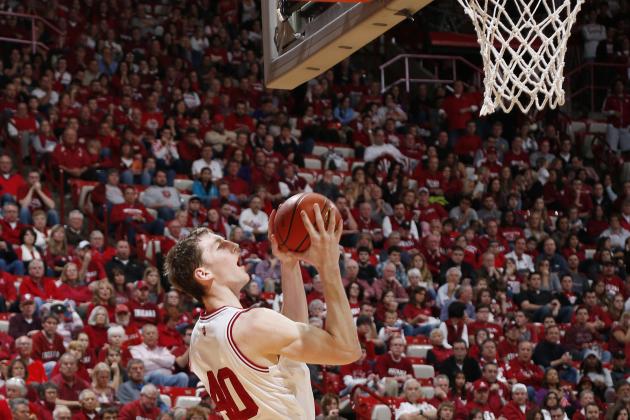 Joe Robbins/Getty Images

Cody Zeller had his most complete game as a prospect against Central Connecticut State, grabbing a career-high 19 rebounds to go with 19 points.
The 19 rebounds were huge and have to be something he builds on moving forward.
Becoming a multidimensional contributor as a center needs to be the focus of his development. Big men who can score are obviously nice to have, but if they aren't patrolling the paint defensively and controlling both sides of the glass, you're left with Brook Lopez, a solid NBA center, just not a game-changer.
Whoever has that first pick overall, which is what Cody Zeller will be shooting for, will be looking for a game-changer.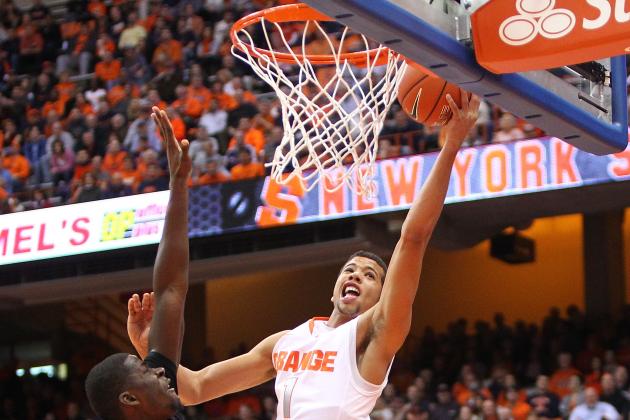 Nate Shron/Getty Images

Just another week at the office for Michael Carter-Williams, who racked up 16 assists to go along with 15 points against poor Monmouth.
Though he hasn't exactly played against lockdown competition, it's not like he's playing against practice dummies. Carter-Williams has been able to do whatever he wants with the basketball in terms of manipulating the defense and setting up an easy basket for teammates.
Carter-Williams is now averaging 10.4 assists, nearly two more than the next guy in line.
He's our top point-guard prospect in the country and our first one off the board in the 2013 NBA mock draft.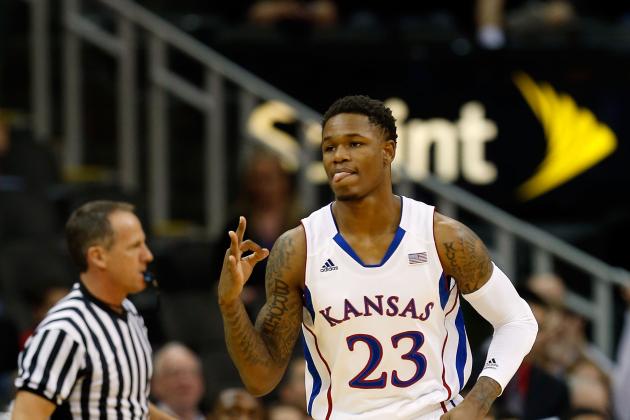 Jamie Squire/Getty Images

Ben McLemore is coming off back-to-back 20-plus-point games and is starting to get into a rhythm.
Though early, his game is really starting to resemble a young Ray Allen, with a smooth off-the-dribble game and a jumper so pretty it could make you shed a tear.
He's got an athletic body built for basketball and a skill set to go with it. I have a feeling he'll be this year's Bradley Beal—the freshman with a mature game who gets taken quickly based on potential.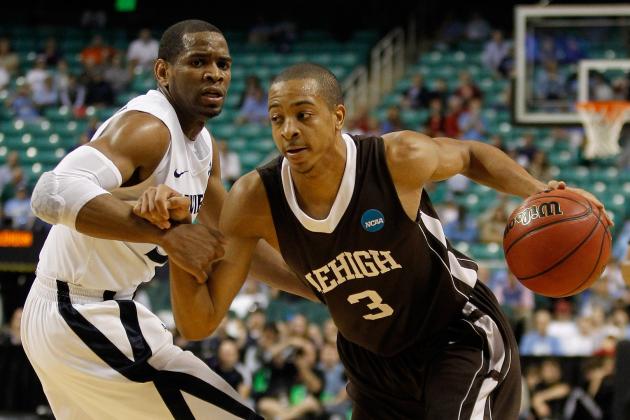 Streeter Lecka/Getty Images

C.J. McCollum's steady production should help keep him Top 10 relevant, while others have struggled to perform on a consistent basis.
He's averaging 24.9 points a game and has been a constant in the scoring category.
As long as McCollum continues to put up numbers against subpar competition, his draft stock should remain fixed. The needle will start to make bigger movements during postseason play when he gets another chance to take over and knock off a national powerhouse.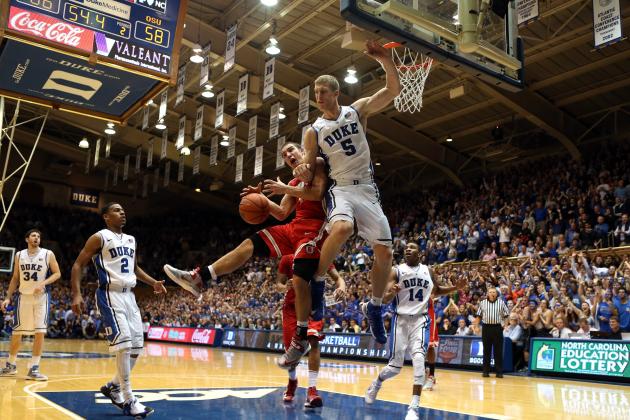 Streeter Lecka/Getty Images

It's starting to look like Mason Plumlee's improvements have become permanent.
He had his worst game of the season against Temple and still managed 16 points and 14 rebounds. Because of his size and athleticism, he's likely to make an impact regardless of whether his shot is falling.
Athletes like Plumlee don't tend to regress. He presents minimal risk and substantial upside in that mid-to-late lotto range.
He's still averaging 19 points and 11 rebounds and has positioned himself as the early favorite for National Player of the Year.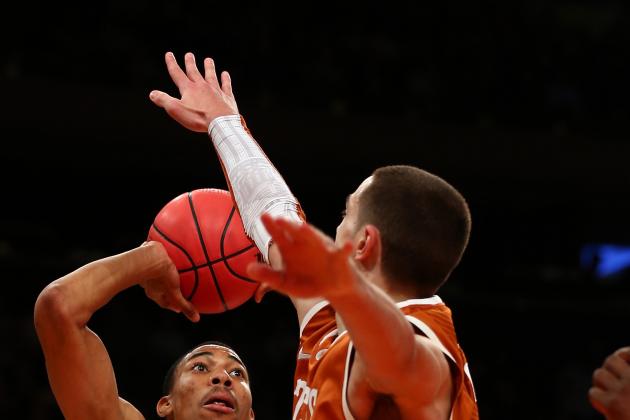 Elsa/Getty Images

Otto Porter continues to excel in all facets of the game. His scoring numbers will fluctuate due to the fact that his responsibilities change on the fly depending on the game.
He racked up 22 points and seven assists against Longwood, finishing off plays and creating them for others.
He also pulled in four more steals and now has at least three in four consecutive games.
Porter's length, mobility and overall feel for the game make him a threat attacking, facilitating, rebounding and defending. He's the ultimate utility man, presenting minimal risk as an ultra-efficient NBA-ready glue guy.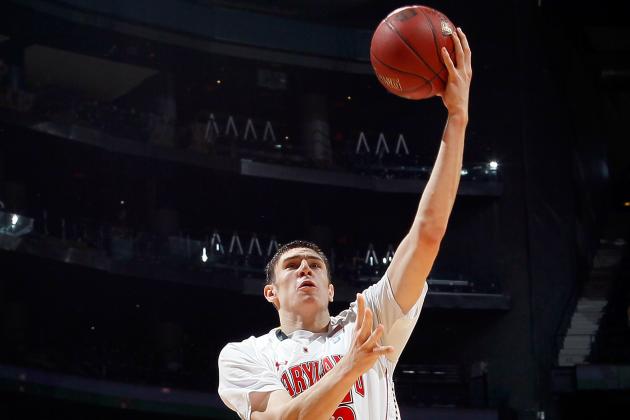 Kevin C. Cox/Getty Images

In two games this week, Alex Len shot a combined 9-of-12 from the floor, playing reduced minutes due to ridiculous Maryland blowouts.
Len simply needs more touches. Whether he gets them or not probably won't impact his draft stock because of how efficient he's been when the ball does finally get to him.
He's not even attempting 10 shots a game as arguably the conference's top big man alongside Mason Plumlee. We've seen the Top Five overall upside; we just want to see more of it.
Len is averaging 13.9 points, 8.7 rebounds and 2.3 blocks a game.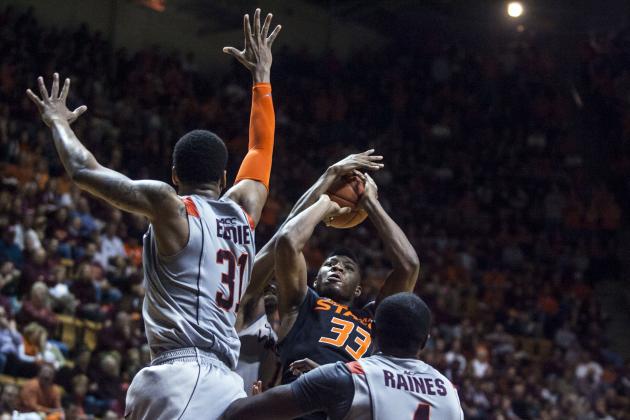 Peter Casey-USA TODAY Sports

Marcus Smart has started to slump in terms of putting the ball through the hoop. He shot 2-of-8 against Missouri State, bringing his field-goal percentage down to 36 percent on the year. His three-ball isn't dropping, either, only making six of his last 26 attempts.
A few bad games shooting the ball won't do much to dent his draft stock, as it's the intangibles Smart brings to the table that give him such special appeal.
Unless this becomes a long-term issue, Smart will hover around the lottery throughout the rest of the year. He's bound to impress scouts and executives during pre-draft workouts and interviews.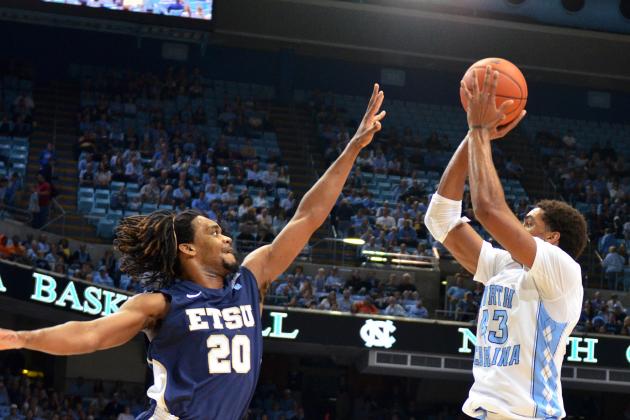 Rob Kinnan-USA TODAY Sports

James McAdoo had a quiet night against East Tennessee State, only going for nine points and two boards in 23 minutes of action.
If a team is targeting McAdoo, you can be sure it won't be looking at any box scores.
He's an incredible athlete who's just trying to figure out his place in the game. He's got a back-lottery basement with Top Three upside.
Cutting down on his 3.3 turnovers a game should be a priority moving forward.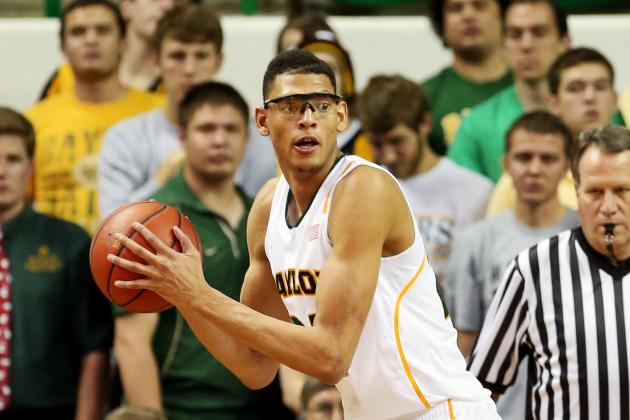 USA TODAY Sports

Isaiah Austin went into invisible mode against Northwestern, picking up four fouls that limited him to eight points, four boards and another block-less game.
We'd like to see Austin assert himself more on both sides of the ball, specifically inside with that 7'3'' wingspan and 7'1'' overall size.
He hasn't done much creating as a scorer, getting most of his opportunities as a spot-up recipient or finisher at the rim.
Austin has slipped since the start of the year, but has plenty of time and talent to get back on track soon.
He's averaging 13 points and seven rebounds a game.
Rudy Gobert will remain a fixture in our first-round mock drafts, so get used to hearing me talk about his unprecedented 7'9'' wingspan.
His arms resemble two long strands of fettuccine that he can whip up and down or side to side in order to take up space and cause defensive clutter. The ability to block shots while out of position will surely frustrate penetrating guards and frontcourt scorers.
Offensively, he's a target above the rim, has the mobility to get up and down the floor and keeps balls alive on the glass.
We don't know what he'll look like as a finished product, but it's possible that Gobert is something never before seen.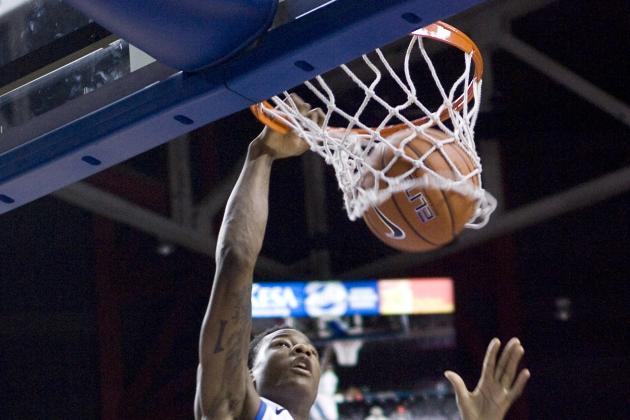 USA TODAY Sports

Archie Goodwin averaged 16.5 points in Kentucky's two games last week, making some highlight-reel finishes that could only be described as next-level.
He's so effective attacking the rim that he's bound to score at least three easy baskets a night—baskets that wouldn't be so easy for someone else.
Goodwin is only taking 1.4 thee-pointers a game, but he's taking them wisely, making 54 percent of those attempts from behind the arc.
Shot-selection and decision making have been a weakness, but that shouldn't be a long-term issue. Goodwin has Top 10 upside and could be making his way up the board pretty soon.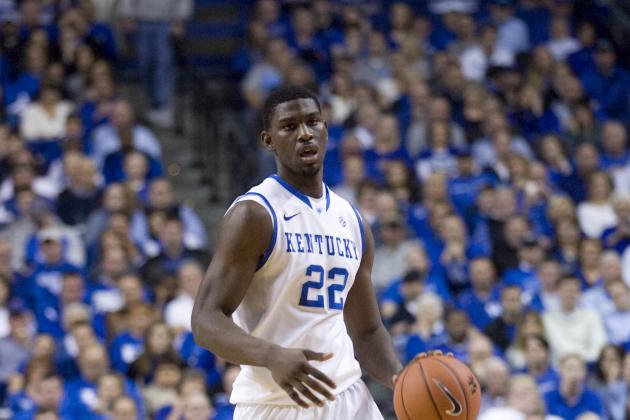 USA TODAY Sports Images

Alex Poythress had an incredibly efficient week against Samford and Portland, finishing 13-of-17 from the floor combined. He also made 3-of-5 three-point attempts, and though Kentucky's level of competition was bottom-of-the-barrel, the rim size remains the same.
Poythress' three-point shot needs to be put under the microscope, because if developed, it will give him a weapon to complement his attack game as a slasher.
With the inability to create off the dribble on the perimeter, the spot-up three will maximize the services he can offer to an NBA lineup.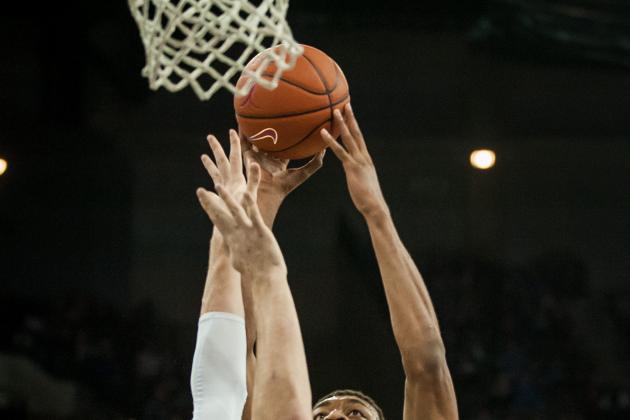 Eric Francis/Getty Images

Tony Mitchell averaged 16.5 points and 9.5 boards in two games last week against Saint Louis and Jackson State, getting back on track after a down offensive week.
The North Texas coaching staff has done a poor job using its best player, who all too often is caught standing around on the perimeter.
He's a devastating NBA athlete with incredible size for a small forward, but that may be the problem. Mitchell must start to develop a power forward mindset to prevent from getting stuck between positions like Derrick Williams of the Minnesota Timberwolves.
He's averaging 14 points, nine rebounds and 2.5 blocks a game.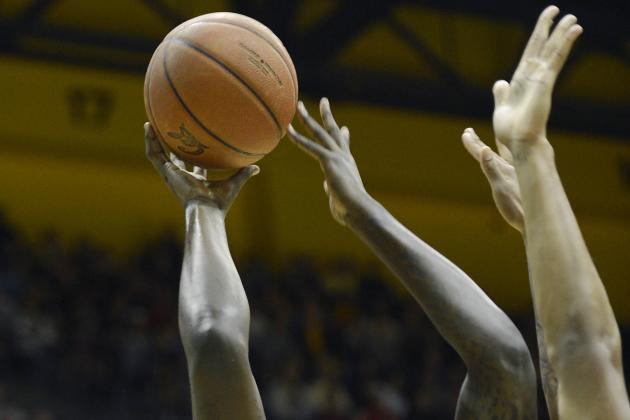 Bob Stanton-USA TODAY Sports

In UNLV's one-point win over California, Anthony Bennett went off for 25 points and 13 rebounds, looking like a man among boys despite being one of the youngest kids on the floor.
He's now averaging 19.5 points and 8.3 rebounds and is playing better than any freshman prospect in the country.
Bennett could creep up into the lottery talks with more performances like the one he had against California. His goal is to shake the uncertainty surrounding his natural position and help scouts forget he doesn't possess true power-forward size.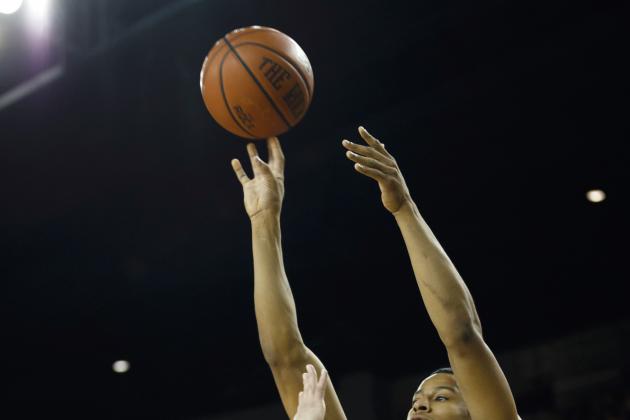 USA TODAY Sports

Trey Burke is starting to make the case for the most complete point guard in the country and has yet to play a bad game as the quarterback of Michigan basketball.
Last week, he put up back-to-back seven-assist games while averaging 18 points with only three total turnovers.
He's in complete control with the ball in his hands, reading the defense accurately and reacting accordingly.
There may not be anyone faster baseline to baseline, and he is positioning himself as the quickest breakdown guard in the pack. The ability to knock down jumpers off the dribble only increases his offensive appeal as a scorer and distributor.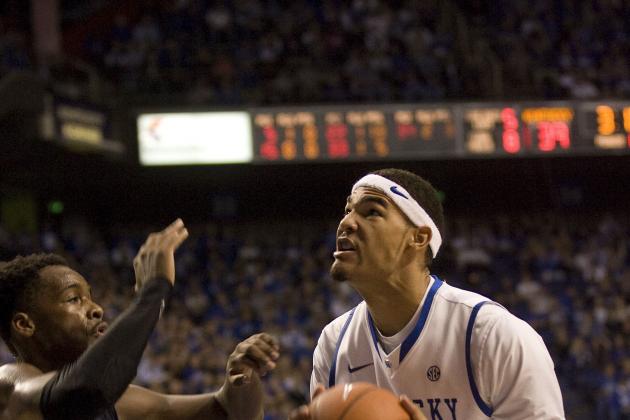 Mark Zerof-USA TODAY Sports

There isn't much new to report on Willie Cauley-Stein, who continues to make plays in limited minutes.
He went for 12 and 12 in 22 minutes against Samford, using his size and athleticism to bully defenders inside.
The big question with Cauley-Stein is whether or not he'll leave after his freshman year. With a full class coming in next year, Cauley-Stein might be better off leaving now, with his potential being a selling point.
Joshua S. Kelly-USA TODAY Sports

Isaiah Canaan had a rough game handling the basketball against Evansville, committing seven turnovers to offset the 21 points he scored.
He's being forced to dominate the ball for inordinate amounts of time, so the turnovers, though distasteful, are going to come.
Canaan's draft ceiling will likely remain around the 20 mark until he gets the opportunity to win the Ohio Valley Conference, and some fans, during March Madness.
He's averaging 21 points on 43 percent from downtown on the year.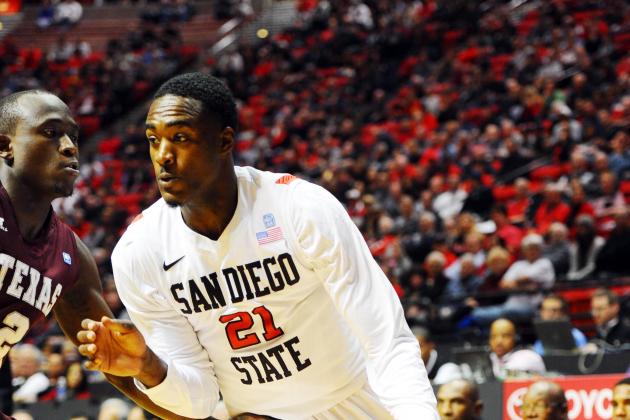 Christopher Hanewinckel-USA TODAY Sports

Jamaal Franklin went for 14 points, four boards and five dimes in a win over UCSB last week and continues to show that he's more than just a high-volume scorer.
Franklin is an NBA athlete with as good of off-the-ball timing and instincts as anyone in the country.
His three-point accuracy has dipped from 33 to 24 percent, so he clearly has work to do as an outside shooter. But in terms of making plays without the ball using his unique physical tools, Franklin fits the bill as an NBA complementary scorer.
He's averaging 19 points, 10 boards and 1.8 steals per game.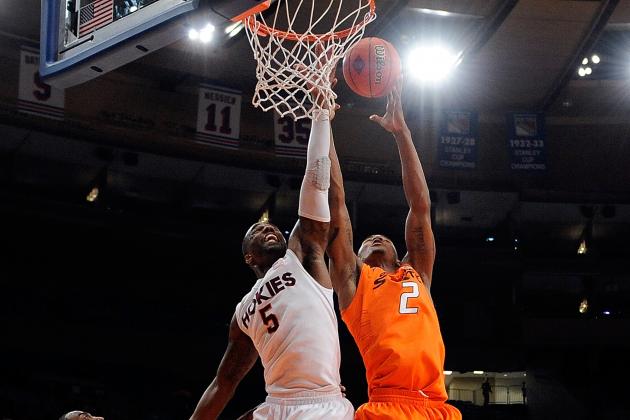 Patrick McDermott/Getty Images

It was a tough week for LeBryan Nash, who finished with only one made field goal against South Florida and 10 points against Missouri State.
For what it's worth, the Cowboys won both games, but Nash's numbers took a hit across the board over the past few days.
It's nothing to panic about, as long as it doesn't become a habit. Inconsistencies as a sophomore will only remind scouts of his inconsistencies as a freshman. Repeat issues are never a good look.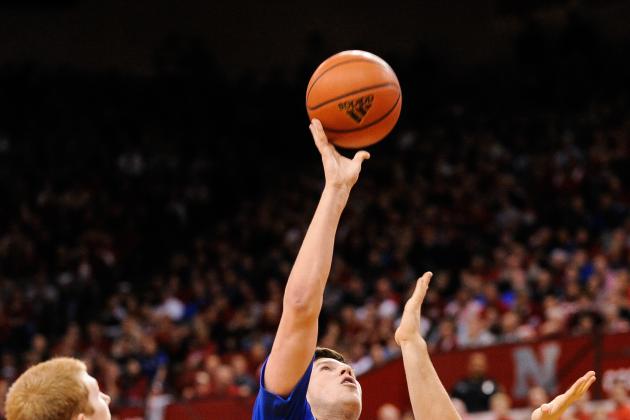 Eric Francis/Getty Images

There may not be a hotter scorer in the country right now than Doug McDermott, who has made an incomprehensible 17 of his last 24 three-point attempts over a four-game stretch.
This is big news for McDermott, as this is likely to be his primary responsibility when he gets to the next level.
He scored 27 against Nebraska and 30 against Akron, and the rim evidently is the size of a swimming pool from his perspective right now. Let's see how long McDermott can keep the streak up. The longer it goes, the better his chances are of gaining fans in NBA scouting departments.
His shot-making ability is what will attract teams as early as the mid-first round.
McDermott is averaging 22.7 points on a ridiculous 52-percent shooting from downtown.
Jamie Sabau/Getty Images

Deshaun Thomas' scoring instincts are as pure as anyone in the draft pool. He's averaging over 20 points a game, with a season low of 14, illustrating his feel for the rim on a nightly basis.
Thomas doesn't have the explosiveness of most scoring wings, which has held him back from legitimate first-round attention. But sometimes, it's necessary to trust your eyes and not the overly in-depth scouting reports.
He'll be a tough cover if he can keep that three-point percentage above 40 percent.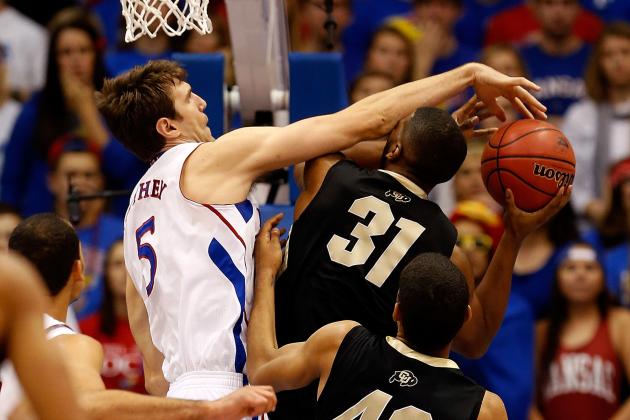 Jamie Squire/Getty Images

At this point, Jeff Withey could block a couple of shots a game in his sleep.
It was just an average week for the Kansas center, who only blocked five shots against Colorado, down from his 5.6 average on the year.
He's swatting balls at an amazing rate, which is what's keeping him in the first round despite possessing minimal athleticism or explosiveness for a big.
Though nothing alike physically, Withey could end up as last year's Festus Ezeli, who was the last pick in the first round taken primarily for his ability to protect the rim.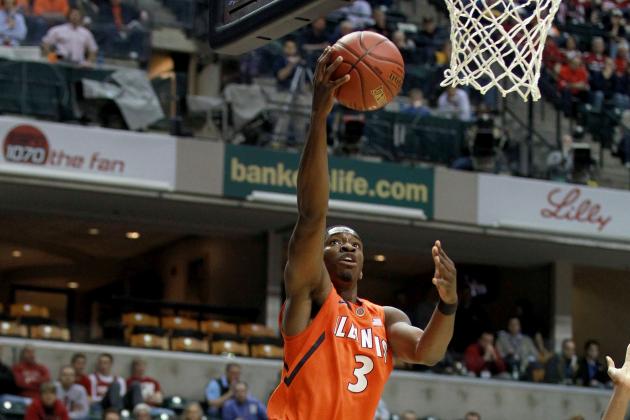 Andy Lyons/Getty Images

Everyone, welcome Brandon Paul to his first appearance on the 2013 NBA mock draft.
Paul is fresh off a classic 35-point game in a win over Gonzaga in which he completely took control and flashed his NBA scoring tools.
He finished 10-of-16 from the floor, including five three-pointers and 10-of-11 from the charity stripe. His ability to create shots from the perimeter, as well as take it to the rack, has made him look like a next-level scorer with doable size for an off-guard.
Paul had a 43-point game last year, so this shouldn't be that out of the blue. But the fact that he's raised his scoring average from 15 to 19, his field-goal percentage from 39 to 48 percent and his three-point percentage from 33 to 41 percent means that he's tightening up some loose ends.
A sixth-man role at the next level would be the position that best suits his game as a dynamic perimeter scorer who can put points up in bunches.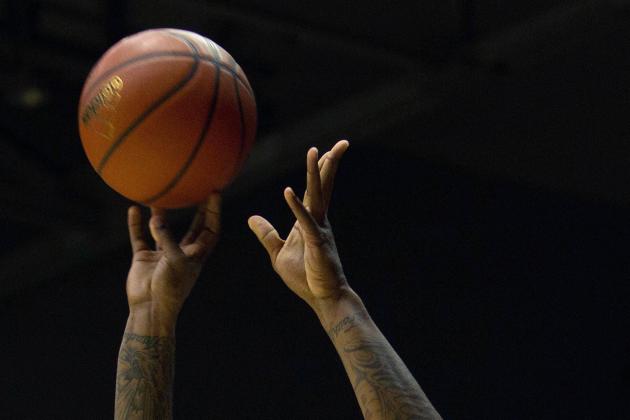 Rob Leifheit-USA TODAY Sports

Sean Kilpatrick continues to act as a primary scoring option, dropping 18 and 23 consecutively to keep his average at 20 a game.
He's at 40 percent from downtown, a few points up from his career average, but he's shooting 50 percent from the floor, a big improvement from 43 percent last year.
The difference has been he's expanded his game off the dribble, which has led to nearly three more free-throw attempts per game.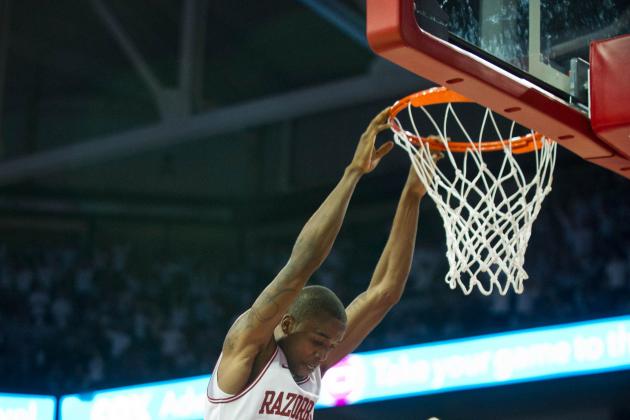 USA TODAY Sports

B.J. Young has cooled down after a hot start, although there was some good news to come with a poor shooting week.
Young dished out eight dimes in a win over Oklahoma, a positive sign for those, like me, who remain skeptical of his ability to switch over to the point-guard position. Believe it not, those eight assists were a career high, and unfortunately, he followed it up with a nine-point, two-assist game in a loss to Michigan.
He's a dynamic scorer, particularly attacking the rim, but his three-point percentage is down from 41 to 18 percent, and he's undersized for a natural NBA 2-guard.
He's simply too talented to let slip too far; therefore, the back of the first round sounds like a realistic landing spot.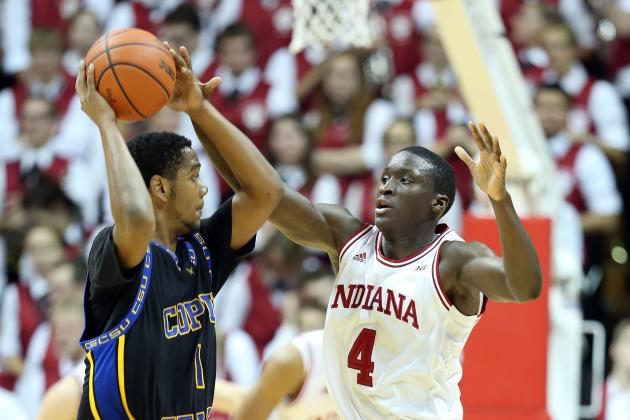 Andy Lyons/Getty Images

Victor Oladipo has now scored in double figures in seven straight games, looking more and more like an NBA-caliber slasher.
His relentless activity has made an impact on the glass and in passing lanes, where he's averaging 5.6 boards a game to go with 2.6 steals.
Many see him as limited; I see him as concentrated. He does one thing well, and that's defend and finish. There's a role for players like that in many NBA rotations.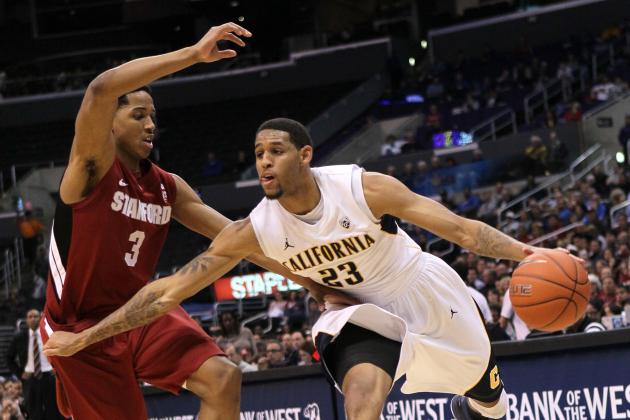 Stephen Dunn/Getty Images

Allen Crabbe is much improved as a shot-creator, and as a result, has become a more potent scorer.
He's playing roughly the same amount of minutes as last season, but is averaging nearly four more free-throw attempts per game. Crabbe is scoring 21.9 points compared to the 15 a game he averaged last year and has his three-point percentage up to a whopping 45 percent.
At 6'6'' with NBA 2-guard athleticism, the physical transition process should be seamless. He's shooting well enough off the catch to attract attention as floor-spacer, but if he continues creating his own offense, Crabbe could potentially make a bolder move up the draft board.