Projecting Big League Arrival Dates for the Top MLB Pitching Prospects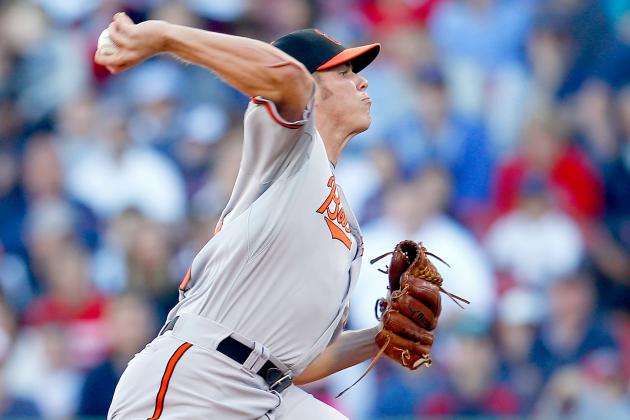 Jim Rogash/Getty Images

While some teams' top prospects are still a few years away from reaching the major leagues, most organizations possess at least one player (at Double-A or higher) capable of contributing during the 2013 season. And as the offseason free-agent market finally unfolds and teams begin to toss around big contracts, there's a solid crop of pitching prospects—such as Shelby Miller and Chris Archer—who should contend for a spot in the rotation during spring training.
And since I've been in the ranking spirit lately, I thought that I'd offer my thoughts on the estimated time of arrival of the game's top 10 pitching prospects.
Begin Slideshow

»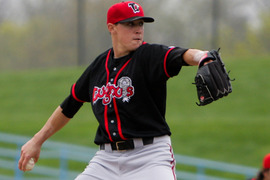 Courtesy of MiLB.com
The headliner of Low-A Lansing's loaded starting rotation last season, Sanchez, 20, showcases fluid mechanics and a fast arm. The 6'4", 190-pound right-hander boasts a fastball that sits in the low-to-mid-90s with some weight and arm-side action.
His curveball was noticeably better this past season, as he tightened the rotation to achieve more of a downer action. The 20-year-old will also mix in a changeup, though it's noticeably less advanced than the breaking ball.
After the organization limited him to only 79.1 innings over his first two professional seasons, they scaled back some of the concern this past year. Spending the entire season at the level, Sanchez posted a 2.49 ERA, 6.4 H/9, 9.7 K/9 and 5.1 BB/9 in 90.1 innings.
Although he has great pure stuff and the makings of a frontline starting pitcher, Sanchez is still a few years away from contributing in the major leagues and may not be ready until the start of the 2015 season.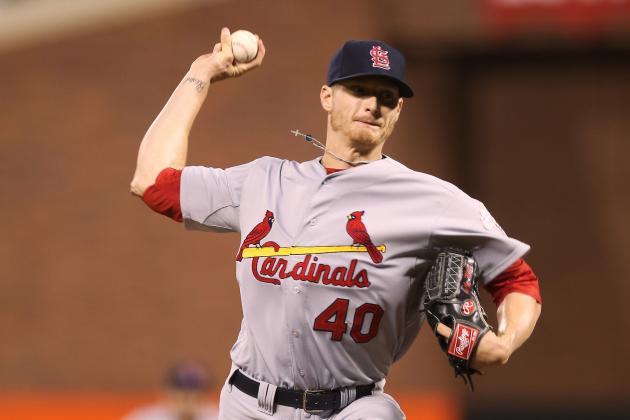 Christian Petersen/Getty Images

A 6'3", 195-pound right-hander, Miller was regarded as the organization's top prospect for a majority of the last three years. The 21-year-old's fastball typically sits in the 92-95 mph range and draws an inordinate amount of swing-and-misses.
He has a tendency to get too fastball-happy and neglect his secondary pitches; but, in his defense, Miller does command the pitch well to both sides of the plate. He complements his fastball with a late-breaking curveball that will flatten out at times, as well as an above-average changeup with nice fade.
Opening the 2012 season at Triple-A Memphis, Miller owned a 6.17 ERA with 90/43 K/BB—and 17 home runs allowed—at the All-Star break, as his chances of a late-season call-up seemed highly unlikely.
However, the right-hander registered a 2.88 ERA with 70/7 K/BB in 59.1 innings over the second half of the season. Miller ultimately reached the major leagues in September, and held the Reds to one hit over six innings in his first big league start.
With an opening in the 2013 starting rotation, Miller will presumably battle for the spot during spring training, but faces stiff competition in Joe Kelly and Trevor Rosenthal. However, I'd put my money on Miller to win that final spot.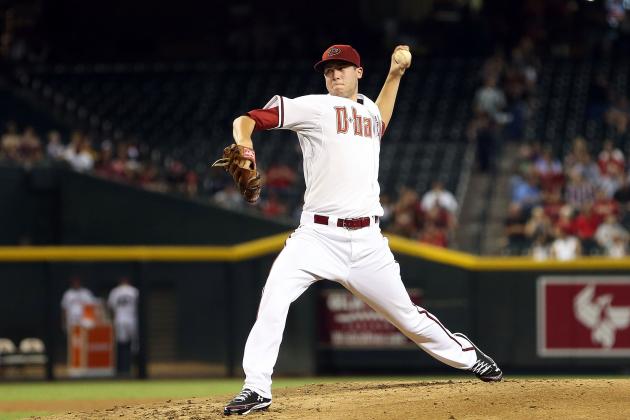 Christian Petersen/Getty Images

At 6'3", 195 pounds, Skaggs is a lanky southpaw with a projectable frame and repeatable mechanics. When he's getting on top of the pitch and not losing it to the glove side, his fastball sits in the 88-93 mph and is aided by a deceptive delivery.
His curveball still ranks among the best in the minor leagues, but was inconsistent in the majors last season. His changeup is an average offering but definitely a serviceable pitch,
After posting a 2.87 ERA with a 8.5 K/9 and 2.7 BB/9 in 158.1 innings between Double-A Mobile and Triple-A Reno, Tyler Skaggs was called up in late August to make his big league debut. The 21-year-old left-hander struggled with his overall command, but was allowed to finish the season in the major leagues.
Overall, Skaggs posted a 1-3 record with a 5.83 ERA, 1.8 HR/9 and 4.0 BB/9 in 29.1 innings spanning six starts.
It'll be interesting to see whether the Diamondbacks break camp with either of their two pitching prospects, as both could seemingly benefit from further refinement at Triple-A Reno.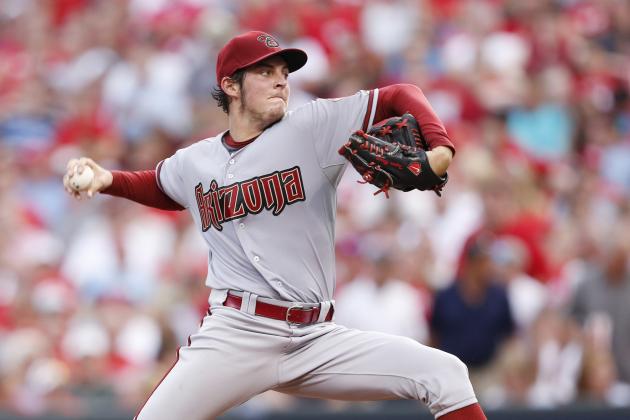 Joe Robbins/Getty Images

Bauer, the Arizona Diamondbacks' top prospect, was called up to the major leagues in late June and made his highly anticipated debut.
Although things didn't go as hoped, and Bauer was forced to exit early with a groin injury, the 21-year-old right-hander showed good enough pure stuff to stick around for three more starts. While he did pitch well in one of them, he was sent back down to Triple-A Reno to refine his command after posting a 6.06 ERA and 7.2 BB/9 in 16.1 innings.
After a rumor emerged that he'd experienced a falling-out with the team's front office, Bauer's name recently came up in trade discussions with the Indians during the winter meetings.
At the same time, it's important to remember that GM Kevin Towers will listen to an offer for any player. So take that for what it's worth. If he's not moved, Bauer should contend for a spot in the starting rotation. If his command is still shaky in the spring or he continues to nibble at the strike zone rather than attack hitters, the right-hander will be sent back to Triple-A Reno to begin the 2012 season.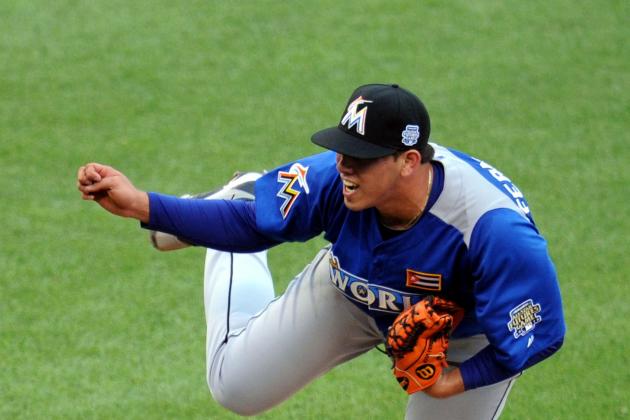 Peter G. Aiken-USA TODAY Sports

At 6'3", 215 pounds, Jose Fernandez isn't the most projectable prospect. However, at 20 years old, the right-hander already demonstrates advanced command of his stacked arsenal and controls the pace of the game.
Fernandez boasts a heavy fastball that sits between 92 and 96 mph and reaches the upper-90s in shorter stints.
Regardless of the speed, he consistently throws his heater on a downward plane and pounds the lower half of the strike zone. His secondary arsenal consists of a plus slider with tilt and a wipeout break; curveball that can be too slow and loopy; and a changeup for which he has a natural feel.
After he went 14-1 with a 1.75 ERA, 10.6 K/9 and 2.4 BB/9 in 134 innings last year between two Class-A levels, Fernandez will likely open the 2013 season at Double-A.
I've been nothing but impressed with the right-hander and believe he has all the makings of a No. 1 starter. And given the state of the Marlins' big league squad, Fernandez may get to the major leagues in a hurry if he continues to dominate.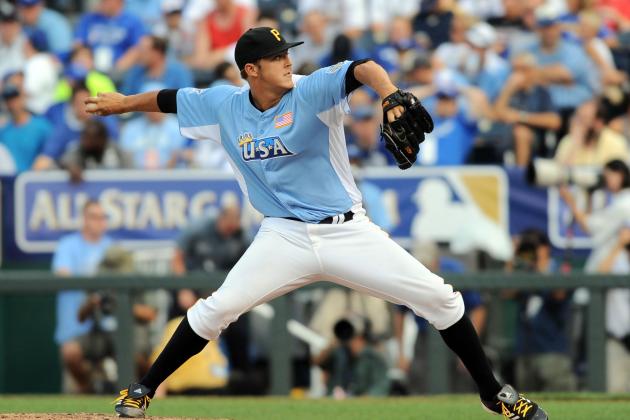 Denny Medley-USA TODAY Sports

Rising through the Pirates system right behind Gerrit Cole, Taillon is a powerful, 6'6" right-hander with exceptional stuff. His lightning-quick arm and wiry frame generate 93-97 mph fastballs with late life.
The 21-year-old features two different breaking balls in a hard, power slider and hammer curveball. His changeup continues to progress as he gains experience, and will be vital toward his success at higher levels.
After spending most of the 2012 season at High-A Bradenton, Taillon was promoted to Double-A Altoona where he won each of his three starts and registered a 1.59 ERA. Even though Gerrit Cole will likely reach the major leagues before him, Taillon seems to be on pace for a late-2013 big league debut.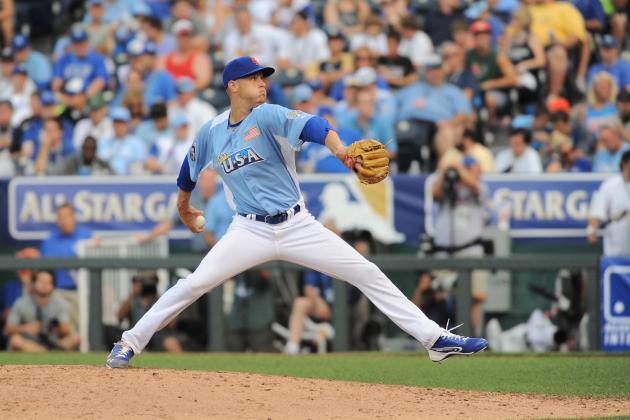 Denny Medley-USA TODAY Sports

Acquired from the Giants for Carlos Beltran late in the 2011 season, Wheeler thrived in his first full season with Mets. With a highly projectable 6'4" frame, the right-hander uses his fast arm and explosive mechanics to pump fastballs in the mid-90s, and will occasionally scrape 97-98 mph.
His curveball is a second plus-offering, as it features excellent shape and sharp, downward break. His changeup showed steady improvement over the course of the season and should be an above-average offering.
After pitching a majority of season at Double-A Binghamton, Wheeler, 22, was promoted to Triple-A Buffalo when Matt Harvey was called up to the majors. He'll presumably open the 2013 season back at the level, but could be in the big leagues by early June.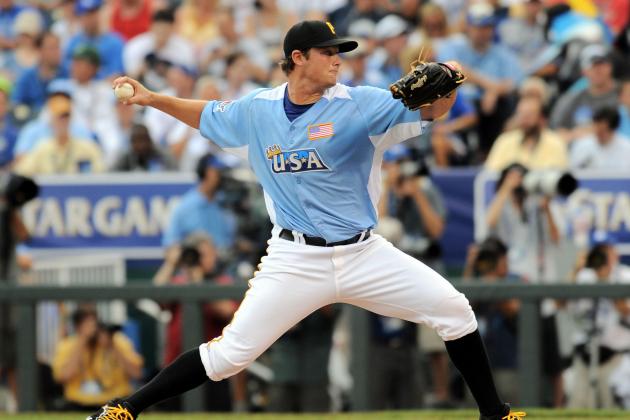 Denny Medley-USA TODAY Sports

The epitome of a power pitcher at 6'4", 220 pounds, Cole's plus-plus fastball touches triple-digits with ease, though he'll typically sit in the high-90s. His slider is another plus offering and serves as a legitimate out-pitch, while his changeup can be devastating when thrown off a well-located fastball.
Cole opened the season at High-A Bradenton and was actually more polished than I expected. The 22-year-old earned a midseason promotion to Double-A Bradenton before finishing his pro debut at Triple-A Indianapolis.
The Pirates aren't an organization that rushes pitching prospects, so Cole's chance of making the Opening Day roster is slim. However, the flame-throwing right-hander is nearly big league ready and could conceivably spend a majority of the 2013 season in the major leagues.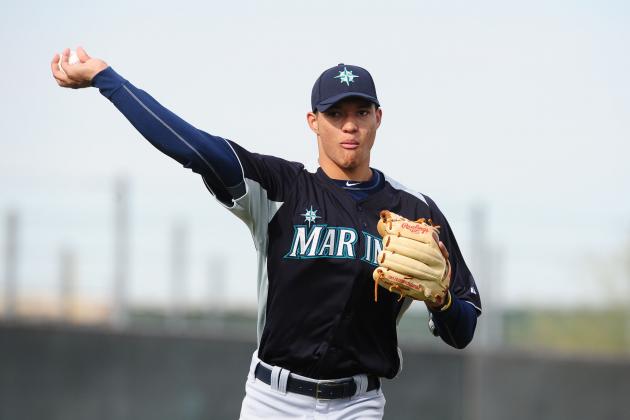 Mark J. Rebilas-USA TODAY Sports

A highly athletic, 6'4" right-hander, Walker pitched the entire 2012 season as a 19-year-old at Double-A Jackson. Although he struggled at times with his command throughout the year, the Mariners allowed him to work through his struggles and he demonstrated an ability to make in-game adjustments.
With a three-pitch mix of at least above-average offerings, he has all the makings of a No. 1 starter. However, he's still raw and needs to refine his command, so don't expect him to be rushed to the major leagues before the 2014 season.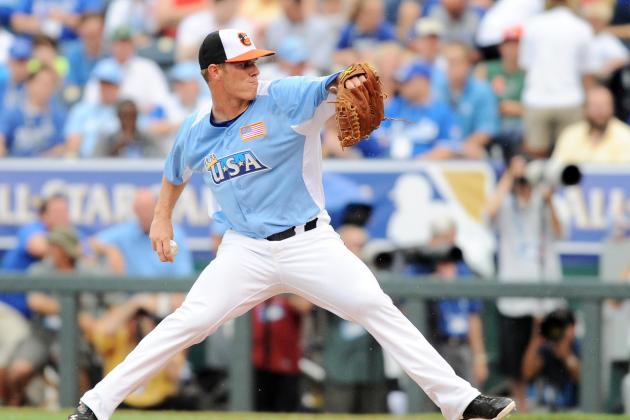 Denny Medley-USA TODAY Sports

The consensus top pitching prospect in the game, Bundy's first professional season concluded with a call-up in mid-September. The 20-year-old began the year at Low-A Delmarva where he fired 30 straight scoreless innings, allowed only five hits and two walks, and amassed 40 strikeouts.
The right-hander spent a majority of the season at High-A Frederick, but was promoted to Double-A Bowie for the final few weeks. Bundy was actually playing in the instructional league when he was called up to the major leagues.
The Orioles proved that they aren't afraid to utilize their top prospects last season when they promoted Manny Machado from Double-A to the major leagues to play a somewhat foreign position.
Bundy is a no-doubt frontline starter and a superstar in the making, and could make a strong case for a spot in the Orioles rotation with a strong spring training. And if he opens the year in the minors, it shouldn't take him long to get back to the major leagues.