Ranking the Top 15 NBA Teams by Upside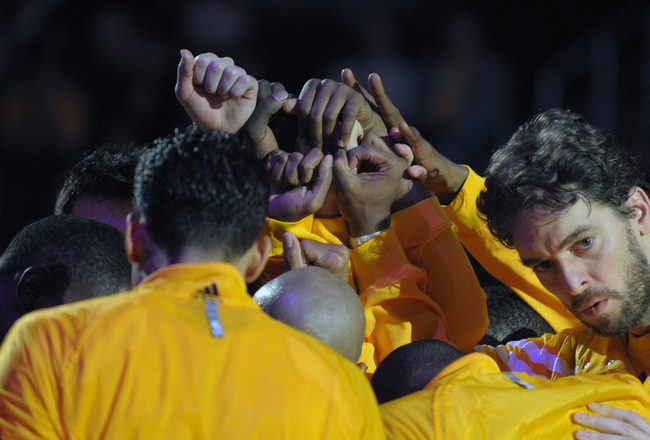 Despite their tremendous potential, the Los Angeles Lakers are among a list of teams that have yet to make the most of their talent.
Kirby Lee-USA TODAY Sports
The NBA season is beginning to heat up, and as the competition intensifies, so does each team's desire to make an impact. Some teams with title hopes are underperforming, whereas others who might find themselves out of the usual conversation are making big time moves.
So among the top half of the league's teams, who still has the most potential for success?
Let's examine the top 15 squads based on talent, performance and determine whether they've truly demonstrated all they're capable of so far.
Remember, these aren't the "best teams" per se, we're just examining who's reached their peak versus those who still haven't shown their true potential.
15. San Antonio Spurs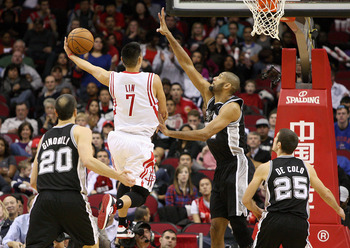 USA TODAY Sports
Every NBA season, the San Antonio Spurs are a team that continues to defy the odds. Despite an aged roster that includes arguably the greatest power forward of all time in Tim Duncan, the Spurs are still in the hunt for a title.
Currently in possession of the league's best record at 18-4, the Spurs are having success thanks to their superior depth and elite level of execution.
Their crack coaching staff is headed by the dry-witted Greg Popovich, and his stern demeanor continues to keep his squad of veterans performing at a high level despite their best players all being in the latter end of the careers. Tim Duncan, Tony Parker and Manu Ginobili are all 36, 35 and 30 years old, respectively.
They still have young standout players like Gary Neal and Danny Green, but a championship victory rests on whether their vets can continue to play at a high level and stay healthy.
Despite their record and incredible play, the Spurs rank low on the list because this team has pretty much reached its peak. The age of their key guys is a bit high to have a window at competing a few years down the road, so potential-wise, the Spurs have collectively made the most of their talent and ability.
14. Boston Celtics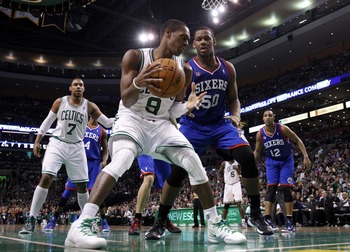 USA TODAY Sports
Similar to the San Antonio Spurs, we are witnessing a Boston Celtics team whose key players might be too old to seriously contend for a title. After Ray Allen took his talents to South Beach in the offseason, the Celtics' new big three of Rajon Rondo, Kevin Garnett and Paul Pierce knew they would be looked upon to put another title in the rafters for a storied Celtics franchise.
Rajon has yet to individually reach his true potential, but as far as guys like Pierce and Garnett, they are past their prime. Adding a veteran scorer like Jason Terry is great, but like Pierce and KG, he has seen better days.
This team still has the overall collective talent to make a deep playoff push, but this roster, as it stands, may not be healthy enough in the long run to overcome the nicks and bruises that come as a result of an NBA season.
Even last year in the Eastern Conference Finals, we saw a Celtics team that failed to close out in sudden-death games against the Miami Heat.
On paper, the Celtics are still a great team, but despite adding young players like Jeff Green or Courtney Lee, the Celtics definitely hit their peak last season. Despite a backcourt of Avery Bradley and Rajon Rondo, right now, the C's are a team that have made the most out of what they have.
13. Brooklyn Nets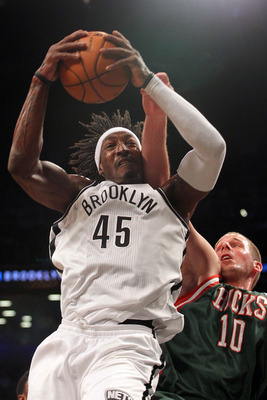 USA TODAY Sports
The Brooklyn Nets are finally beginning to see newfound success with their new namesake. The Nets are currently the fifth-seeded team in the East and an 11-8 record, something they should take pride in considering their poor seasons in the past. Although they're playing well, this isn't a team with a tremendous potential for growth.
Although they can certainly grow better chemistry wise or by adding new players, veterans like Deron Williams, Joe Johnson, Andray Blatche and Gerald Wallace aren't going to magically improve overnight.
These are all established vets, and aside from Brook Lopez, this team isn't going to grow that much on an individual basis. Adding Joe Johnson is going to dramatically hinder MarShon Brooks' ability to grow as a player, but the trade-off is that you're immediately improving your talent adding a veteran scorer like Joe Johnson.
They are good enough to compete toward a second round playoff berth, but they aren't serious title contenders against the likes of the New York Knicks or Miami Heat.
Look for Brook Lopez to continue to develop into a franchise player as he's currently averaging 18 points, 6 boards and 2.5 blocks per game, very solid numbers from a player who has improved tremendously.
12. Memphis Grizzlies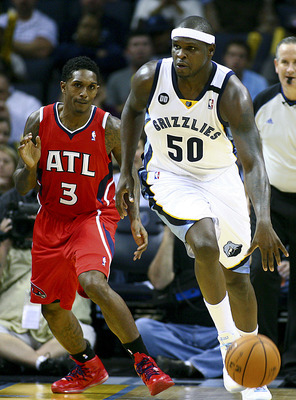 Spruce Derden-USA TODAY Sports
The Grizzlies are a team that has peaked, but this isn't necessarily a bad thing. For years, Grizzlies fans have been waiting for them to put together a solid season where they got the best effort out of their collective roster of talent
Their towering frontcourt that features Marc Gasol and Zach Randolph has been a huge part of their 14-4 record. Both big men are averaging double-doubles; and combine their solid scoring effort and rebounding with Rudy Gay's versatility and Tony Allen's lockdown defense, and you have one of the league's best cores to round off a starting five that also includes veteran point guard Mike Conley.
This is a team that has everything going right. All their key guys are healthy; they're performing at high levels individually and most of all, they're winning.
Although it's just the regular season, this is great momentum to generate as they start rolling towards the playoffs later this season. For the Grizzlies, reaching their peak is a good thing because on paper they've been ready to compete for a few seasons, but finally, all of the pieces are together on the same page.
Memphis could make a deep playoff push if things continue to go as well as they have.
11. Los Angeles Clippers
Richard Mackson-USA TODAY Sports
Similar to the Memphis Grizzlies, we're seeing a Los Angeles Clippers team with tremendous potential that is finally peaking at the right time. Despite having big names like Chris Paul and Blake Griffin, perhaps the most encouraging individual development for their squad is DeAndre Jordan.
The 7'0" Jordan is an incredible athlete at his size, and his lack of offensive polish has always been a concern. Despite averaging six boards per game as opposed to his usual eight rebounds per game, Jordan's career high nine points per game is great output considering a lot of plays aren't being called for him.
Jordan has developed a solid hook shot and aggressive posture in the post that is, in turn, making the game easier for frontcourt mate Blake Griffin.
Griffin's perimeter jump shot is looking a bit more polished, and he too has shown that the work in the offseason on his perimeter game has paid off.
The Clippers also solidified their second unit with sixth man extraordinaire Jamal Crawford and the likes of Matt Barnes and Lamar Odom. Young guard Eric Bledsoe is also continuing to blossom into an electrifying player off the bench to supplement star point guard Chris Paul.
Although they are a team of mostly veterans who have reached their peak, the Clippers have the right mix of youthful potential to continue growing in areas, specifically their frontcourt. The Clippers have the pieces to go all the way to the Finals, but it all depends whether or not they can continue their solid work as of late.
10. New York Knicks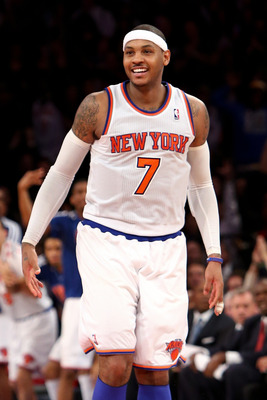 Debby Wong-USA TODAY Sports
Another big surprise this season has been the Knicks' phenomenal performance so far. Currently, the Knickerbockers are a first seed in the East and have a 15-5 record.
Outstanding play from the likes of veteran point guard Raymond Felton, veteran forward Carmelo Anthony and the defensive-minded big man Tyson Chandler are among the big reasons the Knicks are playing so well.
Newly acquired point guard Jason Kidd has also done wonders for their locker room, and his penchant for passing has also helped turn things around for the Knicks, who just last season, were stomped in five games to the Miami Heat in the first round of the playoffs.
After two convincing double-digit victories against the Heat both at home and on the road this season, the Knicks made a statement that they were, no doubt, the best team in the East at the present time.
Despite all this success, the Knicks happen to be the oldest team in the history of the league (they also added veteran forward Rasheed Wallace), but their sustained success is proving that age is certainly nothing more than a number.
They are still waiting on the return of injured forward Amar'e Stoudemire, and considering he's been open to coming off the bench, it's possible the Knicks' depth and versatility will only get better. They have certainly reached their peak performance-wise, but this team still has to prove their wins haven't been flukes and get it done come playoff time. The ultimate goal besides winning a championship should be consistency for the Knicks.
Look for the Knicks to make a playoff push all the way to the Eastern Conference Finals, but whether this newly inspired Knicks team can win a playoff series let alone a title remains to be seen.
9. Miami Heat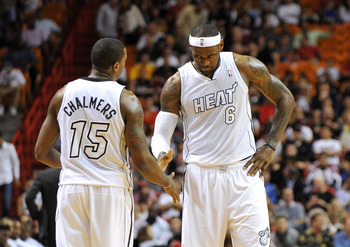 USA TODAY Sports
The reigning champs, despite a 14-5 record and a second seed, are certainly a disappointment. Falling victim to the same lapses of complacency we saw last season, they're a team who's playing way below their competition despite their immense talent.
After a road loss to the woeful Washington Wizards, the Heat were blown out in their own arena on national television against the upstart New York Knicks.
Possessing arguably the league's best player in LeBron James, along with stars like Dwyane Wade and Chris Bosh, there's no reason this team shouldn't be destroying everybody on a nightly basis. When they want to, ("when they want to" is the key point of emphasis) their perimeter players are capable of playing lockdown defense on a nightly basis.
Turn the ball over against the Heat, and it's either Wade or James streaking down the floor in the opposite direction performing another highlight finish. Although they bounced back from the losses to the Wizards and Knicks with two back-to-back victories, they have looked mortal. They seem at times disinterested or bored, as if they're looking ahead toward the playoffs without even worrying about regular season games.
The team from top to bottom is similar aside from a few key additions, namely Ray Allen and Rashard Lewis. The formerly named pairing has been looked upon to really bolster the scoring load off the bench, and so far, they've done their jobs—especially Allen whose averaging 12 points per game off the bench.
We know what to expect from this team, and despite the bizarre losses, there is no question this team has what it takes to win it all. Besides further growth in young guards Norris Cole and Mario Chalmers, the team is mostly composed of established veterans.
There isn't much upside left as far as individual talent goes, but there is certainly limitless potential for this team to play a lot better than they have been lately. We have yet to see this team's best play consistently, but when we do, we'll know their collective killer instinct is back in full effect.
8. Minnesota Timberwolves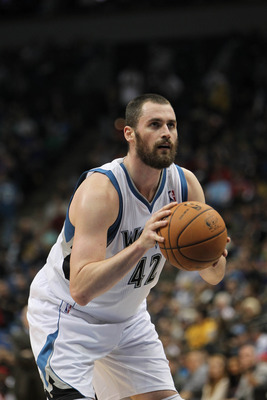 Brace Hemmelgarn-USA TODAY Sport
Currently sitting at a .500 record at 9-9, the Minnesota Timberwolves certainly came into the new season with high hopes. With their talented big man Kevin Love leading the charge, most fans of the T-Wolves likely expected the 'Wolves to at least snag that eighth seed in the hyper-competitive Western Conference.
As it stands, they have a decent core, but without standout point-man Ricky Rubio, there is no way this squad is going to sustain success over the long haul.
Thankfully, Rubio should be returning soon, and give the 'Wolves the offensive jolt they've missed since he went down last season. Without Rubio, the Wolves' half-court game is stagnant, but when he returns, his phenomenal ability to dribble-penetrate and pass the ball will make everyone else play better.
While the team awaits the return of an old face, they're certainly welcoming of new ones as well, especially veteran forward Andrei Kirilenko. AK-47 has brought a sense of toughness and grit, something the 'Wolves certainly need.
If the Wolves are serious about a playoff push, (which they certainly should be) they need an experienced vet like Kirilenko to guard the opposing teams' best players and give their squad an edge.
The T-Wolves also have a solid frontcourt in Love and Nikola Pekovic, a pairing made all the more lethal by Kevin Love's incredible 21 points and 14 rebounds per game output. The Wolves get the benefit of the doubt until Rubio gets back, but they definitely have the makings of a legit contender as soon as they can find a true scoring guard.
If Malcolm Lee can develop into a solid player, they might have something, but currently, the 'Wolves frontcourt isn't scaring anybody. Considering their talent and potential for growth in Love and Rubio, this squad is certainly in the upper crest of the league, but they're not quite at a title competing stage just yet.
7. Dallas Mavericks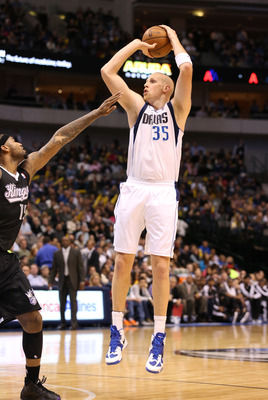 Matthew Emmons-USA TODAY Sports
Similar to the Timberwolves, the Mavs are trying to hold down the fort until a key player returns from injury. Sans 7'0" scoring threat Dirk Nowtizki, the Mavericks are actually doing quite well.
At a satisfactory 11-10, a seventh seed without Dirk isn't bad. Even though they're just a game ahead of the 'Wolves, the fact they have looked as good as they have this early is great. One of the bright spots for the Mavs has been recently acquired guard, O.J. Mayo.
Formerly of Memphis Grizzlies fame, the fourth-year vet has finally put together some consistently impressive performances in a starting role since his early days on the Grizzlies. Leading the Mavs in scoring with 20 points per game, Mayo's league best 52 percent three-point percentage is part of why he's so lethal at the moment.
If he can continue to demonstrate a steady stroke from behind the arc, it's going to make things easier for a scoring threat like Nowitzki because teams will be more wary about doubling him in the paint.
In the absence of Nowitzki, the Mavs are proving that they can adapt, and that is without a doubt the quality of a championship caliber team. Sure, the Mavs are in a transition phase, but we've seen some impressive performances so far this season, especially a huge underdog win on opening night against the Los Angeles Lakers.
Mixing in young guys like Darren Collison and O.J. Mayo with vets like Elton Brand, Shawn Marion and Chris Kaman, give the Mavs a balanced core that can stay competitive and build for the future.
If the Mavs manage to mold Mayo into a true superstar, they may have found a piece to build around for the future; and if Dirk still has mileage, there's a chance they could stay in the chase in the Western Conference. Look for the Mavs this season to lock down a seventh or eighth seed, not bad for a squad transitioning from title mode to rebuilding mode.
6. Atlanta Hawks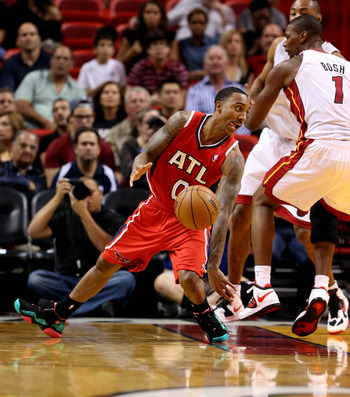 USA TODAY Sports
Despite shipping off their star shooting guard Joe Johnson to Brooklyn, (along with his massive contract), the Atlanta Hawks have been doing pretty well without him. They're currently the third seed in the East, and possess a 12-6 record.
They're in a weird state of limbo; however, they are doing well performance-wise, but don't necessarily have the pieces for a title at the time.
Al Horford and Josh Smith both have tremendous individual talent, but they are part of a team that is not going to be seriously competing for a championship anytime soon.
Considering Smith has an expiring contract, they could either parlay his success into an extended deal, or take advantage of his expired contract and enjoy the freed cap space for the future. Jeff Teague is another bright spot on their roster, and it appears the Hawks finally found a franchise point guard in Teague who is capable of electrifying scoring displays.
This is a team with some pieces here and there, but overall the Hawks aren't capable of serious contention yet. However, they have a lot of potential in terms of talent and financial flexibility.
5. Oklahoma City Thunder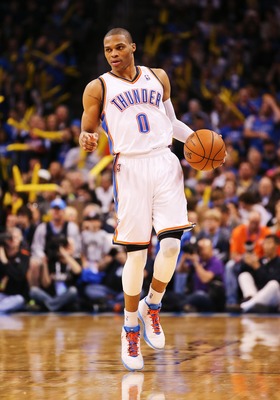 Kevin Jairaj-USA TODAY Sports
After a disappointing loss last season to the Miami Heat in the NBA Finals, the 2012-13 Thunder is a team with redemption on their mind. Although they're now without their former sixth man, James Harden, they are still a top five squad in the league and have the second best record in the west at 17-4.
Harden's replacement, Kevin Martin, has been nothing short of solid off the bench averaging about 16 points per game. Despite not starting, he still gets considerable playing time, and Martin is making a considerable impact so far this season.
The incredibly talented tandem of Russell Westbrook and Kevin Durant are continuing to play a high level as well—both are averaging 21 and 27 points per game respectively. Their defensive anchor in Serge Ibaka is also beginning to look like a legitimate marksman averaging a career high 14 points per game thanks to his polished jump shot.
Although Westbrook and Durant are still getting better and better each game, the team is collectively growing as well. As Martin and others further adjust to their roles and gel each game, we will only see the hunger and desire for a championship intensify for this young Thunder squad.
4. Golden State Warriors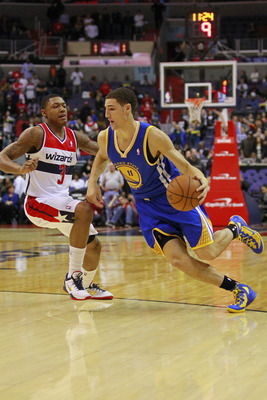 Geoff Burke-USA TODAY Sports
After a broken playoff promise that he still has to answer for, head coach Mark Jackson and his resurgent Warriors might finally deliver.
The Warriors are a commendable 14-7 and are a fifth seed in a conference that they have failed to remain competitive in most seasons. Inspired play from the likes of sophomore Klay Thompson, veteran forward David Lee and former Davidson star Stephen Curry has given hope to a once miserable franchise.
Out of all the teams in the West, few hold as much potential as the Warriors likely have. The chemistry between Curry and Thompson is only going to get better, and once newly acquired center Andrew Bogut is finally healthy, their new frontcourt would finally be paired together for the first time.
Considering their collection of youth, the Warriors are certainly one of the league's most promising units. They aren't title contenders yet, but the sky is the limit for Golden State and their youthful prospects.
3. Utah Jazz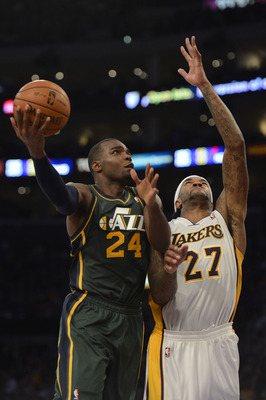 Richard Mackson-USA TODAY Sports
Coming off of a solid seven-point win against the floundering Los Angeles Lakers, the Utah Jazz are quietly putting together a solid season.
During their 2011-12 campaign, the Jazz were utterly obliterated by the San Antonio Spurs in a four-game sweep last season in the first round of the playoffs. Hoping to put last year's disappointment behind them, the Jazz are currently sporting a solid 12-10 record and a couple of new faces.
With their bruising frontcourt pairing of post-scoring machine Al Jefferson and athletic rebounder and finisher Paul Millsap, the Jazz are finally on the road to becoming a solid team.
One of the biggest problems the Jazz encountered last season was their inability to stretch the floor with perimeter shooting. When you have a scoring threat like Jefferson in the post, you need shooters for him to kick the ball out to when he's doubled.
Well finally, the Jazz added sharpshooters like Mo Williams and Randy Foye—both of whom were Los Angeles Clippers last season.
With an added mix of shooting and inside-the-paint dominance, the Jazz are slowly creeping their way back to improving into a pretty good basketball team. They still need Gordon Hayward to continually develop into a slasher, who can create his own shot and create for others, but they have solid pieces to head in the right direction.
The Jazz can definitely make the playoffs and make it a series depending on who they face. Regardless of their eventual outcome, the Jazz have developed a consistent inside-outside offensive game that they've been missing for a while.
2. Philadelphia 76ers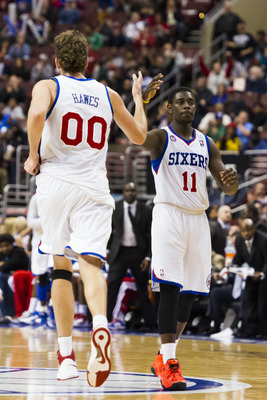 USA TODAY Sports
For Sixers fans, their team's current state of affairs is a bit like stifled optimism. Despite a 12-9 record and the emergence of Jrue Holiday as a legitimate All-Star performer, their big acquisition in Andrew Bynum remains a point of concern.
When healthy, Bynum is an on-the-block beast who can command double-teams, and the Sixers are, no doubt, missing his talent.
Although there will be a considerable learning curve for the current talent and Bynum to get adjusted to if he returns anytime soon, hopefully, a healthy Bynum can improve the Sixers' aspirations of going beyond the first round yet again.
As Holiday continues to average an impressive 18 points and nine assists per game, he will help Evan Turner and the rest of the youthful Sixers develop into a solid team in the Eastern Conference, but the team's ultimate goal of a title likely hinges on the health of Andrew Bynum.
If Bynum comes back healthy, they honestly have the makings of a true title contender sooner rather than later.
1. Los Angeles Lakers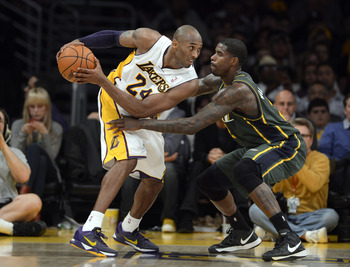 Richard Mackson-USA TODAY Sports
Certainly a controversial addition to this list, considering they are the only team listed with a sub-.500 record, and they are one of the older teams on the list, but regardless, the Los Angeles Lakers have, without a doubt, been the biggest disappointment so far.
After firing head coach Mike Brown following a tumultuous start, the Lakers hoped that abandoning their former coach's controversial Princeton Offense would turn things around.
Well, unfortunately for the Lakers and new head coach Mike D'Antoni, it hasn't.
Although they have supposed defensive stalwart Dwight Howard, the Lakers are still 25th worst in the league in stopping teams from scoring in the paint, and they're also allowing a league worst 16.5 fastbreak points per game. The Lakers just aren't stopping other teams from scoring.
Dwight and his front court mates like Antawn Jamison or Jordan Hill are slow to rotate, and as a result the Lakers' lax perimeter defense is allowing opponents to coast to the rim uncontested. They're also a turnover prone team; and combine a terrible transition offense with a high turnover rate and you have a recipe for disaster.
Talent-wise at every five positions, you can't get more talented than Dwight Howard, Pau Gasol, Steve Nash and Kobe Bryant on the same roster. Of course, the latter two are both almost 40, but they're still capable of playing at a high level.
Although Nash has been out a leg injury, it's still no excuse for the team's poor play. The Lakers have the talent to win a title, but whether they have the collective ability to execute on defense and stay healthy remain questionable.
Unless there's a dramatic turn around, we may be in for one of the biggest flops in recent memory. The Lakers are currently 9-12, and with no sign of considerable improvement, the "Lakeshow" is currently a mediocre hodgepodge of big names and big disappointment.
This is a team that has all the potential in the world with its array of talent, but the results on the court are nothing short of disappointing. With virtually no young players making a huge impact, the Lakers' front office is basically all-in on a gamble for their aged vets to win a title.
We have yet to see the Lakers' best, and whether we eventually will remain to be seen.
Keep Reading