MMA's Top 10 'Holy S#!t' Moments of 2012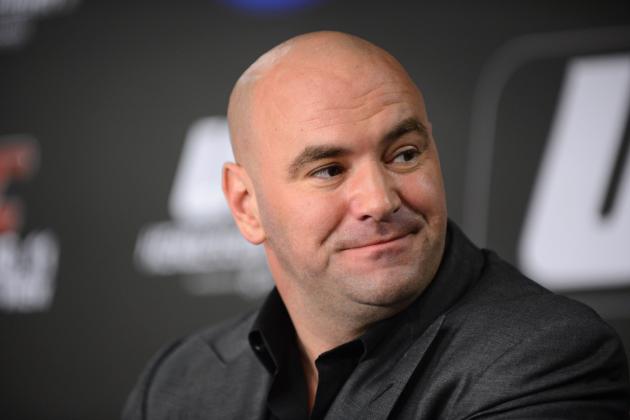 Ron Chenoy-USA TODAY Sports

Dana White has long been considered one of the most outspoken figures in mixed martial arts.
When things are great, you can hear him yelling praises from the rooftops. When disappointed, his wrath can be felt across state lines. And when the action inside the Octagon is too amazing for words, you can be sure that White will head to Twitter to share his now famous "Holy S#!t."
Dropping expletives isn't exactly the most politically correct way for the acting head of a major corporation to use social networking, but White's improbable catchphrase has become synonymous with MMA moments that take our breath away.
As we bring 2012 to a close, Bleacher Report will bring to you an in-depth look at the very best and worst moments of the year. Here is a look at the year's 10 most jaw-dropping moments of in-cage action that saw fans take the words right out of White's mouth.
Begin Slideshow

»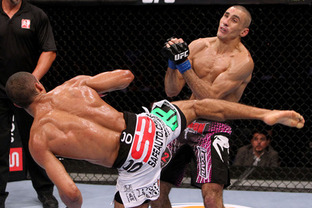 Photo: BloodyElbow.com
A lightweight battle between striker Edson Barboza and submission ace Terry Etim led off UFC 142—Zuffa's first event of the year. After all, Barboza had finished seven of his nine fights, and his opponent had four Submission of the Night bonuses to his credit.
It was the sort of stylistic battle that promised a finish from whichever fighter could dictate where the fight took place.
With Etim unable to work this fight to the ground, he was forced to defend whatever strikes were thrown in his direction. Unfortunately, he didn't see the wheel kick that Barboza hurled his way.
HOLY S#!T!!!
The knockout was so incredible that it was nominated for "Play of the Year" at the ESPY Awards. It reached the final round in the fan-voted category, which is an impressive feat for MMA as a whole.
The immaculate wheel kick will likely go down as one of the best knockouts in MMA history.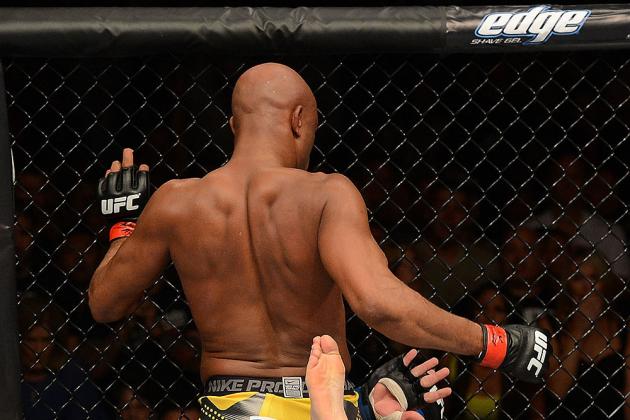 Photo: TheMMANews.com
When UFC 148 finally arrived, fight fans around the world were on their feet for the most anticipated rematch in MMA history. With bad blood that had somehow boiled over even more so than in their first matchup, it was clear that Chael Sonnen was living rent-free in the head of Anderson Silva.
If that was not already evident, Silva would remind us at the weigh-ins. During the post-scale staredown, the longtime middleweight kingpin crossed the physicality barrier when he shockingly shoulder-checked Sonnen in the mouth.
Tempers were higher than ever once the men stepped into the cage. So hot, in fact, that it looked like "The Spider" was intent on making Chael regret his pre-fight smack talk by way of an illegal knee.
HOLY S#!T!!!
In the moment, I think every fight fan across the country believed that Silva had just disqualified himself by intentionally kneeing Sonnen in the head while he was seated in the cage.
Looking closer at the strike, it was clear that the champion buried his knee into the solar plexus of his opponent. Thank you, instant replay.
While Sonnen nearly dethroned Silva in their first fight, he became just another victim in their rematch.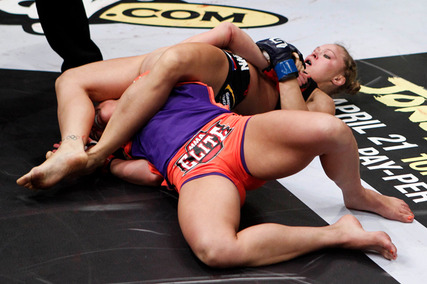 Photo: fightday
Brock Lesnar was rushed into a world title fight faster than any fighter in history, but Olympian Ronda Rousey was a close second.
In only her fifth professional fight, Rousey dropped to 135 pounds and challenged respected champion Miesha Tate for the belt. Not only was Tate the top-ranked woman in the world, but she also had more than triple the experience of her opponent, including wins over top names like Marloes Coenen and Zoila Gurgel.
There was a lot of talk that Rousey was being rushed into a title fight due to her good looks, ability to trash talk and string of first-minute armbars against fighters who had exactly zero star power.
Rousey didn't take long to show us that her ability to snatch and destroy an arm is no fluke. After getting Tate to the canvas, she wasted little time in locking in her signature submission, but Tate was resilient enough to survive.
Later in the round, Rousey would capture the arm once again, but this time, she showed absolutely no mercy. When she realized that Tate wasn't tapping out, the judoka bent her arm approximately 70 degrees in the wrong direction.
HOLY S#!T!!!
No wonder she was able to change Dana White's mind about women fighting in the UFC.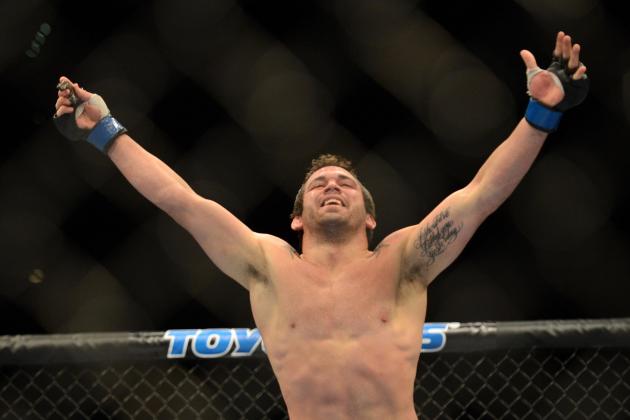 Ron Chenoy-USA TODAY Sports

Edson Barboza has already made an appearance on this list for an incredible win. This time, he lands in our countdown due to a stunning loss.
Fresh off of the heels of his ESPY nomination, the undefeated Barboza looked to earn his fifth win inside the Octagon at the expense of Evan Dunham. Unfortunately, only weeks before the fight could take place, the highly regarded jiu-jitsu practitioner was forced from the fight due to injury.
A replacement was found, and Barboza must have been thrilled to find out that his new opponent was former WEC champion Jamie Varner. After all, a win would give him a victory against a former champ—washed up or not—would elevate his status tremendously.
And a win was all but guaranteed. Varner hadn't competed at 155 pounds in years, and he didn't win any of his last four fights at that weight.
Not only did Varner show up in great shape, but he actually staggered the gifted striker with punches before finishing the fight with nasty ground and pound.
HOLY S#!T!!!
Barboza couldn't have predicted the power and killer instinct that Varner brought into the Octagon. Before the Brazilian even realized what hit him, he had been flattened by a fighter who was considered to be over the hill.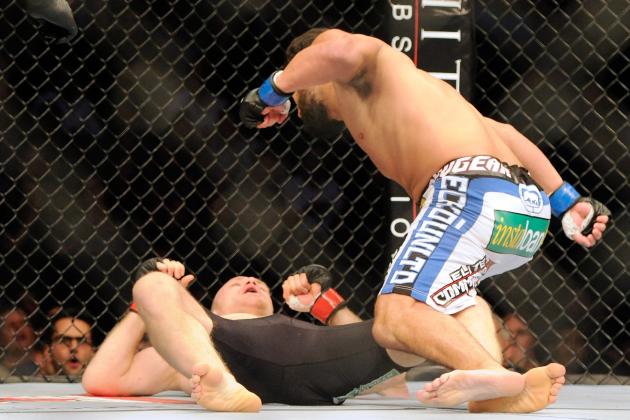 Eric Bolte-USA TODAY Sports

After a 12-second knockout of Jon Fitch back at UFC 141, we all knew that Johny Hendricks had TNT under his gloves. However, wrestling remained the Oklahoma native's most well-known attribute.
For that reason, when he challenged Danish kickboxer Martin Kampmann at UFC 154, many believed that Hendricks would do his best to work the fight to the canvas.
But almost as quickly as the fight began, it was over. With an official time of 46 seconds into the first round, Hendricks was declared the victor after a brutal left hand left Kampmann completely out cold.
HOLY S#!T!!!
The win was supposed to be enough to earn "Bigg Rigg" a shot at the UFC welterweight championship, but Hendricks was passed over in lieu of Georges St-Pierre's "unfinished business" with Nick Diaz.
Bellator has certainly produced their fair share of incredible finishes. From flying-knees to inverted triangle submissions, the Viacom-owned organization always produces exciting finishes.
When featherweights Joe Warren and Pat Curran met at Bellator 60 for the division's featherweight championship, no one could have predicted how many finishes the single fight would offer.
HOLY S#!T!!!
This fight is my go-to example anytime I hear someone call Kim Winslow the worst referee in MMA history. Within a 30-second period of time, Warren was on the receiving end of more knockouts than Keith Jardine experiences over the course of his career, yet official Jeff Malott wouldn't step in to stop the violence.
Curran would wrap the belt around his waist, but not before leaving the former champion in a multi-concussive state that made Tank Abbott look like a pacifist.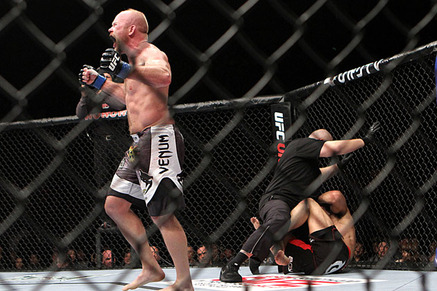 Photo: Tracy Lee for Yahoo! Sports
Yushin Okami used to be considered an elite middleweight.
At one point, he held a UFC record of 10-3, with his only losses coming to Anderson Silva, Chael Sonnen and Rich Franklin.
That all changed when Okami stood across the cage from Tim Boetsch at UFC 144. The former light heavyweight was 3-0 since dropping down to 185, albeit against lesser competition.
The first two rounds went down as most expected. Okami was both outstriking and outgrappling his opponent, and appeared to be en route to a unanimous decision by the time they headed into the final round.
But in an epic turn of the tides, Boetsch channeled his inner barbarian and turned up the aggression to a level fans had never seen from him. The onslaught saw Okami eat several big punches before being pressured up against the cage.
Once there, Boetsch threw nasty uppercuts until his opponent collapsed in a heap on the canvas in front of the Japanese audience.
HOLY S#!T!!!
The win is considered to be one of the biggest comebacks in MMA history and thrust Boetsch into the division's Top 10.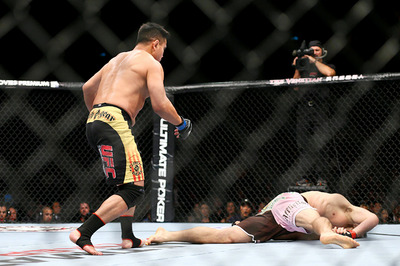 Photo: ESPN
After a few speed bumps, Rich Franklin was finally making his return to the middleweight division. For the first time in more than four years, "Ace" would be fighting in the division where he won his UFC championship.
The man he would meet was former Strikeforce Middleweight champion Cung Le. Clearly, this was a battle of strikers with 22 knockout wins between them. Surely, this one would end in spectacular fashion.
Not every moment on this list is here because it is shocking in nature. This one makes the cut simply because despite four previously losses by way of TKO, Rich Franklin had never been knocked out cold in his entire career.
With one perfect punch, Le earned his first knockout in the UFC and secured his place on highlight reels for the foreseeable future.
HOLY S#!T!!!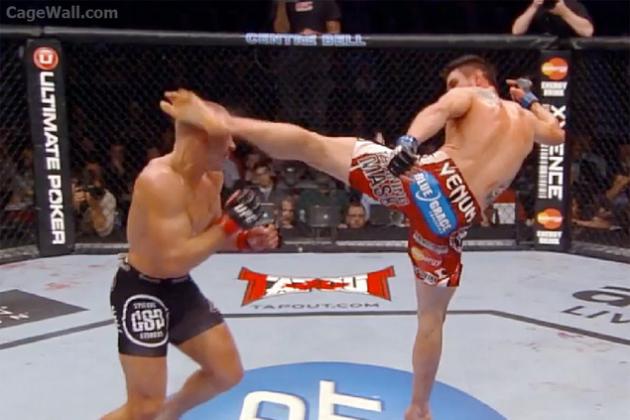 Photo: CageWall.com
At UFC 154, fans of Georges St-Pierre were curious to see what sort of shape their champion would arrive in. After all, his 19-month layoff was enough to cover even the most finely-tuned athlete with several layers of ring rust.
The consensus was that "Rush" would be able to handle Carlos Condit in one-sided fashion as long as he came back at 100 percent.
After two rounds of action, St-Pierre made it clear that he had returned in peak form. His striking was fast and accurate, while his footwork and wrestling hadn't been impacted in the slightest. It was going to be a long night for "The Natural Born Killer."
But no matter how good you are, you can be leveled with a well-placed strike.
Known for his crafty striking that has gotten the better of most opponents, Condit landed a big head kick in the third round that sent the champion down to the canvas.
HOLY S#!T!!!
Although GSP ultimately recovered and won the contest, the moment was undoubtedly one of the most intense that UFC fans felt all year.
Photo: ESPN
Following the injury of Dan Henderson, there weren't many high-caliber opponents available for a matchup against light heavyweight champion Jon Jones.
In fact, UFC President Dana White resorted to dipping into the middleweight division in hopes of securing an intriguing opponent for the kingpin of the 205-pound division.
Enter Vitor Belfort.
Belfort was a former champion at light heavyweight back in 2004, but he had a tendency to come up short when facing world-class fighters. That's why this matchup saw Jones as a 7.5 to 1 favorite in the eyes of oddsmakers.
Surely, Jones would be able to dispatch of Belfort with minimal effort, as he had other greats of the sport like Shogun Rua and Rampage Jackson.
Not so fast.
In the first round, Jones took Belfort to the ground without any regard for the fact that "The Phenom" was a black belt in Brazilian Jiu-Jitsu before "Bones" had his first bout with acne.
Belfort quickly snatched up an armbar that had Jones writhe in agony. Surely, this was the end of his title reign and it would come at the hands of an enormous underdog.
HOLY S#!T!!!
After 15 seconds of fans worldwide standing at full attention, Jones would escape the hold. It was a display of incredible resilience from the young champion, and he would go on to secure an Americana in the fourth round for a submission win of his own.
Regardless of the outcome, the fact remains that Belfort was able to fully execute a dangerous submission of a younger, faster and much larger opponent who was supposed to mop the floor with him.
It was exactly what a Holy S#!T!!!! moment is all about.