Struggling NFL Coaches Who Must Be Given Another Year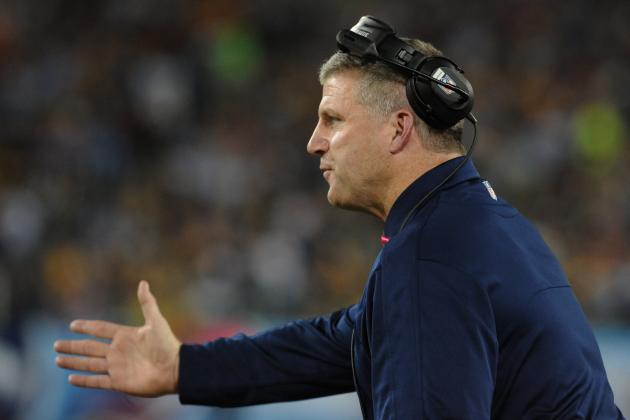 Al Messerschmidt/Getty Images

NFL fans are familiar with the phrase "coaches are hired to be fired." While that may have some truth to it, a better synopsis of an NFL coach's job would be something along the lines of "coaches are hired to win."
After all, when a new NFL head coach signs a contract, neither the coach himself nor his new team's management is thinking about when his employment will be terminated.
Nonetheless, some coaches see their time at the helm painfully drag out to a bitter, overdue end. On the other hand, some coaches see their opportunities come to an abrupt and often premature end.
After the 2012 NFL season, fans will see each of these scenarios play out. For example, Andy Reid's tenure in Philadelphia will likely end after 14 years and no Super Bowl rings. And although Rex Ryan has done nothing to aid the case that he should keep his job, he will ultimately be a scapegoat for Jets general manager Mike Tannenbaum. And how many coaches have the Raiders gone through since their last Super Bowl appearance?
Struggling is not synonymous with losing. There are a lot of struggling NFL coaches. Some of them are struggling to win more than a handful of games. Some are struggling to build contenders out of nothing. Some are struggling to get over the hump and go deep into the playoffs.
Regardless of what has happened, there are a few struggling head coaches who deserve at least one more year to prove that they have what it takes to build a contending football team.
Begin Slideshow

»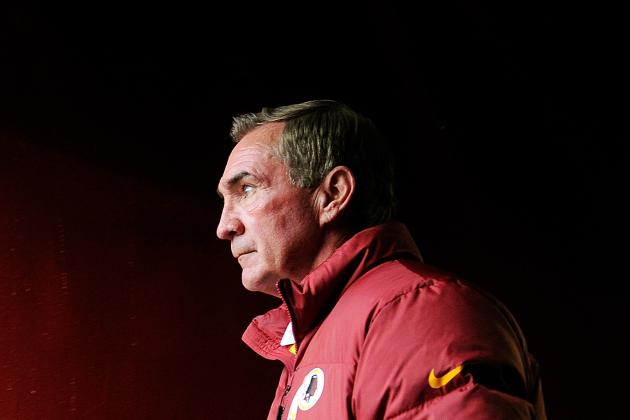 Patrick McDermott/Getty Images

Although Mike Shanahan and his Washington Redskins' current four-game winning streak includes three division wins (one against the defending Super Bowl champs) and a win against the formidable Baltimore Ravens, the Skins were 3-6 headed into their Week 10 bye.
At the time, Shanahan's seat was anything but cozy. Now, however, the Redskins are 7-6 with the Cleveland Browns, Philadelphia Eagles and Dallas Cowboys left on their schedule.
The Redskins could find themselves in the playoffs with a 10-6 record at the end of the season. If that ends up being the case, a Shanahan return would be guaranteed.
The other extreme for the Redskins would be losing out. If that happens, could the team justify firing its head coach?
All things considered, Robert Griffin III has seen a lot of success this year under Shanahan's tutelage, not to mention their stud running back, Alfred Morris.
The Skins need help on the defensive side of the ball. With the future of their offense as bright as ever, Shanahan certainly deserves at least one more year to put everything together now that his offensive puzzle's pieces appear to be falling nicely into place.
Joe Robbins/Getty Images

Marvin Lewis is the NFL's third-longest tenured head coach, behind only Philadelphia's Andy Reid and New England's Bill Belichick.
Lewis has unquestionably been one of the NFL's biggest underachievers over the last decade or so; but he just took a rookie quarterback and a team that was supposed to be rebuilding to the playoffs in 2011. That was quite a follow-up to the Bengals' disastrous 4-12 2010.
What's more is that Lewis has managed to keep the Bengals competitive in a division with the Pittsburgh Steelers and the Baltimore Ravens—that's not for nothing.
But the Bengals are an infamously streaky team, and this year is no exception.
Regardless, the Bengals are still in the hunt for an AFC Wild Card berth, and they are by no means pretenders. Although it is unlikely that the Bengals can make a deep run even if they do clinch a Wild Card spot, an early playoff exit would not merit firing Lewis. Neither would missing the playoffs.
Next season, the Bengals will have enough experience on both sides of the ball to warrant calling the team's 2013 campaign a "make or break year" for Lewis. And if he wasn't shown the door after 2010, why would he be cut loose after this year?
No matter what the case will be for Lewis at the end of the 2012 season, he deserves at least one more year to make something of the Cincinnati Bengals.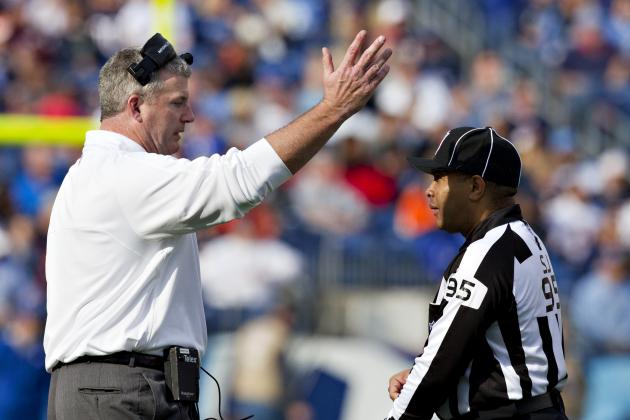 Wesley Hitt/Getty Images

The fact that a coach loses players to injury should never be used as an excuse for a losing season. NFL teams should have enough depth to stay competitive. Look at the 2010 Super Bowl Green Bay Packers, who were nagged by injuries all the way to the end.
Mike Munchak has one of the rare cases in which he lost his quarterback, and that ultimately brought about some confusion and turmoil in regards to who should be taking the snaps in Tennessee. That merits consideration, but not exception.
Moreover, his first season as the Titans' head coach was a down year for his star running back, and he went 9-7.
Considering all of this and what he inherited in the wake of Jeff Fisher's departure, Munchak deserves one more year to prove that he has what it takes to build and sustain a competitive Tennessee Titans football team.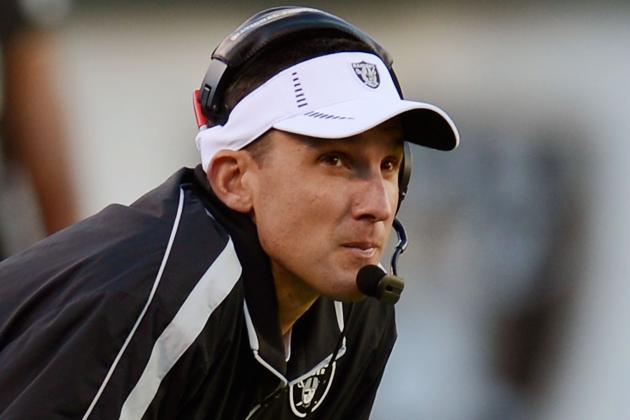 Thearon W. Henderson/Getty Images

Dennis Allen is the Oakland Raiders' third head coach in as many years. It seems like the Raiders have a one-and-done head-coaching carousel.
Although the Raiders are currently an abysmal 3-10, they have exhibited no stability whatsoever over the last decade.
Reggie McKenzie is also in his first year as the Raiders' GM, and if he wants to turn things around in Oakland, giving a head coach more than one season would be a great way to start.
Even if Allen isn't the right man for the job, the right move in McKenzie's situation would be to show that he wants to change the Raiders' culture and give the team a chance to succeed by first initiating a little sustainability. And if he finds himself going through more than one head coach, perhaps McKenzie himself isn't the right man for his job.
No matter what the case is, Allen didn't exactly inherit a bouquet of roses when he took the Raiders' head coaching job. And a 3-10 record with three games left to play isn't doing much to make a case for him in the way of keeping his job.
Regardless, he deserves at least one more year because the organization as a whole needs to rebuild. And it's hard to justify letting him go considering what he inherited.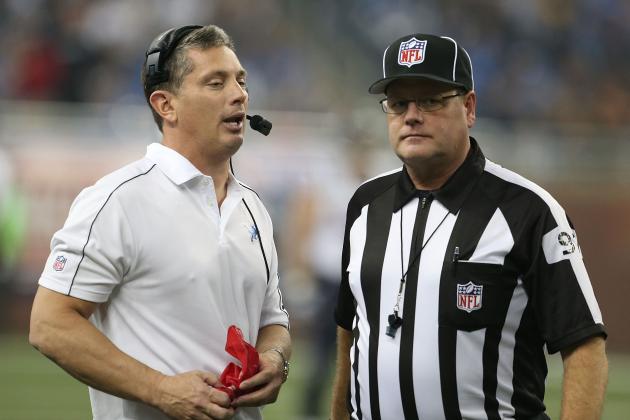 Leon Halip/Getty Images

If anyone on this list deserves another year as an NFL head coach, it's Jim Schwartz.
After all, it took Schwartz three years to take the Lions from an embarrassing, historically bad 0-16 2008 season to a winning 10-6 2011 playoff berth. That in itself doesn't matter too much because the past is the past. However, it certainly does play a part in considering Schwartz's future.
Schwartz has a lot of good players on his team, and it seems like bad luck if nothing else has kept the Lions out of the playoff picture. But qualifying intangibles like luck is ludicrous.
The Lions' fanbase is rightfully unhappy with their team's performance. And a close examination renders what a pretty clear explanation for the team's shortcomings this year.
Schwartz's problem appears to be control—in every area regarding his position as head coach of the Detroit Lions.
His team features a defensive tackle with a reputation for being the game's dirtiest player in Ndamukong Suh. The Lions' offseason was filled with arrests and player conduct violations. Schwartz has failed as a disciplinarian.
But what could one expect of a man whose emotions drive him to the point of outbursts, chasing another head coach because he didn't appreciate the nature of a congratulatory gesture and throwing challenge flags when the rules prohibit doing so in the situation he chose to do so?
Although he recently signed an extension, Jim Schwartz's lack of control over himself and his team begs the question "why?"
Regardless, Schwartz has done a lot to completely turn around what was once a perennially bad, irrelevant Detroit Lions team.
He has the pieces to be competitive, but he needs to demonstrate some control, and he deserves at least another year to do so.