Winner, Loser or Neutral for All 30 MLB Teams' Offseasons Thus Far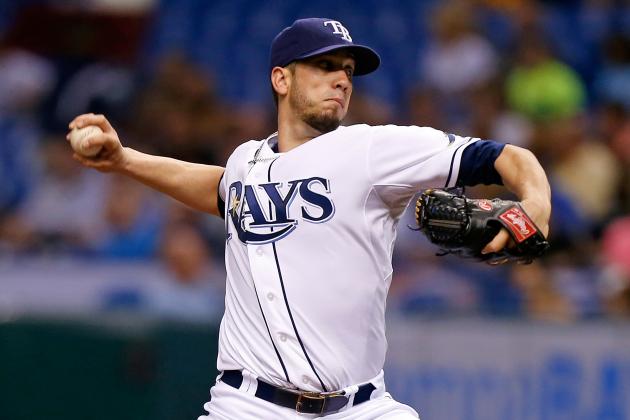 J. Meric/Getty Images

A week removed from the winter meetings, things have started to heat up on both the free-agent wire and trade market, as the MLB landscape continues to take shape for the 2013 season.
There is certainly plenty to be done between now and the start of spring training, but we can already get a feel on how successful each team's offseason has been to this point.
Here is a look at where each MLB team falls (whether as a winner, loser or neutral) in the middle of December and with the winter meetings now in the rear view.
Begin Slideshow

»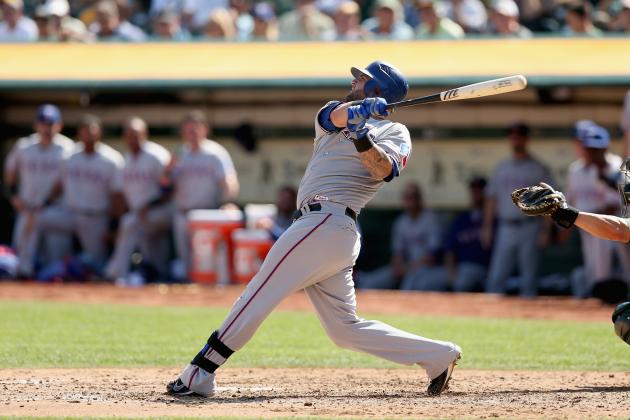 Ezra Shaw/Getty Images

After freeing up so much payroll with their blockbuster trade with the Los Angeles Dodgers in August, the Boston Red Sox were expected to be cautious this offseason so as to not get locked into any more big-money deals.
Instead, they have already signed Jonny Gomes (two years, $10 million), Shane Victorino (three years, $39 million) and Mike Napoli (three years, $39 million) to multiyear deals without addressing their rotation.
They'll need to sign at least a starter or two and perhaps add a couple of bullpen arms if they are to have a legitimate chance at contention. All told, Boston appears to be headed for even more spending before the winter is up.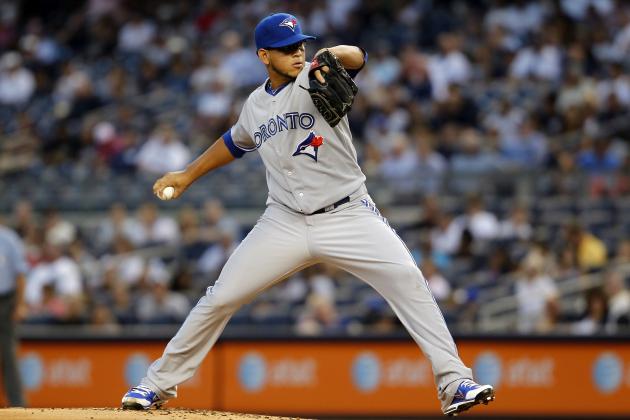 Jeff Zelevansky/Getty Images

While they landed a solid package of young players to aid in their rebuilding, there is no denying it was a blow for the Miami Marlins fanbase when the team dealt five key veterans to Toronto.
Henderson Alvarez will step right into the rotation, and Adeiny Hechavarria will likely be the starting shortstop, but aside from that the team got a lot of lower-level guys who are still a ways off.
The real losers here are the Marlins fans who helped financially support the opening of the team's new stadium last year with the expectation of watching a contender play there.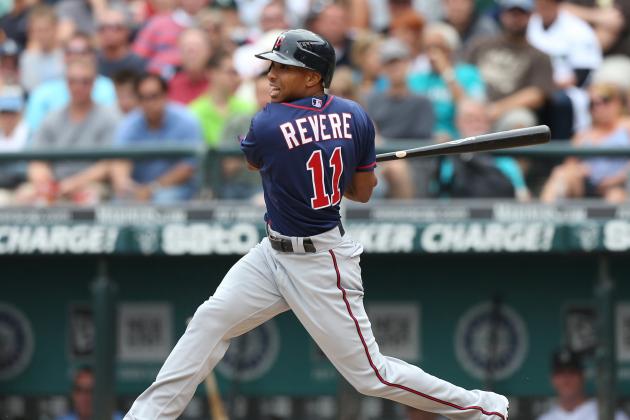 Otto Greule Jr/Getty Images

The Philadelphia Phillies have made a pair of major additions this offseason by trading for center fielder Ben Revere and third baseman Michael Young.
However, neither player was the team's first option: The Phillies missed out on B.J. Upton and were in the running for Kevin Youkilis before his asking price skyrocketed.
Revere hit .294 last season, but he has absolutely no power with a .642 career OPS and no home runs in 989 career at-bats.
Young, meanwhile, is coming off of the worst season of his career as he hit .277/.312/.370 for a minus-2.4 WAR. At 36, there's no question he's on the downswing of his impressive career.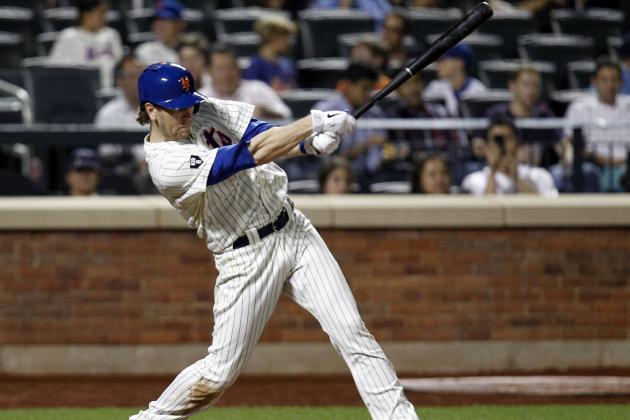 Jeff Zelevansky/Getty Images

For a team that has finished last in the AL in runs scored for the past three seasons, signing Jason Bay does not exactly qualify as the deal that will push the Mariners over the top.
They remain interested in Josh Hamilton and could upgrade almost anywhere in their lineup at this point, but so far it's been a quiet offseason.
Expect another outfielder of some sort to be brought aboard and for the team to be interested in Michael Morse if the Nationals make him available, but for now their offense looks no better.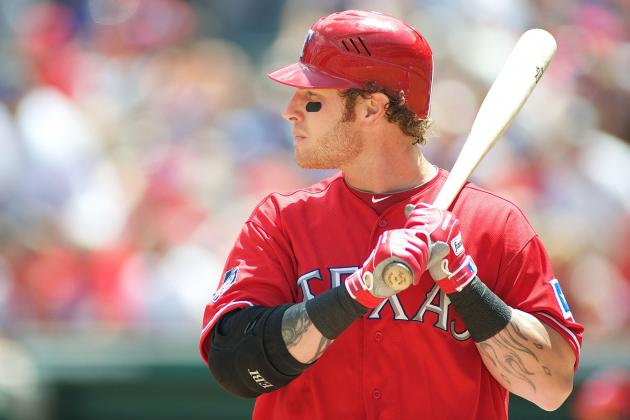 Cooper Neill/Getty Images

The Texas Rangers have now watched as both Zack Greinke and James Shields have found new homes, and they are still searching for starting pitching help.
The offense has holes as well, and while bringing back Josh Hamilton and trading for Justin Upton are potential options to bolster the offense, the team is in a tough spot right now.
With the Los Angeles Angels and the Oakland A's both looking tough, the Rangers will need to do something to make a splash in the weeks ahead if they hope to be in the thick of things in the AL West once again.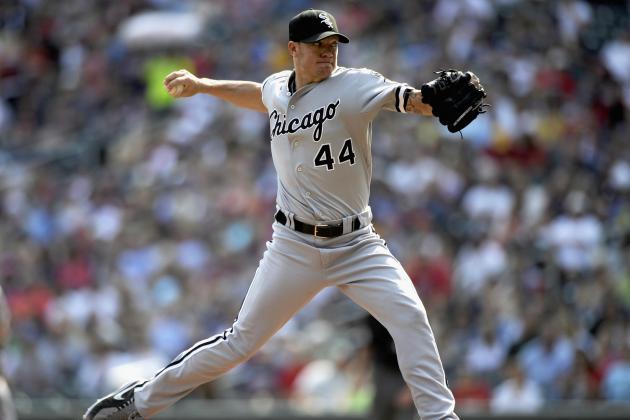 Hannah Foslien/Getty Images

Baltimore Orioles
The Orioles were in the conversation to sign Josh Hamilton early on, but the re-signing of Nate McLouth will likely be how they address left field. The rotation remains unchanged, as the group of five that found its stride down the stretch appears set as the team's staff in 2013.
Chicago White Sox
Re-signing Jake Peavy was a big move to start the offseason, but the White Sox haven't done much since then that would make one think they have a shot at the Detroit Tigers or even the Kansas City Royals now in the AL Central.
Jeff Keppinger was added to play third base, and the team will likely look to add a setup man to replace Brett Myers, but the White Sox have undoubtedly fallen behind in the division with their lack of activity.
Cleveland Indians
For a team likely headed into a major rebuilding effort, the Cleveland Indians are thin on minor league talent but have plenty of movable pieces on their roster.
They finally broke the seal on what many expect to be a number of trades this offseason, dealing Shin-Soo Choo in a three-team trade that netted them center fielder Drew Stubbs and right-hander Trevor Bauer (h/t CBSSports). It's a great start, but there is still a lot of work to do before spring rolls around.
Houston Astros
The Astros weren't expected to do much this offseason, and so far their only move of note was trading closer Wilton Lopez to the Colorado Rockies for pitching prospect Alex White in a deal that could go either way.
A veteran is expected to be added to DH, but for now the team's offseason has been a sideways move at best.
Minnesota Twins
The Twins unloaded a pair of solid trade chips in Denard Span and Ben Revere, and in return they got a top-tier pitching prospect in Alex Meyer and a pair of arms in Vance Worley and Trevor May. That makes them look better long-term, but the team needs more than newly signed free agent Kevin Correia and Worley to be added to their rotation if they want to compete.
The Twins' offseason could go either way at this point.
New York Yankees
The Yankees brought back a trio of key players from last year's team in re-signing Andy Pettitte, Hiroki Kuroda and Mariano Rivera, but there was still a lot of work to be done after the winter meetings came and went.
Kevin Youkilis was signed to a one-year deal on Tuesday to fill in for Alex Rodriguez at third base (h/t CBSSports), but the team still needs to figure out right field, catcher and DH.
Oakland Athletics
The A's have stayed pat so far this offseason, as they acquired outfielder Chris Young from the Arizona Diamondbacks in a three-team trade early in the offseason but have done little since.
Adding a shortstop to upgrade over Adam Rosales will likely be enough for the offseason to be a win, provided they don't overpay greatly.
Alex Trautwig/Getty Images

Chicago Cubs
The Cubs have made a handful of moves so far this offseason, adding pitchers Scott Feldman and Scott Baker, reliever Kyuji Fujikawa and outfielder Nate Schierholtz. These are the type of moves the team is expected to make as they continue to rebuild, but it's hard to call them a winner or loser because of them.
Colorado Rockies
The Rockies' biggest need entering the offseason was undoubtedly starting pitching, but to this point all they've done is bring back Jeff Francis on a one-year deal. The team also traded a promising young arm in Alex White to the Houston Astros for reliever Wilton Lopez, which helps the staff as a whole but does nothing to improve the rotation.
There's still plenty of time for them to add a veteran arm or two before the offseason is over.
Milwaukee Brewers
The Brewers have done nothing so far this offseason, as they will likely look to bolster one of the worst bullpens in baseball and also try to sign a veteran starter to slot behind Yovani Gallardo.
As is, the team is in decent shape with an impressive offense, but there are certainly areas that could be addressed.
New York Mets
As expected, the Mets reached a contract extension with third baseman David Wright with an eight-year, $138 million pact. However, beyond that, they've been inactive this offseason, including deciding what to do with Cy Young winner R.A. Dickey.
San Diego Padres
Last year's busy offseason saw the Padres acquire Carlos Quentin from the Chicago White Sox, Huston Street from the Colorado Rockies and four players from the Cincinnati Reds for Mat Latos. This offseason, though, they've just added starters Jason Marquis and Tyson Ross, and their rotation still needs a lot of work.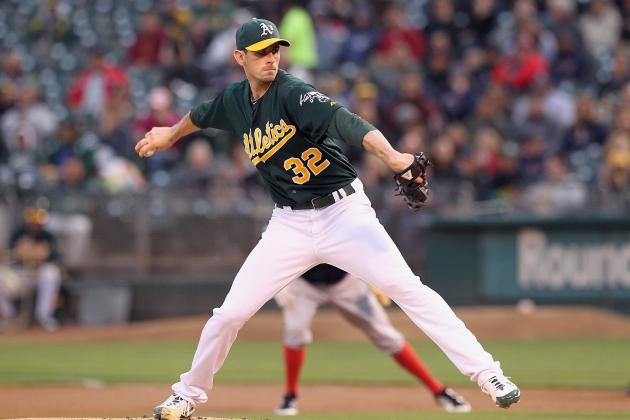 Tony Medina/Getty Images

The Arizona Diamondbacks still have a hole at shortstop, but the team has had a busy offseason already in adding Heath Bell and Cliff Pennington in an early offseason trade that shipped Chris Young out of town.
The team also signed Brandon McCarthy on a two-year, $15.5 million deal that could wind up being the steal of the offseason, and they inked Eric Chavez and Eric Hinske to bolster their bench.
Then, on Tuesday, the team got the shortstop they've been seeking as they acquired 22-year-old Didi Gregorius from the Reds in a three-team deal that saw them move pitching prospect Trevor Bauer (h/t CBSSports).
Still fairly raw offensively, Gregorius will be given a shot at the starting job this spring, and even if he loses out, Pennington looks much better as a stopgap option than he did as the only option.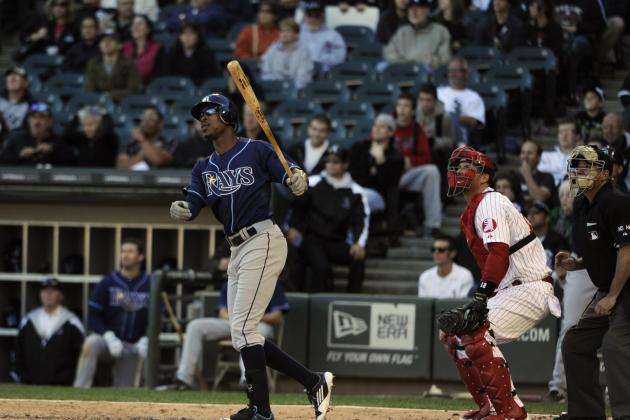 David Banks/Getty Images

The Atlanta Braves have had a big offseason already, with their biggest move being the signing of B.J. Upton to replace Michael Bourn in center field.
They've also signed Gerald Laird to replace David Ross as the backup catcher and serve as a stopgap option while Brian McCann works his way back from shoulder surgery. The Braves also shipped Tommy Hanson to the Los Angeles Angels for reliever Jordan Walden.
Third base remains an area of need moving forward, and one that will likely be solved by the signing of an outfielder to allow for Martin Prado to slide into the infield. Still, it's been a solid offseason thus far, and the team appears to still be in a great position to win.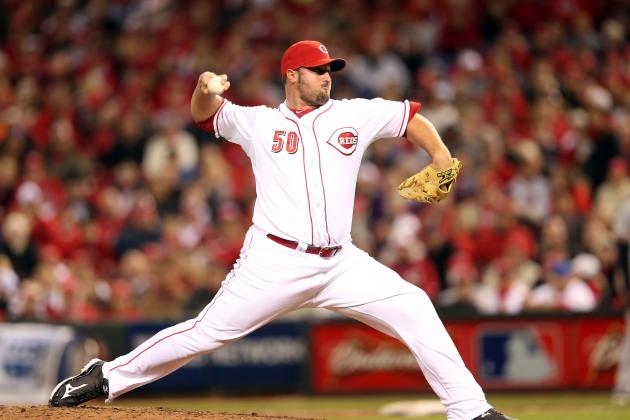 Andy Lyons/Getty Images

The Reds began their offseason by bringing back reliever Jonathan Broxton and left fielder Ryan Ludwick as they filled a pair of needs with players from last year's division-winning team.
The Broxton signing served two purposes: It bolstered the bullpen and allowed the team to give Aroldis Chapman a shot at the starting rotation.
However, there's no doubt the biggest need was a center fielder capable of hitting leadoff, after the team got a .581 OPS last season from the top spot in the order.
That need was finally addressed on Tuesday, as the Reds acquired Indians outfielder Shin-Soo Choo in a three-team deal (h/t CBSSports). With a career .289/.381/.847 slash line, he's a significant offensive upgrade, and his plus defensive skills should make the move from right field to center field a smooth one.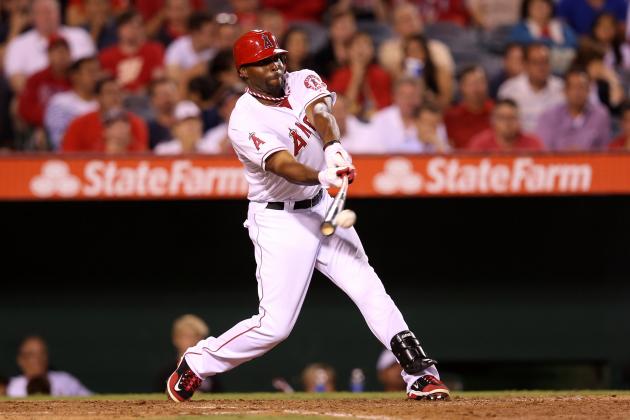 Stephen Dunn/Getty Images

While they are still in the running to bring back Anibal Sanchez and could look to add another starter one way or another, the Detroit Tigers' roster appears to be in good shape entering the season.
Torii Hunter was added to upgrade the offensive production in the outfield, and even if they held pat, the return of Victor Martinez would be enough to improve the lineup.
Expect the team to make a serious run at the AL pennant again this coming season, as their core of stars will again make some serious noise.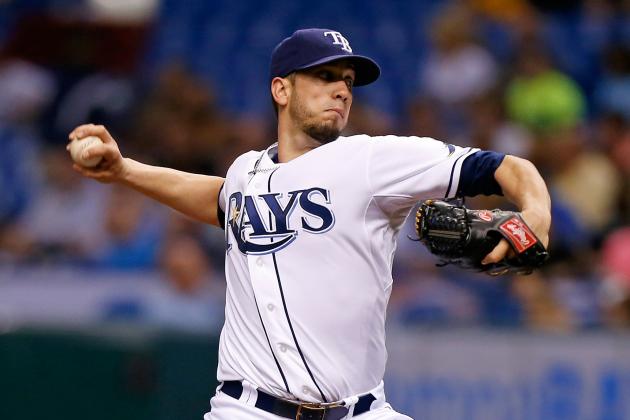 J. Meric/Getty Images

The Kansas City Royals gave up a ton to get them, and they appear to have come out on the short end of talent trading hands, but the additions of James Shields and Wade Davis from the Tampa Bay Rays make the Royals legitimate contenders in the AL Central.
Those two will be joined by another newcomer Ervin Santana and re-signed Jeremy Guthrie in the completely revamped Royals rotation. While losing Wil Myers was tough, the team is significantly improved for the short term.
Justin K. Aller/Getty Images

Calling the Los Angeles Angels winners when they lost out on Zack Greinke may seem odd, but the team realized it was out on him and moved quickly to address its rotational voids.
To replace Ervin Santana and Dan Haren in the rotation, the Angels signed Joe Blanton and traded for Tommy Hanson from the Atlanta Braves.
Meanwhile, the bullpen was improved with the signings of Ryan Madson and Sean Burnett as the Angels look to position themselves to be legitimate contenders after a disappointing 2012 season.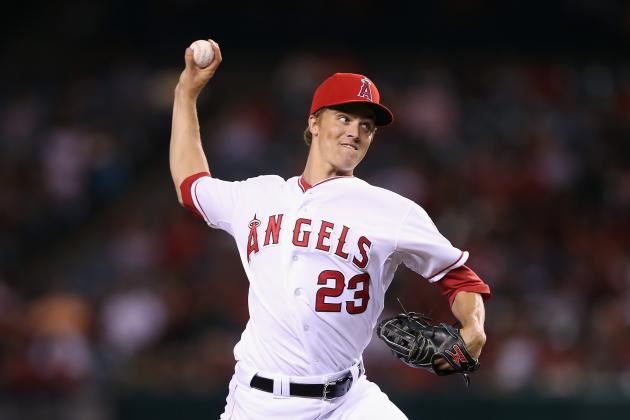 Jeff Gross/Getty Images

The Los Angeles Dodgers won the Zack Greinke derby, as they added the market's biggest arm on a six-year, $147 million deal to fill the No. 2 spot in the rotation behind Clayton Kershaw.
Beyond that addition, the team also signed Korean left-hander Hyun-Jin Ryu to a six-year, $36 million deal to serve as the No. 4 starter. He has plenty of upside but also a relatively high floor.
The left side of the infield is still weak, and the team will likely try to add another starter to improve upon Aaron Harang/Chris Capuano in the No. 5 spot, but it's hard to call them anything but a winner thus far.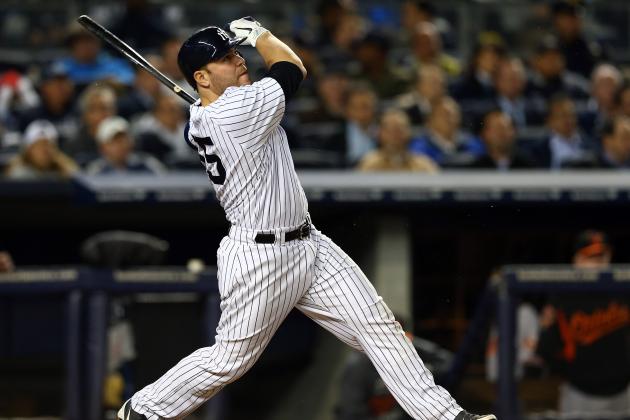 Elsa/Getty Images

The Pittsburgh Pirates have made just one significant move this offseason, but it was a big one, as they signed Russell Martin to a two-year, $17 million deal.
While he hit just .211 last season, Martin hit a career-high 21 home runs and will still be just 30 years old this coming season.
With a young pitching staff expected to see a number of prospects make their debut this season, adding a veteran presence like Martin behind the plate could help the team in more ways than one.
Doug Pensinger/Getty Images

Coming off of a World Series title, the San Francisco Giants' biggest need was to re-up with three of their key free agents in Jeremy Affeldt, Marco Scutaro and Angel Pagan.
It took spending a good deal of money to do it, but the team has re-signed all three players and can now turn its attention to adding an impact bat to play left field.
While a four-year, $40 million deal for Pagan may rank as a bad signing for some other teams, for the Giants, keeping their core of players intact was big for their hopes of returning to the World Series.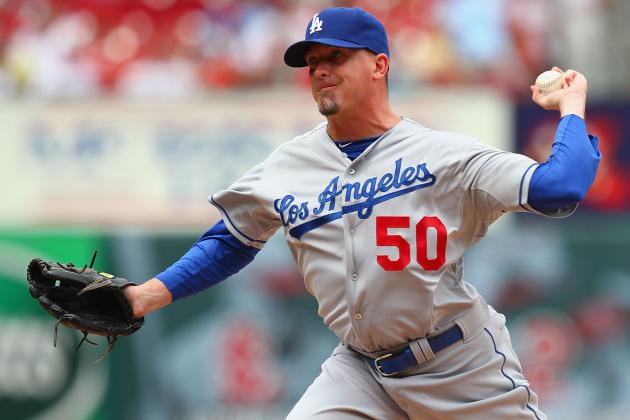 Dilip Vishwanat/Getty Images

The St. Louis Cardinals entered the offseason with one clear need, and that was a second left-handed reliever to join Marc Rzepczynski in the bullpen.
After pursuing Sean Burnett, the team pulled out when the price got too high. He eventually agreed to a two-year, $8 million deal with the Los Angeles Angels.
The Cardinals then quickly turned their attention to Randy Choate and agreed to a three-year, $7.5 million deal for one of the best lefty specialists in the game.
For his career, left-handers hit just .201/.278/.284 against Choate. Those numbers were an even more impressive .158/.243/.218 last season.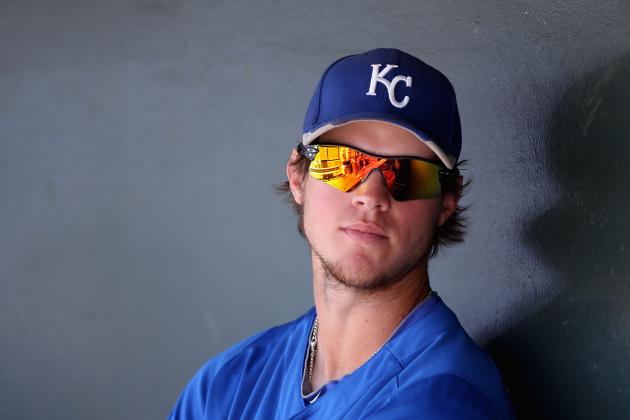 Christian Petersen/Getty Images

The Tampa Bay Rays offseason was off to a solid start before they pulled off a blockbuster trade with the Kansas City Royals, as they had added a pair of low-cost offensive upgrades in James Loney and Yunel Escobar.
However, they are undoubtedly the early winners of their trade with the Rays. James Shields and Wade Davis not only landed them one of baseball's top offensive prospects in Wil Myers but also a pair of high-upside pitching prospects in Jake Odorizzi and Mike Montgomery.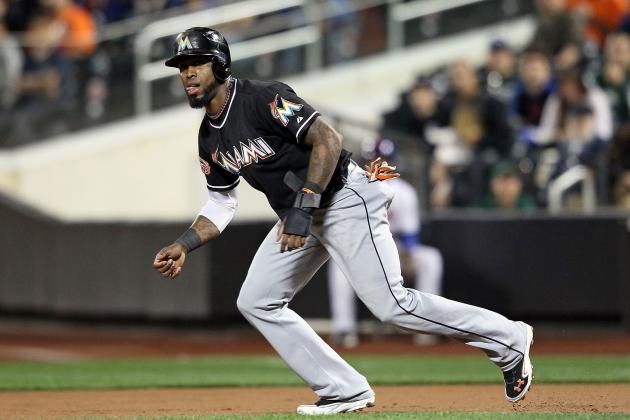 Alex Trautwig/Getty Images

With one offseason deal, the Toronto Blue Jays went from also-ran in the AL East to legitimate contenders with the addition of Jose Reyes, Josh Johnson, Mark Buehrle, Emilio Bonifacio and John Buck.
They also signed Melky Cabrera to a two-year, $16 million deal as he looks to get a second chance after a positive PED test last year.
It cost a solid package of young players, but the Blue Jays have put themselves in a great position to win now with one huge trade.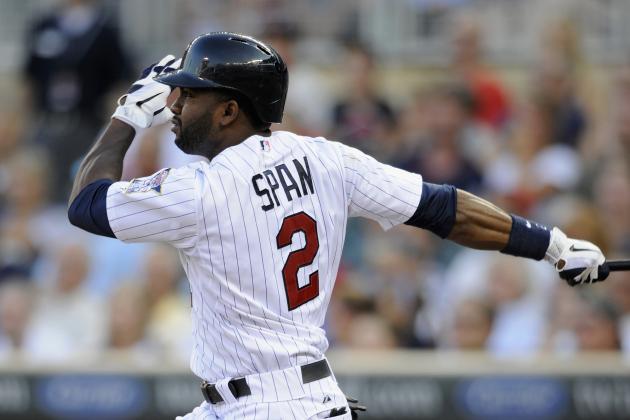 Hannah Foslien/Getty Images

Even with the Adam LaRoche situation not yet resolved, the Washington Nationals have already won this offseason after they acquired Twins leadoff hitter Denard Span for pitching prospect Alex Meyer.
Span not only gives the team the legitimate center fielder they've been searching for, but he also allows them to move Michael Morse in to first base and improves the defense as a whole.
Dan Haren was also added to replace Edwin Jackson in the rotation, and while he's a risk at the one-year, $13 million for which he signed, he has the upside to make an already dangerous Nationals rotation the unquestioned best in baseball.