Ranking the Big Ten's Top 10 Playmakers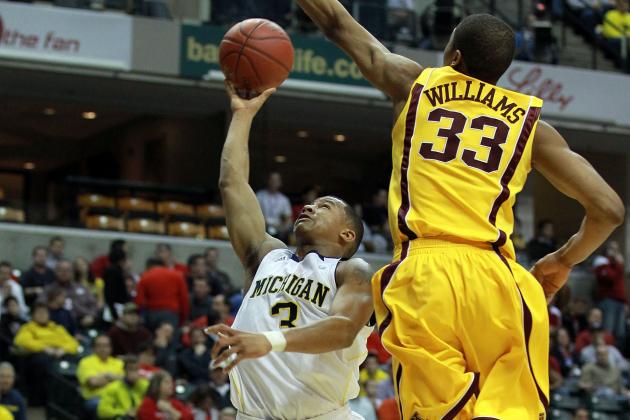 Andy Lyons/Getty Images

The typical basketball fan is bred to define a playmaker in the context of a point guard, someone who produces opportunities for teammates with intelligent, precise passing—literally a player who "makes plays" for others.
Scoring, however, is also making a play.
Blocking a shot to ignite a fast break is making a play.
So is picking an opponent's pocket.
These 10 players may not all be point guards, but they are some of the most explosive two-way players in the Big Ten Conference so far this season.
Begin Slideshow

»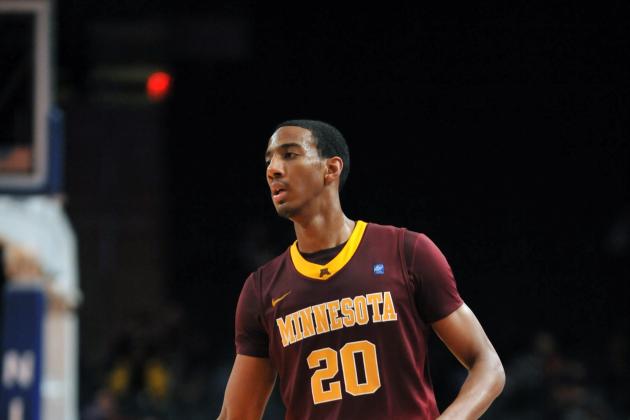 Jason Szenes/Getty Images

While Austin Hollins doesn't have a 41-point game to his credit like his unrelated namesake Andre, he's been a strong, consistent presence for the Gophers in the early going.
The two can both perform point guard duty when needed, but so far, Austin's assist-turnover ratio and turnover percentage are superior.
The most eye-catching column on Austin's stat sheet, though, is in steals. He's second in the conference at 2.5 per game, carding a sensational six against Memphis. He stripped two against Toledo, but Rockets coach Tod Kowalczyk gave Hollins all the credit for shutting down UT point guard Julius Brown. Brown shot a sickly 3-for-13 and committed seven turnovers.
Minnesota is one of only six teams to sit in Ken Pomeroy's top 15 in both offensive and defensive efficiency. The Gophers' defense may be ahead of their offense at this point of the season, so it's appropriate that we give a little love to a player creating havoc on the defensive end.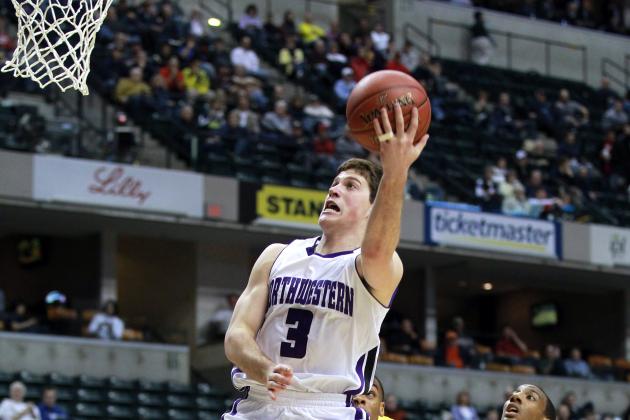 Andy Lyons/Getty Images

Northwestern fans have to be asking themselves, "Where was this Dave Sobolewski last season?"
A guy who shot less than 40 percent last season is off to a torrid start this year. The sophomore point guard is shooting 50 percent from long range and nearly that well inside the arc as well.
Add that to his already-consistent control of the Wildcats' offense, and Sobolewski's become a full-service performer for coach Bill Carmody's team.
His turnover numbers were among the Big Ten's best as a freshman, and they've remained that way in the early going this season. He should continue to place among the top 10 in assists, and if that shooting stroke remains consistent in conference play, he could steal the occasional All-Big Ten vote by season's end.
Jamie Sabau/Getty Images

Aaron Craft's offensive abilities were under more scrutiny than any player in the Big Ten this offseason. He was off to a strong start before he ran into the Duke Blue Devils in the Bahamas.
Craft shot a mere 3-of-15 with three turnovers against Duke, undoing the capital he had built up with his 50-percent start from the floor.
Since then, he's settled back into doing what he does best: annoying the pants off the opposition's floor general. He harassed Long Beach State's talented point guard Michael Caffey into 1-of-11 shooting in a win on Saturday night. That came on the heels of a four-steal game against Northern Kentucky.
Craft's assist and steal numbers are down slightly as he tried to take on more of the shooting load. Look for them to return to normal levels if players like LaQuinton Ross and Sam Thompson's recent scoring upticks prove to be lasting.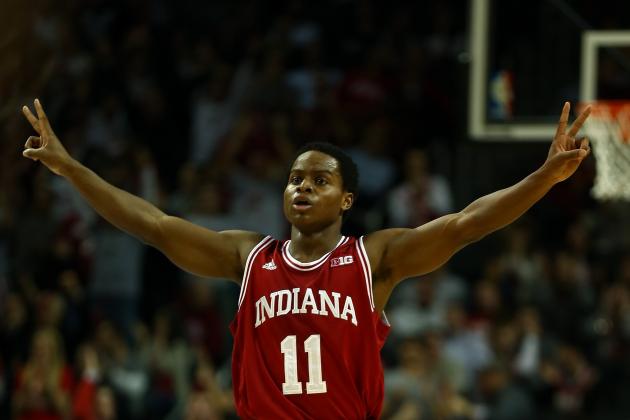 Elsa/Getty Images

Indiana freshman Kevin Ferrell is struggling badly with his shot in his first few college games. He's not even shooting 30 percent from the floor. The man they call "Yogi" is shooting more like Boo Boo.
Despite that, he has already established himself as a dynamic offensive force with a nearly untouchable extra gear that few other Big Ten guards possess. While it sometimes seems like he's playing out of control (he has a disturbing tendency to leave his feet before throwing passes), Ferrell has only one game of more than two turnovers.
His assist-turnover ratio sits at nearly 3-to-1 after nine college games. He sits in the league's top five in assists per game (4.9) and assist percentage (28.3). He's yet to have a game where he's looked flustered, although that could be a function of Indiana's disgracefully easy non-conference schedule.
If Ferrell gets his shot right, there should be no keeping him off of the Big Ten's All-Freshman team. His 89 percent foul shooting suggests that he could become a more dangerous scorer when needed.
Of course, on a team with Cody Zeller, Christian Watford, Jordan Hulls and Victor Oladipo at its disposal, Yogi's scoring may never be needed this year.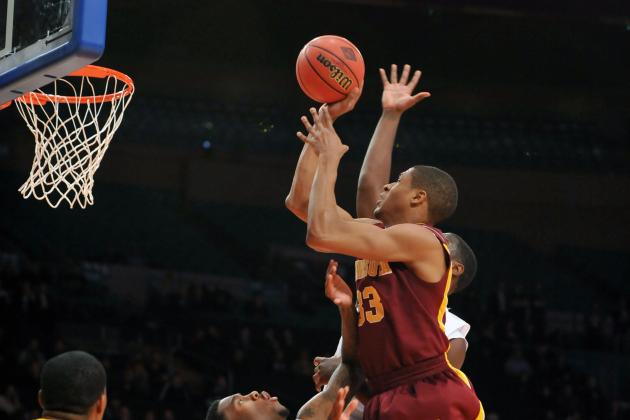 Jason Szenes/Getty Images

Rodney Williams is another player who can turn defense into instant offense.
The 6'7" senior already has seven games with multiple blocks, making the opponents who get past the Hollins boys on the perimeter regret their decision to enter his house.
Williams was easily the Gophers' top performer in their Atlantis loss to Duke, recording 16 points and seven rebounds in the face of a physical Blue Devil defense.
He's crashing the offensive glass at twice the rate of his first three seasons, and there's not a player in the Big Ten who has ripped more second-chance caroms. With his sheer athleticism, he should be able to continue that production once conference play starts. That athletic ability lends itself to a lot of tip-ins and highlight reel put-back dunks.
When Rodney gets to the basket, he's drawing fouls at a career-high rate. Thankfully for Gopher fans, he's hitting nearly 70 percent from the line, also a career high. Only once has Williams been held below 12 points this season. That metronomic consistency makes him the backbone of Minnesota's effort so far, sort of like a reliable drummer.
He's the Charlie Watts of Minneapolis, if you will. Does that make Andre and Austin Hollins Mick and Keith?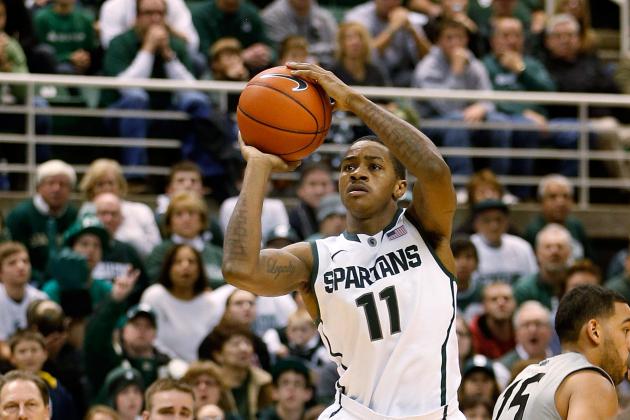 Gregory Shamus/Getty Images

Michigan running back Mike Hart once called Michigan State the "little brother" in the Great Lakes State rivalry. While Sparty point guard Keith Appling is nowhere near the pro prospect that Michigan's Trey Burke is, he'll still be a beloved figure when he leaves East Lansing.
Appling has embraced the dual role of top scorer and distributor, leading MSU with 14.6 points and 4.5 assists per game. His shooting stroke makes it possible to play him off the ball, especially with freshman Denzel Valentine off to an occasionally spectacular start.
The junior guard is in the Big Ten's top 10 in both assists and steals so far.
He was occasionally timid in the big games last season, struggling badly against Louisville's press in the Sweet 16. This season, he stuck a pair of daggers into the top-10 Kansas Jayhawks at the Champions Classic in Atlanta.
Appling will have more chances to make the big play against top-10 teams this season. It shouldn't come as much of a surprise if he pulls more wins out of those important moments.
Jamie Sabau/Getty Images

Deshaun Thomas once treated defense like a six-year-old treats broccoli. It was something that he took part in begrudgingly under threat of reprisal.
This season, though, his all-around game has improved the way that Ohio State needed it to. In Saturday's game against Long Beach State, Thomas even created turnovers on consecutive 49er possessions.
Scoring was Thomas's first, second and third priority when he arrived in Columbus, and he could get away with it because there were strong all-around players like William Buford, Jared Sullinger and David Lighty around.
To Thomas' credit, he hasn't confused being the man with simply being able to take all the shots. His rebounding numbers are up, his assist percentage is a career high and his turnover percentage is down.
Oh, and he's averaging 20 points per game with a true shooting percentage better than 60.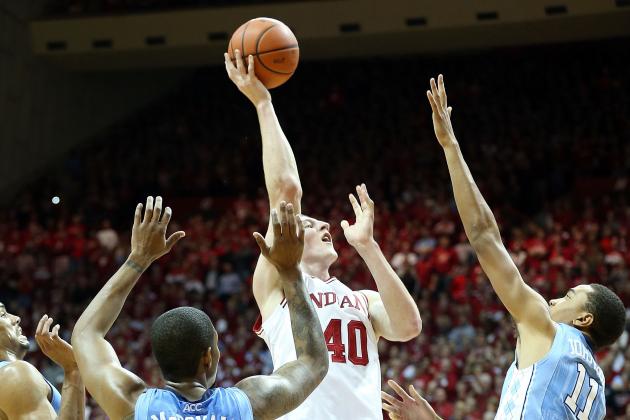 Andy Lyons/Getty Images

Cody Zeller makes plays in any way that he wants to. If Indiana needs a blocked shot, Zeller provides. An inside basket? Call the Big Handsome. Crucial rebound? He'll do that too.
Not many big men can get up and down the court the way Zeller does, and that effort paid off in spades during IU's main (only?) major win so far, the 83-59 blasting of North Carolina. The seven-footer got multiple easy baskets by simply running the court and beating everyone else to the rack.
His shooting figures are similar to last year, although he's a bit off at the line compared to his freshman campaign (65 percent, down from 75). Zeller also leads the league in nearly every rebounding category and is among the top 10 in scoring and blocks.
For a team averaging 89 points per game, it's surprising to note that the Hoosiers have had only two players record a 20-point game so far. Zeller's raw numbers are limited somewhat by that balance. Imagine how he'd perform on, say, Ohio State's roster.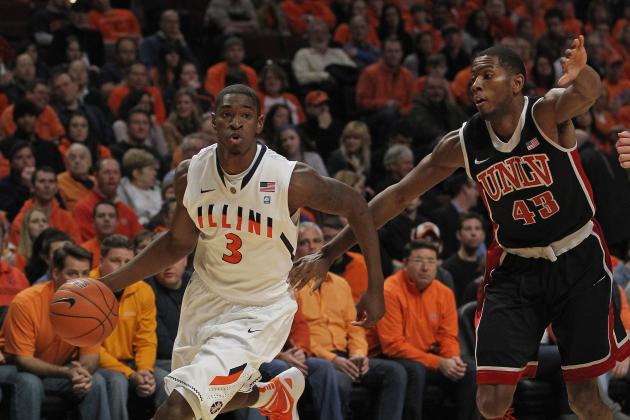 Jonathan Daniel/Getty Images

Brandon Paul struggled as badly as anyone during last season's closing swoon. New coach John Groce, however, knows that his team will only go as far as Paul will take it. Paul, to his credit, has not shied away from the responsibility.
His volume of work is admirable so far, averaging nearly 20 points per game, capped off by a 35-point tour de force against Gonzaga. Those points came on only 16 shot attempts against a team with a massive size advantage and no real need to pack the paint.
Even more impressive has been his newfound efficiency. A career 37-percent shooter coming into this season, Paul is draining 48 percent of his shots and 41 percent from long range. Those percentages are impressive considering that no one in the Big Ten has shot more than Paul.
On a team lacking in supporting options, Paul has had a blazing first month, with his individual production pacing the Illini to a surprising 10-0 start. It remains to be seen if he can be as successful against Michigan and Minnesota as he has against Colgate and USC.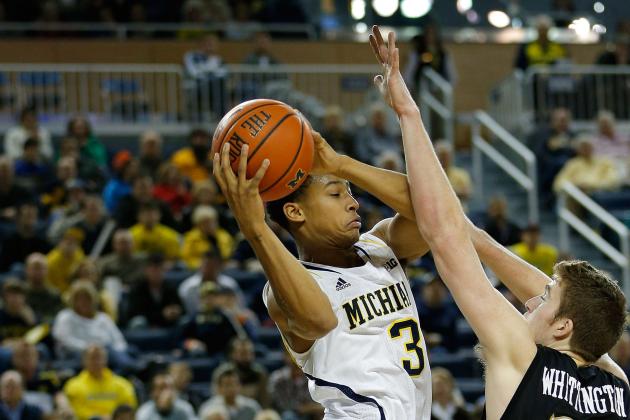 Gregory Shamus/Getty Images

Trey Burke is a classic case of addition by subtraction. After Michigan coach John Beilein added Glenn Robinson, Mitch McGary, Nik Stauskas and Spike Albright, he decided he wanted to subtract from Burke's minutes, hoping to keep his point guard fresh for March.
Burke is down to 33 minutes per game this season, and all of his shooting numbers have risen proportionally. Michigan's offense calls for the point guard to control the ball, and Burke has done well both as a scorer and facilitator.
With all the new scoring options to pass to, Burke is among the nation's top 10 in assists and is dropping nearly three dimes for every turnover. Add that to nearly 17 points per game, third in the Big Ten, and you have a recipe for a potential All-American season.
Burke's explosiveness is a key factor in the Wolverines' Final Four hopes. If he continues in present form, those hopes will become expectations, and they'll still be perfectly legitimate.
For more from Scott on college basketball nationwide, check out The Back Iron (now on CollegeBasketballTalk's #NBCMustFollow College Hoop Directory).