Big East Basketball: The Most Surprising Player on Each Team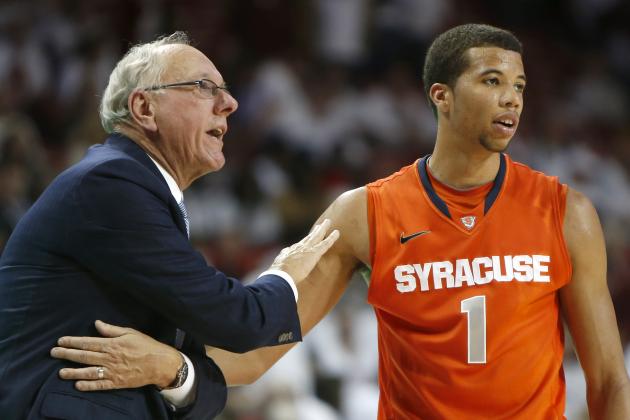 Wesley Hitt/Getty Images

After about a month of play, while the college basketball season is still relatively young, it is time to figure out the makeup of each team. We decipher which players are better than anticipated, as well as those whose contributions aren't as major as we once thought they would be.
With conference play right around the corner, now is the time to highlight those players. This slideshow contains the most surprising players from each of the 15 Big East schools: eight surprises and seven disappointments.
Whether they are key returning guys, players who increased their role from last season, or transfers, each of the players on this list are not doing what the college basketball world anticipated prior to the start of games in November—for better or worse.
Begin Slideshow

»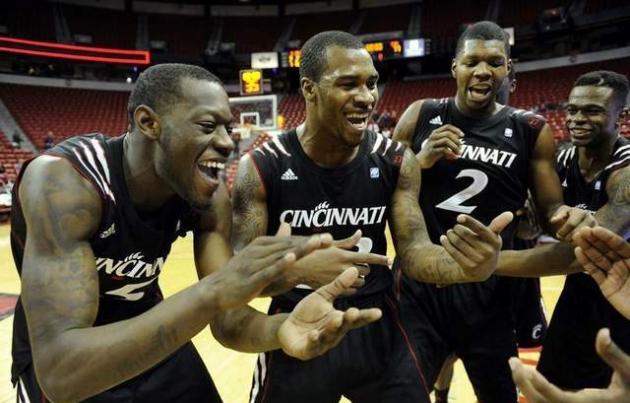 The 6'7" Titus Rubles has been a welcome addition to the 11th ranked Cincinnati Bearcats after transferring from Blinn College in Texas prior to the season. The junior from Dallas was heralded as one of the top junior college players in the nation before coming to Cincinnati.
Rubles has averaged 8.1 points, 5.4 rebounds, and 2.4 assists in 19.7 minutes of action in his first year as a Bearcat. He has also contributed on the defensive end of the courts by averaging 1.2 steals and brought in a career-high 10 rebounds this past Saturday.
While only shooting 1-for-15 from behind the arc thus far, Rubles has helped fill the void that Yancy Gates left after last season in the UC frontcourt.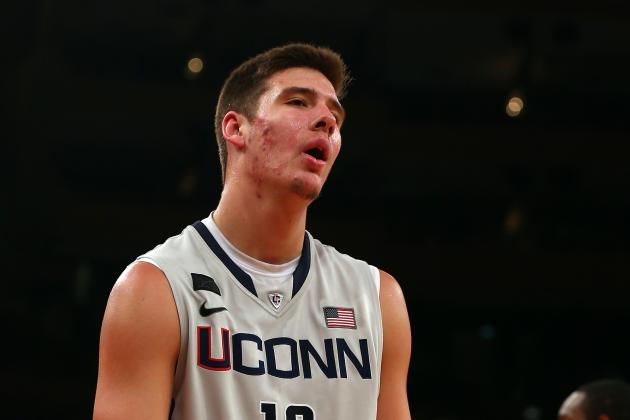 Elsa/Getty Images

With the departures of Jeremy Lamb and Andre Drummond to the NBA Draft and Alex Oriakhi's transfer to the University of Missouri, Tyler Olander seemed to have the perfect fit for a big junior season. After nine games though, that has not been the case as his numbers are nearly identical to a year ago.
Olander averages 4.7 points, 4.2 rebounds, 1.3 assists, and 1.8 blocks, but is still considered more of a role player than anything else. He plays just over half the game at 21.9 minutes but has gotten lost among the excellent guard play that Kevin Ollie's team contains.
The 6'9" Olander has yet to score in double figures, in this his junior season. At this point, look for his impact to be minimal.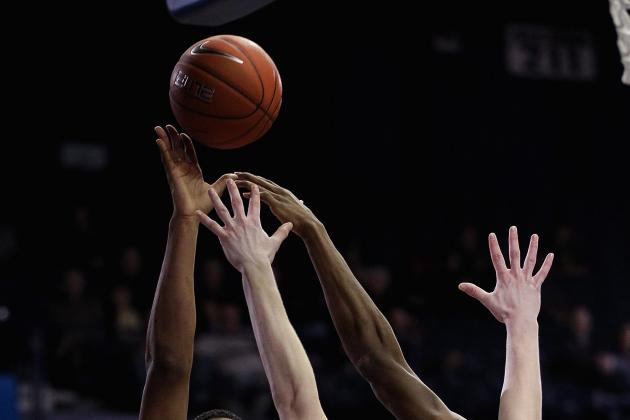 Jonathan Daniel/Getty Images

Cleveland Melvin and Brandon Young combine for 35.4 points per game and make up one of the top duos in the Big East, regardless of how poor the DePaul Blue Demons' record has been since they started their collegiate careers in Chicago.
What Oliver Purnell's team needs to get over the hump is a consistent third scorer. While Moses Morgan has proven to be so at times, he's had a rocky start to his junior year. Averaging 9.0 points, 2.7 rebounds, and 1.8 assists in 23.2 minutes is nothing to be ashamed of, although Morgan needs to improve on his current 32 percent shooting from the field and 33 percent from behind the arc.
Morgan has gone five straight contests without double figure scoring, after notching back-to-back 15-point performances in November.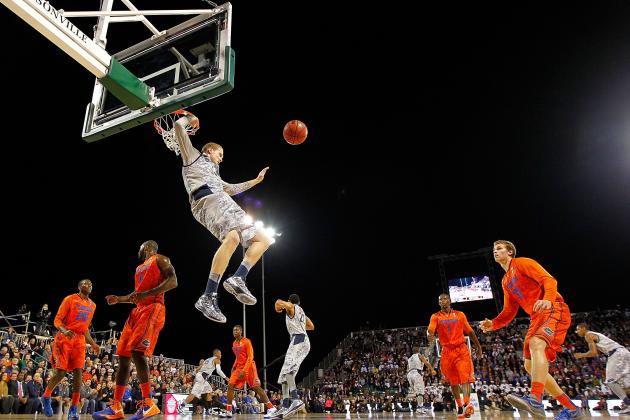 Mike Ehrmann/Getty Images

Georgetown's Princeton offense has produced a well-balanced attack for the Hoyas through the season's first nine games. John Thompson's team, who is 8-1, has only lost to top-ranked Indiana University in overtime.
The team has five players averaging between 8.0 and 13.0 points, with Nate Lubick being that player averaging 8.0 points. On top of that, Lubick has added 4.8 rebounds, 3.4 assists, and 1.3 steals, while shooting nearly 63 percent from the field.
The 6'8" junior has taken advantage of an increase in minutes from his sophomore year, now seeing the court for 29.6 minutes per game. Lubick certainly isn't afraid to make the hustle plays for this Georgetown team who has won ugly so far in 2012-13.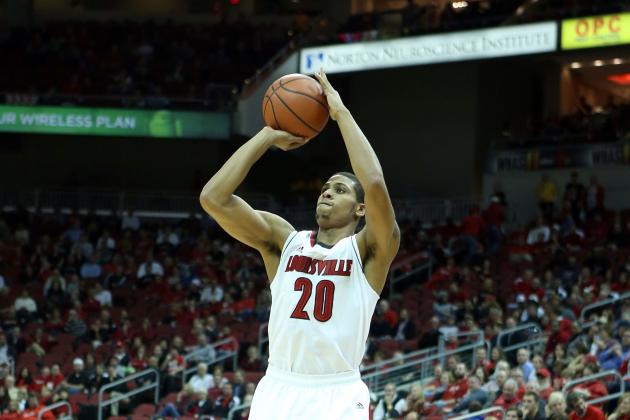 Andy Lyons/Getty Images

Coming into the season, the University of Louisville was ranked second in the nation, only behind the Indiana Hoosiers. Louisville currently stands 8-1 with their lone loss coming to Duke University, although they were also bailed out by some hometown calls against a pesky Illinois State team.
Wayne Blackshear, who battled injuries most of his freshman season, received plenty of preseason recognition despite this. The 6'5" sophomore from Chicago, currently averages 8.6 points and 3.6 rebounds, while shooting 40 percent from the field and 30 percent from deep.
Blackshear struggled during Lousville's two toughest games to date, combining for only two points on 1-for-5 shooting against Duke and ISU.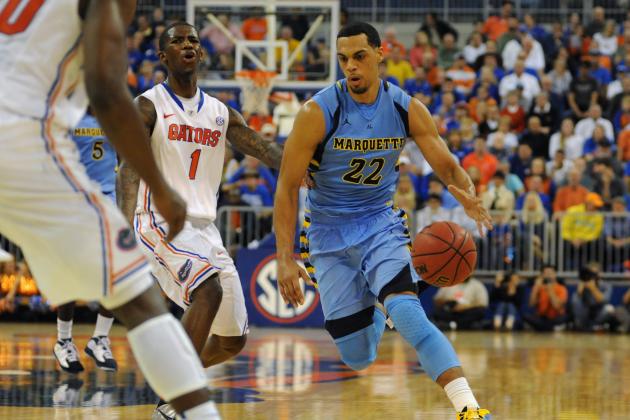 Al Messerschmidt/Getty Images

After the dynamic duo of Jae Crowder and Darius Johnson-Odom left Milwaukee following last season, Buzz Williams' addition of Trent Lockett from Arizona State University appeared to be a huge one, as Lockett was thought to be one of the best transfer players in 2012-13.
Lockett hasn't been bad, but his 8.0 point, 4.4 rebound, and 1.9 assist averages do not match the numbers he put up at ASU. While part of that can be attributed to now playing for a winning program, while Arizona State struggled during his time there, his plummet in shooting percentages makes it appear to be more than the transition of playing for a new team.
After shooting 50 percent in 2011-12, Lockett is only converting on 36 percent on his attempts this year, and even lower at 30 percent from long range. While not flashy, still expect Lockett to be a major part of Marquette's deep and well-balanced attack.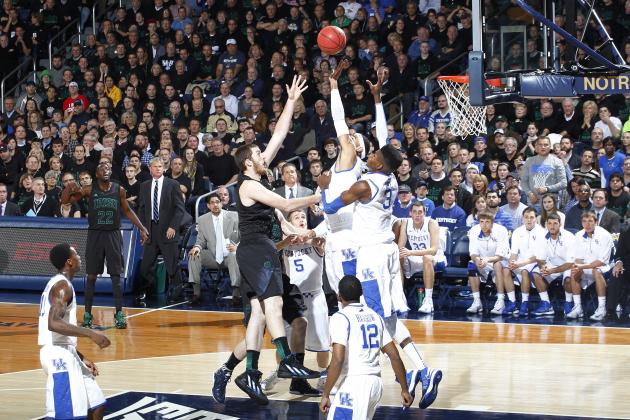 Joe Robbins/Getty Images

Unlike Trent Lockett, Garrick Sherman has made more of an impact than anticipated so far during his short time playing in South Bend. The 6'10" junior, and former Michigan State University reserve, has helped the Fighting Irish get out to an 8-1 start, including a win over the University of Kentucky.
Sherman averages 10.1 points and 4.6 rebounds during his 18.6 minutes of action, while shooting just under 62 percent from the floor. Sherman has already totaled more points this season than his freshman year at MSU and is only a few games away from topping his sophomore year total.
Sherman also is unlike Lockett in that he went to a worse team to receive more playing time, while Lockett's role has decreased but is now playing for a better team. Nonetheless, Mike Brey should be happy to have Sherman and Scott Martin (Purdue), both of whom are former Big Ten players.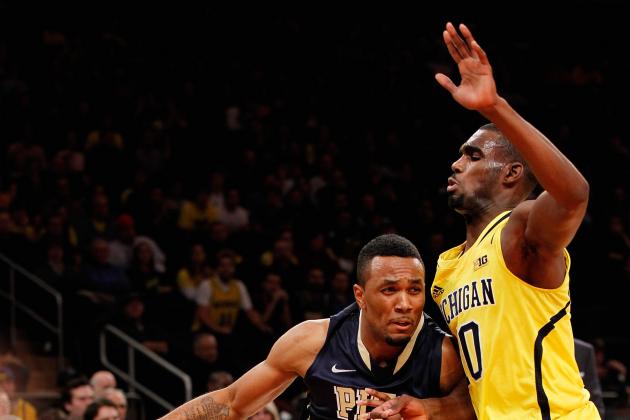 Mike Stobe/Getty Images

Trey Zeigler continues the list with the third straight transfer player highlighted. Zeigler left Central Michigan University following his sophomore season, where he played for his father. The Mount Pleasant, Michigan native decided to take his talents to Pitt, where he also was thought to be a top transfer.
Through 10 games for the 9-1 Panthers, Zeigler has averaged 4.9 points, 1.4 rebounds, and 1.3 assists. This is in comparison to his 15.8 point, 6.7 rebound, and 2.5 assist average during his sophomore season as a CMU Chippewa.
Zeigler is the ninth leading scorer for a team that only dresses 10 players, so he certainly hasn't performed as expected, although he really hasn't gotten the chance either by playing 16.4 minutes. Pitt has plenty of capable players, without a true superstar, so it'll be interesting to track Zeigler's progress come Big East play.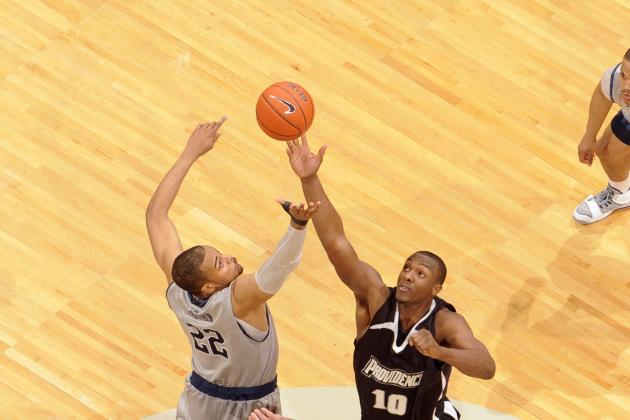 Mitchell Layton/Getty Images

Without Vincent Council, Providence College has relied on the trio of Bryce Cotton, LaDontae Henton, and Kadeem Batts during the Friar's first nine games, winning seven of those. Those three average 55.4 of the team's 68 points, a ridiculously high number.
Both Cotton and Henton were double figure scorers a year ago, while Batts only averaged 6.2 points and 4.2 rebounds. So far in 2012-13 though, Batts has contributed 17.7 points and 8.0 rebounds, good for second on the team in both categories.
The 6'9" Batts has established himself during his junior year, but will need to continue to play aggressively once Council comes back within the next few weeks. Look for Providence to be among the nation's more exciting teams to watch, even if their record doesn't show it.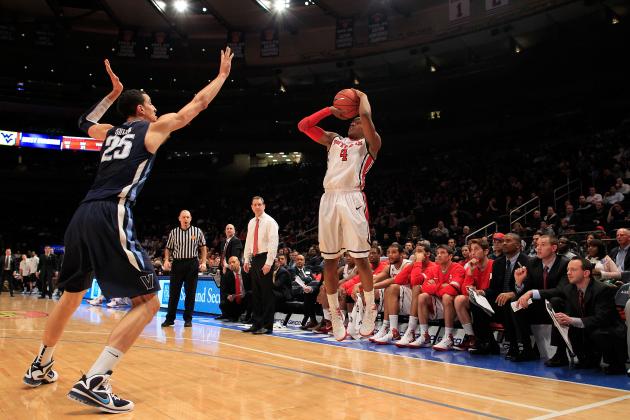 Chris Trotman/Getty Images

Though small in stature, the 5'9" Myles Mack has carried a much heavier load as a sophomore than he did a year ago, even with the same amount of playing time. The 6-2 Rutgers Scarlet Knights have welcomed Mack's contributions as the team's second leading scorer at 15.1 points.
That 15.1 point average is up 5.3 points from last year's 9.8 point average, though Mack also adds 3.1 rebounds, 2.5 assists, and 1.6 steals. On top of that, Mack is stroking it at a 59 percent rate from the field, an incredibly high mark for a guard to shoot at.
He's also converting on 46 percent of his three-point shots and nearly 95 percent of his free throw attempts. Mack appears to have already developed a toughness that will be needed once Rutgers becomes a participating member of the Big Ten in his senior season.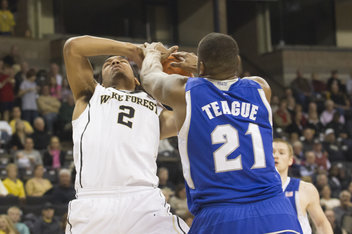 Jordan Theodore and Herb Pope may have been the second best duo in the Big East last season, behind Jae Crowder and Darius Johnson-Odom, despite the Seton Hall Pirates being left off the NCAA Tournament bubble and making the NIT.
The loss of those players left a void that has been filled by Southern Illinois transfer Gene Teague. The 6'9", 290 pound redshirt junior is averaging 13.9 points and 8.1 rebounds in 29.3 minutes in his first season with his new squad.
Those numbers are significantly higher than what he put up while playing in Carbondale, as a member of the Missouri Valley Conference. Hopefully Teague's success can continue once the competition beefs up in the mighty Big East.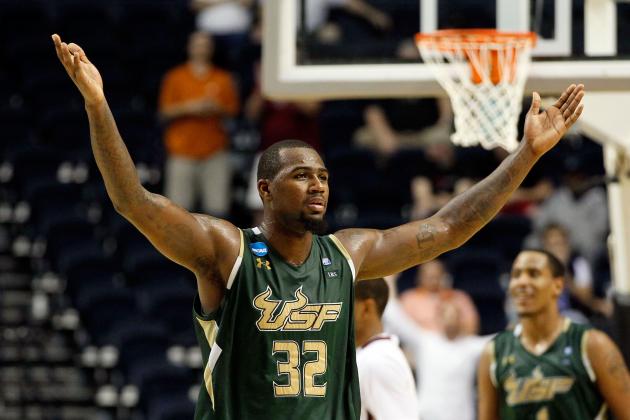 Kevin C. Cox/Getty Images

After being a part of a University of South Florida Bulls squad where the team's leading scorer averaged 9.5 points a year ago, Toarlyn Fitzpatrick's hot start has led him to average 12.5 points through eight games in 2012-13.
Fitzpatrick is also adding 6.0 rebounds and 1.5 assists, while playing a team-high 34.1 minutes. He has been the beneficiary of excellent point guard play from Anthony Collins, a 6'1" sophomore who averages 7.9 assists.
While South Florida and Stan Heath are known for their defensive prowess, more so than their offensive abilities, Fitzpatrick has proved that he is capable on both ends of the court.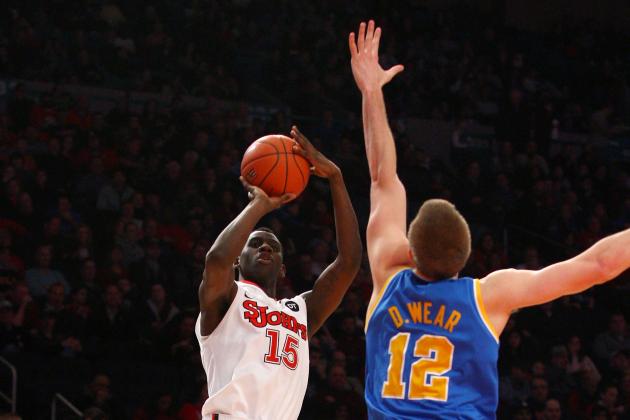 Chris Chambers/Getty Images

Maurice Harkless, Nurideen Lindsey, and God'sgift Achiuwa are among those that started the 2011-12 season as members of the St. John Red Storm, although they no longer are. Sir'Dominic Pointer was also a first year player for St. John's a year ago, but despite these key losses has been a disappointment thus far.
Pointer averages 4.7 points, 3.3 rebounds, and 2.3 assists, which are respectable statistics, though worse than his 6.5 point, 4.7 rebound, and 1.5 assist averages that he put up during his freshman season.
Pointer and the Red Storm have a 7-3 record, but have a long ways to go to get back to the top half of the Big East as they were two seasons ago. Pointer's improvement would certainly help get them there.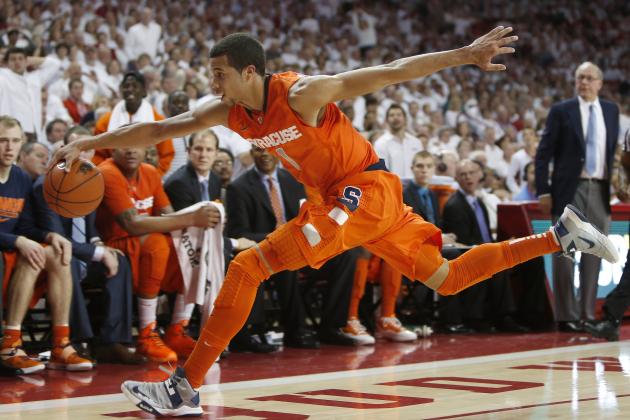 Wesley Hitt/Getty Images

Was Michael Carter-Williams supposed to be good when he committed to Syracuse University? Absolutely. Eight games into his sophomore season, Carter-Williams may have already surpassed those expectations for the 8-0 Syracuse Orange.
After playing 10.7 minutes as a true freshman, Carter-Williams' role may have increased more than any other player in the league. So far this season, Carter-Williams is putting up ridiculous numbers at 12.4 points, 5.6 rebounds, 10.4 assists, 1.0 blocks, and 3.8 steals, within his double-double average.
The lanky 6'6" guard from Hamilton, Maryland is a matchup nightmare who can score, as well as get anyone on the deep and dangerous Syracuse roster involved in the scoring column. Not many have been better than Carter-Williams thus far in 2012-13.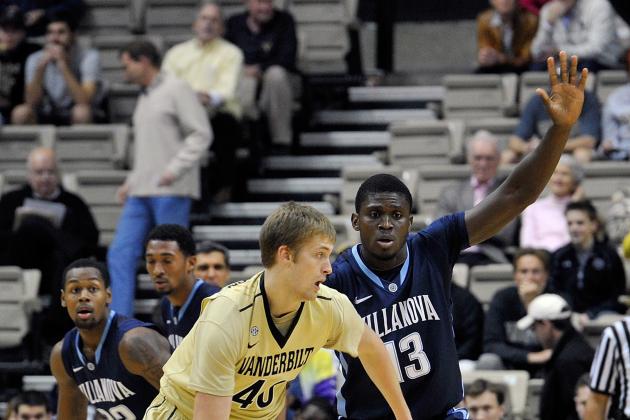 Frederick Breedon/Getty Images

Last but not least is the 6'10" senior Mouphtaou Yarou. While the 6-4 Villanova Wildcats lost a pair of guards, who thought they were ready for the NBA at the conclusion of last season's disappointment, Yarou acted as a bright spot for the team.
As a junior, Yarou averaged 11.3 points and 8.2 rebounds in 27.5 minutes, but he hasn't found the same success in his last collegiate year. Thus far, Yarou's averages are 8.5 points and 5.5 rebounds in 24.2 minutes, as he stands as the team's fifth leading scorer.
Expectations weren't high for Villanova coming into the year, and while other players have stepped up in nonconference play, Jay Wright's lack of minutes for Yarou is concerning. If the team dynamic doesn't change quickly, it could be another rough year at 'Nova.