MMA: How to Create the Greatest Fighter Ever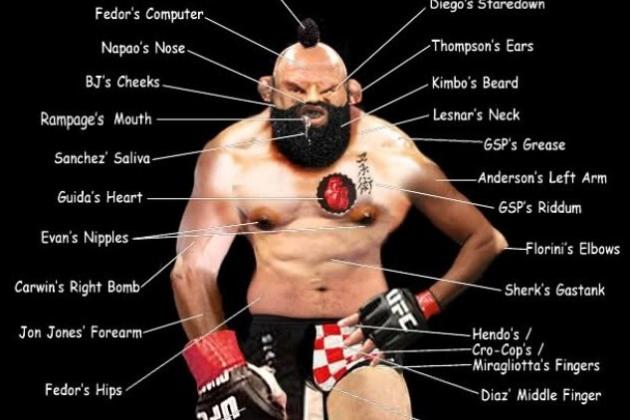 titocouture.com
What if you could take different skills and physical attributes from fighters and create an MMA Frankenstein?
Everyone uses the same tools in a fight, but some fighters' skills are just better than others'.
For instance would you rather have Jon Jones' elbows or Kenny Florian's? Cain Velasquez's gas tank or Dominick Cruz's?
Which attributes would you take? And from whom?
In this slideshow, I'll show you my version of the perfect MMA fighter.
Begin Slideshow

»
With a reach of 84.5", Jon Jones is tied with seven-footer Stefan Struve for the longest reach in the UFC.
Jones just knows how to use his better. Poking away with jabs and push kicks, Jones can safely hit his opponents at a distance that they can't return the favor.
Or better known as the H-Bomb.
Dan Henderson has put away many prominent fighters in his career with one solidly placed right hand.
In one of the most talked-about knockouts in MMA history, Hendo silenced Michael "The Count" Bisping with two vicious right hands.
The other H-Bomb.
Johny Hendricks is becoming the younger version of Dan Henderson, which is downright scary for anybody in the UFC welterweight division. His one-shot KO power is rivaled by almost no one.
The UFC's heavyweight kingpin has the most crisp boxing skills of anyone in MMA.
His accurate jab and powerful cross have knocked out top heavyweights like Frank Mir, Fabricio Werdum and Cain Velasquez.
The definition of dominance is when someone knows what you're going to do and still can't stop it.
The boxing of Junior dos Santos is just that dominant.
The man with no collegiate wrestling experience is the one with the most dominant wrestling. Georges St-Pierre can put you down at will and keep you there as long as he wants.
Nobody is as accurate as Anderson Silva. He notoriously allows his opponents to throw a few strikes and then counters better than anyone else in the sport.
At 67 percent, he has the best striking percentage of anyone in UFC history. With the way he's still punishing opponents, it's hard to see anyone topping his striking accuracy.
Frankie Edgar has the biggest heart in MMA.
In his last four fights, he's faced first-round adversity and come back every time in some razor-thin decisions.
With four-ounce gloves, it doesn't take much to put a guy down for at least a second with one well-placed shot.
Silva was knocked down by Chael Sonnen, and St-Pierre was knocked out by Matt Serra.
But BJ Penn has never dropped in his many fights.
What's even more impressive is that he's been in the ring with much larger opposition including knockdown artist Lyoto Machida and still has never tasted the canvas.
One guy you never want to hit the mat with is Shinya Aoki.
With 20 submission victories and no submission losses in 38 career fights, he has the best Brazilian jiu-jitsu in MMA today.
Mirko "Cro Cop" Filipović is possibly the best kicker to compete in MMA. His trademark of "right leg hospital, left leg cemetery" is legendary.
They say that imitation is the most sincere form of flattery. In that case, Chael Sonnen should be the most flattered man in MMA.
Since motivating Silva like no one else, he has led other fighters to become "mini-Sonnens," who turn to trash talk and call outs to get their desired matchups. But while many imitate, he started the trend.