Minnesota Vikings: 5 Things That Must Change for Minnesota in 2013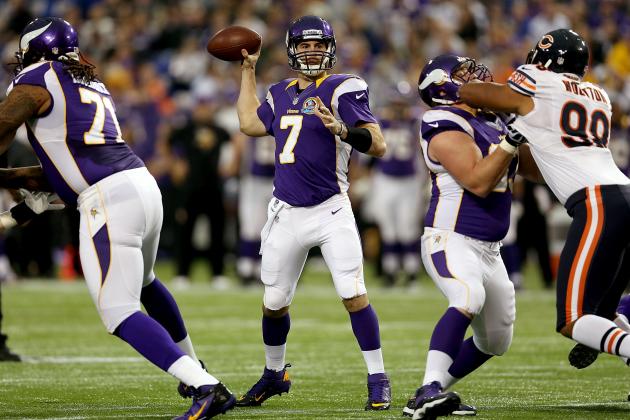 Matthew Stockman/Getty Images

Nobody who followed the Minnesota Vikings closely in 2011 would have guessed that the team would be playing meaningful games in December of 2012.
The idea that the Vikings still hold out hopes of playing in January would have been flat out absurd to those who watched the train wreck that was the 3-13 season of last year. The team looked like it was in complete shambles and that any run at the playoffs was at least two or three years down the road.
Things only looked gloomier when Adrian Peterson tore up his left knee on Dec. 24, and then the Vikings beat the Redskins to drop out of any chance at drafting one of the two franchise quarterbacks that were available.
Fast forward to now and the Vikings are at 7-6 and a run at the playoffs doesn't look so far away.
Peterson's historic comeback are reasons one, two and three for the Vikings' successful campaign, but the team's depth also took a huge step forward, spearheaded by a phenomenal haul in last spring's draft.
The Vikings are still a long-shot to make the playoffs this year, and even if they do, they probably aren't good enough yet to do any damage. Here are five things they need to change to be a bigger threat in 2013.
Begin Slideshow

»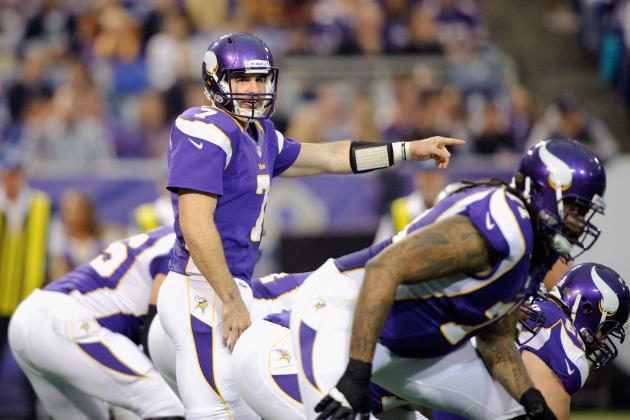 Hannah Foslien/Getty Images

There is just no way around it, Christian Ponder has to show some signs of life over the last three games of the season, or the Vikings would be wise to look elsewhere for a starting quarterback for 2013.
The franchise line on Ponder has been a constant stream that sounds something like, "Christian has all the tools, he keeps on improving, we know he has to get better and he will."
That's what they have to say.
Like it or not, GM Rick Spielman and head coach Leslie Frazier have much of their future invested in Ponder; his success will be the No. 1 determining factor in theirs. Frazier has proved himself, he has a job for 2013 and he's earned it. Getting seven wins is already more than most people expected out of this club.
Spielman had a great draft last spring, but the truth is, fair or not, the most important pick a GM will ever make is that of a first-round quarterback. If Ponder isn't successful, he may ultimately bring down both Frazier and Spielman with him.
Expectations will be bigger in 2013, that's what happens when you exceed expectations—your rebuilding time-line drastically changes.
Ponder has been a mess in 2012, plain and simple. The idea that quarterbacks need time to develop in the NFL is a fair one (although it's being disproved all over the league right now). The problem is that Ponder is showing zero glimpses of improvement.
He was hailed for both his athleticism and his intellect when he was drafted in 2011. The two haven't meshed at all in 2012. He hasn't shown any feel for the game. He doesn't anticipate well, and he has shown no knack for making things happen.
It's true that the Vikings have horrible receivers and that's part of the Vikings' laughable passing numbers, but these guys made an NFL roster; they can't be as atrocious as the numbers are.
Ponder's QBR (the advanced quarterback metric that is a much better tool than passer rating) has been over 40 just once in his last eight games. And by the way, 40 is terrible.
For every Eli Manning that has taken three years to figure things out in the NFL, there are 25 examples of guys who haven't. (First of all, Eli has always been a bad example; his last name is Manning for god's sake.)
Time is ticking on Christian Ponder. He flat out hasn't looked like an NFL quarterback for over a year now. It's long past time for he and his coaches to stop telling us that he'll figure it out and to start showing us.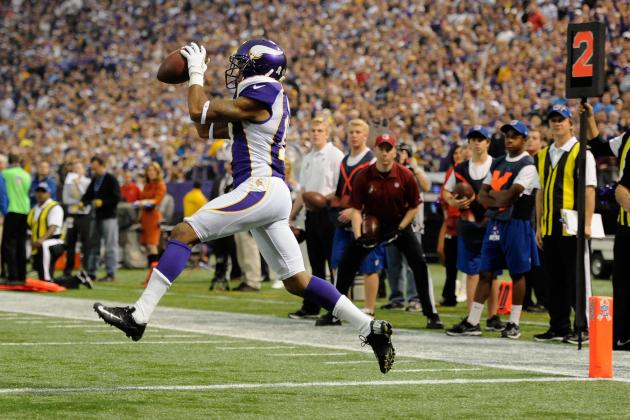 Hannah Foslien/Getty Images

The first thing Percy Harvin's agent should do when negotiating with the Vikings this offseason is show the team a highlight reel of the rest of the club's wide receivers.
It sounds like a pretty clever idea until you realize that he can't, because there isn't one.
75 catches for 887 yards and three touchdowns sounds like a reasonable season for say, the third receiver for someone on the Packers, Patriots or Saints. Those are the numbers for the Vikings' entire group of receivers who aren't Harvin.
They can't get open and they can't catch, but other than that, they're pretty good.
The truth is the Vikings took a very good gamble on Jerome Simpson, but it just hasn't worked out. He's had some odd medical issues that have clearly slowed him down this year, and it wouldn't be outlandish for them to bring Simpson back for the same amount of money. He has speed when he's healthy and he's shown that he's a great athlete. He still has the potential to be a useful receiver.
The Vikings got another bad break when draft pick Greg Childs went down in training camp and was lost for the season. Minnesota was very high on Childs and expected him to work his way up to the third receiver spot in his rookie year. It remains to be seen what his future might be.
As for Michael Jenkins, Devin Aromashodu and Stephen Burton, they've been mediocre at best. Jenkins has been what everyone expected, a slow, dependable guy who, if he's on your roster, is your fifth option. Aromashodu and Burton haven't proven to be NFL players so far.
There might not be a superstar at wideout in the coming draft, but there will be several intriguing possibilities. The Vikings are going to have to open up the checkbook for Harvin, so they might not be able to afford a top-notch free-agent receiver, but the league is full of great third and fourth receivers who just need more snaps to show what they can do; it's incumbent on Spielman to find one of them and get them in purple for 2013.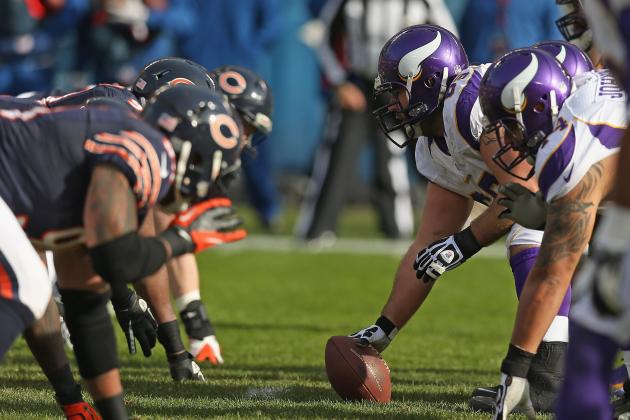 Jonathan Daniel/Getty Images

The Vikings offensive line was at def-con five at the end of last season; in complete shambles. A month into 2012 they were better, but still a work in progress.
As Adrian Peterson rampages towards the magical 2,000-yard mark, it's time to tip our cap to the offensive line; they've come a long, long way over the course of the season and are now one of the better units on the club.
There's still room for improvement.
Matt Kalil has been everything he was advertised to be and will be an All-Pro for years to come. John Sullivan has had another solid year; he's not a star and he's clearly better as a run-blocker than a pass protector, but he's nobody you have to worry about. Phil Loadholt has had a good season and will remain at left tackle heading into 2013.
Both guard spots will be up for grabs. Charlie Johnson and Brandon Fusco have had up and down seasons. Fusco has actually gotten better since he started sharing time at right guard with Geoff Schwartz. The Vikings might be on to something with the line rotations on both sides of the ball.
There are still a million things to happen before draft speculation can begin, but it wouldn't be crazy for the Vikings to grab a top guard if one were available in the first round. Fusco has learned and gotten better with experience, but Charlie Johnson is what he is and the Vikings could do better.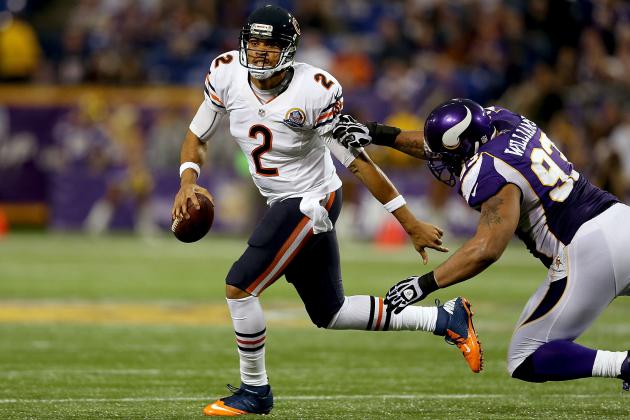 Matthew Stockman/Getty Images

Vikings defensive tackle Kevin Williams has more football in him to be sure, but the Vikings would do well to get a high-end defensive tackle in the early part of the 2013 draft.
Williams will be 33 years old at the start of next season and it's high time they find someone who can takeover when he is no longer an every-down player. Letroy Guion has just 28 tackles on the season, and while he hasn't been bad, he isn't a big difference maker in the middle of the defensive line.
The 2013 draft is full of huge, athletic defensive tackles, with up to as many as eight or nine who could be starters right off the bat. The Vikings have been gouged by the run too many times in 2012 and a huge run stuffer would solve a lot of problems for the defense.
Once again, the Vikings rotation of players has worked very well for Alan Williams and this group of players. It might have hurt everyone's individual numbers, but getting snaps for Everson Griffen, Fred Evans and Christian Ballard has kept everyone fresh and more active while they are on the field.
Adding another big body to the current stable of players will only fortify a defense that took huge strides forward in 2012.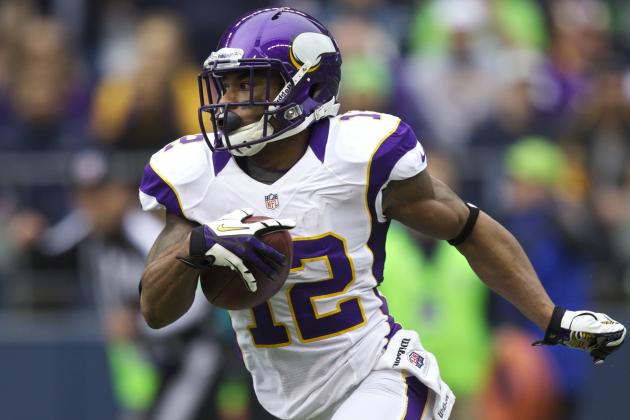 Stephen Brashear/Getty Images

There's a theory that's been floating around the Twin Cities that the Vikings coaches have Christian Ponder worrying far too much about his completion percentage, thus he's only throwing short balls to try to keep his percentage at a reasonable number.
Yes, that's probably insane; we would hope that the Vikings coaches have only told Ponder to run the offense that they've prepared for him.
With three games to play in the 2012 season, the Vikings offense is as one dimensional as we've ever seen in Minnesota. Their only play that has any chance of working is handing the ball to No. 28.
Is it the quarterback? Is it the receivers? Is it the play-calling? Is it all of the above?
That's for Leslie Frazier and Bill Musgrave to find out. It's 2012 and the Vikings offense is less complicated than your local high school team's. Hand it to Adrian. Quick pass to Percy. That's about it.
Do you remember Jarius Wright's first play in the NFL? Can we try that again before 2013?
Yes, the Vikings still need to upgrade personnel at receiver and perhaps quarterback. Both of those are easier said than done. You can't run a complicated offense when you don't have the personnel to do it.
Go get the personnel and open things up. As it stands, you're wasting two of the very best offensive talents in the league.