New York Yankees: 5 Predictions for Andy Pettitte in 2013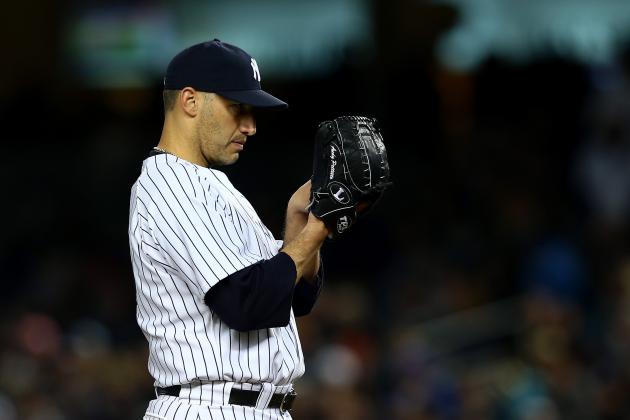 Elsa/Getty Images
Andy Pettitte is back once again for the Yankees in 2013
Who would you pick to win a fight, Andy Pettitte or Father Time? After watching Pettitte pitch as he has aged, I'd surely take Pettitte in that match. He has beaten the odds year in and year out as he continues to pitch well beyond the age that nature usually stops most men from throwing baseballs in the MLB.
However, as of November 29, Pettitte is back to pitch for the Yankees yet again in 2013. Will he be able to lead the rotation as he had in years past? Will No. 46 be as intimidating on the mound as he always has been?
Here are five predictions for Andy Pettitte in 2013 as he pitches for the New York Yankees.
Begin Slideshow

»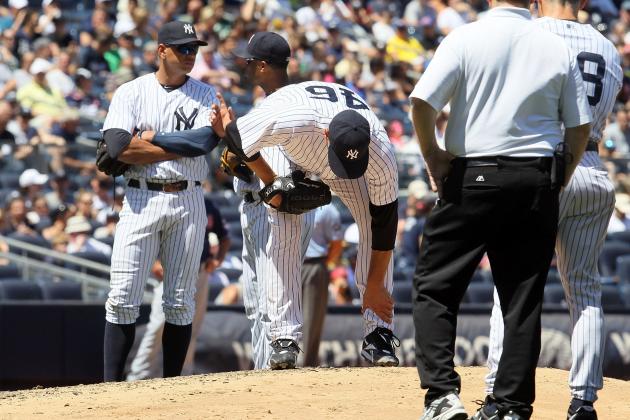 Jim McIsaac/Getty Images
Pettitte's season was shortened by injuries in 2012
Andy Pettitte will be upwards of 40 years old at the start of this season. At his age, players begin to break down. The wear and tear of pitching takes a toll on elbows, shoulders, hamstrings, quadriceps and backs.
Somehow, Pettitte avoided all of these injuries in his age-40 season and was relatively healthy for the Yankees in terms of his body holding up against Father Time. However, in June, a batted ball broke Pettitte's ankle and sidelined him for four months.
This season, Pettitte will have more time to condition (he signed and started conditioning last February and debuted in May), so he will surely be able to avoid the injuries he avoided last season. I predict that Pettitte will make at least 24 starts and throw 150 innings as a key cog in a very unstable Yankee rotation.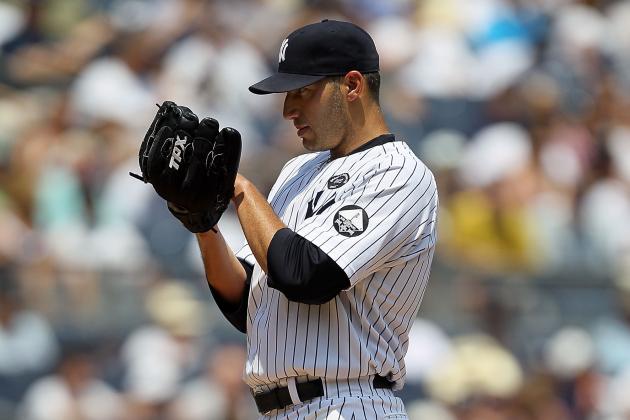 Jim McIsaac/Getty Images
Pettitte, if nothing else, will be remember as a winner
Pettitte ranks third on the all-time Yankees win list with 208 wins, just 13 short of second-place Red Ruffing and 28 short of all-time leader Whitey Ford. Pettitte has won a lot of games in his career and will always be remembered as a winner after he retires.
That's why I am very confident that Pettitte can record his highest win total since 2009. If he makes at least 24 starts, he should be able to win half of them with the way he has been pitching the past two seasons.
Pettitte will be a "stopper" and win 12 big games for the Yankees this season.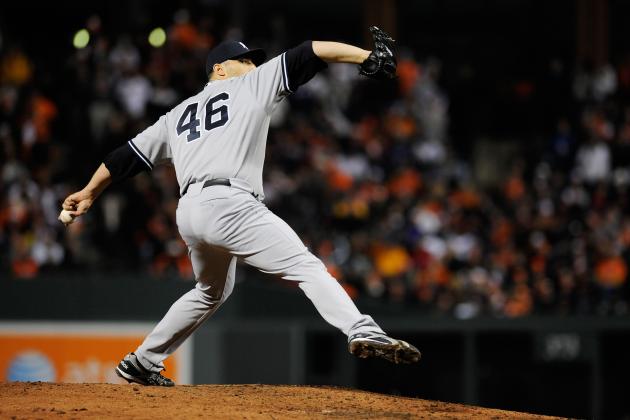 Patrick McDermott/Getty Images
Pettitte has pitched like an ace as he's aged
Pettitte has pitched to a career ERA of 3.86 and has beaten that in each of the past two seasons. Now fully healthy and conditioning for another full season Pettitte should be able to pitch similarly to how he has over his past two campaigns.
He has been incredibly efficient, beating his K/9 career average in his past four seasons and has beaten his career K/BB ratio in three of his past four according to Baseball-reference.com.
If Pettitte stays around the strike zone, he has enough deception and a wide enough array of pitches to keep hitters off balance and keep his ERA under 3.5 for the entire season.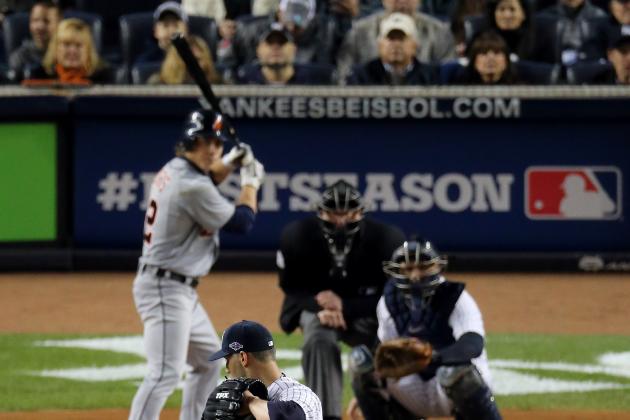 Bruce Bennett/Getty Images
Andy Pettitte has made a name for himself in the playoffs
Andy Pettitte has made 44 postseason starts, winning 19 of them (while only losing 11) with a 3.81 ERA and 183 strikeouts according to baseball-reference.com. His 19 wins are more than any pitcher in the history of baseball in the postseason.
If the Yankees make the playoffs, like they have in every season since 1996 (except for 2008), I fully expect Pettitte to get up for the occasion and become the first pitcher ever to win 20 playoff games.
Always known as a big game pitcher, Pettitte will rise to the top of his game on the biggest of occasions in October and attempt to carry the Yankees back to the World Series.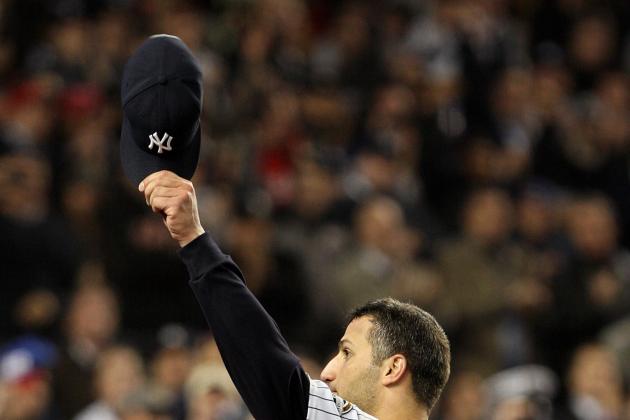 Jed Jacobsohn/Getty Images
Andy Pettitte's career has been Hall of Fame worthy
Despite all of the praise given to him in this piece, Andy Pettitte is human. He is a human being who ages, just like the rest of us (okay, maybe not exactly like the rest of us), but he cannot pitch forever. As Pettitte grows older, so does his arm. Like a car, he doesn't have unlimited mileage.
Pettitte might still have a lot of ability left and be able to get major league hitters out better than most pitchers in their prime, but eventually he will have to call it quits.
Assuming that he doesn't miss most of the season due to injury, Pettitte will want to hang up his cleats at the end of the 2013 season. Like any father, he wants to see his kids grow up, plus the mental exhaustion of travel and training for 15 major league seasons could cause almost anyone to want to quit.
Andy Pettitte has had an illustrious career and will garner serious Hall of Fame consideration when he is eligible. Make sure to tune in to what could and probably will be the final season of one of the greatest Yankee pitchers to ever throw off a mound in the Bronx.