Cesar Gracie Talks Nick Diaz vs. Georges St-Pierre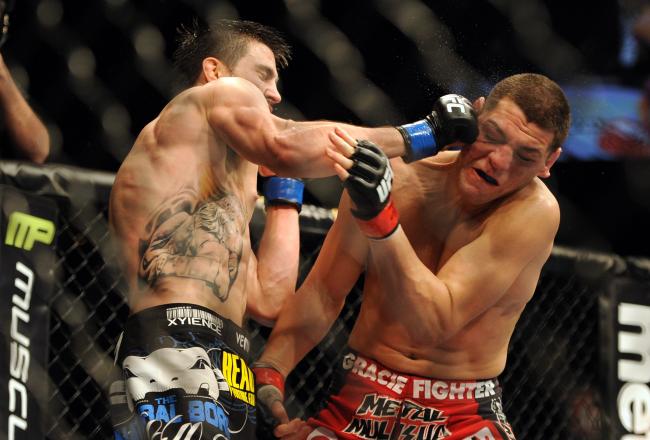 Kelvin Kuo-USA TODAY Sports
It seems like exciting times for Cesar Gracie, manager and coach to the Diaz brothers. Having just taken the younger, Nate, to a title fight against Benson Henderson at UFC on Fox 5 in Seattle last Saturday, Gracie's attention is now fixed on a potential fight between Nick and welterweight champ Georges St-Pierre.
The UFC has been trying to sign GSP up for a superfight with middleweight title holder Anderson Silva, but the Canadian star is said to be more interested in Nick—a man he was supposed to fight earlier this year.
UFC president Dana White broke the news last Thursday, telling reporters (H/T The Globe and Mail) that GSP made the request for Nick after returning from vacation following his welterweight title defence against Carlos Condit at UFC 154 in Montreal.
"One thing is Dana announced it, we never knew about it," said Gracie in an interview with MMA Fighting's Ariel Helwani. "We literally learnt from you guys. It's like all of a sudden people are saying Dana just said this, we kinda got blind-sided by it. We haven't been able to talk to Dana about it."
But, despite the surprise news, it's a fight the Gracie camp clearly wants.
GSP and Nick already have a history. Nick, the former Strikeforce welterweight champ, was brought in to the UFC last year after Zuffa's purchase of the promotion, specifically as a worthy opponent for the unassailable GSP.
With his usual brand of abrasive trash talking, Nick got under GSP's skin—especially when he said the injured Canadian at the time was "too scared" to fight him. Apparently that comment, made after Nick beat BJ Penn in October 2011, sent the otherwise affable GSP into a rage.
The Canadian is said to have demanded a fight against Nick, telling White that Nick was "the most disrespectful human being I've ever met and I'm going to put the worst beating on him."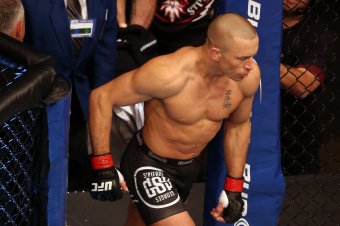 Tom Szczerbowski-USA TODAY Sports
It seems that fire is still burning within him. And, despite potentially the biggest pay-day in UFC history if he steps up against Silva, GSP is focused on Nick.
Nick is still sitting out a one-year suspension after testing positive for marijuana following his fight against Condit, and can't return to the Octagon until February.
He was in Seattle alongside Gracie on Saturday cornering his younger brother Nate in his match against lightweight champion Benson Henderson. Talking about Nate's loss and Nick's potential fight against GSP, Gracie said:
I mean we had a title fight right now so it would have taken the focus away from it and trying to set up another fight just made absolutely no sense. But now that this fight is out of the way we can look at it and 'ok, this is what's going on and let's talk to Dana,' and we're going to probably meet next week and let's put this together is what I'm thinking.
This article is
What is the duplicate article?
Why is this article offensive?
Where is this article plagiarized from?
Why is this article poorly edited?