10 Young NBA Players Exceeding Expectations in 2012-13 Season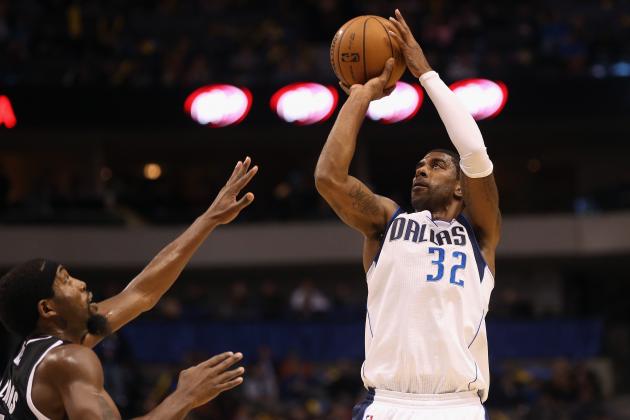 Ronald Martinez/Getty Images
O.J. Mayo has been a revelation so far this season.
The 2012-13 NBA season has already yielded an impressive crop of emerging young players.
Every talent on this list has the potential to be an All-Star one day. For several, that day might come sooner than anyone expected.
Some have taken advantage of new sceneries and injuries to teammates to step up their games, while others have improved entirely on their own behalf.
Between bigger workloads and incredible displays of efficiency, these young guns have pushed their way into the discussion of the most productive players in the league.
Let's break down the burgeoning NBA talent, starting with the less impactful surprises and working our way to the most impactful ones.
*Note: All stats accurate as of Dec. 10, 2012.
Begin Slideshow

»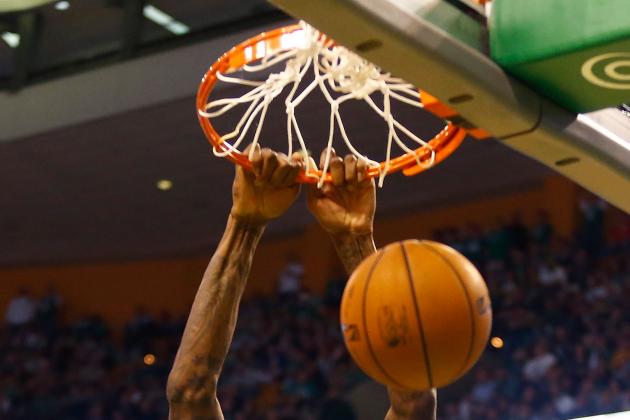 Jared Wickerham/Getty Images
Larry Sanders has been a terror around the rim.
Before we get to the guys getting consistent starter minutes, we need to talk about Larry Sanders.
His base stats don't seem too impressive on the surface. Setting career highs with 7.7 points and 7.6 rebounds per game is not too impressive, but he currently leads the league with 3.1 blocks per game.
Keep in mind, Sanders has only played 23.7 minutes per game thus far. Adjust his stats to a 48-minute scale, and his true worth shines through.
Sanders hasn't been special as a scorer, but his paint production has been phenomenal. With 15.5 rebounds per 48 minutes, he is currently tied with Tim Duncan and Al Jefferson and is a tick ahead of Dwight Howard.
His 6.29 blocks per 48 minutes is even more impressive. Roy Hibbert is second in the category this season with just 4.92.
Though he's seen an uptick in playing time of late, Sanders is still battling for big minutes. When he's seen the court, however, he's been an unforeseen force.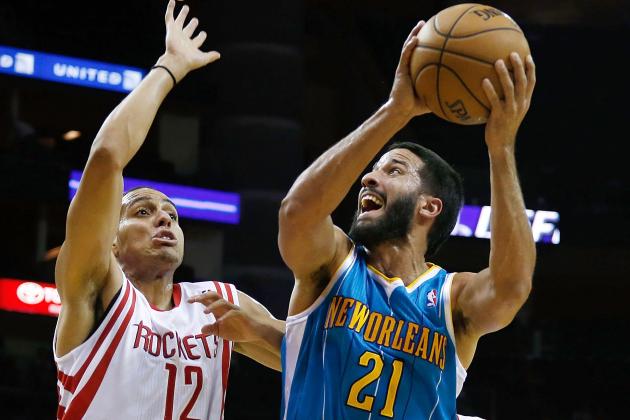 Scott Halleran/Getty Images
Greivis Vasquez has found a niche running the Hornets' offense.
Despite a remarkable college career at Maryland, it did not look like Greivis Vasquez's cagey play would translate to the pro level.
Nevertheless, he has worked hard and found minutes for himself, first with the Memphis Grizzlies and now with the New Orleans Hornets, providing a sound if unspectacular presence when on the floor.
For lack of a true point guard in New Orleans, Greivis has been thrust into a starting role this season. Finally getting starter's minutes, he has churned out 12.4 points and, more importantly, 8.6 assists per game.
For a team with talented big men like Anthony Davis and Ryan Anderson, having a facilitator like Vasquez is essential. He may not be as athletic or shoot as well as some other guards, but he is putting up numbers regardless.
The Hornets probably never expected him to be this caliber of player, but it's not like they're complaining.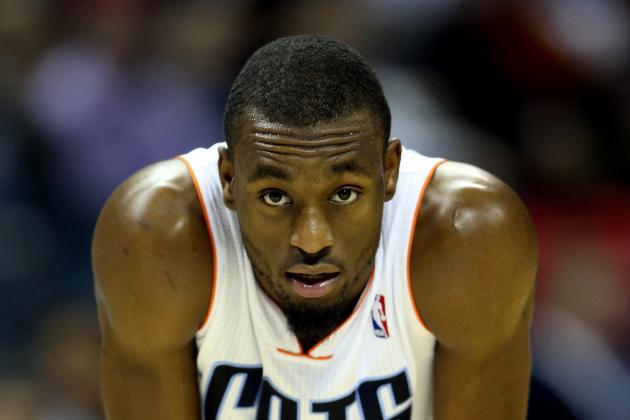 Streeter Lecka/Getty Images
Kemba Walker's scoring has been a boon for the Bobcats.
Kemba Walker's offensive improvement is the textbook example of a player acclimating to the NBA game in his second year.
Just look at his statistical jump from his rookie year to this season. In 66 games last year, Kemba topped 20 points per game just nine times. This season, he's scored at least 20 seven times already.
He has increased his points per game from 13.3 to 17.7, and his .421 field-goal percentage is a nice improvement from his .382 mark last year.
Now let's look deeper into Kemba's stats this season and last, according to 82games.com.
Clearly, Walker is getting to the rim more effectively in his sophomore campaign. Last season, he took a fifth of his shots "inside" (a combination of close-range shots, dunks and tips), but that percentage is up to a third so far in 2012-13.
The Charlotte Bobcats have been starved for a true go-to scorer for basically their entire existence. Walker may not quite be at that level yet, but his progression to that point is under way.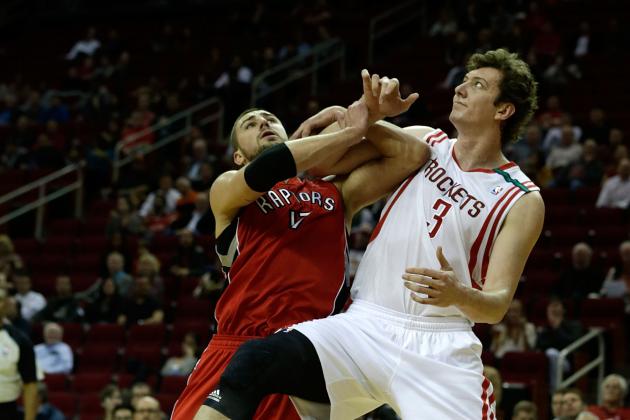 Scott Halleran/Getty Images
Omer Asik's hard-nosed play has been key for the Rockets.
Back when Omer Asik was a defensive specialist for the Chicago Bulls, many wanted to see what he could do with more playing time. Now that he's starting for the Houston Rockets, he's displaying a more well-rounded game than anyone expected.
The defense is still there, of course. If fans were murmering about Asik as an All-NBA defensive candidate back in his time with the Bulls, that talk will only intensify now that he's getting more run.
While statistics cannot fully quantify Asik's defensive impact, they reveal some interesting tidbits about his offensive play. The Turkish big man is averaging a double-double this season, with 10.7 points and 11.4 rebounds per game, a revelation for a guy who had scored about 3.0 per game in Chicago.
Admittedly, his scoring has come with little beauty or skillfulness to it, but production is production. Asik is not a one-on-one threat with the ball in his hands, but he must be accounted for around the basket.
Combined with his stellar defensive play, he is doing all that the Rockets management could have hoped for when they awarded him $25 million in the offseason.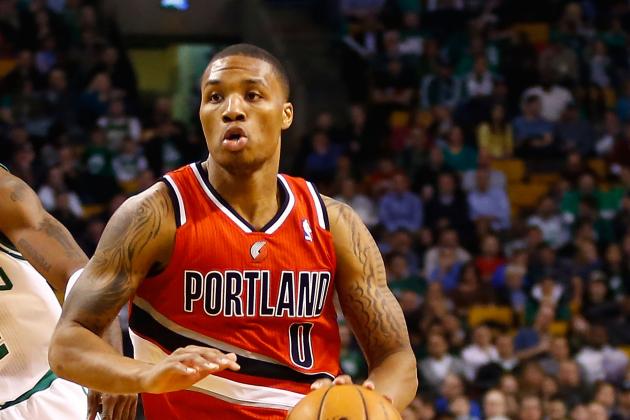 Jared Wickerham/Getty Images
Damian Lillard has jumped out as the Rookie of the Year frontrunner.
Damian Lillard's impact in Portland has come sooner than expected.
The Trail Blazers selected their new point guard with the sixth overall pick in the 2012 draft, and Lillard immediately made good on their investment. With 18.4 points and 6.4 assists per game, he is the team leader in assists and is second in points, trailing only LaMarcus Aldridge.
Granted, Lillard has shown some signs of rawness, particularly when it comes to turnovers. Of the 47 qualified point guards in assist/turnover ratio, Lillard's 2.05 is good for 39th.
For the most part, though, he has come out of Weber State and performed well beyond his years. He has come to pace all rookies in both scoring and dishing, and it doesn't look like he's going to relinquish either lead for the rest of the season.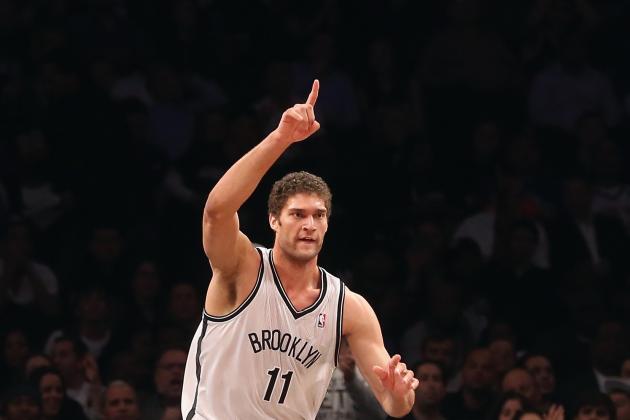 Bruce Bennett/Getty Images
Brook Lopez is doing more with fewer minutes.
What is most impressive about Brook Lopez's season is actually how often he has sat.
After averaging 33.8 minutes per game in his career, Lopez is playing just 29.7 this year. Even with the Brooklyn Nets' newfound depth, Brook has found a way to remain just as productive, if not more so, in less time.
Lopez's rebounding is down this year, from 7.5 in his career to 6.8 through 14 games. On the other hand, his scoring is up to 18.5 from 17.5, in no small part because he is shooting .530 from the field compared to his career .506 percentage.
He is also blocking more shots, taking care of the ball more and fouling less.
Joe Johnson was supposed to be Deron Williams' sidekick in Brooklyn, but so far, Lopez has filled that role capably when healthy.
The Nets have gone just 1-4 since the seven-footer went down with an injury, further illustrating how important he is to the team.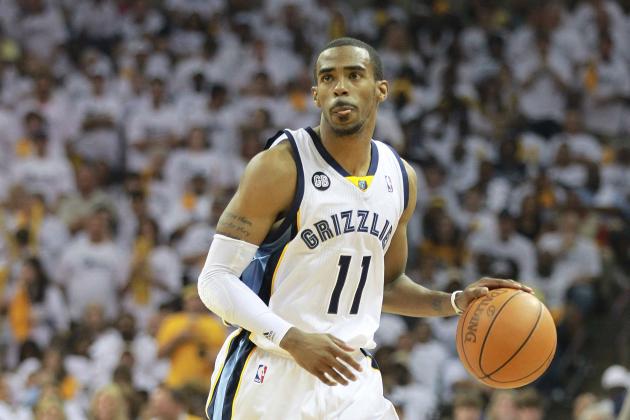 Andy Lyons/Getty Images
Mike Conley, Jr. has been integral to the Grizzlies' success.
Mike Conley, Jr. deserves credit not just for his own play, but for the surprisingly effective Memphis Grizzlies offense.
The Ohio State product is averaging career highs with 14.4 points and 2.6 steals per game, the latter of which is good for second in the league behind Chris Paul.
But the real revelation for Conley is his shooting efficiency. His .459 field-goal percentage and his .446 three-point percentage are both easily career highs. That offensive proficiency gives Memphis a fourth competent scorer and a bona fide three-point threat—something this Grizzlies team has desperately needed in recent years.
That added dimension to the Grizzlies offense has been crucial. Last season, Memphis was tied with the Sacramento Kings in offensive efficiency and in the bottom 10 in the league. The Grizzlies are up to 11th this time around, and the long range abilities of guys like Conley and Quincy Pondexter are a major part of that.
This iteration of the Memphis Grizzlies has developed a reputation for its staunch inside presence. Conley has been instrumental in adding an outside component to the equation.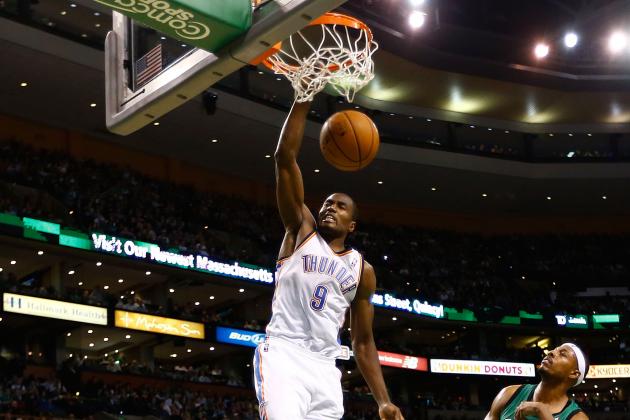 Jared Wickerham/Getty Images
Serge Ibaka has stepped up since James Harden's departure.
Serge Ibaka's offensive strides this season have been essential in the Oklahoma City Thunder's post-James Harden era.
His defensive prowess is never in question. He may not lead the league in blocks this season—he is hundredth of a percent behind Larry Sanders—but his floor positioning and movement have both improved this year.
It might not show up on the stat sheet as it did last season, but this 2012 NBA All-Defensive First Team player seems to be getting even better.
On the other end of the floor, Ibaka is making a more novel impact.
The Congolese big man shot .535 from the field last season, but he only shot enough to score 9.1 points per game. Even without Harden, Ibaka is still OKC's fourth-leading scorer behind Kevin Durant, Russell Westbrook and Kevin Martin, averaging an efficient 14.3 per contest.
How efficient, you ask? His field-goal percentage is up to .592, second to only Tyson Chandler.
It's no surprise that Serge is a difference-maker in the NBA. That he now has an offensive game to complement his defensive presence only makes him stronger.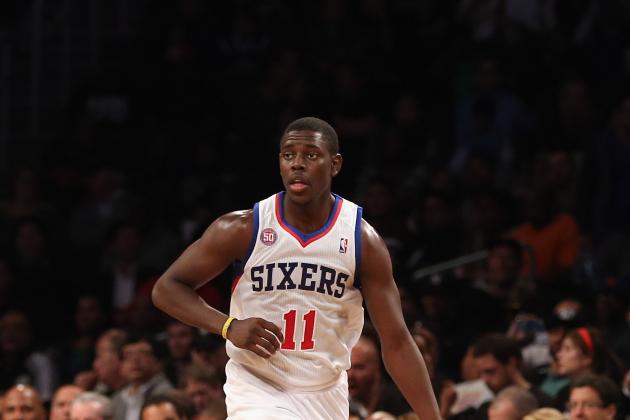 Bruce Bennett/Getty Images
Jrue Holiday is stepping up as the Sixers' top player.
Andrew Bynum's absence is a huge disappointment for the Philadelphia 76ers, but Jrue Holiday is keeping their hopes alive.
Without a star center to speak of, Holiday has had to be Philly's primary scorer. He has responded admirably, increasing his scoring average from 13.5 points per game to 18.0 this season.
What's more important for the Sixers is what Jrue has done to facilitate the offense. Evan Turner and Thaddeus Young have both been capable this year, each averaging over 15.0 points per game, but that's a testament to Holiday's distribution.
It's a rare feat to average 8.9 assists per game as a go-to scorer, but that's exactly what Jrue is doing right now.
There are still some holes in Holiday's game. His numbers are a bit inflated by his 38.4 minutes per game, and his 3.8 turnovers per game could use some work.
Nonetheless, the most important stat is the Sixers' 12-9 record. This team could have capsized without Bynum, but Holiday is turning in a great season to keep the team afloat.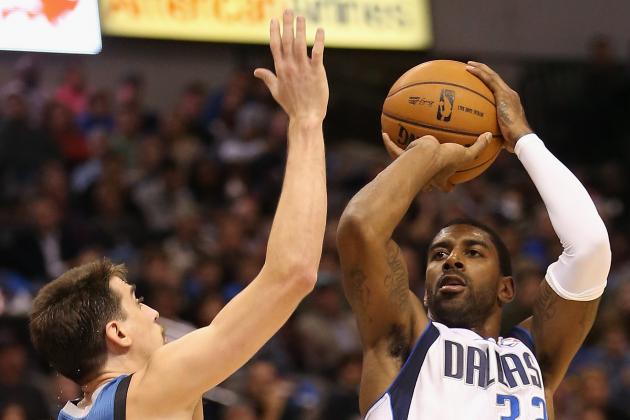 Ronald Martinez/Getty Images
The Mavericks would be lost without O.J. Mayo.
You would expect the depleted Dallas Mavericks to crumble without Dirk Nowitzki, but that is not the case thus far, as O.J. Mayo has kept the squad above .500.
Mayo is doing his best to fill Dirk's shoes and shoulder the offensive burden. He leads Dallas with 20.6 points per game, good for eighth in the league. In doing so, he has shot .487 from the field, and he leads the NBA with a .530 percentage from beyond the arc.
This is remarkable productivity for a guy whom Memphis tried to trade multiple times and whose career averages are 15.6 points per game and a .436 field-goal percentage.
It's a jump from bench scorer to All-NBA shooting guard, and it's saved the Dallas Mavericks' season.
Need proof that the Mavs' fate rests with Mayo? In Dallas' wins, he's scored 25.7 points per game on .541 shooting. In losses, those numbers drop precipitously to 16.0 and .407, respectively.
When he left Memphis, many thought O.J. would be more comfortable on whatever new team picked him up. This caliber of play, however, is beyond any reasonable expectations.