Updated NFL MVP Odds After NFL Week 14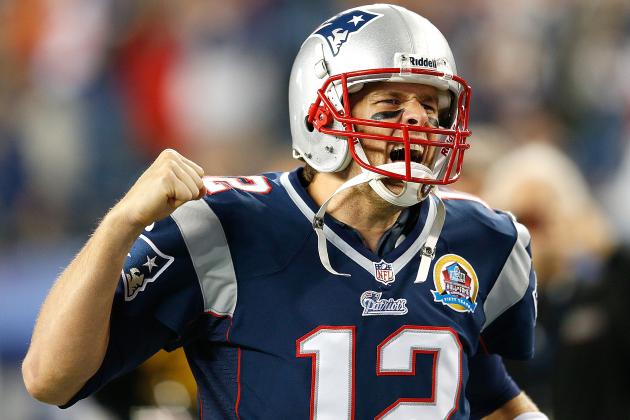 Jim Rogash/Getty Images

Week 14's NFL MVP odds see a pair running backs added to the list. Their accomplishments are often overshadowed by the play of quarterbacks that line up in front of them, but they are both essential to the success of those rookie passers.
Usual defensive representative J.J. Watt faces serious competition from a player closing in on a new single-season sack record.
Near the top of the list, one quarterback showed a return to form, despite suffering only his second loss. Meanwhile, the battle between award favourites Tom Brady and Peyton Manning intensifies, but who has the edge this week?
Here are the updated NFL MVP odds after Week 14.
Begin Slideshow

»
Brace Hemmelgarn-USA TODAY Sports

The Detroit Lions' failure to contend for the playoffs has consistently kept Calvin Johnson off this list. However, it would be remiss not to at least highlight Johnson's staggering statistical excellence this season.
The powerful wide receiver comfortably leads the NFL with 1,546 yards on 96 receptions. That is despite routinely drawing considerable attention from opposing coverage schemes.
Johnson has the strength, smarts and athleticism to destroy double-teams, as he proves week after week. His 16.1 yards per reception prove he is still a potent big-play threat.
Given how much the Lions have self-destructed this season, Johnson's outstanding year will not be rewarded with MVP. Yet for individual achievement, the six-year wideout is certainly a deserving candidate.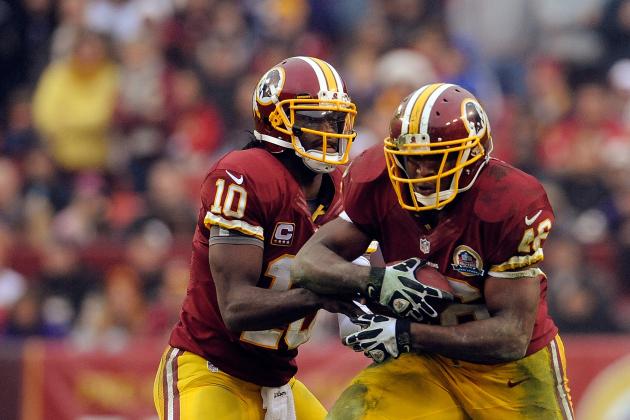 Patrick McDermott/Getty Images

Dual-threat quarterback Robert Griffin III will continue to dominate the headlines. However, fellow Washington Redskins rookie Alfred Morris deserves more attention.
Consider the numbers: Morris has rushed for 1,228 yards after 13 games. He is averaging 4.9 yards per carry and has scored seven touchdowns.
The sixth-round pick has become the latest find to excel in head coach Mike Shanahan's zone-running scheme. Yet as effective as Shanahan's system is, it should not cheapen Morris's rookie achievements.
The ex-Florida Atlantic prodigy has six 100-yard rushing games to his credit, including three in his last three games. If he keeps producing at that rate, Morris will have the numbers to justify contending for MVP.
He may only ever be considered a footnote to Griffin, but Morris is just as valuable to the Redskins offense.
He was a sleeper pick coming out of the draft and has reprised that role in the MVP race.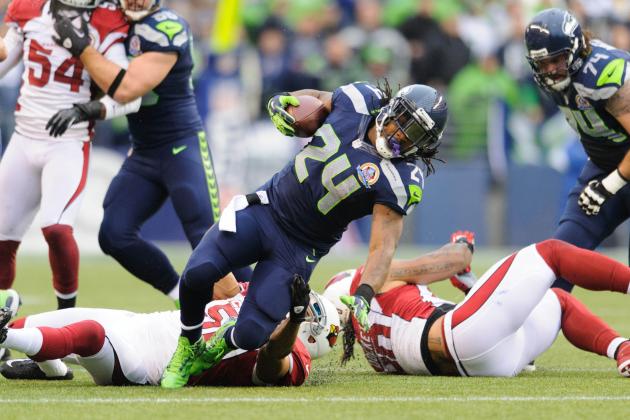 Steven Bisig-USA TODAY Sports

Bulldozing running back Marshawn Lynch is the driving force behind the Seattle Seahawks offense. While rookie quarterback Russell Wilson has drawn attention, Lynch has been a consistent workhorse.
Lynch's 1,266 yards and nine rushing touchdowns merit his position on this list. That's after he battered the Arizona Cardinals for 128 yards and three scores in Week 14. His 11.6-yard average on 11 carries was outstanding.
Lynch's fine season has been justifiably overshadowed by the excellence of Adrian Peterson. However, the smash-mouth runner is just as valuable to the Seahawks as Peterson is to the Minnesota Vikings.
Odds: 50-1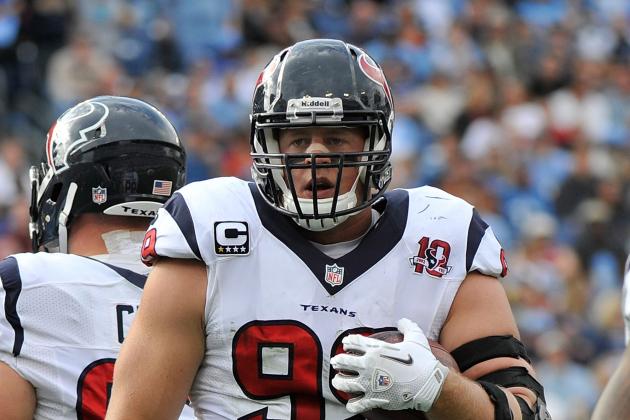 Frederick Breedon/Getty Images

J.J. Watt has dominated offenses this season in a way few defensive linemen have before him. His 16.5 sacks and 15 defensed passes are phenomenal statistics for his position.
On the outside, Watt commands double-teams and creates pursuit lanes for linebackers. His 64 tackles show he is also beating blockers and stuffing the run.
When he slides inside, Watt is almost guaranteed to crush the pass pocket and get pressure. Just ask Tom Brady. That versatility is essential to the Houston Texans defense.
Defensive players do struggle to win league-wide MVP, yet not many defensive players put up numbers as good as Watt's.
Odds: 30-1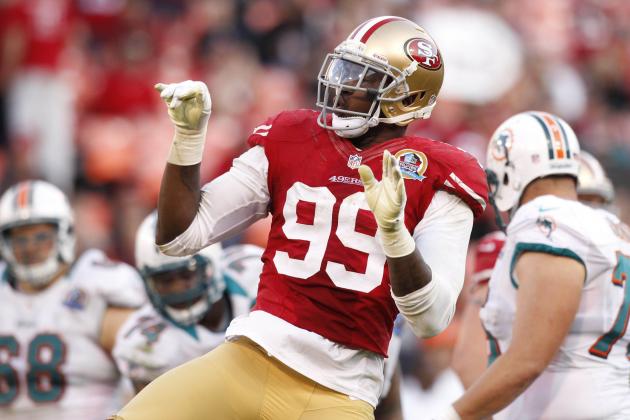 Cary Edmondson-USA TODAY Sports

If there's one defensive player who threatens to outperform Watt, it is Aldon Smith. The San Francisco 49ers rush end is rapidly closing in on the all-time single-season sack record.
In Week 14, Smith took his tally to 19.5 in a fine two-sack performance. He has surpassed Justin Smith and Patrick Willis as the dominant playmaker on San Francisco's superb defense.
Smith possesses the length, range and speed to defeat any blocking scheme. Three forced fumbles and the general destructive effects of his consistent pressure make Smith a more potent force than Watt.
However, that could soon change. The battle for defensive supremacy between Smith and Watt is as intriguing as the duel between Brady and Manning.
Odds: 30-1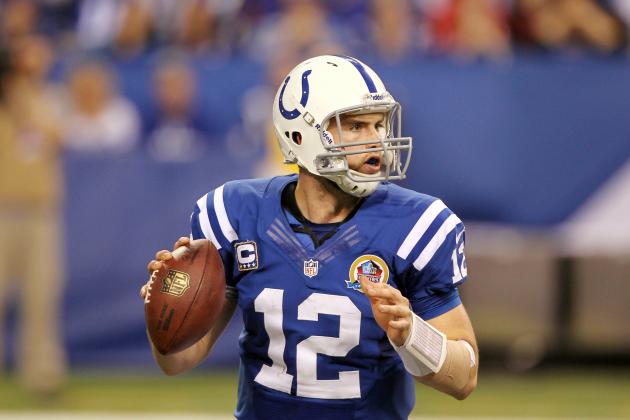 Brian Spurlock-USA TODAY Sports

A modest statistical showing in Week 14 sees first overall pick Andrew Luck drop down the list. The Indianapolis Colts rookie passer endured some struggles against the AFC South rival Tennessee Titans.
He completed 16 out of 34 passes for a mediocre 47.1 completion percentage. That led to only 196 passing yards and a mere 5.8 yards per completion.
Luck also threw two more interceptions, giving him 18 so far this season. He occasionally wilted in the face of a Titans pass rush that registered four sacks.
However, despite average numbers and rookie mistakes, Luck did what he's done most of the season: win. His 18th touchdown pass of the season pushed the Colts' record to 9-4.
Putting a team that was 2-14 in 2011 on the brink of the playoffs in 2012 keeps Luck in the MVP hunt.
Odds: 20-1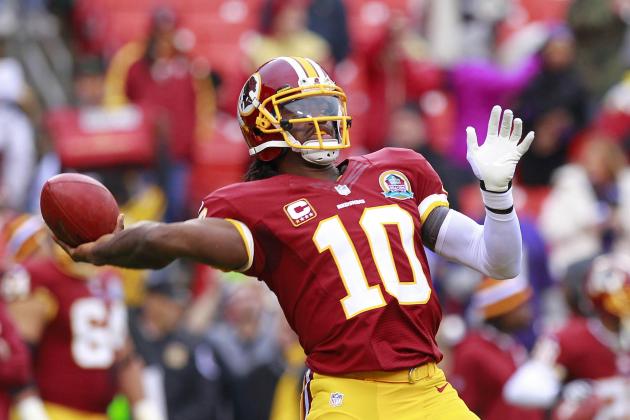 Geoff Burke-USA TODAY Sports

Robert Griffin III limped off the field before the Washington Redskins defeated the Baltimore Ravens. However, before he did, Griffin contributed 280 total yards and threw his 18th touchdown pass.
That helped the Redskins eventually earn their seventh win of the season. Washington's entire offense is based around Griffin's athleticism and play-action skills.
His 18 touchdowns to only four interceptions show Griffin is as efficient as he is productive. His 2,906 passing yards pale in comparison to Andrew Luck's 3,792, but Griffin's 104.2 quarterback rating dwarfs Luck's 74.5 figure.
While many of Griffin's big plays are manufactured by scheming, that scheme is only possible because of his skill set.
That combination has the Redskins still in the hunt for the playoffs.
Odds: 18-1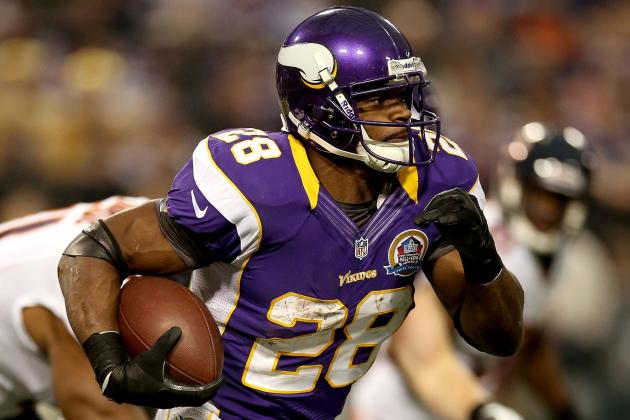 Matthew Stockman/Getty Images

With numbers like 1,600 rushing yards, six yards a carry, 10 rushing touchdowns and eight games with 100 yards or more, Adrian Peterson has shown no hint that his awesome production will decline.
Week 14 saw Peterson once again torment the normally stout Chicago Bears defense. After rushing for 108 yards against the Monsters of the Midway in Week 12, Peterson added 154 more this past week.
Those yards and two rushing touchdowns tamed the Bears and kept the Vikings' playoff hopes alive. Peterson is almost certain to eclipse his career-best 2008 season, and his MVP odds are increasing each week.
15-1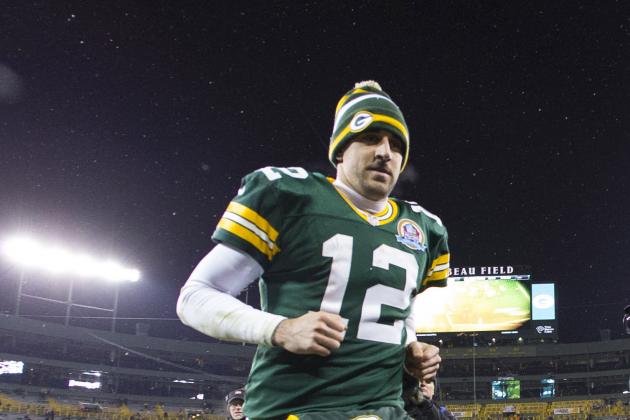 Jeff Hanisch-USA TODAY Sports

Aaron Rodgers was steady against the Detroit Lions, but nothing more. His numbers were modest, showing only 173 passing yards and no touchdowns through the air.
However, Rodgers did not toss an interception, despite heavy pressure from the Lions defense. He also rushed for a touchdown and made key plays when it counted.
Rodgers still has 29 touchdown passes and a 103.7 quarterback rating to his credit. That will keep him in the mix for MVP.
But he has not reached 300 yards passing since Week 7.
Odds: 11-1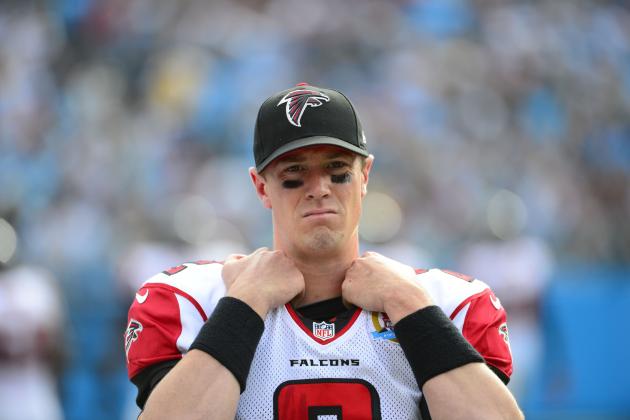 USA TODAY Sports

The Atlanta Falcons suffered defeat in Week 14, but quarterback Matt Ryan did all he could to avoid it. He was back to his prolific, big-play best against the Carolina Panthers.
Ryan threw for 342 yards and a pair of touchdowns. That gives him 24 touchdowns and 3,932 yards for the season.
The Falcons offense has lost its way in recent weeks, and that has been partly due to Ryan. If he can get Atlanta's passing game back on track, the Falcons could still prove their many doubters wrong.
That could also be enough to key a late swoop for MVP.
Odds: 8-1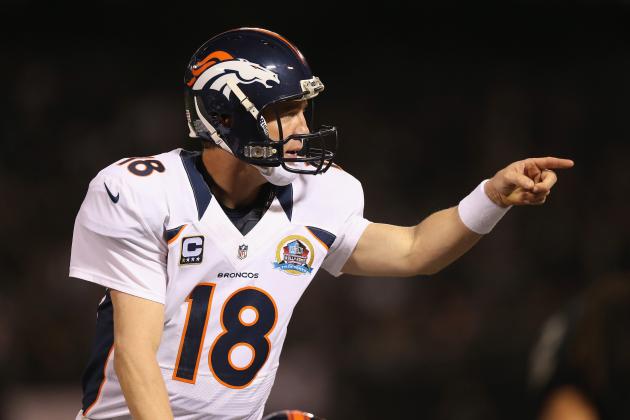 Ezra Shaw/Getty Images

Firing his 30th touchdown pass of the season last week kept Peyton Manning as one of the two main contenders for MVP.
Manning's scoring pass came against the Oakland Raiders, as part of a 310-yard performance. Manning is working with different personnel, but still directing the same precision, quick-strike offense he led in Indianapolis.
That makes the Denver Broncos a major force in the AFC. It also means Manning has a great chance to scoop his fifth NFL MVP award.
Odds: 4-1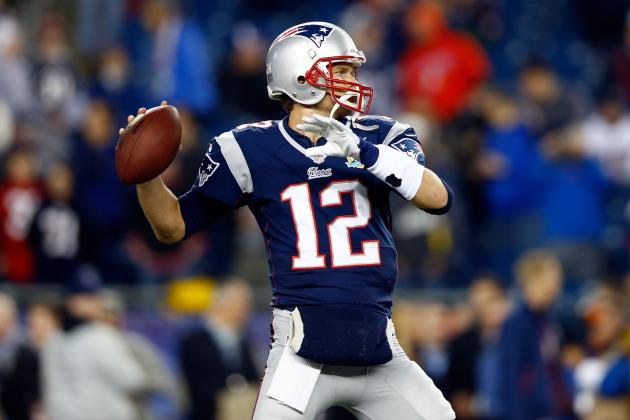 Jared Wickerham/Getty Images

A truly balanced offense has put Tom Brady back to his very best. The Houston Texans learned that harsh lesson in Week 14.
The Texans brought the blitz, as they so often do. However, Brady is patient and efficient enough to weather the pressure and expose the gaps in coverage when they arise.
That would not have happened a season ago. That is because Brady did not have the running game he has this season.
He has become a master of knowing when to use the run against defenses that still focus on stopping the pass. The results have been exceptional, but only because Brady is smart and accurate enough to take advantage of this balance.
Against the Texans' aggressive defense, Brady hurled four touchdown passes and protected the ball once again. He has now thrown 29 touchdowns, compared to only four interceptions.
He has improved the speed of his release, and even at 35 his arm strength remains impressive. As the focal point of the NFL's most devastating offense, Brady remains a firm favorite for MVP.
Odds: 3-1