Surprising NBA Teams on Pace to Shake Up the Postseason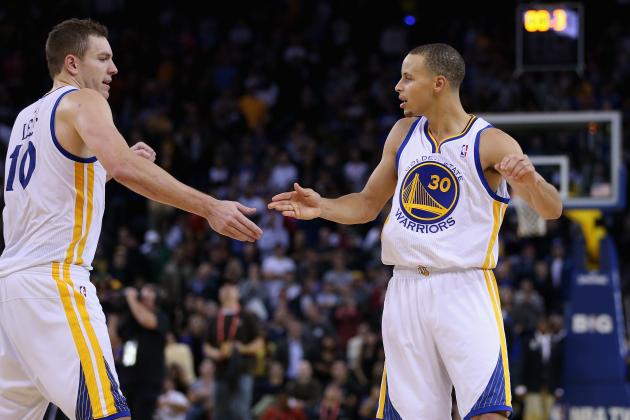 Ezra Shaw/Getty Images

In each NBA season, certain teams are usually a lock to make the playoffs. This group includes the San Antonio Spurs, Miami Heat and Boston Celtics, among others.
Then, every year, there are the small handful of teams that come out of nowhere and perform well, either from start to finish or over the final month of the season. The 2012-13 season is only a little over a month old, but the surprise teams of the year are already starting to fall into place. Come playoff time, they will be the ones to watch against the more experienced squads.
One group that immediately comes to mind is the Golden State Warriors, who have found their balance and are making a lot of noise in the Western Conference. Their defense is starting to perform on the same wavelength as the offense, and the fans are roaring as a result.
Once the postseason rolls around, they and other surprising teams will start to establish themselves as the new generation of playoff basketball.
Note: All records and stats are accurate entering play on Monday, Dec. 10.
Begin Slideshow

»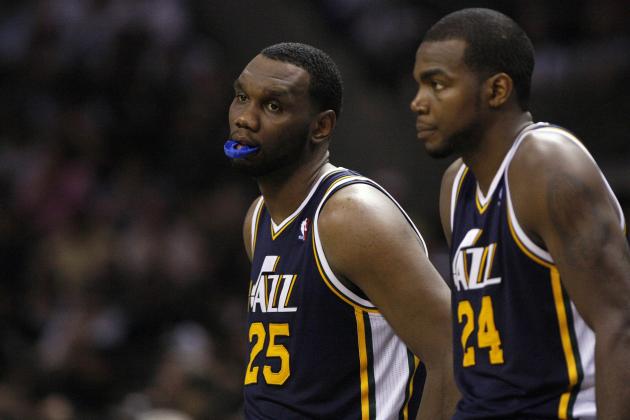 Soobum Im-USA TODAY Sports

Record: 12-10
Utah is currently on a three-game winning streak and has the recipe to play some great basketball for the remainder of the regular season. Head coach Tyrone Corbin has two different sets of twin towers, providing for some incredible play in the paint.
First, he has Al Jefferson and Paul Millsap, both of whom are sure to attract a lot of attention when they hit free agency this coming summer. Jefferson is the prototypical center at 6'10", 289 pounds, and he is coming into his own as both a rebounder and shot-blocker. Millsap is smaller at 6'8", but at 253 pounds, has the makings of a viable power forward who will improve a team's defense in a heartbeat, be it Utah's or that of another team down the road.
Backing these two up are Derrick Favors and Enes Kanter, both of whom are slowly starting to establish themselves as the future of the Jazz. Favors has the length at 6'10", 248 pounds and is gradually becoming a good shot-blocker and offensive force as well.
Kanter, on the other hand, is something special. He has great size at 6'11", 267 pounds and recently showed just what he could do if given enough playing time. Over the final month of the season, look for him to get plenty of it as the Jazz make that final charge.
Throw in a good backcourt courtesy of Mo Williams and Gordon Hayward, and Utah will be playing some fine jazzy tunes come playoff time.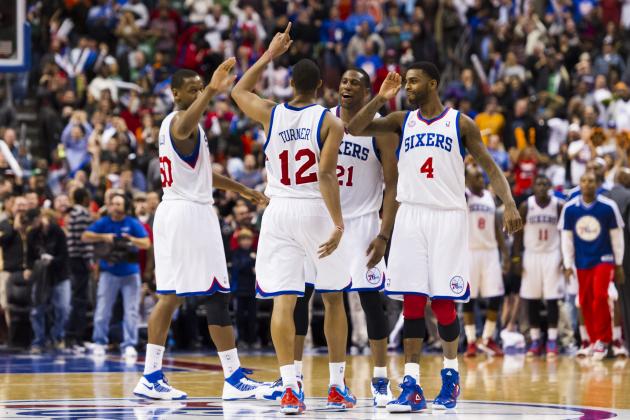 USA TODAY Sports

Record: 11-9
The Sixers got off to a hot start last season, only to crumble towards the end of the regular season due to their lack of a conventional star. They appeared to have their new star this year when they acquired Andrew Bynum in the Dwight Howard trade, but he has yet to appear in a game due to balky knees.
Philadelphia has not let that stop it this season. Sure, it is still a young and inexperienced team, but players are starting to step up in the absence of Bynum, notably two starters.
The first is point guard Jrue Holiday, who is having an All-Star-caliber season. Not only is he averaging 17.7 points per game, but he is also posting nine assists and 1.4 steals. Being 6'4" allows him to create great mismatches at the point, and his game will only continue to grow as the season progresses.
Helping Holiday out is third-year forward Evan Turner, finally reaching his potential after being drafted second overall in 2010. He is turning into a reliable point forward, but also is not afraid to take control on offense. Over his last five games, the former Ohio State Buckeye is averaging 19 points and 6.4 rebounds per game while shooting 46 percent from long range.
Philadelphia is also blessed with incredible depth, having fine shooters in Nick Young and Dorell Wright and a big man who can stretch the floor in Spencer Hawes.
Maintaining consistency will be the key to how well this young team performs down the stretch, but it has the drive and determination to do so. Once the playoffs start, it will show everyone that what they saw over the regular season was just the tip of the iceberg.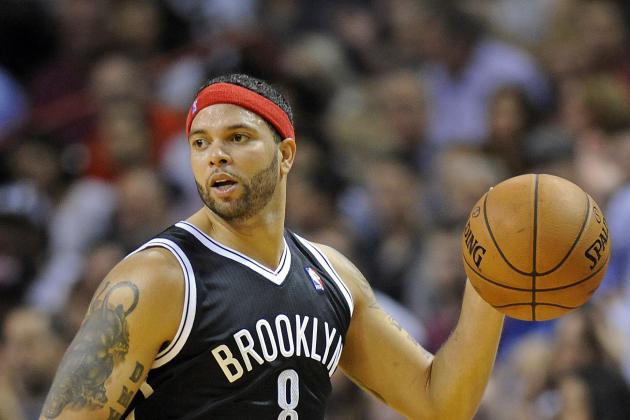 USA TODAY Sports

Record: 11-8
The Nets have a new home and a new identity, and they've played some great basketball despite being on a four-game losing streak. Led by point guard Deron Williams, the team has one of the most balanced lineups in the NBA. Joe Johnson provides solid scoring at the 2, and Gerald Wallace provides tough and pesky defense, along with some three-point shooting, at small forward.
Even center Brook Lopez is starting to come into his own this season, averaging 18.5 points, 6.8 boards and 2.5 blocks per contest. What makes Brooklyn all the better in the paint is having rebounding machine Reggie Evans coming off the bench and averaging 8.2 boards in 19.9 minutes, not to mention Andray Blatche averaging 11.2 points and 6.6 rebounds in a reserve role as well.
The Nets' bench gets even deeper with 38-year-old Jerry Stackhouse serving as the second unit's primary shooter. He has made 43 percent of his threes this season and is turning into an ageless wonder.
Granted, this Nets squad has not been playing together long and is unlikely to win a championship this year, but one thing is certain; they will make the playoffs and will not be eliminated without a fight.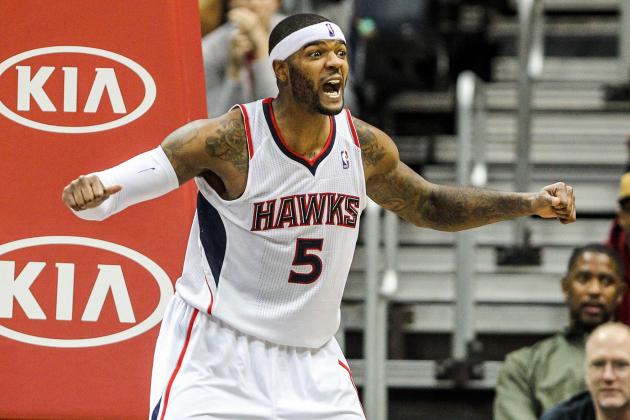 USA TODAY Sports

Record: 12-5
There is no NBA team hotter than the Atlanta Hawks right now. They have won nine of 10 and will take their new-and-improved play to Miami Monday night to face the defending-champion Heat.
Even more incredible is that Atlanta has performed this well without a top scorer. Joe Johnson was sent to the Nets over the summer, and Josh Smith has taken over on offense while also playing some magnificent D. On the season, he is averaging 17 points, 8.4 rebounds and 2.1 blocks per game.
The Hawks can also thank new sixth man Lou Williams for helping them keep pace both in the Southeast division and Eastern Conference. He is averaging 14.2 points per game off the bench and has also played some solid defense.
The only knock against Atlanta is that besides Williams, it doesn't have much depth outside of shooters Kyle Korver, DeShawn Stevenson and Anthony Morrow. In the playoffs, this could come back to bite them. Just the same, head coach Larry Drew runs an isolation offense that demands nothing but the best from everyone from point-man Jeff Teague to center Al Horford.
It's rare to see such a commitment to shutting the other team down, and Atlanta will have an advantage in the defense department throughout the postseason, where it can expect to go far if everyone stays healthy.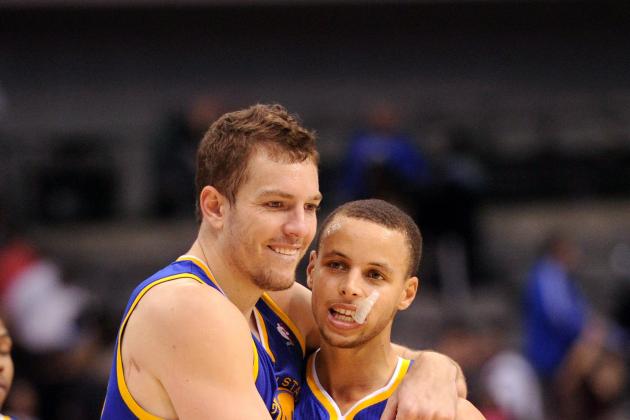 Jerome Miron-USA TODAY Sports

Record: 13-7
Golden State may not have star center Andrew Bogut for a while longer, but that hasn't stopped it from playing great basketball under second-year coach Mark Jackson. Point-man Stephen Curry's ankle injury has become a thing of the past, and he is back at peak production, averaging 19.7 points to go with 6.5 assists and 43-percent three-point shooting.
Helping Curry out is second-year sharpshooter Klay Thompson, who is starting to get over some early-season struggles and finally finding his shot. Harrison Barnes is still learning the system, but will definitely be a solid contributor down the road.
Curry's most important go-to guy, however, has been forward David Lee. The former Florida Gator has averaged 18.5 points to go with 11.3 rebounds and has built a great relationship with his point guard. Even rookie Festus Ezeli has done a fine job stepping up in the absence of Bogut, providing a great presence in the low post.
The Warriors are still a young team with a lot to learn about playing amongst elite teams, but the fact that they have taken full advantage of the Los Angeles Lakers' struggles and currently stand in second place in the Pacific division says it all.
This team will not back down from a fight and refuses to give up until the final buzzer. In the postseason, that attitude will help it make a great deal of noise and possibly shake up the Western Conference food chain.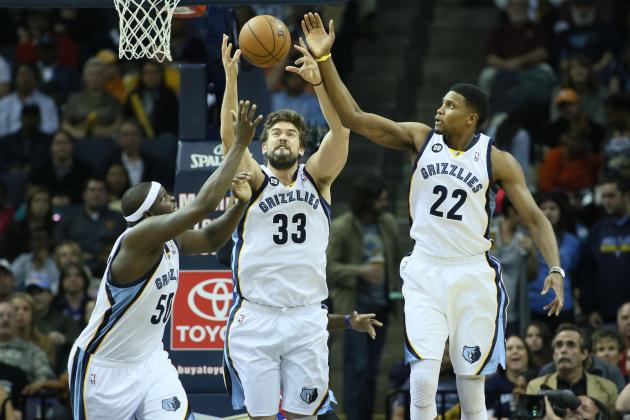 Nelson Chenault-USA TODAY Sports

Record: 14-4
The Grizzlies have shown tremendous improvement over the past few seasons, but nobody could have expected them to be battling the San Antonio Spurs for the top spot in the Southwest division this season. The team ranks first in points allowed per game at 91.2 and has one of the best young lineups in the NBA.
Forward Rudy Gay leads the way as Memphis' top scoring option, averaging 19 points and 6.3 rebounds per game. He is turning into a fine scoring forward and also is a good defender, and at age 26, has plenty of productive years ahead of him.
Boosting Memphis' case of making some noise in the playoffs is the much-improved play of Zach Randolph, who has been a double-double machine all season. Rather than focus solely on scoring and taking rebounds as they come, he has started going after every loose ball and is now averaging 12.9 boards per game.
Center Marc Gasol surely appreciates this, as he can certainly use the extra help on defense.
Even point guard Mike Conley has improved this season, averaging a career-best 14.4 points and 6.3 assists per game to go with 2.6 steals. He also happens to be shooting an astounding 45 percent from three-point range.
The fact of the matter is that while Memphis is young, it is going to be the team to beat in the playoffs. It may not have much depth beyond its starters, but will fight tooth and nail to be the last team standing. Against more experienced teams like the Spurs and Thunder, it will prove to be a tough opponent.