Alabama Football: 5 Tide Starters Who Would Be Second String for Notre Dame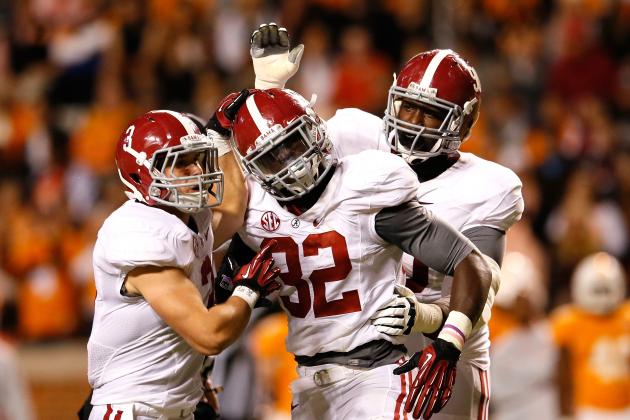 Kevin C. Cox/Getty Images

The Alabama Crimson Tide are set to take on the Notre Dame Fighting Irish in the BCS National Championship game this January. The Tide are assumed to have the better roster, but there are at least five starters for Alabama that would play second fiddle at Notre Dame.
The Alabama defense has been smothering all season, but there are a few players that are not nearly as potent as their Irish counterparts.
The Crimson Tide have fielded a better offense than the Irish all season, but a number of injuries leave the Tide searching for playmakers on the outside.
Looking ahead to the national title game matchup in Miami, here are five players that would fall to second string if they landed in South Bend.
Begin Slideshow

»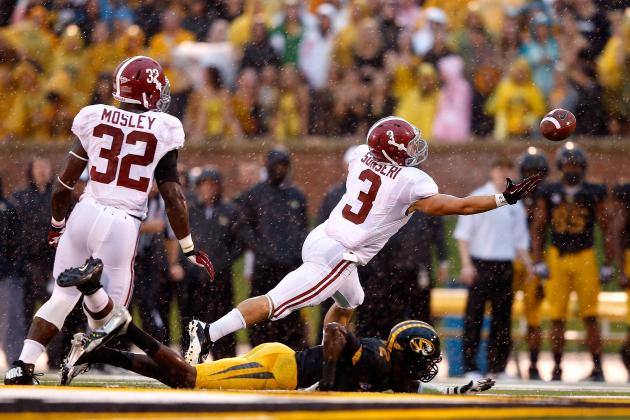 Jamie Squire/Getty Images

Vinnie Sunseri is a sophomore on the Alabama defense who is one of the lesser known stars on the Crimson Tide defense.
He stepped into a tough role for Alabama, trying to fill in for the departed Mark Barron, and has done a decent job for the Tide, but when compared to Notre Dame's Zeke Motta, Sunseri struggles to carry his weight.
Motta doesn't have the top-end speed of Sunseri, but he is a hard-hitting, regulating strong safety that has helped the Fighting Irish make an undefeated run in 2012.
If the two were to battle for a starting role, Motta would get the nod.
Crystal Logiudice-USA TODAY Sports

Trey DePriest is a rising star for Alabama at linebacker, roaming the center of the field and helping the Crimson Tide become the No. 1 run defense in the country.
There have been a few mistakes by the sophomore this season, but those are expected from a player who is learning the system as the season progresses. DePriest has been consistent, but the Tide will hope for more production as he progresses in the coming years.
If DePriest had to battle Manti Te'o for his position, Te'o would obviously get the nod. The senior was a Heisman finalist and has put together an amazing year for an inside linebacker.
DePriest has a lot of growth ahead over the next two seasons, but today he takes second seat to Manti Te'o.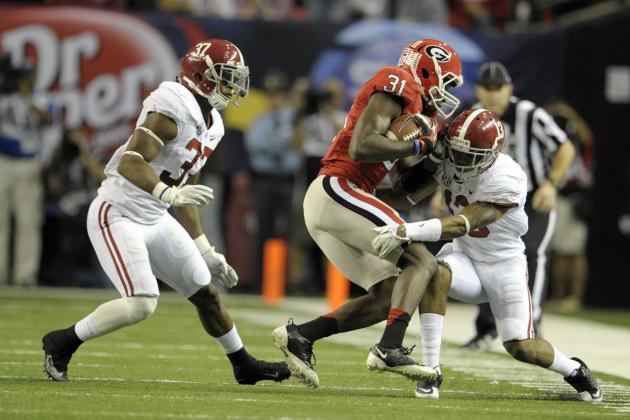 USA TODAY Sports

The Crimson Tide rely on physical cornerback play for the 3-4 scheme to thrive on an every Saturday basis. The Tide corners are on islands often and must outplay their receiver consistently.
Belue has been a smothering corner all season, but Bennett Jackson has been better for Notre Dame. Belue is a strong performer, but Jackson is a better shutdown corner.
Jackson has faced a number of top-level talents this year for Notre Dame and excelled. Belue has been good, but there have been a number of missed plays, including big whiffs in the SEC title game.
Belue has a bright future ahead for Alabama, but at this point he is outshone by his Fighting Irish counterpart.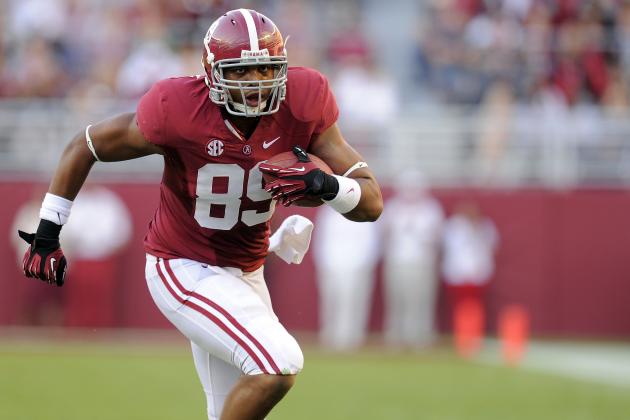 John David Mercer-USA TODAY Sports

As a tight end Michael Williams has been disappointing for Alabama over the past four years. He was expected to come in and be a major part of the Crimson Tide offense, but he has fallen far short of expectations.
Notre Dame tight end Tyler Eifert has been better than advertised for the Fighting Irish offense this year. Without Eifert's efforts in the passing game, this team is nowhere near the BCS national title game.
Williams would be a clear choice for No. 2 behind Eifert if they were to land on the same roster. It will show when they take the field in January.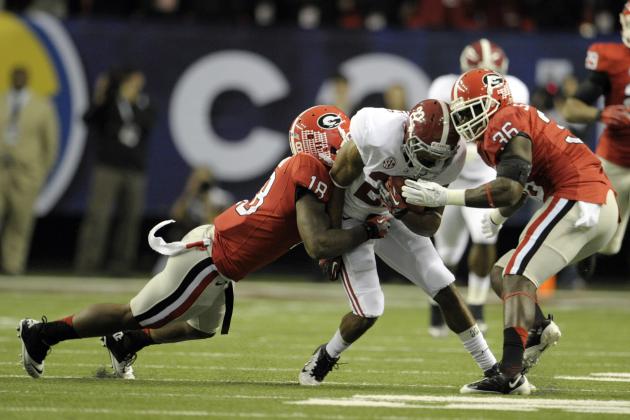 USA TODAY Sports

Christion Jones has been forced into a starting role after a number of injuries have plagued the Alabama receiving corps.
The Tide will head into the national title game with a few less bullets than expected and will hope that Jones can step up where guys like Kenny Bell stepped out.
While Alabama is happy with its roster, the Tide wouldn't turn down the opportunity to bring in a guy like Notre Dame's T.J. Jones. Jones has been a leader for the Irish offense catching multiple passes in every game this year.
Jones isn't the Irish's top target, but he is one of the best secondary threats in the country. If the Jones' went head to head, T.J. would win out.