5 Facets of Kyrie Irving's Game NBA Fans Are Most Excited to See Return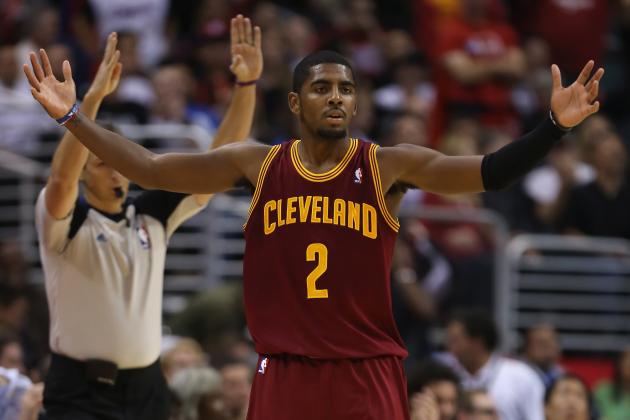 Jeff Gross/Getty Images

Kyrie Irving's return is upon us. Finally.
According to Jason Lloyd of the Akron Beacon Journal, Irving is set to return from a left index finger fracture against the struggling Los Angeles Lakers.
Kyrie returned to practice today, expected to play tmrw vs Lakers. #Cavs

— Jason Lloyd (@JasonLloydABJ) December 10, 2012
While that's anything but good news for the point guard-challenged Lakers, the rest of us are excited to see Irving, in all of his explosive glory, attempt to lead a reeling Cleveland Cavaliers team back to relevance.
Obviously, Irving is no Derrick Rose—not yet anyway—but he captivates the masses with his crafty basketball stylings.
The same stylings that won him the NBA's Rookie of the Year award only last season. The same ones that often make us forget he's only in his second season.
And yeah, the same ones we have so sorely missed over Cleveland's last 10 games.
All stats in this article are accurate as of December 9, 2012.
Begin Slideshow

»
Kyrie Irving is fast. Like really fast. Like John Wall, watch out fast.
If you turn your attention to the video embedded above, you'll see that Irving nearly goes coast-to-coast while not only managing to pass Arron Afflalo—then of the Denver Nuggets—but also dribbling through the heart of the opposition's defense for an easy two.
All in about five seconds.
How is that not impressive? I mean somehow, the NBA seemed much slower knowing that Irving wasn't relentlessly running the court on a nightly basis.
Luckily, though, for a Cleveland team averaging just 11.2 fast-break points per game—eighth lowest in the league—that's all about to change.
Because Kyrie "I won't ever stop running" Irving is back.
Not enough is made of Kyrie Irving's spectacular court vision.
Prior to being relegated to the sidelines, the point guard was averaging a modest 5.6 assists per contest. Though that hardly screams Rajon Rondo-esque facilitating, and while he was coughing the ball up 4.1 times a night, he remains one of the best creators off the dribble in the league.
Irving is also assisting on 32.1 percent of the Cavaliers' baskets when he's on the floor, the 12th-highest mark among point guards who average more than 25 minutes per game.
His assist-to-turnover ratio (1.37) may not always support it, but the kid can pass. Especially in traffic.
Toss in his penchant for embracing the long-lost art known as the bounce pass, and you have a high-octane point guard who is capable of turning a well-placed pass into a ferocious highlight reel.
As you watch this, bear in mind that Iman Shumpert is one of the best perimeter defenders in the game.
I point that out to you because as you watch Kyrie Irving cross him up and break his ankles so effortlessly, it's easy to forget that.
Given that Irving is one of the most ambidextrous players in the league, it's no surprise that he's so dangerous off a crossover. But this is insane.
He's extremely deft at selling the fake to the weak side, putting not just his head, but his entire body into it. From there, he manages to cross the ball over so close to his feet that it doesn't even give the defender—or in this case, Shumpert—an opportunity to pick his pocket as they're falling down.
There's a reason nearly one-third of Irving's 17.5 shot attempts come at that rim, and that's because he's able to get to the rim.
And he's able to get to the rim with such frequency because of his awe-inspiring crossovers.
Excited yet?
Let's face it: A prolific crossover isn't enough. Not for a point guard who has drawn comparisons to Chris Paul.
As previously mentioned and statistically proven, Kyrie Irving is able to get in the paint with such ease and frequency that it's partially mind-boggling.
That said, it's not always so easy. Sometimes, a crossover alone won't do the trick.
Enter Irving's spin move.
Not only is he able to attack the basket from all angles, but he's so comfortable doing so that it doesn't matter if he's facing the most impenetrable of interior defenses.
Why?
Because he'll spin right or left if he needs to. It doesn't matter if it's in an attempt to reach the rim or in the hopes of creating space to get off a jump shot—Irving spins to get it open.
And (spoiler alert), he does a damn good job of getting open.
When Kyrie Irving wants to get to the rim, it's difficult to stop him.
Heck, even when you foul him in hopes of simply earning the basket, it's hard to stop him. Just ask Stephen Curry.
Irving is one of the most composed floor generals in the league. He can score with both his right and left hand, and he boasts an extensive hang time that allows him to not only draw contact, but also make midair adjustments.
In fact, 4.5 percent of Irving's field goals culminate in and-ones. If you're wondering how that shapes up, that's more than Chris Paul's (0.5) and Deron Williams' (1.4) percentages combined. It's greater than Russell Westbrook's posting of 3.4 as well.
The fact that he's shooting over 82 percent from the foul line and 61.1 percent at the rim this season doesn't hurt his and-one cause either.
I don't know about you, but I cannot wait to see this contact-drawing and converting connoisseur back in action.