Dominoes That Will Fall After Zack Greinke, Michael Young, James Shields Deals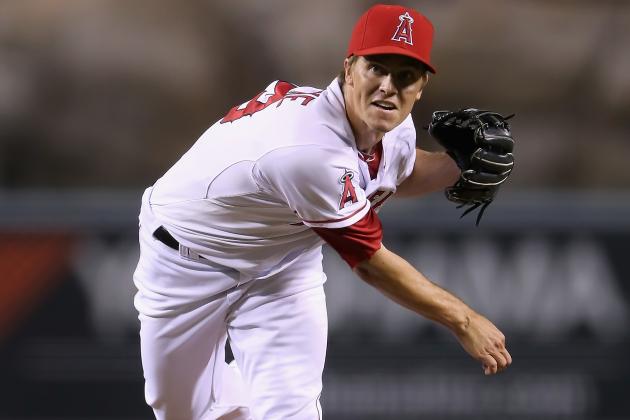 Jeff Gross/Getty Images

This past weekend saw tragedy strike the Dallas Cowboys, Manny Pacquiao get knocked out and the Heisman Trophy go to a freshman for the first time ever.
Nonetheless, MLB managed to snag its fair share of headlines. All it took was a series of earth-shaking transactions.
Much of the madness went down on Saturday. Zack Greinke agreed to a record contract with the Los Angeles Dodgers, which was made official on Monday. Elsewhere, the Texas Rangers agreed to send veteran infielder Michael Young to the Philadelphia Phillies.
The biggest bombshell of all fell on Sunday night when the Kansas City Royals and Tampa Bay Rays agreed to a trade that altered the direction of both franchises. The Royals upgraded their pitching staff with right-handers James Shields and Wade Davis, but they had to give up star outfield prospect Wil Myers and several other top youngsters to make it happen.
Exactly how these deals are going to pan out on the field is anybody's guess. It's a lot easier to determine what kind of ripple effect these deals are going to have from a business perspective, both in the immediate future and in the long run.
One by one, you can look for the following dominoes to fall.
Begin Slideshow

»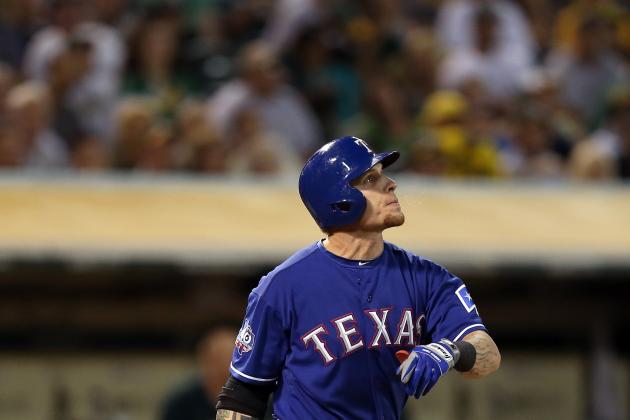 Ezra Shaw/Getty Images

The Rangers really wanted Zack Greinke. ESPN's Jayson Stark even tweeted during the winter meetings that the club's master plan involved signing Greinke and then dealing for a bat to replace Hamilton.
So much for that. The Rangers now must turn to Plan B. And seeing as how they have a need for a slugger and millions of dollars lying around that they didn't commit to Greinke, signing Hamilton is probably part of that plan.
There's no doubt that the Rangers are now Hamilton's top suitor given their need for him and their very available riches. It's possible that he could return to them on a four-year deal, as Ken Rosenthal of FoxSports.com suggested last week.
Then again, the Rangers don't necessarily have to fully dictate the terms of their agreement with Hamilton. According to Bob Nightengale of USA Today, Hamilton is going to give the Rangers a chance to match any offer he might get, meaning the Rangers have a shot at keeping the 2010 AL MVP even if another club beats their initial offer to him.
The Rangers will be mindful of the amount of years they give Hamilton in a new contract, but they have more incentive to pay him than most clubs. They need his power with Mike Napoli in Boston, and they may feel a sense to maintain some familiarity in their clubhouse with Michael Young going to Philadelphia.
However, the Rangers will still be in the market for a starting pitcher even if they do re-up with Hamilton. To that end...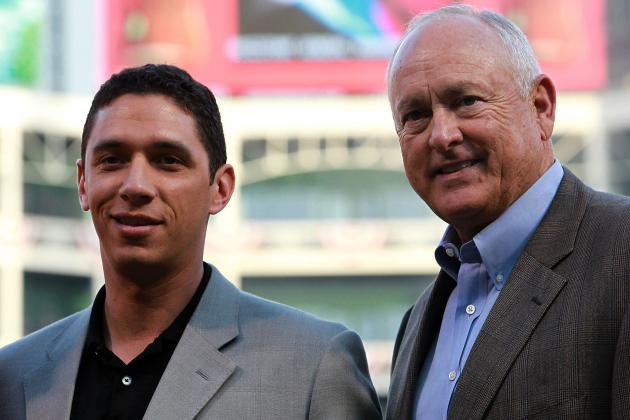 Ronald Martinez/Getty Images

It's easy to see why the Rangers are so determined to upgrade their starting rotation this winter. Their starters posted a 4.30 ERA in 2012, good for 20th among all major league teams.
Zack Greinke may have been atop their wish list, but Danny Knobler of CBSSports.com says that they were eyeing James Shields as well:
Rangers had hoped to add either Greinke or Shields. In one weekend, they lost out on both.

— DKnobler (@DKnobler) December 10, 2012
Not exactly a good weekend for the Rangers. Now what do they do?
Since the best bet is now on them spending their riches on Josh Hamilton, they may not be in the market for Anibal Sanchez, Kyle Lohse, Edwin Jackson or any of the other second-tier pitchers on the market this winter. They're much more likely to turn to the trade market for an ace.
While James Shields may be gone and Josh Johnson has already been dealt, there are still more than enough ace pitchers out there for the Rangers to target in a trade. For example, the one name that sticks out as being an excellent option belongs to New York Mets Cy Young winner R.A. Dickey.
Andy Martino of the New York Daily News has reported that the Rangers are willing to deal for Dickey and that the Mets like young third baseman Mike Olt. As such, the building blocks for a potential trade are already in place.
However, the Mets are the ones with the leverage here. In regards to Dickey, they are suddenly in a rather enviable position.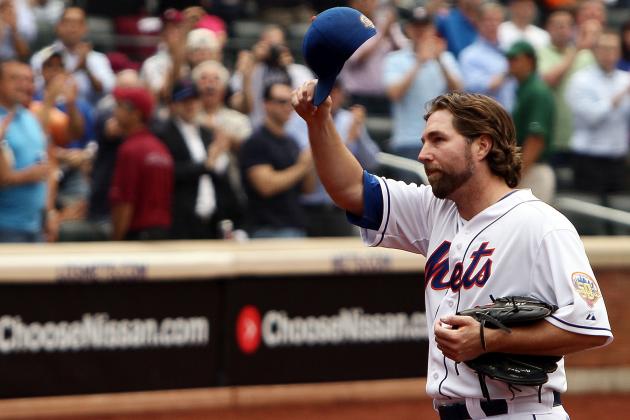 Alex Trautwig/Getty Images

Last week during the winter meetings, Jon Heyman of CBSSports.com tweeted that the Mets were hoping that the Rangers would get involved in the talks for Dickey.
The Mets have gotten their wish. Better yet, the various situations at play have created an ideal scenario for them. The Rangers are more desperate for an ace than they were before, and they're not going to be able to do much better than Dickey.
The Rangers are certainly the most desperate of the Mets' potential trade partners, but nobody should make the mistake of thinking that the Mets themselves are desperate or in danger of becoming desperate to move Dickey.
In this market, they don't have to trade him.
Andy Martino has reported that Dickey has been asking for a two-year extension worth $13 million per year. ESPN's Buster Olney is correct in pointing out that such a price tag doesn't look so bad now:
Given the current market -- from Greinke getting $147m to Joe Blanton getting 2/15m -- extension request by Dickey looks very reasonable.

— Buster Olney (@Buster_ESPN) December 9, 2012
So the Mets can either trade Dickey for much-needed young players or sign him and enjoy his services for another three years at very team-friendly rates.
Every GM would love to be in Sandy Alderson's shoes right now.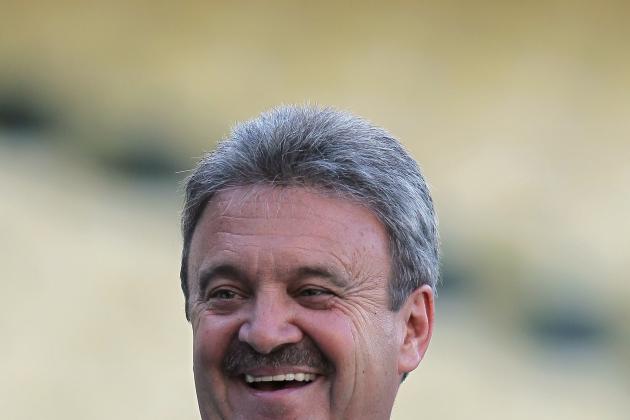 Jeff Gross/Getty Images

Speaking of teams in a position to deal a starting pitcher, the team that just signed the top starting pitcher on the market should now be open for business.
The Dodgers now have an excellent one-two punch atop their rotation with Greinke joining Clayton Kershaw. They also have a trio of solid veterans in Josh Beckett, Chris Capuano and Aaron Harang, as well as two pitchers with medical question marks in Chad Billingsley and Ted Lilly.
Even with these guys already secured for 2013, the Dodgers were still compelled to sign Korean left-hander Hyun-Jin Ryu to a six-year contract. When it comes to arms, the Dodgers now have an embarrassment of riches.
But probably not for long. From Jon Morosi of FoxSports.com:
With Ryu deal in place, Capuano or Harang could be dealt in coming days/weeks.

— Jon Morosi (@jonmorosi) December 9, 2012
Granted, neither of these guys is an ace, so the only real shame here is that the Dodgers aren't in a position to make like the Mets and take advantage of the Rangers' increasingly desperate desire to land an impact starter.
However, the Dodgers should be able to fill one of their minor needs by dealing one of their surplus arms. They could shoot for more bullpen depth or another able body for the left side of their infield.
Beyond filling these voids, the Dodgers don't need much. And I would certainly hope not, seeing as how their payroll is already over the $200 million threshold.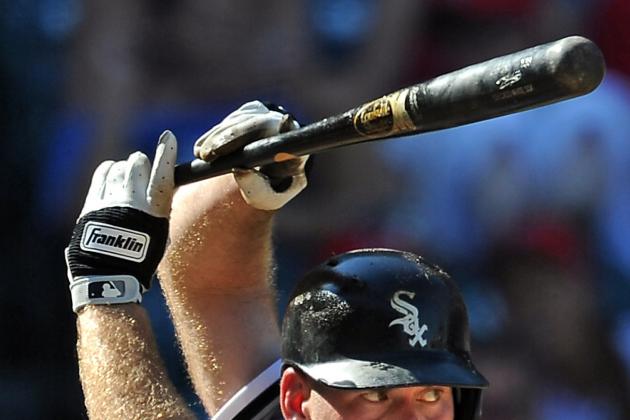 Jayne Kamin-Oncea-USA TODAY Sports

Given how huge the Greinke signing and the Royals-Rays trade were, it is easy to forget that the Michael Young trade also went down this weekend.
I'm as skeptical as anyone as to whether Young will actually help the Phillies after the year he just had, but they can't be faulted for taking a chance on him. Especially not given the small price they paid to get him, and especially not given the mediocrity of this year's crop of free-agent third basemen.
So where do those guys stand now? With Young taking his place as Philly's starting third basemen, this year's free-agent third basemen are running out of opportunities to snag a nice paycheck and see some major action.
Perhaps the only team out there that can still offer these things is the New York Yankees, and the player who stands to benefit is Kevin Youkilis. The Yankees have a one-year offer worth $12 million out to him, and Wallace Matthews of ESPNNewYork.com says Youk is "seriously considering" it.
As well he should be. The Phillies' acquisition of Young nixed a potential starting opportunity for Youk, and the Cleveland Indians' signing of Mark Reynolds this weekend has probably taken them out of the running for him as well.
Given the money they're offering him and the amount of playing time to be had with Alex Rodriguez set to undergo a major surgery, going to the Yankees appears to be a no-brainer for Youkilis.
I'd expect a deal sometime in the next 24 hours.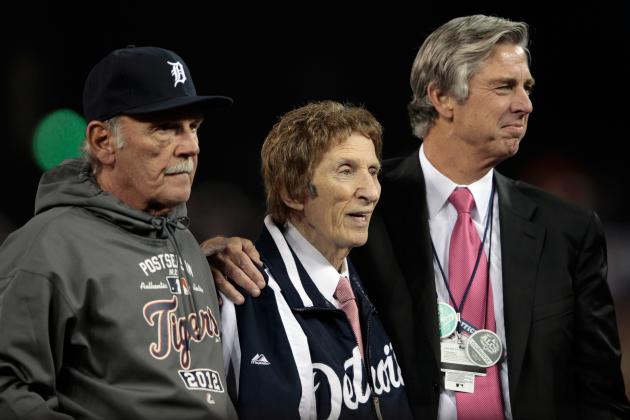 Leon Halip/Getty Images

Having added four starting pitchers to their rotation, the Royals are probably done with the bulk of their offseason shopping. They may have sacrificed their long-term future to do it, but they've put together a club they think they can contend with.
And according to Danny Knobler of CBSSports.com, the reigning AL Central champs are none too pleased about it.
"The Tigers look at James Shields and think that the Royals just became a real threat in the American League Central," he wrote, noting that he got a profane response from a Tigers official in a text after the big trade went down.
Now, the Tigers shouldn't be too worried about the Royals. They still have a superior starting rotation, and they added Torii Hunter to a lineup that already included Miguel Cabrera, Prince Fielder, Austin Jackson and Victor Martinez. Plus, Shields is really the only sure thing in Kansas City's rotation.
But there's no denying that the Royals are better than they were, and they may just be good enough to rattle some cages in a division that was the weakest in baseball in 2012. To hold on to their crown, the Tigers may have to go out and do something in response to the Royals' big trade.
This could entail re-signing Anibal Sanchez or targeting one of the other top starters still left on the free-agent market. Beyond that, the Tigers could cave to Scott Boras' advancements and sign free-agent closer Rafael Soriano.
Either way, don't expect the Tigers to do nothing. Mike Ilitch isn't the kind of owner to leave good enough alone, especially not now that the Royals have shaken up what defines "good enough" in the AL Central.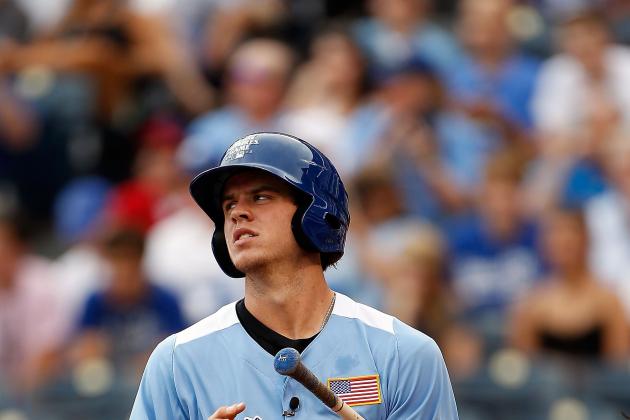 Jamie Squire/Getty Images

Had he stayed in Kansas City, Wil Myers was likely to rescue the Royals from Jeff Francoeur at some point in the very near future. He would have been called up early in the 2013 season, or perhaps even broken camp with the big club.
Going to Tampa Bay shouldn't delay Myers' arrival in the major leagues. After all, he's still an elite prospect who's very close to being ready for the majors, if he isn't already. The Rays also need his bat in their lineup even more than the Royals would have.
When Myers does finally put on a Rays uniform, you can expect him to keep it on for a long, long time.
The Rays have a knack for getting their best young players to agree to contract extensions years before they're due to hit free agency. They did it with Evan Longoria when he was a rookie in 2008, and they did it again with Matt Moore last winter.
You can expect the Rays to do their thing once again when Myers arrives in the major leagues in 2013. If past deals are any indication, the length of Myers' pact will be long, and the price will be high enough to make him happy while also being low enough for the Rays to avoid a potential albatross contract a few years down the road.
Myers' deal is also likely to include several option years. After all, these are the Rays we're talking about. They do things very differently.
And if you ask me, it's past time for Michael Lewis to write a book about them.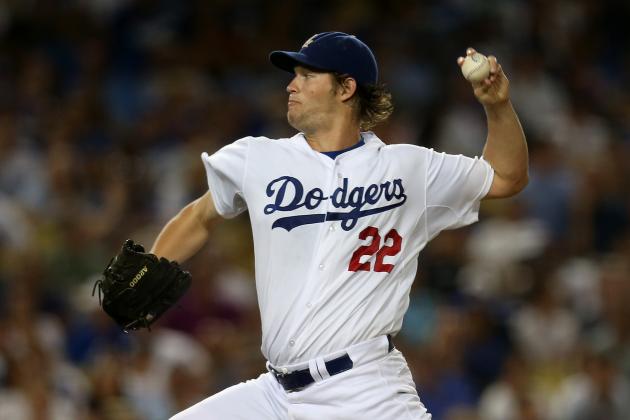 Stephen Dunn/Getty Images

According to FanGraphs, Justin Verlander, Clayton Kershaw and Felix Hernandez were the three most valuable pitchers in baseball in 2012.
This is all too appropriate. They are three of the league's elite aces, and all three of them are due to hit free agency in 2015.
Between now and then, the question is, which one of them is going to use Zack Greinke's new deal as leverage to land a massive extension? If he's worth $147 million, any one of them is clearly worth more.
The smart money is on Kershaw getting a deal done first, as he's the one most worthy of a long-term extension due to his youth, and he also happens to play for the richest team in baseball. To keep him around, the Dodgers will surely be willing to give him a $200 million contract (and probably his own private island as well).
Neither Verlander nor Hernandez will complain if Kershaw signs such an extension, as they will be able to use his deal as a template for their next contracts.
Whoever is the last to sign between these three pitchers could end up landing the biggest contract. The going rate for ace pitchers just got a lot higher with Greinke's new deal, and Kershaw, Verlander and Hernandez are in an excellent position to push it even higher with all the TV money that's being pumped into the league these days.
After the three of them are signed, we'll all have Stephen Strasburg's next contract to look forward to. Some new numbers may have to be invented for that one.
If you want to talk baseball, hit me up on Twitter.