Biggest Winners and Losers of the James Shields, Wade Davis, Wil Myers Trade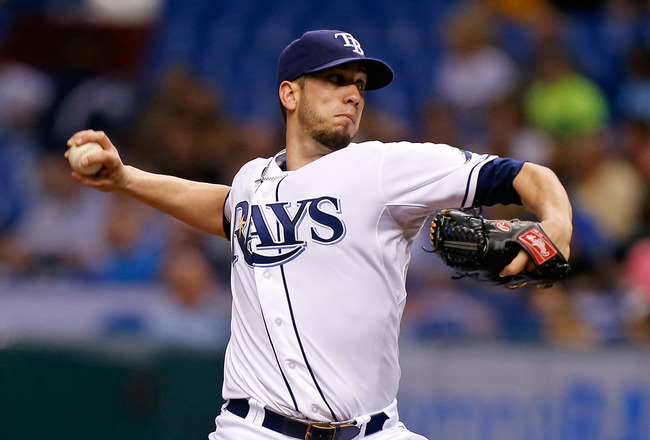 J. Meric/Getty Images
Now that the dust has settled on the trade involving James Shields, Wade Davis and Wil Myers, the baseball world is digesting the significance of the transaction itself.
The Kansas City Royals and Tampa Bay Rays completed the deal on Sunday. The Royals received the ace they've been wanting in James Shields, along with right-handed starter/reliever Wade Davis and a player to be named later.
The Rays got the bat they've been seeking, but that bat has yet to produce a single at-bat in the majors.
Top prospect Wil Myers goes to the Rays, along with top pitching prospects Jake Odorizzi and Mike Montgomery. Prospect third baseman Patrick Leonard was sent to Tampa Bay as well.
As with any trade, experts and pundits alike will be espousing their views concerning which team made out better in the deal and which team got shafted, so to speak.
There are pros and cons to each facet of the trade on both sides. Here is a look at the winners and losers.
Wade Davis: Winner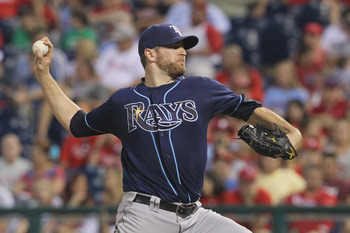 Hunter Martin/Getty Images
Wade Davis put together excellent numbers last season in a role he wasn't accustomed to.
After being deemed not good enough to crack the starting rotation for the Tampa Bay Rays, Davis became a valuable member of the bullpen for manager Joe Maddon. He posted a 2.43 ERA in 54 relief appearances with a career-high 11.1 K/9 rate.
Now, Davis will get every chance to transition back to a starting role. The Royals have Shields, Jeremy Guthrie, Ervin Santana, Bruce Chen and a cast of other characters, so Davis will get his shot to start once again.
If not, he clearly showed his value last season and can give the Royals a formidable piece to add to their bullpen.
Jake Odorizzi: Winner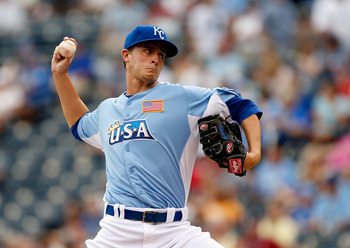 Jamie Squire/Getty Images
Last year, between Double-A and Triple-A ball, prospect pitcher Jake Odorizzi rose to the top of many prospect rankings with a breakout effort.
Odorizzi posted a 15-5 record and 3.03 ERA in 25 starts with an impressive 8.4 K/9 rate and 1.252 WHIP.
He will be given every opportunity this spring to earn a spot in the Rays' rotation as the fifth starter behind David Price, Jeff Niemann, Matt Moore and Jeremy Hellickson.
He'll have competition with Alex Cobb and Chris Archer, though, so it won't be a lock for Odorizzi.
Could he have opened the 2013 season on the Royals' rotation? Yes, but now he gets a shot to work for a team that has done a fabulous job of grooming its pitchers and a team that has become a playoff contender year after year.
Not a bad trade-off for a young 22-year-old prospect.
Mike Montgomery: Loser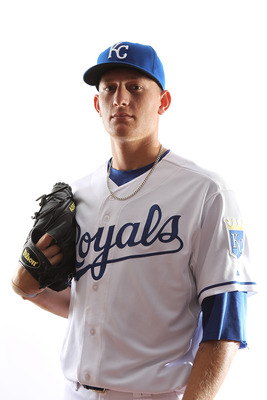 Jonathan Ferrey/Getty Images
Left-handed pitching prospect Mike Montgomery has hovered somewhere in the top 50 in prospect rankings for the past three seasons. However, he has struggled mightily in the past two years.
Montgomery posted a 6.07 ERA last season in 27 starts between Double-A and Triple-A.
It had been expected at one time that he would be with the Royals in either 2011 or 2012.
However, Montgomery had issues with developing his curveball and with his command. The scouting reports over the past several months were not encouraging, to say the least.
Montgomery will get a chance to sort out his issues with his new organization, but with a farm system deep with pitching prospects and a starting rotation that's young and under team control for several years, Montgomery's chance to make the majors may have gotten a whole lot dimmer in the process.
Wil Myers: Winner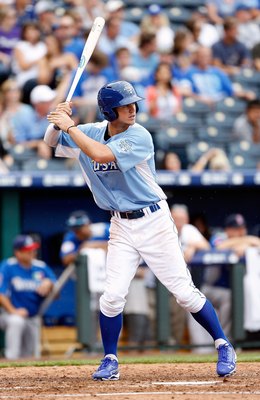 Jamie Squire/Getty Images
Last season, between Double-A and Triple-A, Wil Myers put up a slash line of .314/.387/.600 with 37 home runs and 109 RBI.
He also showed an ability to adjust to better quality pitching after his promotion to Triple-A, which certainly bodes well for his future development.
The Tampa Bay Rays believe they got a power bat that can provide stellar production for many years along with established star Evan Longoria. Indeed, it's a tandem that could pack a powerful punch.
Could Myers completely flame out in the big leagues, much like Joe Charbonneau, Tommy Bianco and Josh Booty before him?
Absolutely.
However, he could also be the next Mike Trout. If that comes to pass, the Royals will rue this deal for decades.
James Shields: Loser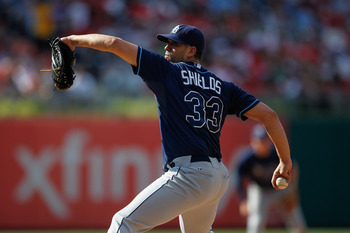 Brian Garfinkel/Getty Images
It's tough to look at James Shields and call him a loser in this deal. After all, he's making $9 million this season, with the potential for another $12 million in 2014 as well.
However, Shields now anchors a starting rotation that has gotten better, but still isn't close to being good enough to contend.
The Kansas City Royals won 72 games last season. Conservatively, if Shields wins 13-15 games, that's still not enough to put them over the top. The Detroit Tigers will have a lot to say about that just within their own division.
Shields goes from an offense that was ranked 11th in runs scored in the American League to a 12th-ranked offense. And the Royals haven't added on any offensive pieces that can improve that run production as of yet.
Granted, it's a young team with youngsters that could continue to get better. Lorenzo Cain, Mike Moustakas, Salvador Perez and Eric Hosmer all have the potential to be solid run producers. But that's certainly not a guarantee, and Shields could be forced once again to provide a ton of innings without seeing positive results.
The Royals are making an attempt to improve upon the failures of the past several seasons. They're hoping the additions of Ervin Santana and Jeremy Guthrie will pay off along with Shields.
However, there are a lot of assumptions in terms of whether or not the young Royals' position players can take it to the next level. Without that offensive support, the rotation will indeed be tasked.
And Shields will continue to throw a bunch of innings without seeing the fruits of his labor.
Kansas City Royals: Loser
Charles Sonnenblick/Getty Images
The Kansas City Royals gave up a lot to get the ace they wanted. As of Monday morning, MLB.com had Wil Myers and Jake Odorizzi ranked as the top two prospects in the Rays' farm system. Mike Montgomery was ranked seventh, and third base prospect Patrick Leonard was ranked 20th.
The deep Royals farm system is all of a sudden considerably weaker. And the real question is: Did they actually get their ace?
James Shields is a very good pitcher, no question about that. However, Shields has a 3.89 career ERA, and he's already logged nearly 1,500 innings.
The 14 complete games and six shutouts over the past two seasons are certainly a plus, but how much longer can he sustain the workhorse-like effort?
Among current starters who have logged at least 1,000 innings, Shields' ERA+ of 108 ranks 22nd out of 37 pitchers.
That's hardly ace-like stuff.
In addition, Shields is only under control for this year and next. The Royals gave up four top-notch prospects who are under team control for at least the next six to seven years.
In Wade Davis, the Royals get a pitcher who wasn't considered good enough to crack the Rays' rotation last year. Was that really enough of an add-on with Shields to justify this trade?
Time will certainly reveal the results, but it doesn't feel like the Royals came out on the sweet end of this deal.
Tampa Bay Rays: Winner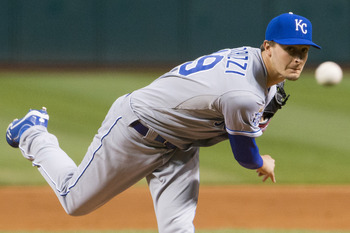 Jason Miller/Getty Images
Initially, Tampa Bay Rays vice president of operations Andrew Friedman wasn't planning on dealing two pitchers away.
However, to get what he wanted, he made the extra sacrifice.
"Personally I think this is the most difficult trade we've made to date," Friedman said. "Both guys were drafted and developed here, they've been key players in this organization's turnaround and they're both really high-quality people. It's a painful loss for our club, but I'm confident in our resilience and the talent that will be returning to the field next season."
The talent Friedman is referring to was good enough to win 90 games last season and do so with an offense that was inconsistent at best. Now, he has a potential power bat that could impact that offense for years to come.
In addition, dealing Shields and Davis frees up approximately $11.8 million—money that Friedman can now use to add complementary pieces to his offense.
The Rays' farm system was already considered pretty good—ESPN had it ranked second last year. Not only has Friedman added on to a stellar system, but he did it with pieces that could impact the team next season and for years to come.
Dealing James Shields was indeed a blow to a stellar rotation. However, David Price, Matt Moore, Jeremy Hellickson and Jeff Niemann still presents as an outstanding top four, and Chris Archer, Alex Cobb, Odorizzi, Alex Colome and others give the Rays an exciting future as rotation options as well.
Any trade that takes place is tough to analyze—it oftentimes takes years to give a proper assessment of the true take on the merits of the trade itself. In this case, the same applies. But at first glance, it appears the Rays got the upper hand.
Doug Mead is a featured columnist with Bleacher Report. His work has been featured on the Seattle Post-Intelligencer, SF Gate, CBS Sports, the Los Angeles Times and the Houston Chronicle.
Keep Reading

Tampa Bay Rays: Like this team?