USC Football: The Recruits Who Will Save Lane Kiffin's Job Beyond 2013 (Part 2)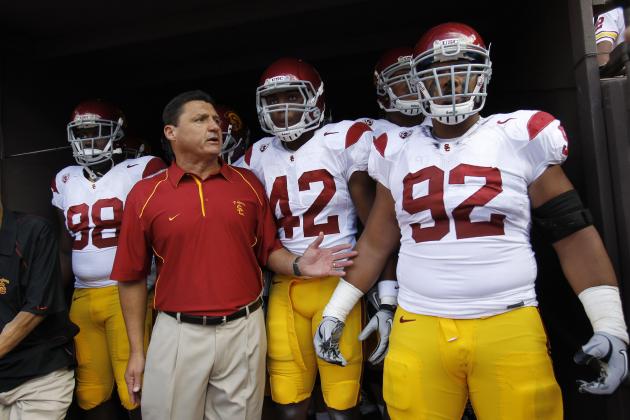 Kent Nishimura/Getty Images
Ed Orgeron (USC Recruiting Coordinator)
With most of the work done on the 2013 high school recruiting class, Lane Kiffin and his staff are looking beyond this year to the 2014 players who can help the Trojans down the road.
Having already secured three verbal commitments from next year's class, USC is offering a variety of prospective Trojans, many of whom are national prospects, as the coaching staff uses their "national reach" in an attempt to sway these young players to come west.
In part one of this ongoing series, we looked at those three verbally committed players—all offensive linemen—and a couple of other high-profile recruits.
Now we will highlight the next batch of prep players that Kiffin hopes will get the Trojans back on track after a disastrous 2012 season.
It's never too early to get a head start on recruiting as evidenced by the bevy of offers extended by USC and, as fans, it is never too early to learn about them so let's get started...
Begin Slideshow

»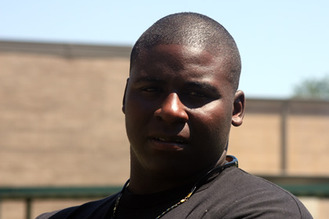 photo from clemson.scout.com
Despite the fact the Trojans have already received those aforementioned verbal commitments from three O-linemen, there is no doubt that Kiffin and his line coach, James Cregg, would love to add one more in the form of big Donnell Stanley.
Stanley, who calls Latta, SC home, is a Scout.com 4-star prospect who is rated No. 1 at his position.
At 6'4", 312 pounds, Stanley has the bulk to move people and plays with a nasty streak that coaches love.
In addition to the Trojans offer, Stanley holds others from many national powers including Alabama, Florida, LSU and Ohio State and calls them all "medium" in terms of his interest.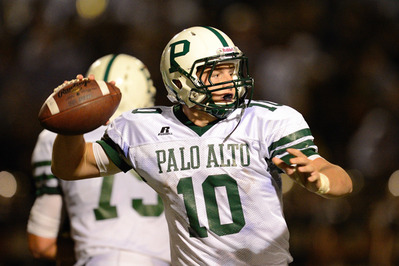 photo from palyvoice.com
This is a interesting offer on many levels, not the least ow which is that the Trojans already have a pair of young quarterbacks in Max Wittek and Cody Kessler and have another getting ready to enroll early in 5-star QB Max Browne.
In addition, the Trojans have already offered—and he has accepted—2015 prospect, David Sills, a guy who may have the best skill set of them all.
So when USC offered Palo Alto, CA signal-caller, Keller Chryst, many were left scratching their heads but there are reasons for extending that offer and it has to do with Kiffin simply covering his bases.
For one, realistically, whomever winds up as the third-string quarterback in 2013 may transfer as he looks for more playing time.
Also, injuries could play a part in the necessity for taking yet another quarterback but the best reason for offering any player is his talent, and USC witnessed that up close.
After attending a Trojan camp last summer, Chryst was extended his offer, which at the time, was his first.
Now Chryst has added a Stanford offer and there are surely more to come for this 6'3", 215 pound rocket-armed prospect.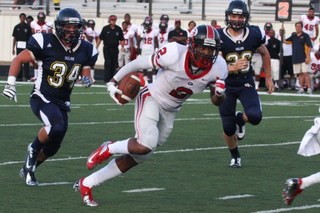 photo from 247sports.com
Rated the No. 2 wide receiver prospect in the nation by Scout.com, Cleveland, OH native Marshon Lattimore is both versatile and electric.
Though lacking elite size (6'0", 175 lbs), Lattimore makes up for it by being incredibly elusive with the ball in his hands.
In addition, he is a capable cornerback as well, and that kind of versatility would make him very valuable to a Trojan team that will be lacking depth due to ongoing sanctions.
One other thing the Trojans have going for them is that Lattimore attends Glenville High School, the same school that produced USC offensive lineman Aundrey Walker.
At this point, Lattimore holds offers from a variety of schools including Michigan and Ohio State (where he camped) and calls all schools even interest-wise.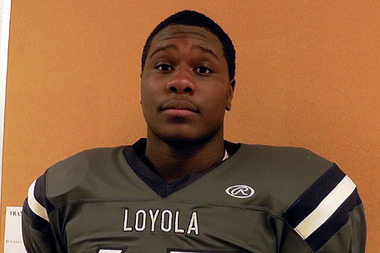 photo from foxsportsnext.com
Malik McDowell is a very intriguing prospect who is powerful enough to pancake guys from his offensive tackle spot, yet quick enough to be ranked the No. 4 defensive end in the nation by Scout.com.
Speaking of defensive ends, there aren't many in either high school or college that are 6'6", 300 pounds, and while a position change may be in the cards for McDowell, he will be given every opportunity to prove he can rush off the edges.
McDowell calls Detroit, MI home and has garnered offers from most of the Big Ten powers as well as Oregon and Wisconsin among others, and he lists them all as even on his dance card.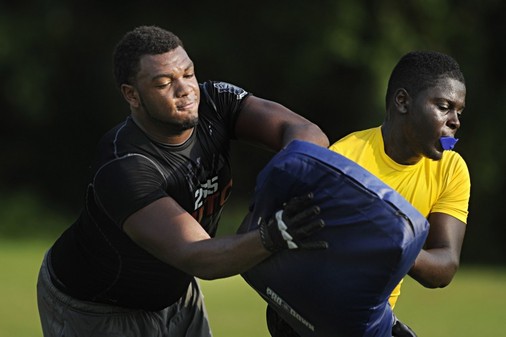 photo from hamptonroads.com
Speaking of big defensive ends, Andrew Brown certainly fits the bill.
Brown, a Chesapeake, VA native, goes 6'4", 295 pounds which makes him just slightly smaller than the aforementioned Malik McDowell.
Rated the No. 5 defensive end in the country by Scout.com, who also has him tabbed as a 4-star prospect, the ESPN.com "watch list" athlete combines good edge speed with raw power to create havoc in opposing teams backfields.
Brown holds offers from over two dozen programs, including most of the major powers, and deems them all to be even in terms of his interest.