15 of the Biggest Egos in European Football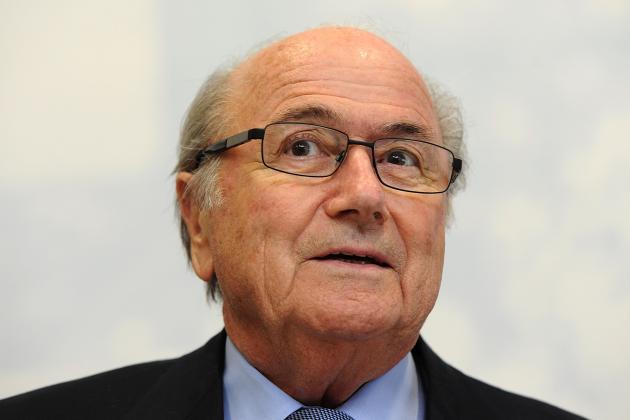 Handout/Getty Images

There's nothing wrong with having an ego, but it's how you put that ego across.
Some of the world's best players and managers have egos because of what they've achieved.
However, there are a few underachievers who think that they're better than they actually are, and that's what some football fans have a problem with.
It's not even players and managers that have egos.
Football officials, such as FIFA President Sepp Blatter (pictured above) have this sense of self importance, despite having achieved nothing.
The list of 15 people that I've compiled includes nine players still plying their trade, one retired genius, three managers, an owner and a football official.
One thing I'll say about this list is that—unlike some others that I usually write—this countdown will be in order. This means I've ranked these men in order of who I believe have the biggest egos.
No doubt some of you will agree, but I know some of you will disagree. That doesn't make my opinion right or wrong, it just makes it different than yours. Please take that into consideration when leaving your comments below.
Let's get things started!
Begin Slideshow

»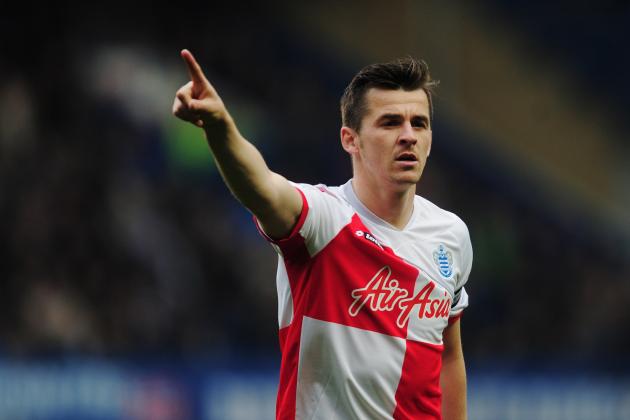 Jamie McDonald/Getty Images

There's nothing wrong with having an ego or even confidence in your own ability, but it's when it crosses the line to sheer arrogance that it causes problems.
That's where the bad boy of English football, Joey Barton, enters the fray.
Currently on loan at Marseille from QPR, and now sporting some form of ridiculous faux-French accent, Barton is one of the most overpaid, underachieving footballers of the last decade.
He burst on to the scene at Manchester City, but Barton is probably better known for his off-field troubles.
He's been arrested several times, spent time in prison and more recently was banned for 12 matches after assaulting three fellow players during QPR's 3-2 defeat at Manchester City in May.
I don't know Joey Barton. I don't claim to, but I've read (and seen) enough about him to formulate my own opinion.
Whilst at Manchester City in the early part of his career, he assaulted Ousmane Dabo so severely that Dabo needed to be taken to hospital and he stubbed out a lit cigar in a youth player's eye.
Although Barton can't take all the blame for the cigar incident with Jamie Tandy, he should take some responsibility.
At that time, he was a first team player and should've set an example to the younger players in the squad instead of making an example of them.
Barton's career has been littered with incidents like that, and there are far too many to go into here.
It's a shame that, instead of being known for his footballing talent, he's better known for acting like a thug both on and off the pitch.
Here's a final thought: Barton likes to think of himself as some kind of philosopher, but anyone can copy and paste quotes to his Twitter feed.
Barton thinks he's more important than he is, which is why he's on this list.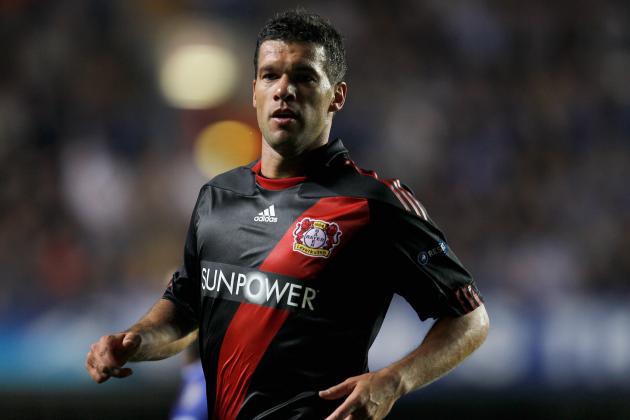 Paul Gilham/Getty Images

There's no doubt that Michael Ballack was once one of the best midfielders in the world and certainly of his generation.
He dominated play between both penalty boxes during his time at both Bayer Leverkusen and Bayern Munich early on in his career, but when he moved to Chelsea in 2006 things started to change.
It was as if Ballack thought he could just saunter in to the Premier League and be given respect without having to earn it.
More often than not, when he was actually fit, Ballack strolled around the pitch with a sense of self entitlement that he may have earned in Germany (for club and country). But the English Premier League is an entirely different kettle of fish.
Through a combination of injuries and lack of form, Ballack never really hit the heights at Chelsea that fans, and probably Ballack himself, expected.
Some of that can be put down to just bad luck, but Ballack's ego played just as big a part in that as anything else.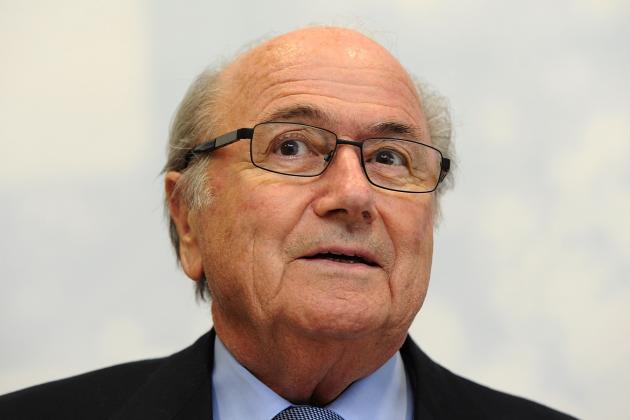 Handout/Getty Images

FIFA president Sepp Blatter is no stranger to controversy, which may or may not be due to his ego.
Blatter truly believes that he's in touch with the real world and that he's the man to lead the game that we all know and love.
He's sadly mistaken.
In 2010, shortly after awarding Qatar the 2022 World Cup tournament, Blatter was asked if there would be any cultural issues for gay and lesbian fans as homosexuality is, somewhat unbelievably, a crime in Qatar. Blatter replied (reported via bbc.co.uk/football):
"I'd say they (gay fans) should refrain from any sexual activities."
Whether he was being flippant, joking or just generally out of touch is open to debate, but it's as if Blatter doesn't engage his brain before opening his mouth.
Another example of his lack of understanding came during last season, when English football was engulfed in controversy over a couple of racism charges against then-England captain John Terry and Liverpool's Uruguayan striker Luis Suarez.
When speaking to CNN's World Sport (via Sky Sports) about the issue, Blatter was asked if he felt there was a problem with racism on the pitch and answered:
"I would deny it. There is no racism, there is maybe one of the players towards another, he has a word or a gesture which is not the correct one."
In the same interview, Blatter went on to say:
"But also the one who is affected by that, he should say that this is a game. We are in a game, and at the end of the game, we shake hands..."
Blatter's baffling remarks about the possible persecution of gay fans travelling to Qatar for the World Cup in 2022 and the racism issues in English football show that he's out of touch with reality.
The problem is that his ego won't allow him to stand aside and let someone who has a grasp of reality make the major decisions that affect the game that we all know and love.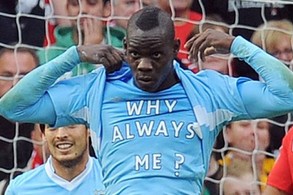 "Why Always You Indeed Mario!" - Image courtesy of tumblr.com
Mario Balotelli must be one of the most frustrating players in the world to manage.
I don't envy any manager who's had to coach the temperamental, talented Italian striker because you never know which Mario is going to turn up.
Sometimes it's super Mario, sometimes it's crazy Mario and sometimes it's moody Mario.
When you see him playing, at times it's as if he just can't be bothered.
He sulks around the pitch feeling sorry for himself if things don't go his way instead of kicking himself up the backside and showing us what a great player we all know he can be.
Balotelli was outstanding for the Italians at Euro 2012 earlier this summer and there's no doubting his talent.
It's just his attitude that lets him down sometimes, however, even his current manager, Roberto Mancini, can't hold that against him.
In October 2011, Mancini said (via ESPN.co.uk):
"The problem is because of his age, he can make some mistakes. He's Mario. He's crazy—but I love him because he's a good guy."
Things haven't always been plain sailing between Mancini and the precocious talents of Balotelli, though.
Earlier this year, Mancini was asked about the frustration that Balotelli causes amongst his teammates and replied (via bbc.co.uk/football):
"I told him, if you played with me 10 years ago I would give you every day maybe one punch in your head. There are different ways to help a guy like Mario. I don't speak with him every day, otherwise I would need a psychologist, but I speak with him because I don't want him to lose his quality."
That's the brilliant thing about Balotelli's ego.
It's nearly never destructive. Frustrating and entertaining? Yes.
But not destructive.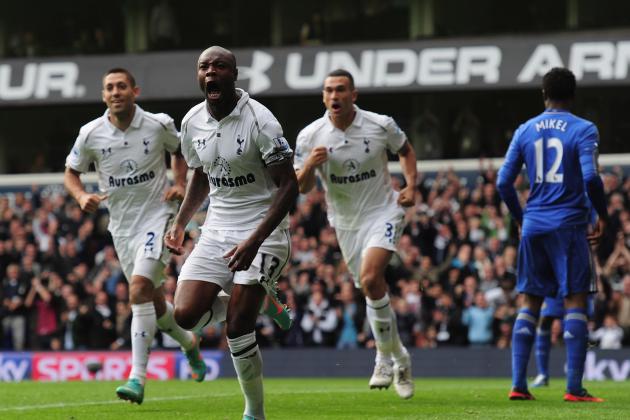 Shaun Botterill/Getty Images

Spurs defender William Gallas is another player with a massive ego.
The French defender has now played for three of London's biggest clubs (Chelsea, Arsenal and now Spurs) and he's got the uncanny ability to make his own fans, players and manager love and hate him at the same time.
Infuriating is probably the best word to describe Gallas' behaviour sometimes.
If reports like this one from the BBC football website are to be believed, Gallas reportedly engineered a move from Stamford Bridge by stating that he'd score own goals until he got what he wanted.
Of course, Gallas went on to refute these claims and responded to Chelsea's statement by saying (via the same article):
"I am surprised and shocked by these claims. I never said I would score own goals if I had to play for Chelsea again. I was firm about my wanting to leave, that is true, and I will explain in due time why I wanted to, but I never went that far.

But if people want to hide behind false accusations in order to give a reason for why I left so they can calm down the club's supporters then they can. All this is very, very petty on behalf of Chelsea. But at the same time, coming on behalf of its new leaders, that does not surprise me. Even if Chelsea has much money, its new leaders lack class."
Gallas also infamously staged a sit-in protest while playing for Arsenal against Birmingham City in 2008.
He was upset after Gael Clichy conceded a late penalty, which James McFadden went on to score and secure a point for Birmingham.
Petulant, egotistical and infuriating. How could I not include William Gallas?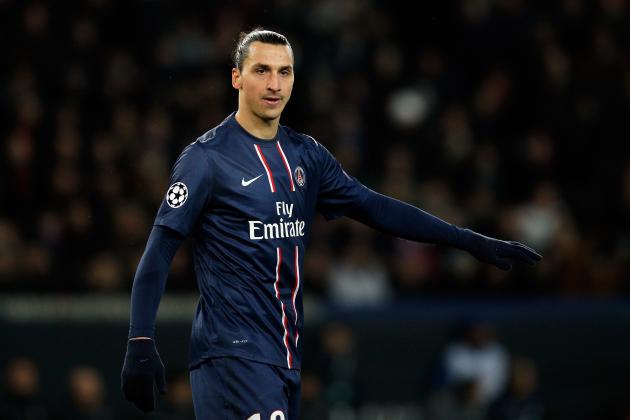 Dean Mouhtaropoulos/Getty Images

As you can see, we're kicking off the top 10 with PSG striker Zlatan Ibrahimovic.
Ibrahimovic is one of those players you either love or hate. There's no middle ground.
During last month's friendly between Sweden and England, the English fans were enjoying a good bit of banter with Zlatan, chanting at him:
"You're just a **** Andy Carroll."
How did the man known as Ibra respond?
Simple.
He scored four goals, including a stunning late overhead kick to clinch the win for Sweden.
He's also pretty fond of tooting his own horn.
In 2011, The Daily Mail quoted an excerpt from Ibrahimovic's autobiography "I, Zlatan", where he discussed his relationship with Pep Guardiola at Barcelona. Ibra claims that he told Pep Guardiola:
"I am a Ferrari and you are driving me like a Fiat."
That's outstanding!
Nobody can deny that Ibrahimovic's record across Europe has earned him the right to be a little bit cocky.
However, in March this year, James Olley of the Evening Standard quoted another passage from the autobiography:
"I am north, I am south, I am east, I am west. I am Zlatan Ibrahimovic."
There's a difference between being cocky and delusional, and quotes like that put Zlatan in the latter camp.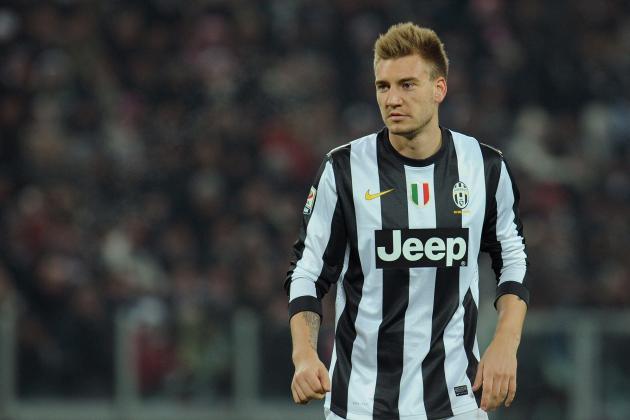 Valerio Pennicino/Getty Images

Nicklas Bendtner is another player who, despite achieving nothing in the game (yet), has an inflated sense of self worth.
He's failed to hold down a regular place at Arsenal. But as he's currently on loan at Italian giants Juventus, clearly the kid has talent.
The problem is that he's yet to deliver on his potential.
I'll give you an example.
In 2009, Bendtner was quoted by The Daily Mail as saying:
"In about three years, I will be better than Zlatan. He is older than me and has now reached his peak as the top scorer in Serie A - but I have a plan, I believe in it and I am ready. Next season, I can finally make my breakthrough and then I still have two years to become better than Zlatan – and I will. By then I will be close to my peak and will be able to look upon myself as one of the world's greatest strikers."
Since then, Zlatan has gone from strength to strength while the big-mouthed Dane has floundered along and made little or no impression in England or Italy.
Bendtner is one of a few players who might be better letting their football do the talking instead of their mouths writing cheques that their backsides can't cash.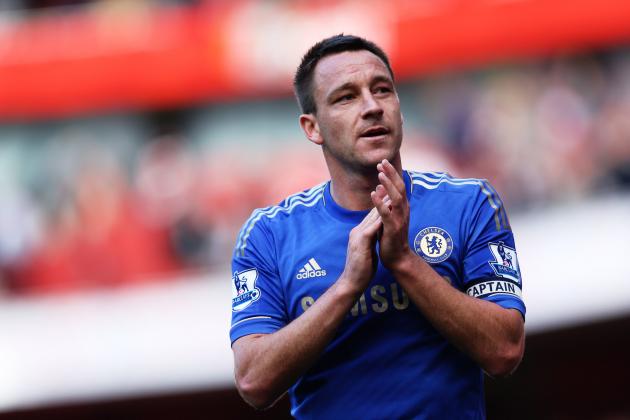 Richard Heathcote/Getty Images

Former England captain John Terry is the next name on this list.
Unlike almost everyone else I've spoken about so far, there's nothing that Terry really says that can be described or interpreted as being egotistical. It's more the way he carries himself on and off the pitch.
He looks smug and behaves as if he's beyond reproach.
I'll give you a couple of examples.
The first one concerns the racism scandal that surrounded him after a match with QPR when he was accused of using racist language towards QPR defender Anton Ferdinand.
Terry acted as if he was above the situation.
Despite several different camera angles showing what Terry said, he still claimed he hadn't meant what he said to be construed as racist.
Whatever the rights and wrongs of the language he used, the fact is he used it.
Plain and simple.
Whether he meant it as racist or not is irrelevant.
If any one of us reading this used that language on the street, we'd have been convicted. Yet somehow, Terry got away with it in a court of law.
He maintained his innocence throughout the saga, but the English FA found Terry guilty.
Then we come to the Champions League final in May.
Terry was banned for the final after his sending off against Barcelona in the semi-final.
Yet after Chelsea won the final, Terry was front row and centre in all the celebrations.
I'm not saying that he had no right to celebrate, because he did. However, his ego wouldn't let the players who had earned the victory in the final take centre stage.
For those two examples alone, Terry deserves his place here.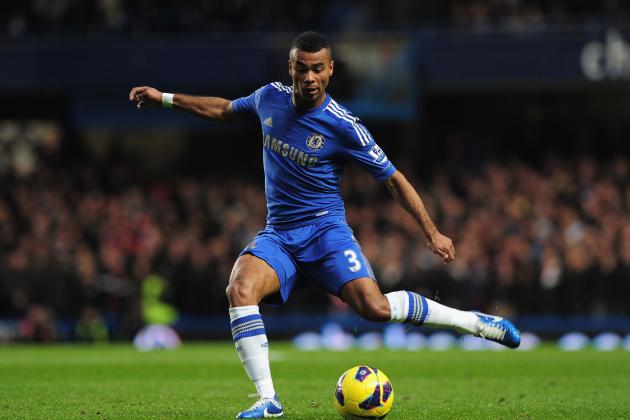 Shaun Botterill/Getty Images

This will be the shortest slide of the lot, so get ready!
Chelsea full-back Ashley Cole has one of the biggest ego's in football.
Why?
Here's why.
In a quote from Cole's autobiography in 2006 (sourced via ESPN Soccernet), Cole was discussing his contract talks with Arsenal. The extract reads:
"When I heard Jonathan [Cole's agent] repeat the figure of £55k-a-week, I nearly swerved off the road. 'He is taking the p***, Jonathan!' I yelled down the phone. I was so incensed. I was trembling with anger. I couldn't believe what I'd heard."
Trembling with anger?
At £55k per week?
They're not "taking the p***" Ashley, you are for thinking you were worth £60k per week at that time.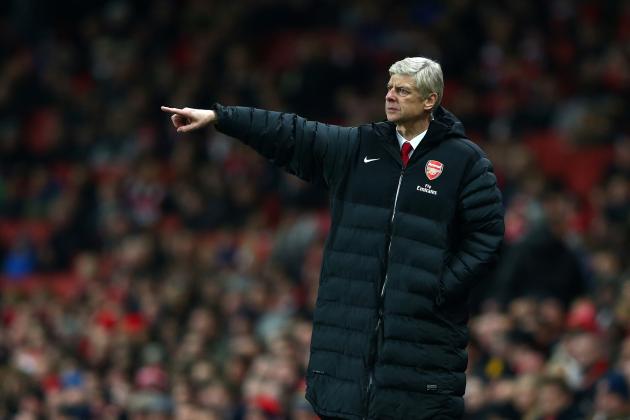 Clive Mason/Getty Images

I wasn't sure if I should include Arsene Wenger in this list or not, because it's difficult to tell if he's got a massive ego or if he's just incredibly stubborn.
Wenger seems to thrive on the "my way or the highway" style of management.
He doesn't take criticism well and when that does happen, he gets stubborn.
I'll give you an example of what I'm talking about.
A major bugbear of Arsenal fans is the club's refusal to invest in the playing squad at a time when, now more than ever, they're playing catchup to both Manchester clubs and Chelsea.
Arsenal are in fantastic shape financially but their season ticket prices are the highest in England, so the fans have the right to demand a certain level of success on the pitch.
Arsenal qualifying for the last 16 of the Champions League just isn't cutting it any more.
Without being disrespectful, the current crop of Arsenal players aren't good enough to win the league.
Wenger's belief in his players and his way of doing things is commendable, but it's as if he needs a sharp dose of reality.
They do have some cracking players like Lukas Podolski, Santi Cazorla, Alex Oxlade-Chamberlain and others, but for every player like that, there's a Marouane Chamakh or Sebastien Squillaci: players who don't cut it.
I genuinely don't think Wenger's ego will allow him to admit when he's made a mistake. Until it does, Arsenal fans might have to get used to the lack of silverware in the trophy cabinet at the Emirates.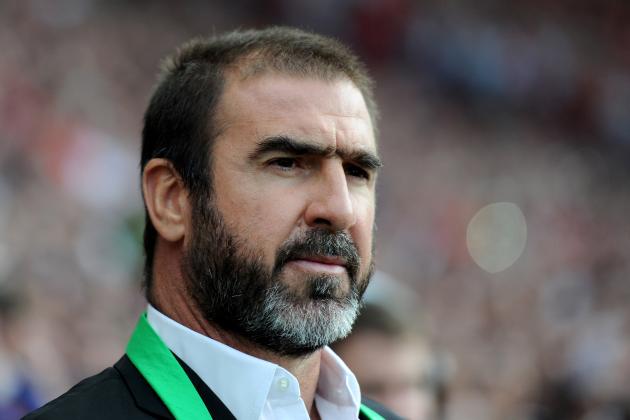 Chris Brunskill/Getty Images

The top five gets underway with former Leeds and Manchester United forward Eric Cantona.
I'm going to be honest and say that when I was in primary school, Cantona was my favourite player.
I was nine years old when he signed for Manchester United and Cantona captivated me.
It was his belief in his own ability that set him apart from almost everyone else in the league.
He was beguiling, skilful and talented, with just a hint of arrogance.
I loved him.
When Cantona was at Manchester United in the early 90s, it was a time where players weren't as protected as they are now. Some of the fouls going on back then would result in red cards today.
Although Cantona had a huge ego, you couldn't argue with the fact that, more often than not he backed it up.
Cantona is responsible for one of my favourite goal celebrations of all time, which you can see here.
The look on his face after he scores is almost saying "Yup. I'm that good. Now stand and applaud me."
Unlike so many players, managers and officials, Cantona backed up everything his ego said about him.
There's a reason why the Old Trafford faithful still sing songs about him and call him "Le God."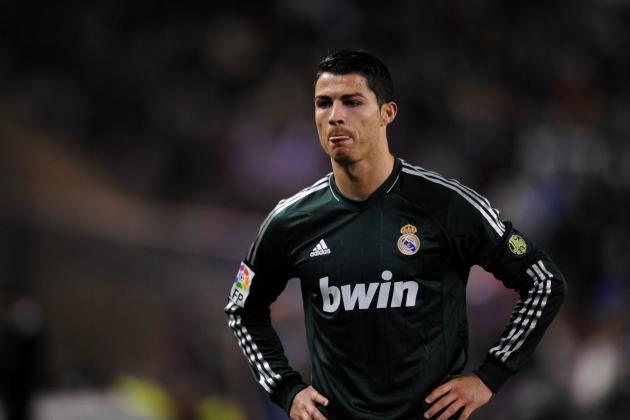 Denis Doyle/Getty Images

There's no doubt that Cristiano Ronaldo is one of the most talented footballers of not just our generation, but of all time.
He's got pace, power, ability and an almost frightening ability to score all kinds of goals.
However, whilst his rival Leo Messi seems to be a humble kind of guy, Ronaldo's arrogance and ego sets him apart from the Argentine.
Ronaldo's scored a phenomenal amount of goals over the last three or four years and he deserved all the credit in the world for being what he is: an exceptional footballer.
Here's an example of Ronaldo's ego.
Speaking after a Champions League match between Dinamo Zagreb and Real Madrid in September 2011 (via bbc.co.uk/football), where Ronaldo was mercilessly jeered by opposition supporters, Ronaldo said that he believes opposition fans hate him because:
"I am rich, handsome and a great player. People are envious of me. I don't have any other explanation."
If that doesn't scream ego, I don't know what does.
I'm not saying he doesn't have the right to say it, but it does scream ego!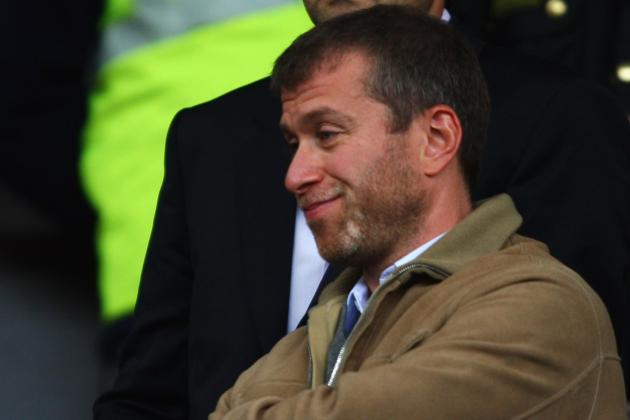 Clive Brunskill/Getty Images

Anyone who owns a football club has the right to do things they way they want to, but Chelsea owner Roman Abramovich is in serious danger of letting his ego have a detrimental effect on the club.
He's had an incredible amount of success since buying Chelsea almost 10 years ago, but it seems he's never happy.
That's not necessarily a bad thing. However, he needs to calm down when it comes to hiring and firing.
I think he's more concerned with being the players' friend rather than their boss.
Abramovich's dream is to build Chelsea into the biggest club in Europe. There's nothing wrong with that.
However, the reason why clubs like Manchester United have had so much success over the years is down to one thing: consistency off the pitch.
Sir Alex Ferguson has been able to build a dynasty at Old Trafford because he knows that his job is secure.
For some people that might breed complacency, but it drives consistency for United.
Abramovich would be well advised to go about things the same way at Stamford Bridge.
When he shells out however many millions of pounds for a manager, he should do it with the caveat that regardless of how bad things get in the short term, the appointment is a long-term investment for the club.
Look at United under Sir Alex for the first three or four years.
They didn't set the heather alight, but the infrastructure that was put in place has allowed United to dominate on the domestic stage and win a couple of Champions Leagues.
Abramovich's trigger-happy nature has already seen a handful of managers come and go in the last decade. If he keeps going this way, he might struggle to get the targets he wants.
Everyone can see how impatient he is and prominent managerial targets, like Pep Guardiola, might think twice about being the next man in the Stamford Bridge hot seat.
Building for the long term is important for any club, but I don't think Roman's ego will let him be as patient as he might need to be.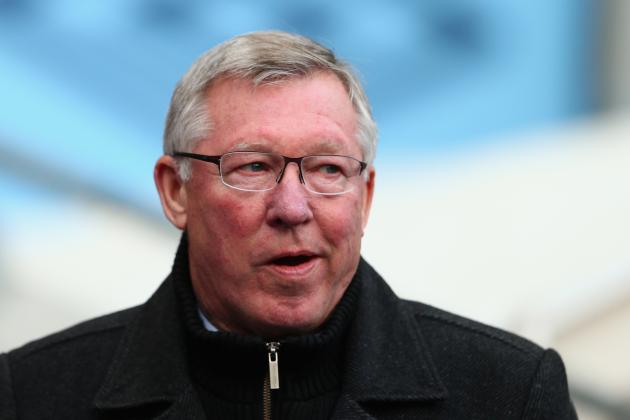 Clive Mason/Getty Images

I was just talking about him in the last slide.
Number two on this list is Sir Alex Ferguson.
He couldn't have been as successful as he has been over the years without having an ego.
Ferguson isn't shy about doing what he thinks is best for the club.
Players like David Beckham, Andy Cole and Ruud van Nistelrooy have all fallen foul of the feisty Scotsman in the past, and I've no doubt that there will be a few others before Fergie retires.
He's seen off every challenger to his throne in England, whether it's been Liverpool, Arsenal, Blackburn or Chelsea, and he'll want to do the same to United's noisy neighbours, Manchester City.
The sheer volume of success that Sir Alex has had at Manchester United guarantees him legendary status and he might well be the best football manager in history.
That success also gives him the right to have an ego. While his mind games might wind some people up the wrong way, more often than not they have the effect that Sir Alex wants them to.
The key thing about having an ego is the ability to back it up. Over the past 30 years at both Aberdeen and Manchester United, Sir Alex Ferguson has certainly done that.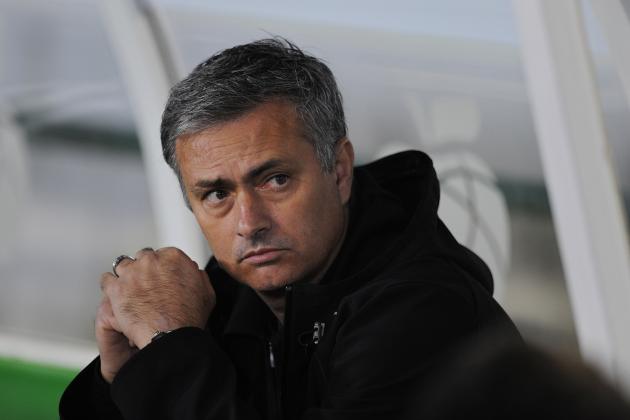 Denis Doyle/Getty Images

To be honest, I couldn't have anyone other than Jose Mourinho at the top of a list about egos.
Over the last decade, Mourinho has tasted domestic success in Portugal, England, Italy and Spain, winning two Champions League titles along the way.
When he breezed into Stamford Bridge as Chelsea boss in 2004, he'd just won the Champions League with rank outsiders Porto.
In one of Mourinho's first press conferences as Chelsea manager, he referred to himself as "The Special One."
If that wasn't an indication of the size of the man's ego, then I'm at loss to explain what is.
With the greatest of respect, the Portuguese league isn't of the same standard as others across Europe, so Mourinho's statement must have annoyed some people.
Jose proved all his doubters wrong by winning the Premier League title in his first season in England.
He might have a big mouth sometimes, but there's no arguing with the level of success Mourinho has had in his managerial career so far.
Since taking over at Porto in 2002, Mourinho has always ended the season with at least one piece of silverware, which is a record most managers would kill for.
He's won domestic trophies at every club he's been at: Porto, Chelsea, Inter Milan and Real Madrid.
The only two clubs where he didn't win a European trophy were Chelsea and, at the moment, Real Madrid.
Much like Sir Alex Ferguson, the amount of success Mourinho has had makes his ego understandable.
He hasn't had what you could call a major failure.
The only reason why Mourinho is above Sir Alex on this list is because he tends to tell us how good he is more than Ferguson does.
And to be honest, if I was in Jose's shoes with his ego and accomplishments, I'd do exactly the same thing!