Where the Cardinals Rotation Ranks in NL Central After Winter Meetings
Justin K. Aller/Getty Images
Johnny Cueto and the Reds will be the favorites again in '13.
It has been a quiet offseason in the NL Central.
The division no longer has the rebuilding Houston Astros to kick around and that seems to be the biggest change heading into the 2013 season.
On the free-agent front, Zack Greinke decided to stay out west. There is a slim chance the Milwaukee Brewers could be in play for outfielder Josh Hamilton, but no one is holding their breath.
The most intriguing rotation change was made when the Cincinnati Reds decided to give lights-out closer Aroldis Chapman a crack at their starting rotation. It will be interesting to see how that plays out.
With no impact starters left to sign (Kyle Lohse? Please.) let's see where St. Louis' starting rotation stacks up in the NL Central at this time.
All projected rotations courtesy MLBDepthCharts.com.
Begin Slideshow

»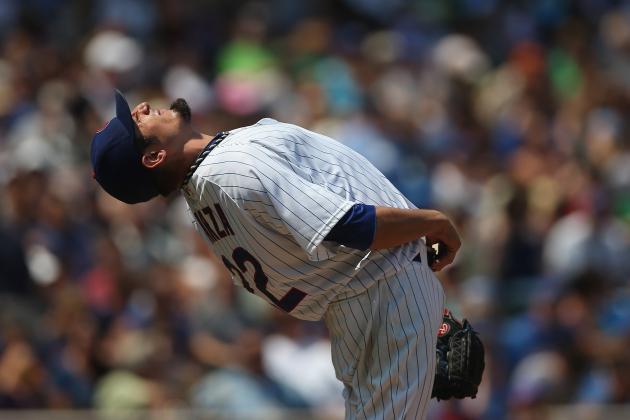 Jonathan Daniel/Getty Images

Projected Starting Rotation
Matt Garza
Jeff Samardzija
Travis Wood
Scott Feldman
Chris Rusin
There's actually a lot to like about Chicago's top three of Garza, Samardzija and Wood, none of whom are 30 yet; so, it's a relatively young rotation.

While Garza hopes to bounce back from an injury-plagued year, neither Samardzija (9-13, 3.81 ERA) or Wood (6-13, 4.27 ERA) pitched as bad as their stats show.
Both hurlers allowed far fewer hits than innings pitched. They'll need to work on allowing fewer home runs, however, as they collectively surrendered 45 in 2012.
Where the Cubs rotation gets really soft is at the back end with Scott Feldman and Chris Rusin. That the Cubs targeted Feldman—a pitcher who is more effective working out of the bullpen—as a free agent, speaks volumes.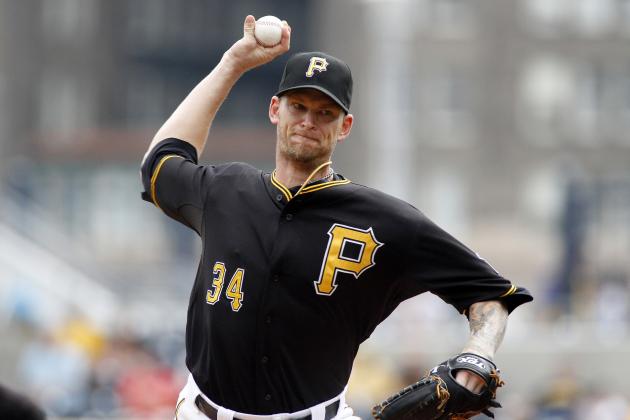 Justin K. Aller/Getty Images

Projected Starting Rotation
A.J. Burnett
Wandy Rodriguez
James McDonald
Jeff Locke
Kyle McPherson
The Pirates' A.J. Burnett and the Cubs' Matt Garza are very similar pitchers. They are both pretty effective when healthy, but miscast as aces in their respective rotations.
Wandy Rodriguez and James McDonald can be effective and are satisfactory veteran pitchers behind Burnett.
The back end of the rotation for the Pirates is pretty exciting, sporting youngsters Jeff Locke and Kyle McPherson. Both will be 25 years old next year and appear ready for the big show.
Locke struck out 34 in 34.1 innings with Pittsburgh while going 10-5 with a 2.48 ERA at Triple-A Indianapolis. McPherson held his own in his first stint in the majors (0-2, 2.73 ERA).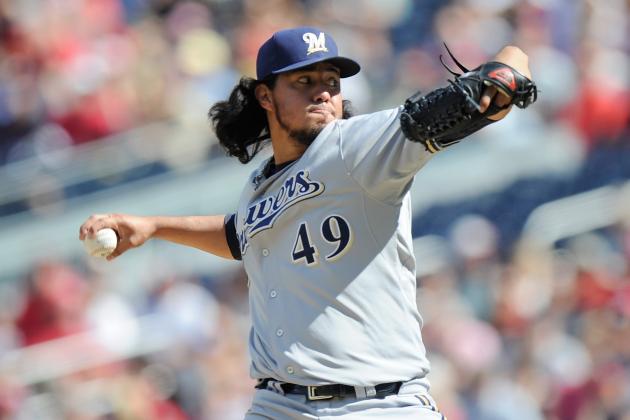 Greg Fiume/Getty Images

Projected Starting Rotation
Yovani Gallardo
Marco Estrada
Michael Fiers
Chris Narveson
Mark Rogers
The Brewers got a lot younger in the rotation when they finally bid adieu to Randy Wolf and Shawn Marcum, which happened probably a year too late in both cases.
The Brewers have a fairly solid rotation, led by former All-Star Yovani Gallardo, who will only be 27 years old in 2013 and fully in his prime.
What's not to like about a guy who's topped 200 strikeouts four years in a row? Actually quite a bit—much to the chagrin of Brewers fans. Gallardo will not be a true ace until he can get his walks and home runs allowed under control. He allowed 26 home runs in 2012 and 27 the year prior.
He also walked 81 batters in 204 innings, contributing to a 1.30 WHIP, which is barely better than what Lance Lynn allowed this year—his first year in the rotation (1.32).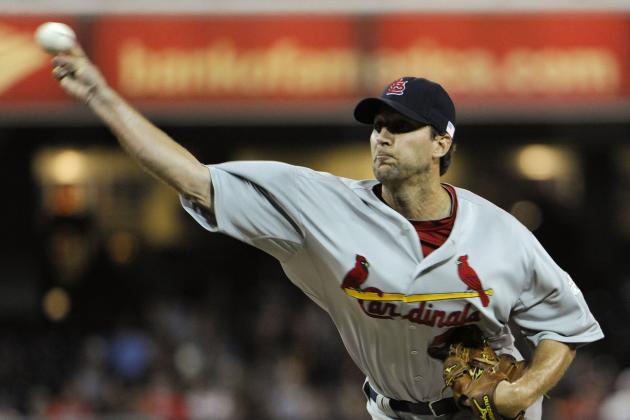 Denis Poroy/Getty Images

Projected Starting Rotation
Adam Wainwright
Chris Carpenter
Jaime Garcia
Jake Westbrook
Lance Lynn
After two straight seasons without the services of one their two co-aces, the Cardinals should have Chris Carpenter and Adam Wainwright back at full strength in 2013, which will almost certainly need to happen for the Cards to contend for the NL Central title.
While Wainwright's 2012 season was mediocre on the surface (14-13, 3.94 ERA) his peripheral stats were actually right in line with his 2010 season where he won 20 games.
He should be a top-five NL pitcher next season.
Ever the warrior, we know Carpenter will give his all to pitch the entire season and should be good for 15 wins. He will turn 38 in April next year, though, so this could be the last truly productive season of his career.
Jaime Garcia is a bit of a wild card as the team simply never can tell where his health is, but if he or Jake Westbrook (or Lance Lynn for that matter) falter, the Cards have a bevy of young arms ready.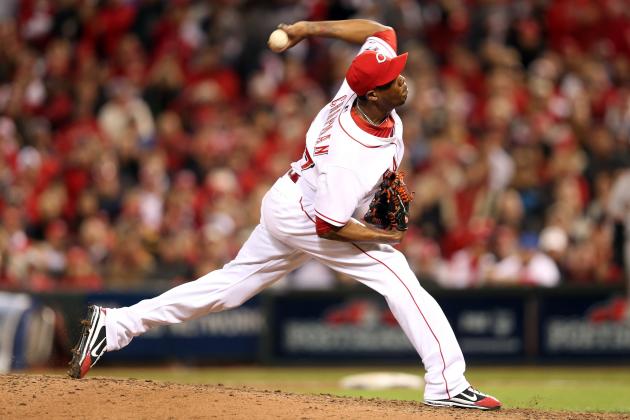 Andy Lyons/Getty Images

Projected Starting Rotation
Johnny Cueto
Mat Latos
Bronson Arroyo
Homer Bailey
Aroldis Chapman
The Reds have long struggled to get consistent performances from their pitching staff since they began calling Great American (Long) Ball Park home.
A lot of that has to do with career inconsistencies of Bronson Arroyo and Homer Bailey, but both had very good seasons in 2012. Arroyo, who is aging very well, still is the weak link in the rotation. But if Bailey truly figured things out, the Reds have the deepest starting rotation in the NL Central.
Johnny Cueto arguably should have won the NL Cy Young Award in 2012, and no team will have a fifth starter like Aroldis Chapman—provided the big lefty can stretch out his arm to give his team five innings an outing.
The Reds look like the team to beat in the Central, but the Cards may be ready to reclaim the title in 2013.