Player Grades and Analysis for the Green Bay Packers Week 14 Win over the Lions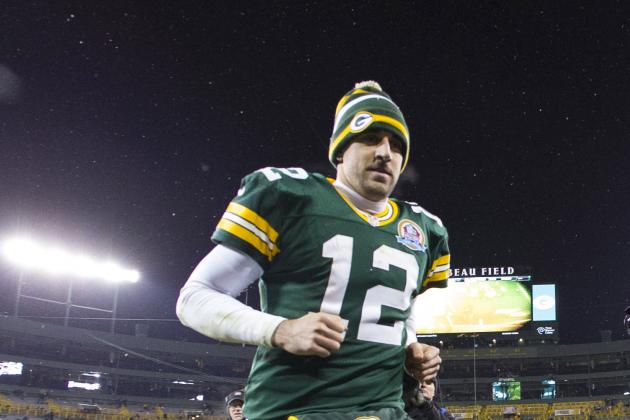 Jeff Hanisch-USA TODAY Sports

The Packers showed great poise and composure in their victory on Sunday night, especially after a first half in which they were only able to run 15 offensive plays and possessed the ball for just over five minutes.

The Packers were able to step up in the second half and put together three scoring drives on their way to a 27-20 win at Lambeau field.

The win gave the Packers sole possession of first place in the NFC North, and they are now holding a one game lead over the rival Chicago Bears. The Packers will now be able to clinch the division next week with a win over the Bears.

There were specific players that stepped up and lead the Packers to victory this week, and there were also those that may have hurt as much as they helped.
Let's take a look at each member of the Packers team that saw significant playing time Sunday and see how they fared.
Begin Slideshow

»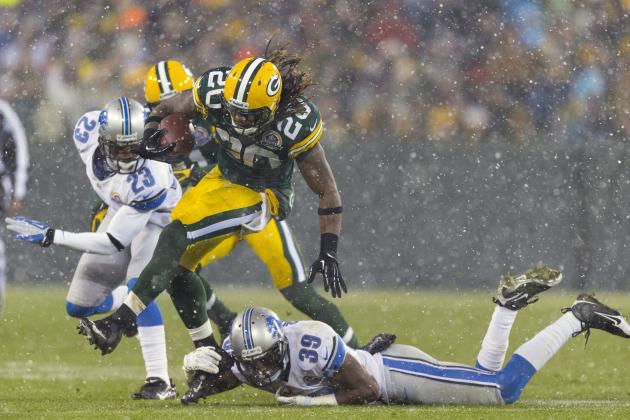 Jeff Hanisch-USA TODAY Sports

Aaron Rodgers, QB - Rodgers was able to make enough plays to lead the Packers to victory on Sunday. While his performance was less than MVP-caliber—14-of-24 for 173 yards and no passing touchdowns—he did manage to get a rushing touchdown in the second half that provided a spark to the rushing attack. Rodgers did an excellent job of limiting mistakes and not forcing plays.

Grade: B


Alex Green, RB - Green had a great game as the primary running back, rushing for a season-high 69 yards on 13 carries. Green showed a good mix of burst and power, rushing for eight to nine yards on multiple first down carries. The Packers would be ecstatic to get this kind of game from Green every week.

Grade: B+


DuJuan Harris, RB - Harris did a great job filling in for the injured James Starks, and he showed a great burst of speed off the line while providing the go-ahead touchdown in the fourth quarter. Harris showed great potential to contribute going forward the rest of the season.

Grade: B


John Kuhn, FB - Kuhn saw just one carry for negative five yards in the game, while Green and Harris saw the bulk of the carries. But Kuhn contributed well in the run blocking department while also doing a good job of helping Don Barclay in pass blocking situations.

Grade: B


Jermichael Finley, TE - Finley regressed slightly from his previous couple games. This is not only in terms of his receiving production, but also in terms of his blocking ability. Finley missed multiple blocks on running plays, one of which allowed Alex Green to be smashed on a run to the right side of the line. Finley did have a couple of catches without any drops, and hopefully, this game was just a slight step back for Finley.

Grade: C+
D.J. Williams, TE - Williams made a great play on a 12-yard run by Alex Green, sealing the edge for the runner. While Williams was not targeted in the passing game, he did an excellent job in terms of run-blocking during the time he saw.

Grade: B-


Tom Crabtree, TE - Crabtree was pretty quiet in Sunday's game, seeing less playing time than fellow tight end D.J. Williams. Crabtree was targeted once without a catch.

Grade: C


Randall Cobb, WR: Randall Cobb was Randall Cobb again on Sunday, pulling in seven targets for 102 yards. Cobb also made a phenomenal catch down the sideline in the second half that resulted in a first down but he did have a terrible drop on a free play that would have resulted in a big play.

Grade: B


Greg Jennings, WR: Jennings had a fairly quiet night, pulling in one catch for 27 yards. He did make a couple excellent blocks on runs to the outside.

Grade: C+


James Jones, WR - Jones had a couple catches on the night and also had a couple mistakes to go along with them. Jones dropped an easy hitch route while also failing to make a block on a run by Alex Green.

Grade: C-


Jarrett Boykin, WR - Boykin caught just one pass for four yards while also failing to seal the edge on an outside run.

Grade: C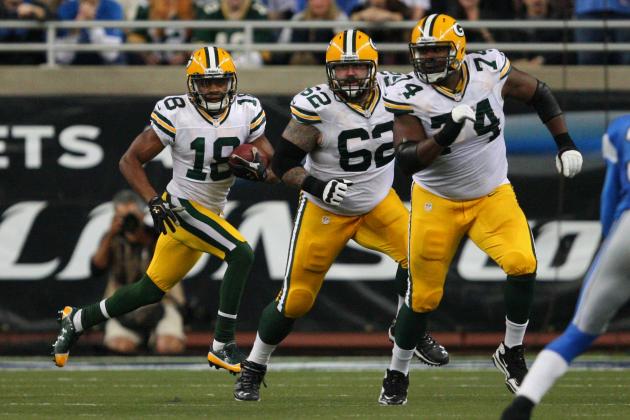 USA TODAY Sports

Marshall Newhouse, OT - Newhouse struggled again this week, failing to seal the edge on speed rushers on multiple plays. Newhouse gave up on the play that Rodgers got sacked and lost the ball after Newhouse was flattened by a bull-rush that had Rodgers running for his life.

Grade: D


Evan Dietrich-Smith, OG - Dietrich-Smith had a much better game this week against the Lions than in recent weeks. Dietrich-Smith made a great play, springing Harris for his lone touchdown run. However, Dietrich-Smith did get embarrassed by a bull-rush that resulted in him getting pushed back into Rodgers, allowing a sack.

Grade: B-


Jeff Saturday, C - Saturday had a relatively quiet night, however, he did fail to pick up a couple run blocks.

Grade C-


Josh Sitton, OG - Sitton didn't have the greatest of nights. He was called for a holding penalty that was clearly not holding, and then committed a false start. Sitton was then unable to block Ndamukong Suh on a play that resulted in Suh getting pressure on Rodgers.

Grade: C


Don Barclay, OT - Barclay had a great game this week. He sealed the edge well on running plays, got down the field, made blocks and was able to keep speed rushers from getting to the quarterback. Barclay's power is immediately noticeable when he steps on the field and he uses it well.
Grade: B+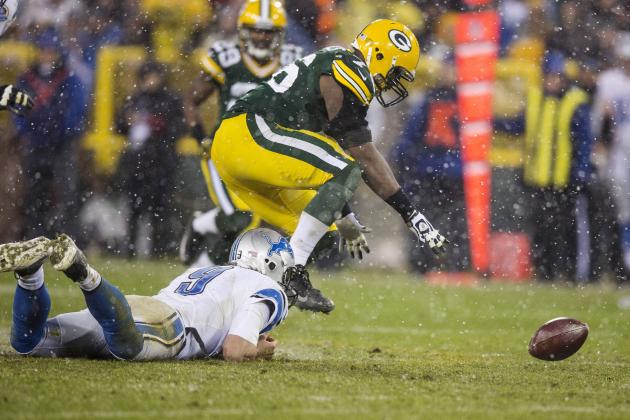 Tom Lynn/Getty Images

B.J. Raji, NT - Raji had one of his best games of the season, disrupting run plays on the inside of the tackle box on multiple occasions. But Raji also committed an offsides penalty in the game.

Grade: B+


Ryan Pickett, DE - Pickett did an excellent job of stuffing the run while also working hard to disrupt the passing game. PIckett continues to be the top defensive lineman in Green Bay.

Grade: A-


Mike Daniels, DE - Daniels had perhaps his best game of the season. First, he was gift-wrapped a touchdown by Matt Stafford on a fumble that Daniels took to the end zone. Daniels also provided additional pressure on Stafford while doing a good job of shedding his blocks and helping in the running game. Daniels also provided a pass deflection as well.

Grade: A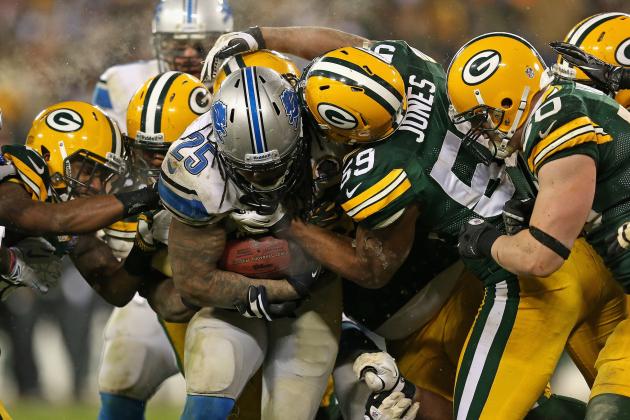 Jonathan Daniel/Getty Images

A.J. Hawk - Hawk did did lots of things well, but he didn't do anything great against the Lions. Hawk provided adequate run support and did well in pass coverage, however, nothing he did really stood out.

Grade: C


Brad Jones - Jones was good against the run, playing downhill and attacking the line of scrimmage. However, his pass coverage left something to be desired. He was burned by Joique Bell on an important third-down play.

Grade: B-


Dezman Moses - Moses clearly looked like a man that realized that this was his last week to prove that he deserves playing time when Clay Matthews returns—but that did not result in solid play. Moses was incredibly aggressive, to the point that he committed multiple offsides penalties and took lousy angles due to his over-aggressive, over-committal style of attacking.

Grade: D


Erik Walden - Walden failed to get much pressure on the quarterback all night and had little effect on the running attack. Unlike the aggressive nature of Moses, Walden seemed to sit back and wait for others to attack. He did manage one quarterback pressure.

Grade: C-


Frank Zombo - Zombo's most memorable—and unfortunate—play of the night was when he was eaten up on a block thrown by Matt Stafford on an end around. Zombo failed to shed the block and the play went right on past him. Zombo did make a couple other tackles, however, that play really stands out on the game film.

Grade: D-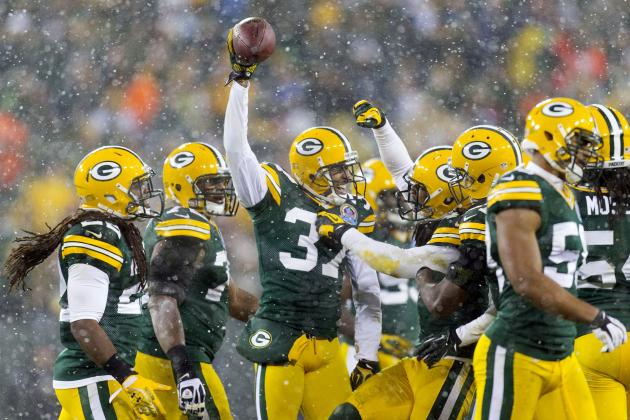 Jeff Hanisch-USA TODAY Sports

Tramon Williams, CB - Rarely would you consider a cornerback holding a wide receiver to 10 catches for 118 yards a success. However, with Calvin Johnson being that wide receiver, it was actually a pretty successful night for Williams. Furthermore, most of Johnson's yardage came in the final couple of minutes, when the Packers were playing way off of the wide receivers just trying to kill clock.

Grade: B+


Davon House, CB - House saw less playing time with the return of Shields this week, and he took a bad angle against tight end Tony Scheffler that resulted in a touchdown.

Grade: C


Casey Hayward, CB - Hayward continued to play beyond his years this week. Hayward had a couple of pass deflections while also forcing an errant throw on a cornerback blitz.

Grade: B


Sam Shields, CB - Shields had a great return after missing the previous six games. Shields had an interception while almost hauling in two more. Shields did a great job of coming in and contributing right away.

Grade: A -


Morgan Burnett, S - Burnett didn't make the highlight plays that he made last week, however, he was just as good in run support and stuffed a few plays along the line of scrimmage. Burnett led the team with nine tackles on Sunday.

Grade: B+


M.D. Jennings/Jerron McMillan, S - Jennings and McMillan were relatively quiet on Sunday night. Still, they provided phenomenal over-the-top help on Calvin Johnson, helping to keep him out of the end zone.
Grade: B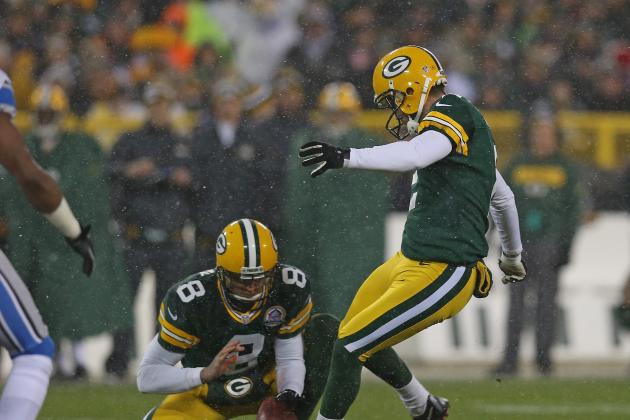 Jonathan Daniel/Getty Images

Mason Crosby, K - Crosby seemed to take a step in the right direction on Sunday. Crosby not only made two field goals, but they were good looking kicks with good spin that should put some confidence back in Packers fans regarding their kicker. He did miss one field goal, however, it was a 52-yard field goal in the snow and the wind.

Grade: B-

Tim Masthay, P - Masthay had another great night, pinning the Lions inside the 20 on one of his punts.

Grade: B-


Randall Cobb, PR/KR - Cobb had another solid night of returning, racking up 76 yards on three kick returns and another 13 yards on one punt return.

Grade: B-