Why Liverpool Must Add Attacking Talent in January Transfer Window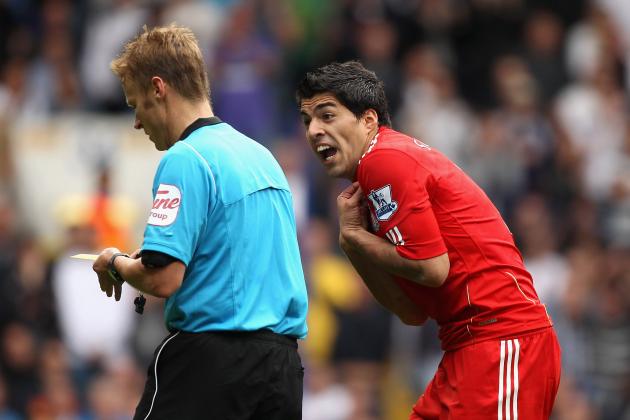 Clive Rose/Getty Images

Liverpool's recent run of form has lifted them into the top half of the Premier League table. This has given Brendan Rodgers and his team plenty of hope that the club will be in a relatively strong domestic position as the Reds head into the January transfer window and the chance to strengthen presents itself.
Despite bringing in two attackers in the summer—Fabio Borini and Oussama Assaidi—Rodgers saw a net loss to his squad in the final third, as the likes of Maxi Rodriguez, Dirk Kuyt and Craig Bellamy all departed for good, and Andy Carroll went out on loan.
Rodgers, the Reds manager, will be anxious to bring in one or two further faces in the new year—and with good reason.
Liverpool have seen improving performances on the pitch recently, the team are beginning to dominate games with more frequency and plenty of goal-scoring chances are being created—but the Reds need more final-third quality to turn those chances into Premier League points.
Here is why Liverpool need to add more attacking talent when they move into January.
Begin Slideshow

»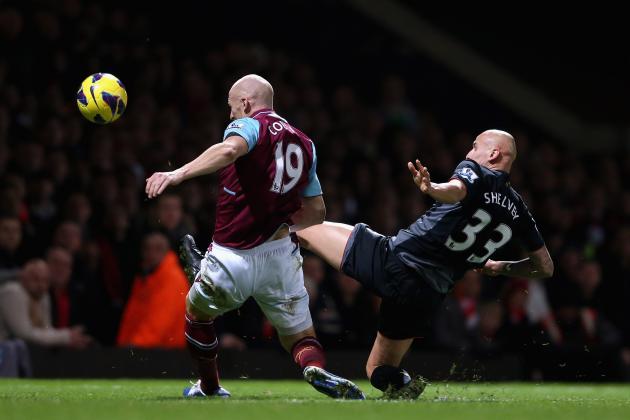 Scott Heavey/Getty Images

First and foremost, there is the key problem of pure numbers at the club.
Kuyt, Bellamy and Carroll were all capable of playing as a central attacker—either on their own or with a partner—but they have all left Liverpool.
Right now, only Luis Suarez and Borini fill that particular role for the Reds, who were forced to name midfielder Jonjo Shelvey as an auxiliary forward again with the usual strikers suspended and injured.
To be fair, Shelvey has done very well for the Reds when asked to play as the focal point of the attack; he scored against Young Boys in the Europa League and was pivotal against West Ham in the Reds' crucial second and third goals.
The youngster will doubtless continue to function in various roles during the season; he is for sure at his best from a central attacking midfield role, but playing either side of the forward will also give him further game time for now.
But Liverpool need someone else who can play that role through the middle, a more experienced player who will make the right runs, be involved in the build-up play and can be relied upon to hit the net when Luis Suarez is misfiring or absent.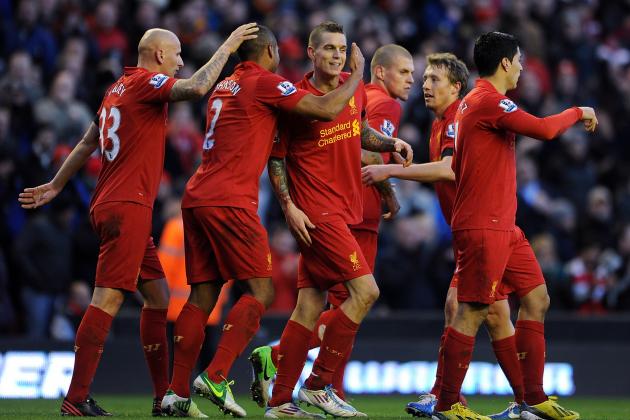 Chris Brunskill/Getty Images

Still on the basics before we move on, it's rather apparent that Liverpool need to score more, and have needed to for a long time.
A total of 22 goals this season leaves the Reds halfway down the league table in terms of hitting the back of the net most regularly, much like their points tally leaves them in the usual league standings at present.
That's an average of 1.38 goals per game so far this season. Exponentially, Liverpool are on course to score around 52 goals in total. Last term under Kenny Dalglish, the Reds netted 47 in total, an average of 1.24 goals per game.
So a marginal improvement has been seen so far, but it is still some distance short of the required amounts for a top-four finish—60 is the lowest total of goals scored by a top-four placed team over the past five years, and in fact it is more often a minimum of 65.
Liverpool simply don't have the players in the squad at the moment who can contribute that kind of total, and they need to add one or two more players who can significantly boost the expected tally over the second half of the season.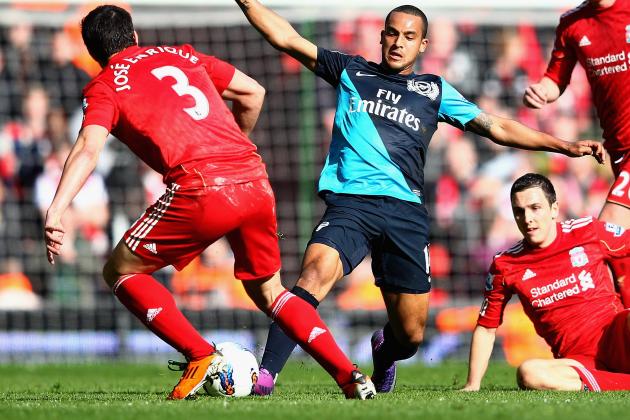 Clive Mason/Getty Images

We touched on the central striking role earlier and how Liverpool need someone else who can fill that role when needed—but that's not the only area of attack where the Reds need improvements.
Consider the two pictured Liverpool players; Jose Enrique and Stewart Downing. Neither have set Anfield alight frequently enough down the left side, and in recent weeks they traded places; the winger in defence and the defender on the wing.
The West Ham game saw them revert to "normal" for half an hour before an injury to Jose Enrique, but the fact that neither of them are fancied by the management to regularly perform in their usual positions is indicative of the need to address both areas of the pitch.
For sure, Liverpool have one spot in the front three open to challenge for.
Whether that is by Downing rediscovering his attacking ability, Joe Cole lasting 90 minutes more than once a season or someone like Suso winning his place back in the team is still to be determined for December.
January, though, will surely see somebody new enter the club who is capable of playing from the flank—and likely through the centre by way of their positional traits.
As an oft-linked example, the other pictured player, Theo Walcott, is a prime example of the type of positions a player could potentially take up. Playing initially from the wider areas of attack and running infield to exploit the spaces left by a roving central attacker—not unlike the equaliser for Liverpool at the weekend.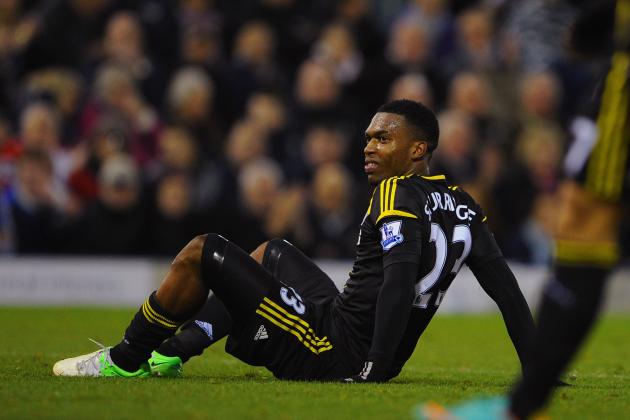 Michael Regan/Getty Images

January is a difficult time to buy, with little value in the market and teams unwilling to do business.
So you might believe, anyway, if you hear managers or pundits talking and absorb it without question.
Signings of Daniel Agger, Luis Suarez and Martin Skrtel by Liverpool in January might make you consider otherwise, as might deals with other teams including Nemanja Vidic, Ivan Rakitic, Nikica Jelavic and Demba Ba.
Top quality is always available in the transfer market, but you don't always have to pay top money for it. The key for the scouts, management team and higher members of the boardroom—read: Ian Ayre—is to identify the right targets at the right time.
Players whose contracts are coming to an end over the next year or so, players out of favour at their clubs and some with set-fee release clauses are plying their trade at the top of the game all over Europe right now. You can bet that Liverpool have at least watched some, if not actually have their name written in indelible ink at the top of Brendan Rodgers' notepad.
Liverpool don't need to spend £50 million in January, or anything close to it, to bring in proven quality additions to the squad. Picking the right players for the here and now is all-important, and there are enough of them about to get it right this time.
Dino Panato/Getty Images

Following the Europa League win in Italy against Udinese, the Reds are sure to be playing continental football once more after the new year.
In late February, the club will recommence their travels around the continent in the hope of lifting the trophy in May—though there are nine matches to play before that could happen, a pretty hefty amount and two more than the Champions League participants will have to endure.
Even before that, Liverpool begin their adventure in the FA Cup, a competition they reached the final of last season before succumbing to Chelsea.
With an away fixture against Lincoln or Mansfield to negotiate first, the least the Reds should be hoping for is entry to the fourth round, though making the quarterfinals should certainly be a minimum target.
There's also the small matter of 22 more league games to play—in total, Liverpool are looking at a maximum of 38 more games this season.
The squad size at present simply isn't big enough or good enough to cope with that many games and the pressure of hoping for the biggest prizes on offer (two trophies and a top-four place) while maintaining the same levels of consistency.
Now, nobody should suggest that even with a couple of winter additions all three targets will be attainable; but at least the team would have a better chance of going for them. Individuals can pick which is more important to themselves as fans—but Dalglish reached two finals, won one and got the sack.
Brendan Rodgers is trying to build a team capable of reaching the top four in the league on a regular basis.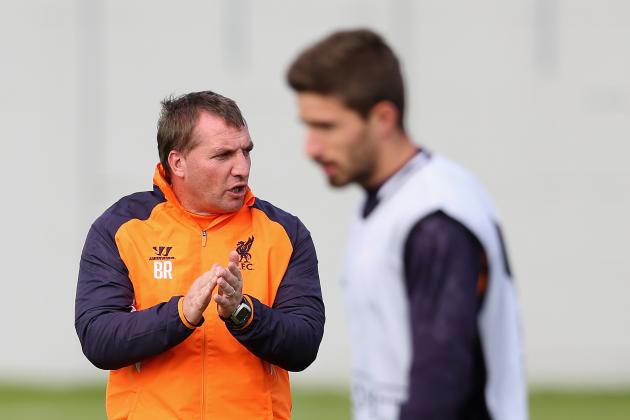 Clive Brunskill/Getty Images

Which brings us nicely onto our next point.
This isn't Rodgers' Liverpool just yet. The incoming manager was always going to require three transfer windows to be able to shift numbers around sufficiently to call the team his own.
The formation has changed slightly, the patterns of play are developing and individual roles are more clearly defined within the team with every passing game, but it will be another 12 months before a real assessment of the success or otherwise of this regime.
To that end, and ignoring this season's possibilities for a moment, it is important for two reasons that Brendan Rodgers continues to add to the side this January.
Firstly, players who come in need a little time to adjust.
It can be hoped that the arrivals hit the ground running in terms of performances, of course. But in day-to-day living, moving house, learning the tactics of the team and being around teammates, players are humans after all; and much like joining a new job elsewhere, it can be a little daunting.
Having a few months under their belts by the time next season arrives—and with it further new additions—will help those January arrivals already be more established at the club and in the team.
Secondly, time is tight in transfer windows. The summer version seems lengthy especially when deals aren't completed in the first weeks, but there is frequently a lot of work to be done for teams to make transfers happen.
If Liverpool were to neglect to bring people in during January—as happened last season, for example—then there will be more work to be done in the summer.
Liverpool had a clear-out to work on this summer, and if there are less targets to try to bring into the club next time around it should make the whole process smoother, as well as being less of a strain at once on the club finances.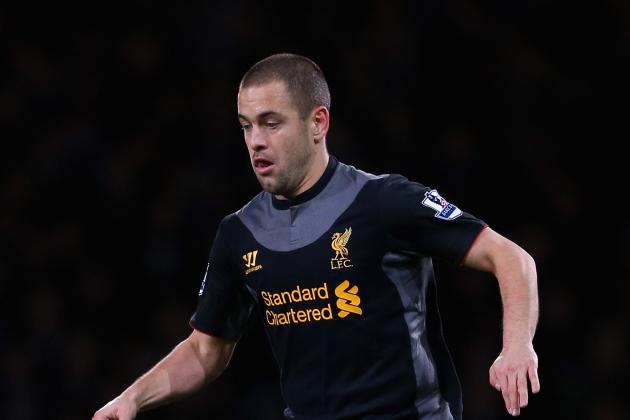 Scott Heavey/Getty Images

It's not just incoming transfers Liverpool have to worry about.
Brendan Rodgers still has work do to make the squad his own as we've mentioned, and that includes filtering out the players who just won't cut it, whether that be down to playing style, position or ability.
Andy Carroll is the biggest name who was culled for these reasons, albeit temporarily so far, but Charlie Adam also went the same way and Jay Spearing was also shifted out on loan.
There are still at least four players in the first-team squad who might necessitate being sold or released sooner or later, and if it happens in January then those players need to be replaced.
Raheem Sterling has done very well, but until last week he was a 17-year-old who had made almost 30 appearances for his side in a short space of time. He will need a break at some point, and Liverpool are already lacking in forwards who can operate at the required level of consistency and quality.
Offloading those who perform even occasionally and not replacing them will simply kill any hopes the Reds have of reaching the top four, or even six.
Players being signed and sold is natural progression for any team, and Liverpool need to make sure they get the balance right in January—hopefully with a net addition for the final third of the pitch.