Liverpool Stats Breakdown: Crunching Pass and Possession Numbers Under Rodgers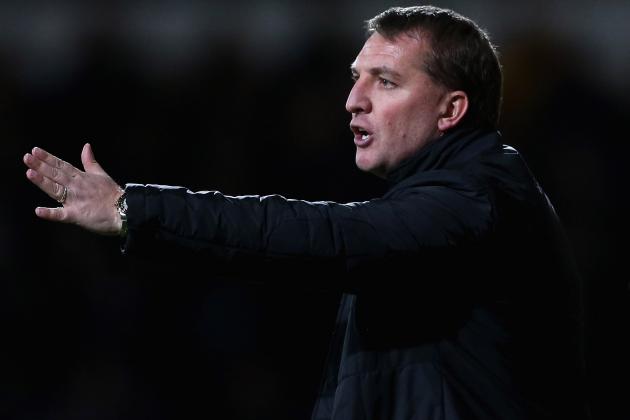 Scott Heavey/Getty Images

Pass and move, keep the ball, work possession, tire teams into submission. Death by football.
Such, we were told, was the fabled Brendan Rodgers philosophy which he would bring to Liverpool as he entered the club this summer to replace the legendary Kenny Dalglish.
The formation has changed, the game plan has altered slightly and a handful of players have come and gone—more going than coming—but in terms of league position, not much has changed.
Yet.
How has Brendan Rodgers gotten on with shaping the team to his model? Are the Reds players approaching matches with the possession-first mentality that the manager believes will help win games?
Here's the latest analysis of how Liverpool's passing game has moved on and how it is affecting their performances on the field.
Begin Slideshow

»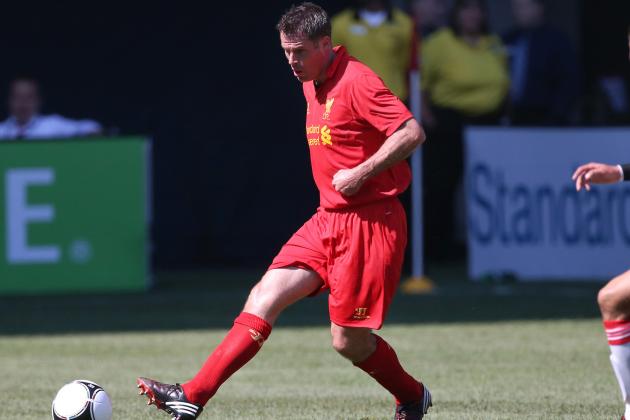 Tom Szczerbowski/Getty Images

Let's first consider the role of statistics in modern football.
Too often a stat can be trotted out without context or meaning, simply used as a baton to beat a big drum with a "We Should Have Won" sticker emblazoned across the front.
Possession by itself achieves nothing. The same can be said for shots from 50 yards out.
Taking a close look at a number of related statistics, though, can support a more detailed analysis of games as a whole, rather than merely asking, "Does Carragher hoof the ball?" or "Can Stewart Downing really cross?"
Sure, statistics will help you answer those particular questions. But there's still more to be considered than the pure, single numbers.
As an example, let's indeed consider Downing's crosses. Last season he attempted 199 crosses in the top flight. Does that number help? Not much. We need more data.
Factoring in his minutes played and percentage rate of finding a teammate from a cross, and taking the averages, we find that the winger completed a successful cross once every 54 minutes last season—not overly impressive on first glance.
Further analysis can be found in comparisons: Everton full-back Leighton Baines, generally regarded as one of the finer crossers of the ball in the top flight, completed a successful cross every 44 minutes.
Only 10 minutes' difference in the success rate; is it telling enough to have a points-winning impact?
Clive Brunskill/Getty Images

On to Liverpool's passing, then.
Here are the most important raw numbers from the current season: Liverpool have made 8,261 passes during matches in the Premier League, of which 7,012 of them have been accurate (open play only).
The number of passes averages out at 5.43 per minute in the league, and the Reds have had an average of 58 percent possession in their games this term.
Those are the passing statistics in their most basic state, and all are up from last season in terms of rapidity and accuracy.
What does it tell us? Well, that Liverpool are passing the ball both more often and more accurately.
But little else of value.
What we need to look at, in order to figure out whether this higher passing rate is helping the Reds win games, is where the passes are being made and what their end result is.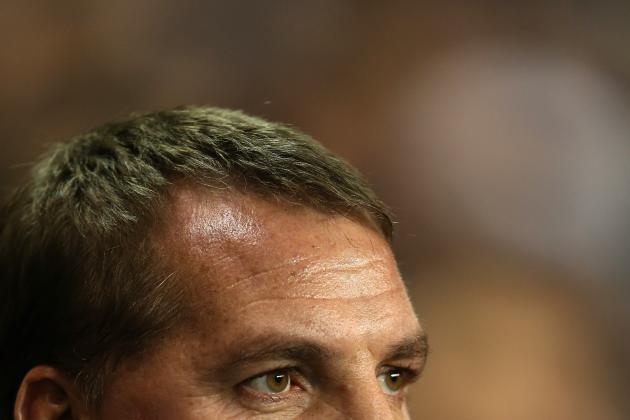 Julian Finney/Getty Images

Where should the Reds be with all this extra possession? Why does it benefit them more than taking a more direct approach?
Liverpool's possession strategy is based loosely on two principal tenets.
Firstly, in the attacking sense, if there is no option to provide a pass to make a shot on goal, keeping possession—even at the expense of possession in the final third—is the optimum outcome. Go back, go infield, pass wide, start again.
Secondly, with the ball in the defensive third but with the intent of attacking, building from deep will allow either more time on the ball or more chance of pulling players out of position.
Consider Pepe Reina bowling the ball out to a defender or the deep midfielder—a player from the opposition might start to press high up the field. If the Liverpool player can pass the ball beyond him, that's already one player less to work through to construct a scoring chance.
Likewise when three or four attackers press Liverpool high up the field at once, trying to win back the ball and pen the Reds in, it is now customary to see the side pass , often "dangerously" at times, out of trouble and into midfield.
Quick, short, accurate passes until space opens up to bypass the pressing attackers and begin another phase of build-up play—this time with three or four players less to navigate as they move up the pitch.
Clive Brunskill/Getty Images

Recycling the ball in deep areas as they do, it would be no surprise to see the two central defenders and the deepest midfielder playing more passes than anyone else for Liverpool.
Indeed, Martin Skrtel and Joe Allen are the only two players to surpass 500 passes in their own half of the field, and Daniel Agger will shortly join them. Liverpool play it accurate and often in the defensive half; 93 percent of all passes played closest to their own goal find the mark.
It's an indication of the patient approach rather than getting the ball forward quickly. It's also an indication that the players are taking the philosophy on board.
Here's a breakdown of Liverpool's passing all over the pitch from the past two seasons, which will help draw some conclusions:
| | | |
| --- | --- | --- |
| | 2011-12 | 2012-13 |
| % of passes in defensive zone | 43 | 45 |
| % accuracy | 90 | 93 |
| % of passes in attacking zone | 63 | 59 |
| % accuracy | 69 | 73 |
| % of passes in final third | 34 | 32 |
| % accuracy | 70 | 73 |
As we can see, Brendan Rodgers' men play in the defensive third more often than Kenny Dalglish's version of the side did. Dalglish's play was to get the ball forward quicker and try to make chances to shoot on goal from there.
With comparatively less time spent on the ball in the final third, but a consistently more accurate approach to passing, are Liverpool being helped or hindered in their attempts to reach the opposition goal?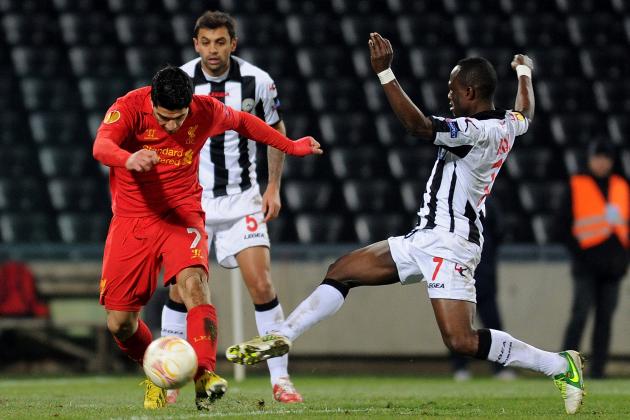 Dino Panato/Getty Images

The contrasts between this season and last are apparent for Liverpool in terms of what they actually do with their possession.
Operating last season with two wide midfielders and often only one forward lent itself to an unbalanced and predictable methodology in the final third at times. The difference in creativity and and the ability to create chances to score provides encouraging reading for Brendan Rodgers.
2011-12 per-league-match averages:
15 dribbles, 29 crosses, 169 final third passes, 12.8 chances created in open play, 7.42 minutes per chance created, 77 minutes per goal scored.
2012-13 per-league-match averages:
23 dribbles, 22 crosses, 164 final third passes, 13.1 chances created in open play, 7.23 minutes per chance created, 69 minutes per goal scored.
Simply put, Liverpool are taking a more progressive and adventurous route to goal. Crosses are, statistically, a poor means of scoring. The number of times that the Reds opt for this approach has dropped quite drastically, while they are creating more chances to shoot from around the same number of passes.
The dribbling is an interesting one; the success rate has remained the same—49 percent—but it doesn't necessarily lead to great chances directly. It does, of course, present the possibility of opening up the game and once in a while, see Glen Johnson vs. West Ham, it pays off in the most handsome of fashions.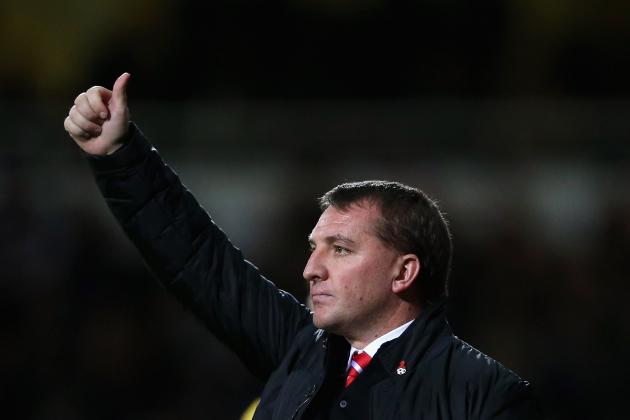 Scott Heavey/Getty Images

Well, it's easy really; all this good possession and well-worked build-up needs to be turned into more goals. Simple, yes?
Despite having a marginally better chance conversion rate than last season (10 percent vs. 9 percent), Liverpool are still wasting far too many chances. To move up the league table, they need to take their goalscoring opportunities more frequently.
The passing approach is working to an extent. It is helping to create more opportunities in the final third, even though much of the work is done in deeper areas.
Liverpool are still some distance from finding the right tempo for prolonged spells in games. Often the play will slow down and become lethargic and predictable, resulting in many passes but generally achieving nothing before the ball is lost.
This is where statistics become less helpful as opposed to showing where the creativity is coming from.
As we are taking averages over a significant portion of the season (16 matches thus far), these general conclusions together with visual appreciation of the play can still show the direction Liverpool are taking and what remains to be achieved.
Liverpool want better attackers to complement Luis Suarez. The Uruguayan has scored 13 goals in all competitions this season. Another addition or two to add goals while playing in the manner required by the manager would be worth many points to the club this term.
Even more chances would be created if there were, for example, an additional left-sided forward of high quality to make runs central, occupying the spaces Suarez leaves in the box.
It is to be hoped, too, that a January import can add both the finishing and the movement that Liverpool are in need of.
In terms of the passing, though, it's hard to argue that Rodgers' approach is not working.
Statistics from EPLindex.com and WhoScored.com