On Thursday, the Tampa Bay Rays pulled off one of the greatest pick-pockets in the history of MLB trades.
They dealt All-Star starting pitcher James Shields and righty Wade Davis to the Kansas City Royals in exchange for 2012 MLB Player of the Year, Wil Myers, and top prospects Mark Montgomery, Jacob Odorizzi and Patrick Leonard (first reported by Bob Dutton of the Kansas City Star). To complete the transaction, Tampa will send a player to be named or cash to the Royals (source).
For the Royals, this deal has the ingredients to eventually spell the end of General Manager Dayton Moore's embattled career in KC.
For the Rays, this is perhaps their brilliant front office's greatest achievement.
Sure, James Shields is a solid pitcher, and Wade Davis has the tools to develop in to a very good mid-rotation arm, but you don't trade a Minor League Player of the Year, two of the game's top young pitching prospects—one of them is a left-hander—and a promising power prospect for two years of James Shields and a possible number-three starter.
First of all, James Shields is 31, and he's over seven seasons in to his big-league career. He isn't getting any younger and certainly not any cheaper. But even more puzzling, the Royals are set to pay him like a free-agent pitcher. He's only under contract for two years, and assuming the Royals pick up his 2014 team option, they'll pay him $21 million in that span.
Two years and $21 million wouldn't be a half-bad rate if Shields were a premium pitcher and the Royals were a contender. But he's not premium, and the Royals are set to field a team with Jeremy Guthrie and Ervin Santana playing key roles—the duo combined for -1.7 rWAR in 2012.
Which team will benefit more from the trade?
Two years ago, Shields was a Cy Young contender, and he looked like a true ace. But nowadays, that season looks more a like a fluke, and he's looking more and more solid than ace-like. He tossed 249.1 innings of 2.82 ERA baseball in 2011, but then posted a 3.52 ERA through 227 innings this year.
In 2010, the year before his career-best campaign, he allowed the most hits in the MLB (246) and his ERA was an ugly 5.18.
Which James Shields are the Royals getting? Well, considering he had a lifetime 4.25 ERA before his remarkable 2011, and his career FIP is 3.75, it appears Superman won't be headed to Kansas City after all. He's a very good pitcher, with a very good groundball rate (45.1 percent career) and an even better K/BB (3.68 career), but he's homerun-prone enough to keep himself short of ace status.
Considering Shields is leaving one pitcher's park for another, but now working under a manager who doesn't use defensive positioning strategy as effectively as Madden, his numbers won't be in for a major improvement. Plus, he'll be relying on his 31-year-old arm which has already tossed 1,489 MLB innings (including the postseason).
What about Wade Davis?
If you're at all doubting the Royals return at this point, do you really think Wade Davis is going to be the saving grace?
Davis has proven to be a decent big league pitcher so far in his career, and his potential is still on par with a mid-rotation starter, but he's already headed toward his fourth season of service time, and he's working on a contract that will pay him $34.1 million through 2017.
His contract is team friendly, as it's all club options after 2014, but it guarantees him at least two years and $10.1 million. For a guy who's just a 0.6 rWAR pitcher through 388.2 MLB innings as a starter, that's not all that great a deal.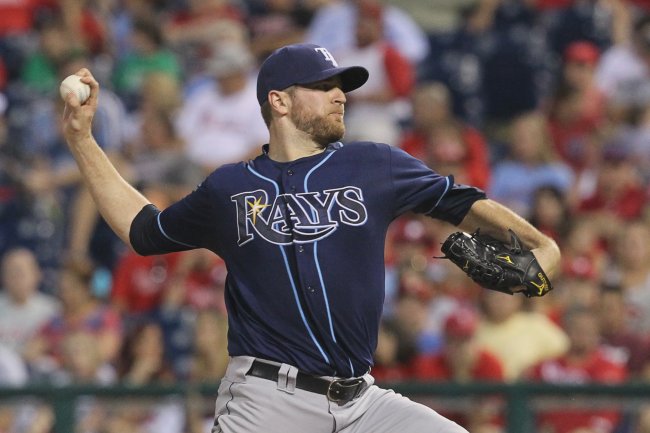 Hunter Martin/Getty Images
So, the Royals are getting a workhorse number-two starter and a potential 3-4 guy in Wade Davis. They'll be paying both pitchers slightly discounted rates, but still about arbitration wages.
Who did they send to the Rays?
A better question is who didn't they send? Before this talent-ravaging deal, the Royals' farm system was one of the best in baseball—rife with big league-ready impact-level players. Now, they've fallen back to the middle of the pack.
No doubt about it, Wil Myers' departure is the the loss that hurts most. Baseball America's 2012 Minor League Player of the Year, Myers, is arguably the game's best-hitting prospect.
Myers started 2012 in the Texas League (AA) and finished as the Pacific League's second-youngest player (AAA). He hit a monster .314/.387/.600, with 36 homeruns and 69 extra-base hits.
Despite being just 22 years old, Myers finished the season ranked in the top 10 among PCL leaders in on-base percentage, slugging and batting average. Through 381 career minor league games, the former third-round pick is now hitting a sparkling .303/.395/.522.
Myers isn't only a prospect, he's the best prospect. And, as far as investments go, he's a near slam dunk. Before him, all six of the most recent Minor League Player of the Year recipients have appeared in at least one All-Star game. And following in the footsteps of name-brands like Mike Trout (2011 MiLB POY) and Joe Mauer (2002), he's blessed with superstar potential.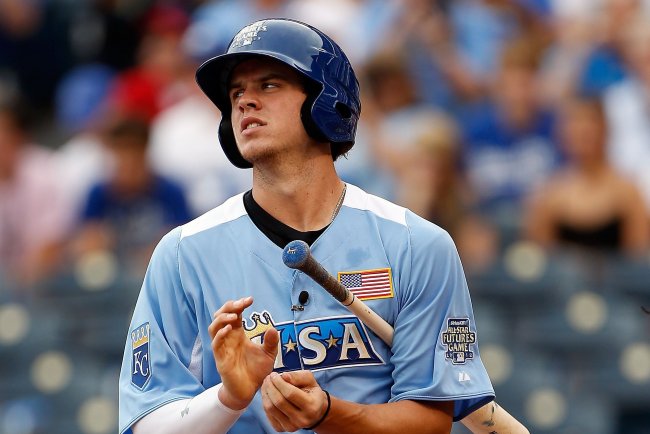 Jamie Squire/Getty Images
But even if Myers doesn't reach his ceiling and turn in to a franchise player, it's probable that he'll still be substantially more valuable than Shields and Davis.
Myers plays the corner outfield spots and third base. Obviously, the Rays are already already set with Evan Longoria at the hot corner, so he'll probably stick to the outfield in the MLB.
The going rate for free agent corner outfielders between 2007-2011 is between $6-$7 million per fWAR. Even if Myers is just a fringe-average player during his first three seasons in the MLB, he'll be worth about 7-9 fWAR. But because he won't be arbitration eligible until after three seasons of service time—the Rays won't let him become a super two—he'll be paid near the league minimum ($480K).
Depending on his actual salary, that means he'll earn just $180-$300 thousand per win above replacement player. That's a massive discount verses the free-agent market.
Shields and Davis on the other hand, will probably be much less valuable than Myers—if their lucky—and much, much less valuable otherwise.
Over the next two years, if Shields performs at the same level he has in his previous three seasons, he'll post between 6-10 rWAR for $21 million. That's 2.1 to 3.5 $/rWAR, which is a sold discount over the $4.7 million price tag on the free-agent market, but about a 10th of the value of Myers' projected production.
Davis is more of a wild card, considering he has been barely above replacement in the rotation throughout his career. He still has plenty of potential, but for him considered a valuable acquisition, he'll have to perform significantly better than he has during his three-year MLB career.
What makes this trade even more painful for the Royals and even more of a steal for the Rays, is that it isn't just a straight exchange of Wil Myers for Shields and Davis—that would be a tough price for the Royals to pay, but still stomach-able. It's much worse. The Royals also sent two top-pitching prospects, Mike Montgomery and Jake Odorizzi, as well as a promising young third baseman.
A hard-throwing lefty with a good sinker and a solid arsenal of secondary pitches, 23-year-old Mike Montgomery is a potential front-end starter. He has been rated as a top-40 prospect by Baseball America for the past three seasons, and though he stumbled in the hitter-friendly Pacific Coast League last season (triple-A), he still has age and talent on his side.
As a southpaw with a sinking heater that touches the mid 90s, plus secondary stuff and a first-round resume, he's almost a can't-miss. Even if he doesn't develop in to the Cole Hamels-type pitcher, he has the ability to turn into, he should still be a formidable bullpen arm or backend starter at the very least.
A fellow top prospect, Odorizzi is similarly gifted. His ceiling isn't as high as Montgomery's, but he's a superb athlete who repeats his delivery with machine-like efficiency and has at least solid command over four big-league pitches.
His fastball sits consistently in the low 90s with run, and he's a smart, aggressive pitcher. He too is a fairly safe bet to be a quality Major Leaguer, with the upside of a mid-rotation arm on a contender.
Leonard is the rawest prospect in the deal, but he's better than a throw-in. The former fifth-round pick has a rocket arm and plus power. Though he moved off shortstop upon turning pro last year, the 6'3" athlete has the makings of a very good power-hitting third baseman.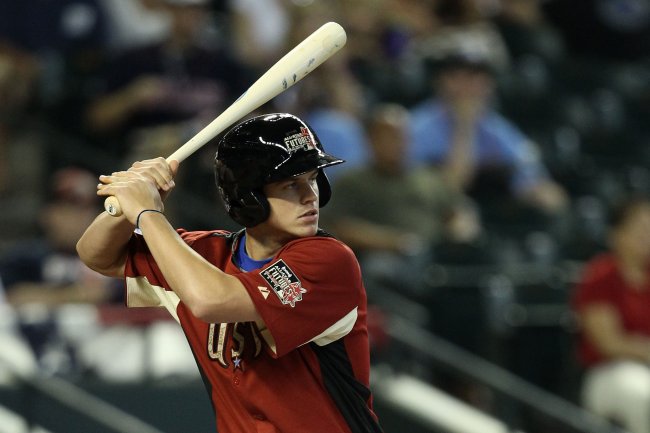 Christian Petersen/Getty Images
The odds of all four prospects turning in to everyday big leaguers is slim, but given the crop's talent, it appears likely that two of them will be very good players.
If Myers and Odorizzi turn in to 80 percent of what they have the potential to be, they should combine for 12-18 rWAR (modest estimate) by the end of their third MLB seasons. Earning slave wages, they'll be worth $170K-250K per win (or 0.17-0.25 $/fWAR). Once again, that's massive savings compared to Shields' and Davis value.
So, the Royals really got bilked.
Maybe the worst part of the whole deal is that they could've gotten comparable talent and held on to their top prospects. The 2012-2013 free-agent market still offers Kyle Lohse, Edwin Jackson, Anibal Sanchez and Ryan Dempster, all pitchers capable of playing at a rate nearly as good as Shields does. And, until a few days ago, top-shelf arms like Zack Greinke and Dan Haren were still on the market too.
Kansas City isn't in a big market, and the Royals have to spend their money intelligently if they want to build a winner, but Shields and Davis aren't free anyway. With a $61 million payroll, the Royals definitely could've dropped $12-$15 million to lure a pitcher like Haren or Jackson on a one-year or two-year contract.
In fact, they have more than enough budget room to spend extra to attract a pitcher who might have been scared off by the Royals' ugly annual performance.
If Dayton Moore had reeled in a quality free-agent arm, they would've had a much stronger long-term outlook. By holding on to Myers, Odorizzi, Montgomery and Leonard, Kansas City is effectively saving 10s of millions in salary and building a foundation that has true winning potential. Shields and Davis are great pitchers, but the price was far too steep.