7 Lessons from Manchester City's Dramatic 2-3 Derby Loss to Manchester United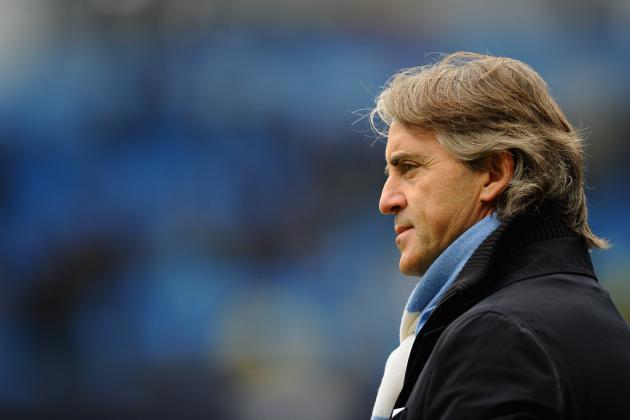 Laurence Griffiths/Getty Images

So, for all of Manchester City's efforts to come back from two goals down, their proud unbeaten record at the Etihad Stadium was brought to an end in the most dramatic fashion by their cross-town title rivals.
With two goals and an outstanding overall display, Manchester United's Wayne Rooney will go down as Man of the Match in Sunday's Manchester derby.
Yet he has become the supporting cast to Robin van Persie's all-star performance this season, proven once again as United's No. 20 stole the show with a last-gasp free-kick winner.
What can we make of the noisy neighbors in a feisty game?
Here are seven things we learned from City's dramatic 2-3 loss to United—and, as usual, feel free to have your say in the comments below.
Begin Slideshow

»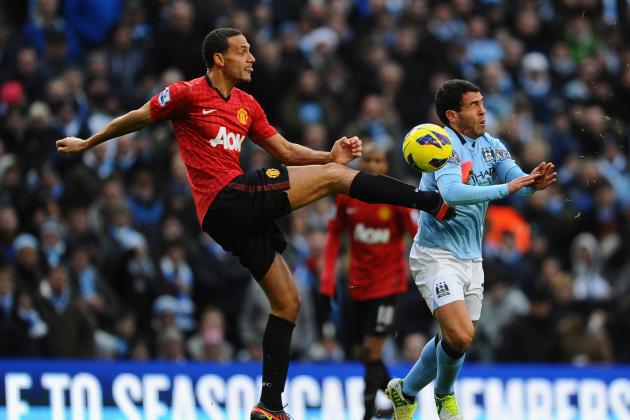 Laurence Griffiths/Getty Images

Total shots: 18-10.
Shots on goal: 9-3.
Corners: 8-4.
Possession: 56%-44%.
All the statistics backed City for an easy win against United on Sunday, and that's ignoring their respective defensive records going into the derby as well, which, at 11-21 total goals conceded, made United almost twice as bad defensively.
For large parts of the game, especially including the opening 15 minutes, City were comfortable in possession and dominant in the overall play.
After City had equalized via Yaya Toure and Pablo Zabaleta, United threw caution to the wind and left large gaps open in their defence, almost inviting City onto them as both sides went in search of a winner.
And yet.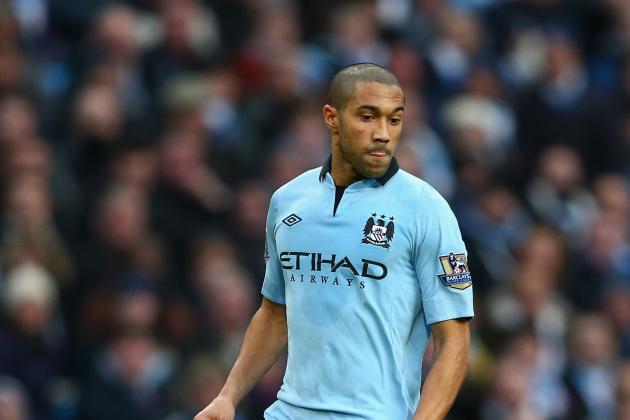 Clive Mason/Getty Images

So, what let in the three goals for City?
Simply put: defensive mistakes that could have and should have been avoided.
While Wayne Rooney's opener had a touch of fortune, in that his miscue ended up rolling into the far corner of the net, the build-up to the goal had "City too careless at the back" written all over it.
That was on the left.
Thirteen minutes later, Antonio Valencia and Rafael da Silva exploited the space that Gael Clichy had left open and crossed for Rooney to take United two goals up, in another glaring defensive mishap that left Joe Hart no chance.
Unfortunately, and most infuriatingly for City, it was Clichy who stole the show in the end. His inexplicable refusal to clear his lines under pressure from United's midfield, led to Carlos Tevez needing to chase back, help his colleagues and commit a cynical challenge.
We all know what Robin van Persie made of that free kick.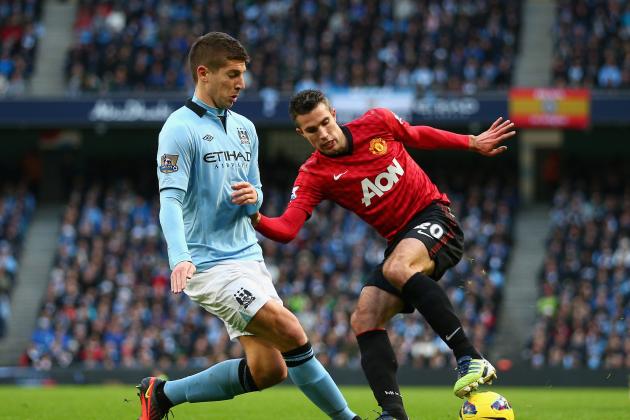 Clive Mason/Getty Images

Here's a worrying thing for City fans: For all of their riches and strength in depth in their midfield and forward lines, their defence is surprisingly threadbare.
This was made all too apparent when Vincent Kompany was forced off with an injury, after which Kolo Toure's introduction spread uncertainty all throughout the City back line.
Make what you will of Toure's appearance off the bench ahead of Joleon Lescott, but there is a silver lining amidst the gloomy defensive outlook: Matija Nastasic is a real diamond in the rough.
He has done this season what the hapless Stefan Savic was supposed to do for Roberto Mancini this summer: prove that young prospects can be as central to City's philosophy as established stars.
In an otherwise confused and panicky back four, Nastasic was the calming presence and showed composure in the tackle and a great positional awareness.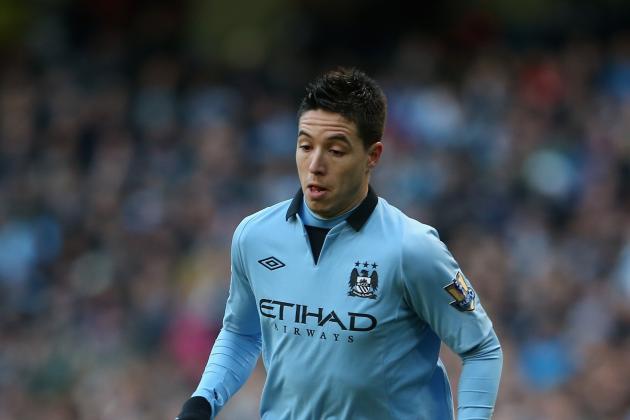 Scott Heavey/Getty Images

Manchester United's midfield was composed of Ashley Young and Antonio Valencia—who stayed wide for most of the match—and Michael Carrick and Tom Cleverley—who for the most part didn't assert themselves in the midfield in any way, shape or form.
So why, for all of City's statistical dominance, did they not seem to appear clearly superior in the middle of the park?
Taking into account the sobering reality that Yaya Toure can't be a one-man midfield monster machine and that David Silva is best when he flits between the lines, the main culprit has to be Samir Nasri.
Let's be frank: Nasri has been poor for Mancini all season, and it certainly doesn't help that the manager's midfielders are either injured or not good enough.
But it certainly doesn't excuse Nasri from not showing up at all, from practically refusing to help his fellow midfielders either in defence or in attack and from shirking his responsibilities in the defensive wall for Robin van Persie's free kick.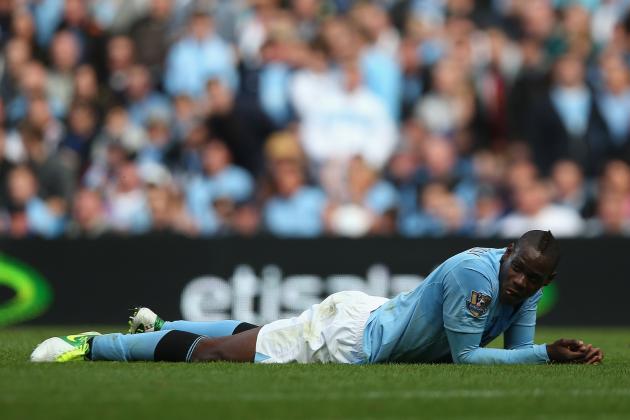 Clive Brunskill/Getty Images

It's clear that Mancini loves to make headlines when it comes to Mario Balotelli, and make headlines he did when he chose Balotelli ahead of the logically safer choice of Carlos Tevez.
But we can guess why he decided to stick with his enfant terrible: Balotelli is capable of influencing games through moments of greatness. He delivered a master-class performance and was at the crux of City's memorable 6-1 win at Old Trafford last season; and last, but certainly not least, he can hit clutch penalties like no one else can.
Too bad that, so inevitably and again so unfortunately, it was the infuriating side of Balotelli that turned up on Sunday.
He was lethargic, uninterested and appeared over-awed by the occasion. It was Carlos Tevez who swung the game in City's favor for over 30 minutes after he came on in place of No. 45.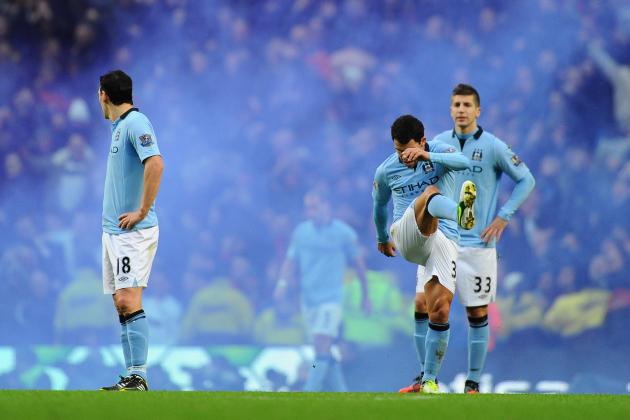 Laurence Griffiths/Getty Images

Whether it's deserved or not, the reality after Sunday's derby is that City are six points behind United in the Premier League table, 16 games into the 38-game season.
Whether United's defensive troubles are going to last until Sir Alex Ferguson decides to strengthen in January or Nemanja Vidic returns to bolster his defence, or for the rest of the season, it is an ominous sign that his attack keeps firing in the goals to offset the goals conceded.
Which means that City are left with a mountain to climb in the 2012-13 season's title race.
The blame has been assigned to a City board that failed to strengthen significantly in the summer and build on last season's title success, but a strike-force that scored and gelled so impressively in 2011-12 has come unstuck with the bulk of the team unchanged.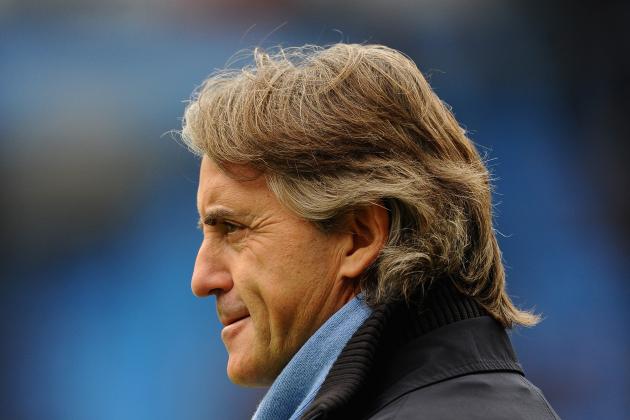 Laurence Griffiths/Getty Images

Does this mean that Roberto Mancini is out of his depth at the upper echelons of the Premier League? Or that he is buckling under the pressure? Or that he's simply not the man that Manchester City need to launch a dynasty at the Etihad?
Or, with rumors of Jose Mourinho or Pep Guardiola arriving at City increasing in intensity, that Mancini's days at the helm of the noisy neighbors are numbered?
It has been an alarming slide for Manchester City this season, but Mancini can't be the only one to take the blame.
If Sheikh Mansour and the City hierarchy are to give Mancini one last chance to push for the title, they must back him in January and finance game-changing signings, not mediocre English players to sit in the stands.
For extensive coverage on the Premier League, please check out my Bleacher Report writer's profile. Also stay tuned for my weekly round-up on English football on SoccerWithoutLimits.com. Follow me @theredarmchair.