10 Things Learned from UFC on FOX 5 and Major Headlines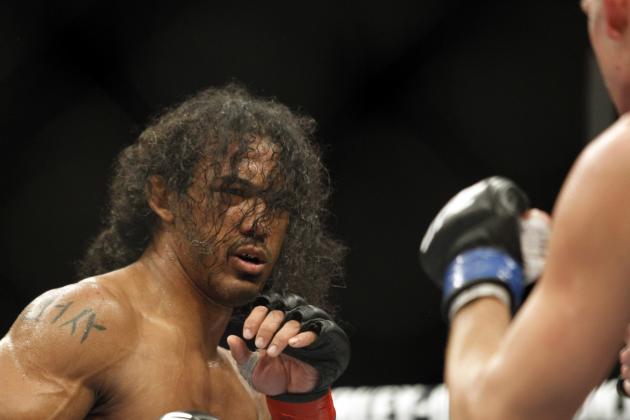 Joe Nicholson-USA TODAY Sports
Henderson dominates in retaining his championship.
Unlike most of my UFC recaps, this will be different because of the UFC on Fox 5 card having only four fights. Also there were a few major announcements from Dana White's press conference on Thursday that I want to cover regarding Ronda Rousey and George St. Pierre.
UFC on FOX 5 was the best FOX card on paper and it instantly delivered the best showing on FOX. It wasn't the best UFC event of the year because of the lack of finishes but the fights were very entertaining with some major breakout performances.
It would have been nice to see less one-sided fights, but there weren't any fights that made you want the clock to hit zero already like Matt Hamill versus Roger Hollett at UFC 152. I'd rather watch a Joe Rogan five minute promo hyping up a card three straight times than watch that fight again. Now here are the highs and lows that we saw and learned from UFC on FOX.
Begin Slideshow

»
Ron Chenoy-USA TODAY Sports
Henderson landed some heavy elbows while keeping Diaz against the cage.
I've been skeptical of Benson Henderson as champion. Whenever you fight Frankie Edgar, you most likely aren't going to win in dominant fashion, but something didn't feel right.
Edgar is too quick and intelligent to be really punished too much, but Henderson's performance against Edgar at UFC 150 was really lackluster.
I've never doubted Henderson as a fighter because he has proven how much of a physical specimen he is with his athleticism, takedown ability and wide variety of kicks. He wasn't putting it all together against Edgar and he wasn't being the same aggressive fighter that he was against the likes of Jim Miller and Clay Guida.
That changed Saturday and Henderson became the aggressor. He dominated Nate Diaz with a variety of kicks especially targeting his ankle so Diaz couldn't put more force into his punches.
Then he used his size advantage for his takedowns with some vicious ground and pound. What surprised me the most about Henderson was his stand up knocking down Diaz on two occasions with a left jab then a right hook. Everything came together for Henderson and he shut all the critics up, including myself, after his performance.
I'm not sure who can beat him right now, although a match up with Anthony Pettis would be Henderson's biggest threat. Regardless, Benson really looked unstoppable and could become as dominant as Edgar was in the lightweight division as champion.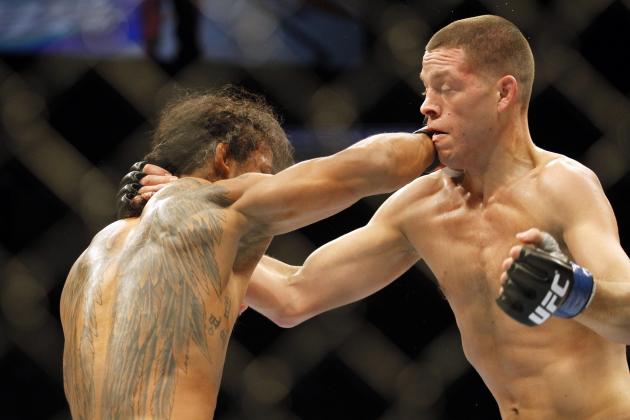 Joe Nicholson-USA TODAY Sports
A first-round eye injury was the start of a dismal night for Nate Diaz.
Nate Diaz has been on a roll and I did choose him to win by decision. After the way Henderson fought Edgar, it seemed like Diaz would have opportunities to work his stand up and really land some serious combinations on Henderson.
Unfortunately for Diaz, Henderson knew the threat of giving Diaz space and continued to stay within the clinch or on the ground for most of the fight. It left Diaz outmatched since Henderson is bigger and Nate isn't very athletic. Similar to his brother Nick, he doesn't like to move around too much and likes to keep it in stand up where he can out strike you with punches.
Instead he couldn't adjust to Henderson constantly hovering over him and struggled to muster any offense. It also didn't help that he couldn't see clearly after the first round, according to Diaz.
He was impressive using his Jiu-Jistu on the ground forcing Henderson to never truly get his ground and pound striking going. Nate also executed some nice judo throws, but that didn't really lead to anything on the ground. Nate fought well but similar to Carlos Condit from last month, he couldn't last against a more powerful fighter that can wrestle. Nate still has a great future ahead of him but you may see him possibly bulk up to avoid getting tossed around like that again.
Joe Nicholson-USA TODAY Sports
Gustafsson was the aggressor for most of the fight.
It was another breakout performance from Alexander Gustafsson that many people expected. Despite a few analysts worried about his lanky frame against someone like Shogun, Gustafsson dominated all three rounds and really showed that he's ready for a main event in the future.
Everyone knew about how dangerous his punches are, but it was knees and take down ability that really shined. Similar to Jon Jones, Gustafsson is very versatile with his striking and always keeping his opponent guessing.
It was shocking to see someone with the credentials and experience, like Shogun, consistently struck with the same flying knee to the jaw. His cardio was great and he kept going at Shogun being the aggressor. We've still not seen Gustafsson truly tested but we sure will see in his next fight.
I'll discuss how Shogun has lost his status in being a true top fighter next but it was a complete mismatch from the start. Other than the first two minutes, it was all Gustafsson and he really impressed.
Even though I've been impressed with him ever since knocking out Vladimir Matyushenko, I'm still waiting to see how his chin is and dealing with a striker that is in top shape. I'd like to see him fight the winner of Machida versus Henderson before possibly giving him a title shot in the fall of 2013. It would be a true test to see if Gustafsson is worthy of a title shot because right now I'm not fully convinced he can handle Jon Jones.
I'm starting to like him even more now and expect him to compete for the title in a year or so. The division needs new fresh faces with the likes of Shogun and Rampage Jackson heading towards the downsides of their careers and Gustafsson has proved to be the best young fighter in the division right now.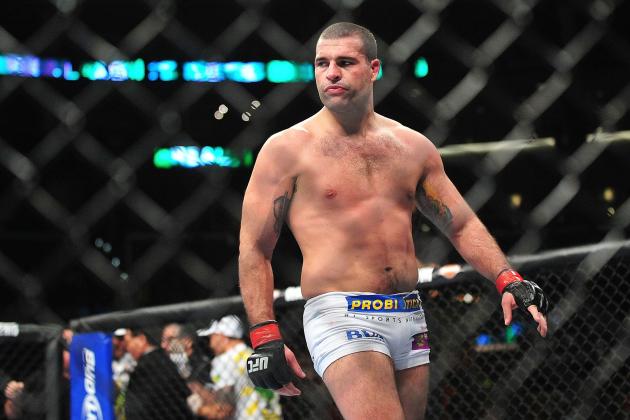 Gary A. Vasquez-USA TODAY Sports
Shogun couldn't take too many more strikes to the head.
He won't become an arrogant idiot that has turned into a clown but this is a start to a steep decline.
Shogun is one of the most accomplished light heavyweights in history and has had a terrific career, but just like many greats, he isn't going to last anymore against the top competition.
It has happened to the likes of Chuck Liddell, Tito Ortiz, Rampage Jackson and B.J Penn where they just didn't have enough left; such as cardio, power and speed in major fights.
Shogun looked impressive in the first few minutes with an impressive leg sweep and a possible submission victory with a leg lock. It was something that didn't surprise me from the Brazilian Jiu-Jitsu specialist. Other than that, he looked gassed and very defeated.
He kept throwing the same right hook that looked threatening but eventually Gustafsson was dodging it with ease. I've noticed signs of Shogun's demise ever since his loss to Jon Jones.
I'm aware of his injuries outside of the Octagon, but there is no denying that he hasn't been in fighting shape in a while. His performance against Dan Henderson was memorable but he clearly lost.
He looked sluggish against Brandon Vera, which is never good for a fighter of Shogun's caliber. I'm not saying Shogun should retire, but it may be time to realize that he's not championship material anymore.
He could do what fighters like Wanderlei Silva and Antonio Rodrigo Nogueira do, either just fight in Brazil or fight other legends in fights that everyone can enjoy. Shogun is still very popular with the crowd strongly behind him, but the time has past for him to compete in title contending fights.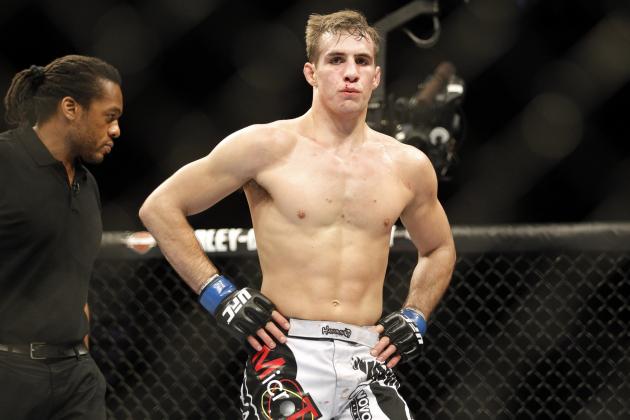 Joe Nicholson-USA TODAY Sports
Penn was no match for MacDonald.
Rory MacDonald has been impressive for the past year or so, but this was a statement victory.
It may not seem like a big deal, but MacDonald is 22 years old and was dealing with massive amount of jeers through out the fight.
Even though most people were picking him to win the fight, it was pretty shocking to see how calm he looked. He was in control through out the fight and never seemed threatened by Penn.
MacDonald used some unorthodox kicks early that drew some attention. Then he started to really target Penn's mid section, which is always a good idea against an older fighter.
He was starting to bully Penn into a corner and eventually began to do whatever he wanted. MacDonald may want to work on his taunting skills because the foot shuffle looked pretty odd. Just a minor complaint but other than that, MacDonald looked every bit as good as advertised.
Now after the fight, he called out Carlos Condit, which immediately drew buzz because that fight would have "fight of the year" written all over it.
Two fighters that are under 30 years old and at the top of their game fighting for a shot against Johnny Hendricks' No. 1 contender claim.
Condit will be looking for a top fighter to fight after his hard fought loss to George St.Pierre. MacDonald is a much better fighter to fight right now than Martin Kampmann or Josh Koscheck. This fight has history with Condit beating MacDonald a few years ago and this fight is main event worthy. Both fighters deserve it and hopefully will be talking about it come March when MacDonald wanted it.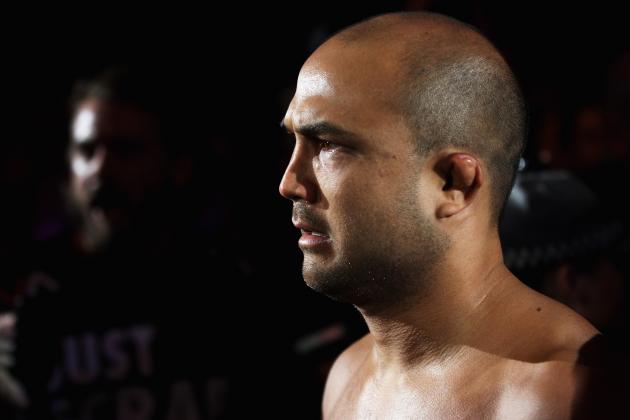 Mark Kolbe/Getty Images
Penn looks for answers after being dominated by MacDonald.
It was great to see him back in the Octagon, but that better be the last time he fights in the UFC.
It was painful to watch B.J. Penn just stand in a corner in pain, defending so weakly in the second round. It seemed like he was begging MacDonald for compassion after the punishment he took in the stomach and eye.
He was out matched in every aspect of this fight and its clear that he should be finished fighting. Penn has had a fantastic career and he deserves credit for finishing out his contract, but now let's hope he doesn't try to attempt to "rediscover his glory again" something that Tito Ortiz and Mirko Cro Cop did repeatedly.
Even Dana White said publicly that Penn should retire, which should send a message. Penn was still very loved by the crowd and will always be respected, but it took only until the second round to look gassed and defeated. Hopefully this is the end, because Penn has nothing left to offer.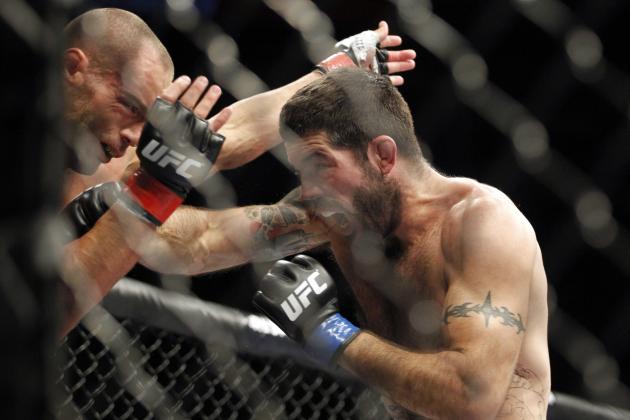 Joe Nicholson-USA TODAY Sports
Brown was the architect of a devastating knockout win over Swick.
Matt Brown was considered to be just a gatekeeper or journeyman coming into this fight against the ultra popular Mike Swick. It was interesting to see a technician like Brown be more aggressive than Swick. Brown seemed to be the aggressor, positioning Swick wherever he wanted.
Eventually Brown continued his winning streak with a simple hook that left Swick down for the count. It was an impressive win that I didn't see coming, which made it more of a surreal moment. I'm not sure where Brown goes from here, but he's quietly on a four fight-winning streak. Swick seemed to have more buzz going into this fight for bigger fight potential but Brown spoiled that. It was a good opener and it was the start of an exciting card.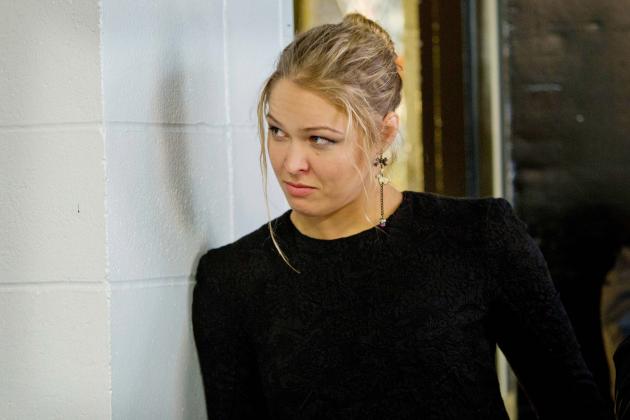 Bruce Kluckhohn-USA TODAY Sports
Rousey will be main eventing UFC 157.
I'm switching over now to the events that took place on Thursday's press conference. The main story is Ronda Rousey being put in the main event of UFC 157 versus Liz Carmouche for the women's bantamweight champion.
Many people are excited, which they should be, but there is some skepticism behind it. Despite the popularity of Rousey, many people want to see all out fights and this has the makings of a usual first round armbar submission victory for Rousey. This isn't the woman's fight that people want to see in Rousey versus Cyborg Santos, which we should see at some point in 2013. For now, it will have to be this fight but I'm still happy with it.
Dana White is smart by putting his new major star in the main event, while making a co-main event that is main event worthy for many other cards. It will be Lyoto Machida versus Dan Henderson, which will be a classic. Both guys are very popular and have proven from 2011 to have personal great achievements whether it was fight of the year with Henderson versus Shogun or Machida's front kick knockout on Randy Couture.
Both fighters can still compete at a championship level and it's the perfect placement on a card that could use a great co-main event. The main event should be very intriguing with how Rousey performs under all the pressure and how she can keep the women's division relevant.
She is a major star but it's going to be her performances that will make fans interested in a very limited women's division.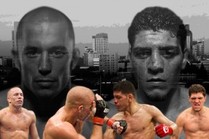 It has been spoiled on a few occasions, but 2013 will be the year it finally happens.
Another major headline that was announced was that George St-Pierre is going to fight Nick Diaz for the welterweight championship. It may come off sketchy because Nick is coming off a loss and yearlong suspension, but this is the fight that people have been waiting to see.
Unlike Chael Sonnen, Nick Diaz has put on impressive performances his entire career and didn't need to talk his way to the top. He may have his own personality that has made him a big star, but his fighting has got him to where he is today, something that Sonnen can't say.
I've heard that comparison on a few occasions and found it absolutely ridiculous that people would compare Diaz-St-Pierre to Jones-Sonnen. St. Pierre vs. Diaz will be a fight where you will probably see St. Pierre be more aggressive than he ever has been.
The personal hatred he has for Nick is massive, while Nick has always been a top guy and has been destined to win something major in the UFC. This is a fight that is going to be close and it will have people talking more about the fight than the actual trash talk compared to Jones-Sonnen.
Obviously this means that Johnny Hendricks has been pushed to the side, which I don't see any problem in. Hendricks is in no position to claim anything because he's still not proven enough to me.
His one punch knock out power is impressive but he's still very flawed and is someone that St. Pierre can tear apart. When you look at guys like Carlos Condit, they had to win up to four major fights before getting a title shot. Hendricks has won three major fights and thinks he's championship worthy.
He may sit out until he gets his title shot, which is his decision, but he needs to wake up from the fantasy that he's living on Nick Diaz's level. I'm all for competition to earn a title shot, but Hendricks needs to learn that he's not in the position to call shots.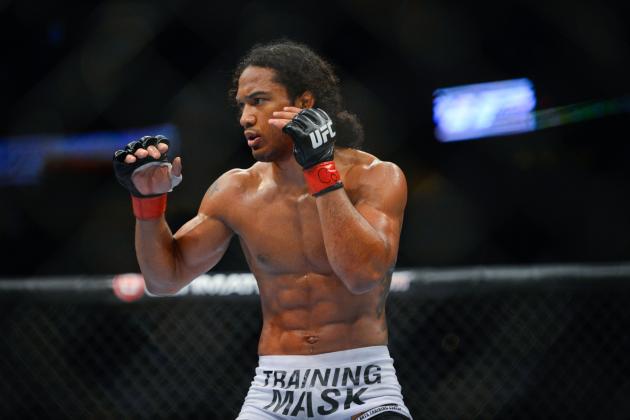 Ron Chenoy-USA TODAY Sports
Henderson now sports an 18-2 record.
I'm not going to pick submission or knockout of the night because the UFC has controlled that. I'm going to pick the most valuable fighter of the night and the worst fighter of the night.
The fighter that proved the most and had the best performance was Benson Henderson. Some people were very skeptical of him including myself and really believed in Nate Diaz could defeat him without even needing a decision.
Henderson dominated in every aspect of the fight despite a great effort from Diaz to withstand the onslaught. The worst fighter of the night has to go to B.J. Penn. He didn't show anything and just looked finished after talking about how he wanted to fight Rory so bad. The fight is three rounds and Penn only really fought for one round. He was extremely disappointing and it should be a sign to where he has to call it quits.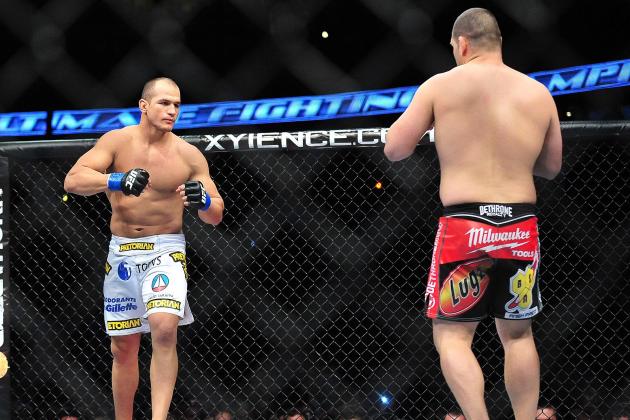 Gary A. Vasquez-USA TODAY Sports
The rematch is slowly coming upon us.
UFC on FOX 5 was an instant success and was the night where the up and comers shined.
UFC 155 is next on the list of major UFC shows coming up. The card has been dismantled due to injuries to Chris Weidman, Gray Maynard and Forrest Griffin. We will still see the blockbuster heavyweight title fight between Junior Dos Santos and Cain Velasquez that everybody wants to see, but the card itself looks very weak.
I'll still be watching the pay-per-view and will be on the edge of my seat for the main event. Also I'll be working on my personally made 2012 UFC awards of the year. I'm not sure what all of the awards will be yet, but it should be up to 10 awards where I'll have a top five and then an actual winner. That will be done during the first week of January. Until then, thanks for reading.
Allen Strk is a columnist on Bleacher Report. You can read more of my work on TJRSports.com covering the NFL, NBA, and MMA. You can follow me at @Allen_Strk on twitter.