SEC Basketball Power Rankings: Week 5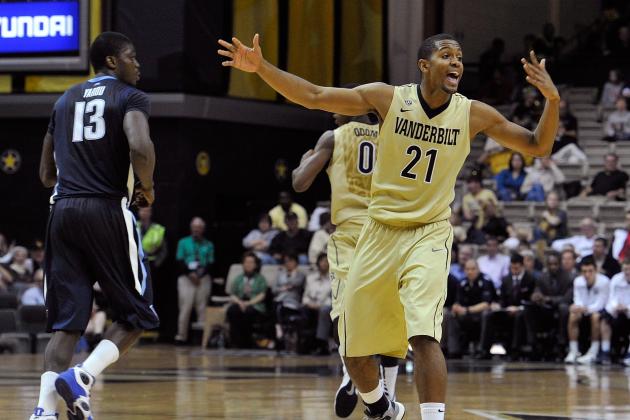 Frederick Breedon/Getty Images

It was a relatively quiet week in the SEC, with most teams playing no more than one game and few quality matchups on the docket.
As a result, the top of the rankings are relatively unchanged. Florida continues to look impressive, and the Gators remain a clear No. 1 in the conference.
There was a minor shakeup in the bottom of the rankings, as Vanderbilt finally showed some life with a road victory against Xavier.
Begin Slideshow

»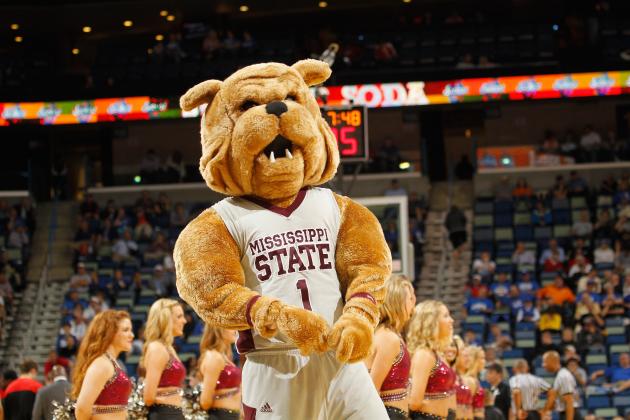 Chris Graythen/Getty Images

The Bulldogs won their only game of the week, but a sloppy win against a pretty mediocre opponent isn't enough to get Rick Ray's club out of the cellar.
It was good to see Mississippi State take care of business against Texas-San Antonio, winning 53-42 after scoring only 23 points in the first half. But the Bulldogs turned the ball over 18 times against subpar competition, and this team still certainly is not firing on all cylinders.
Wendell Lewis had another good game for the Bulldogs, putting up 20 points with an excellent 8-of-9 performance from the field.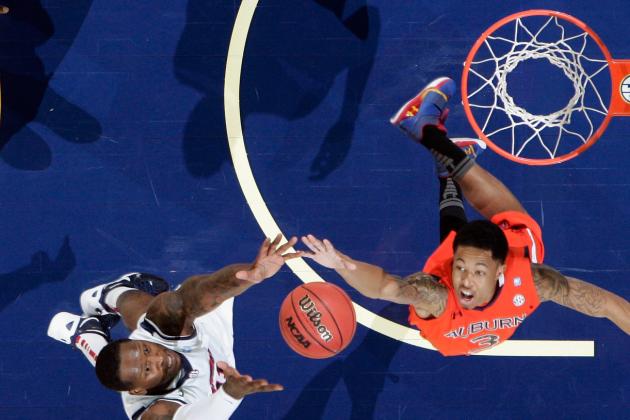 Chris Graythen/Getty Images

Auburn didn't play this week, but the Tigers drop a spot in the rankings due to Vanderbilt's victory over Xavier.
The Tigers have a few quiet weeks ahead, though they will eventually be tested by Illinois and Florida State prior to conference play. It has now been almost a month since Auburn's last victory, so they probably won't mind a softer near-term schedule.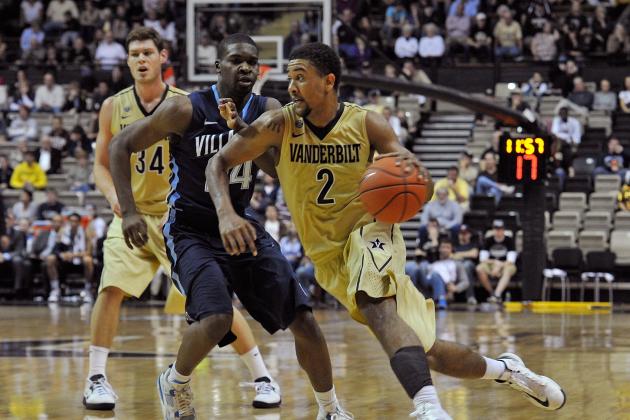 Frederick Breedon/Getty Images

The Commodores' overtime victory over Xavier was their best win of the season, but this is a team with a couple of really ugly losses on its resume.
Vanderbilt needs to show more consistency in order to separate itself from the bottom of these rankings.
Vanderbilt still isn't scoring, putting up only 54 points in regulation against Xavier, but the Commodores stepped up their defense in the second half and held the Musketeers to 21 points.
Kyle Fuller had a breakout game for the Commodores, scoring all 12 of the team's overtime points and 25 in the game.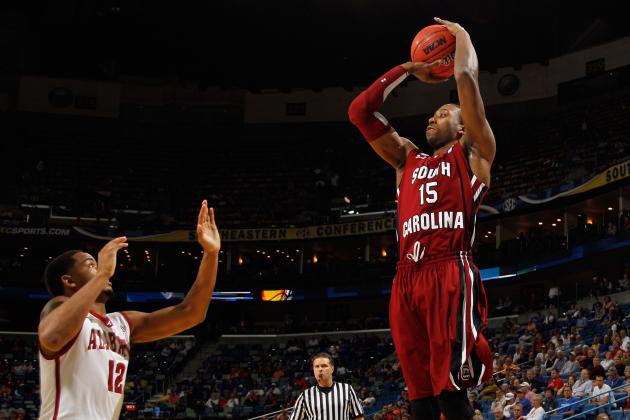 Chris Graythen/Getty Images

The Gamecocks continue to fatten up on cupcakes, but while they lack anything resembling a quality win, South Carolina has also avoided too many unsightly losses.
The Gamecocks continued that trend this week, putting up 91 points against Jacksonville to win their only game. South Carolina doesn't really have another challenging game on the schedule ahead of SEC play.
Michael Carrera had his best game in a while, notching 17 points and nine rebounds in the victory. He was able to stay out of foul trouble as well, which is a good sign given his early-season struggles.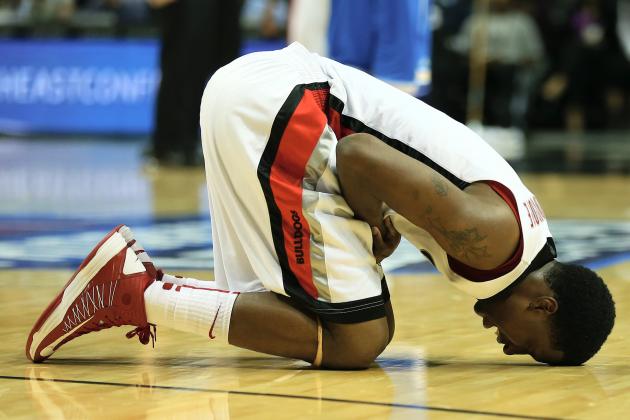 Elsa/Getty Images

Not much changed this week for Georgia, as the Bulldogs once again lost a competitive road game against a solid but unspectacular opponent.
This week's victor was Georgia Tech, as the in-state rivals built a big first-half lead over the Bulldogs and held off a late Georgia run. Georgia struggled on offense yet again, shooting 31.6 percent in the loss.
Kentavious Caldwell-Pope was again the team's leading scorer, but he shot very poorly once again, needing 18 attempts to notch his 16 points.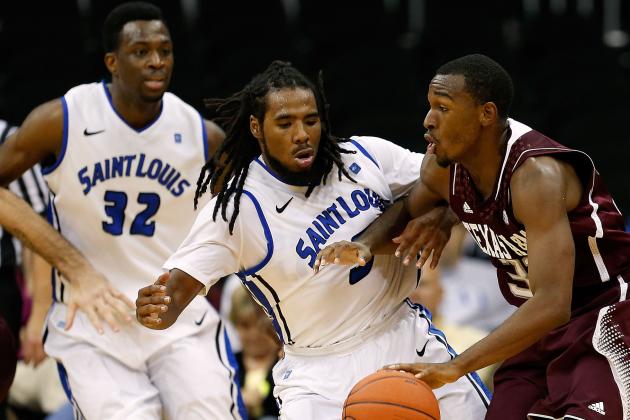 Jamie Squire/Getty Images

The Aggies are now 7-1, but they still haven't really done anything to validate their gaudy early-season record.
This week saw another win that was a bit closer than it should be against subpar competition, as the Aggies needed a late run to seal the deal against Stephen F. Austin. Texas A&M actually shot the ball pretty well, but they managed only nine assists compared to 14 turnovers.
Elston Turner missed a large portion of the first half of the Stephen F. Austin game due to injury, but he was able to log 21 minutes once he entered.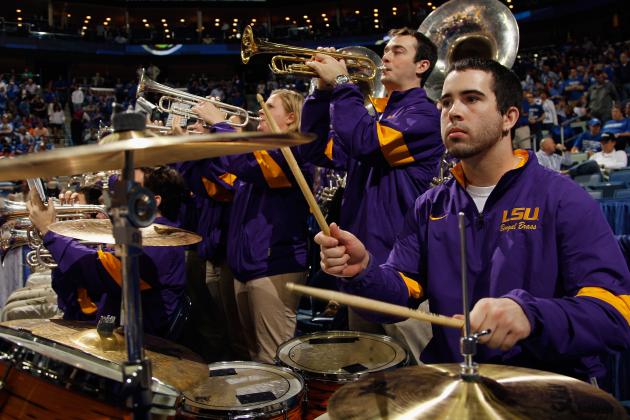 Chris Graythen/Getty Images

The Tigers had the week off, and they are now one of only two remaining undefeated teams in the SEC.
LSU still does not have a marquee win, but most teams within the conference have at least one ugly loss on their resumes at this point, and the Tigers clearly do not.
The schedule does start to pick up for the Tigers, with a few challenging road games upcoming.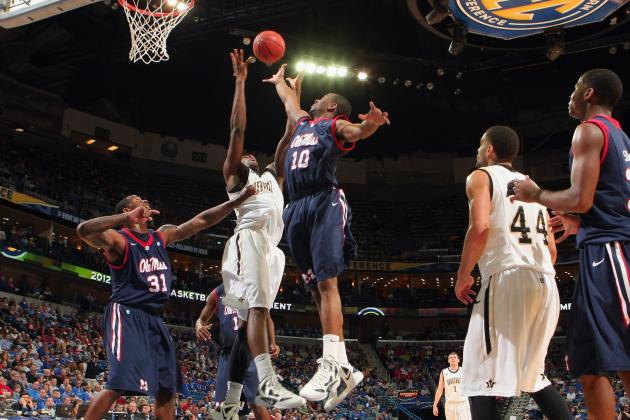 Chris Graythen/Getty Images

Ole Miss took to the road for the first time this year Saturday, and the result was the Rebels' first loss of the 2012-13 campaign.
The Rebels were tied late against a solid Middle Tennessee State club, but the Blue Raiders outplayed Ole Miss down the stretch.
While this was by no means a bad loss, the game represents one of the few opportunities for a quality win on Ole Miss' non-conference schedule. The Rebels are now relying on a big performance in the Diamond Head Classic, which includes a potential semifinal matchup with Arizona.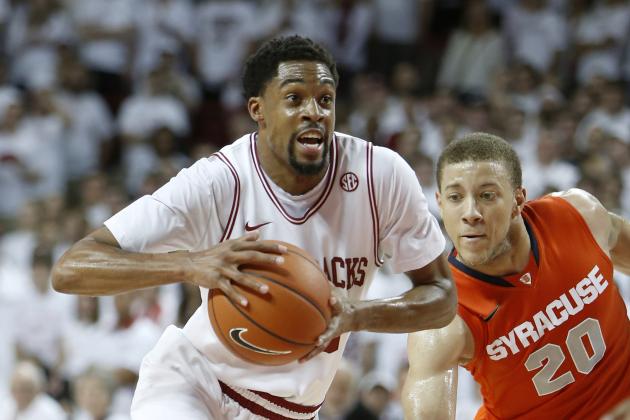 Wesley Hitt/Getty Images

The Razorbacks didn't net the big fish this week, but Arkansas finally got something out of what has been a very challenging recent schedule.
Arkansas' 13-point road loss to Michigan was perfectly acceptable, and the Razorbacks' early-week victory over Oklahoma was a much-needed one. It remains to be seen how good the Sooners will be, but Arkansas simply could not afford to continue its losing streak.
Marshawn Powell had a huge week for Arkansas, scoring 51 points in the Razorbacks' two games and 33 in the Oklahoma victory alone.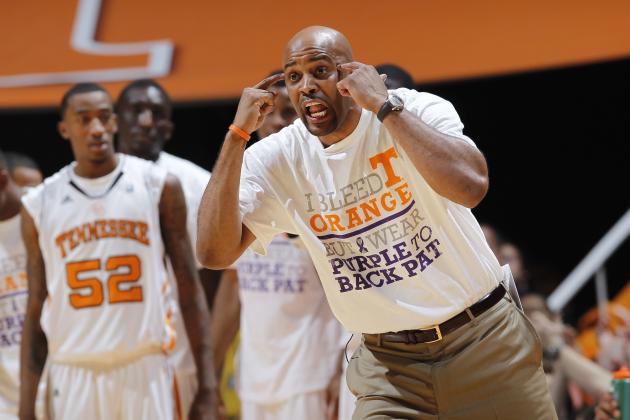 Joe Robbins/Getty Images

Tennessee finds itself in the same position it was in last week, struggling to find answers on offense after an ugly road loss against a solid defensive team.
This week's opponent was Virginia, which held the Volunteers to 38 points in an eight-point Cavaliers victory. The Vols have now totaled 74 points in their last two games while somehow keeping both contests close.
The Volunteers clearly miss Jeronne Maymon, as they hope his eventual return will enable them to get back to their post game on offense.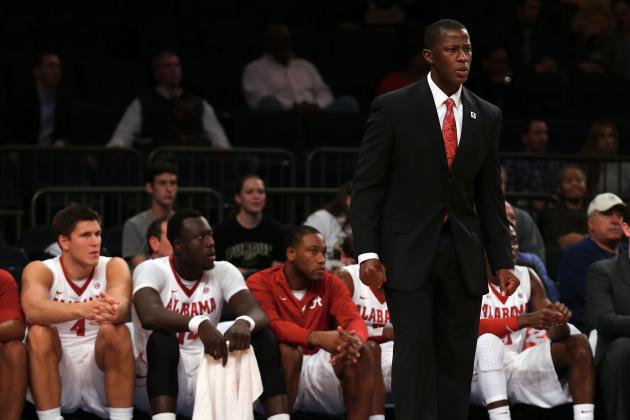 Elsa/Getty Images

This week saw another tight defeat for the Crimson Tide, and while Alabama is still an upper-echelon SEC team, its hot start to the season is starting to lose some of its luster.
A loss to Dayton is not a "bad loss," but at the same time, an elite SEC team should probably win this game at home. Alabama was outplayed during much of the game, and for the most part, the game was not as close as the final score indicated.
The Crimson Tide saw balanced scoring against the Flyers, which is often a good sign, but Alabama only shot 37 percent from the field.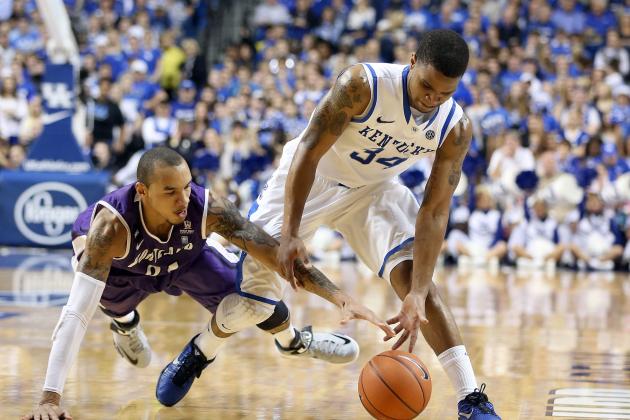 Andy Lyons/Getty Images

Kentucky got back to its winning ways this week with a couple of easy victories.
It's hard to blame Coach Cal for putting a few cupcakes on the schedule, as the Wildcats always challenge themselves in non-conference play, and this year has been no exception. But wins over Samford and Portland won't move the needle much for this team.
The lopsided victories enabled a variety of Wildcats to stuff the stat sheet, but Alex Poythress' combined 13-of-17 shooting was particularly impressive.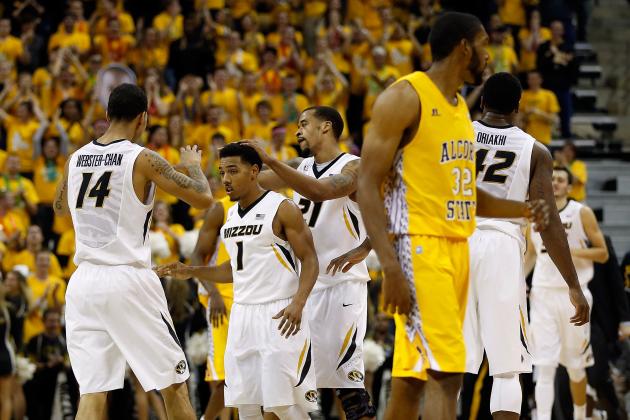 Jamie Squire/Getty Images

Missouri also dined on cupcakes this week, so not much has changed in the race for the No. 2 ranking in the SEC.
Victories over Southeast Missouri State and Tennessee State came easily enough for the Tigers, who still have games against Illinois and UCLA to look forward to later in December. Yes, Missouri took a while to pull away in its first game of the week, but the Tigers were not exactly taken to the wire.
Laurence Bowers continues to score the basketball, notching 44 points in this week's two games.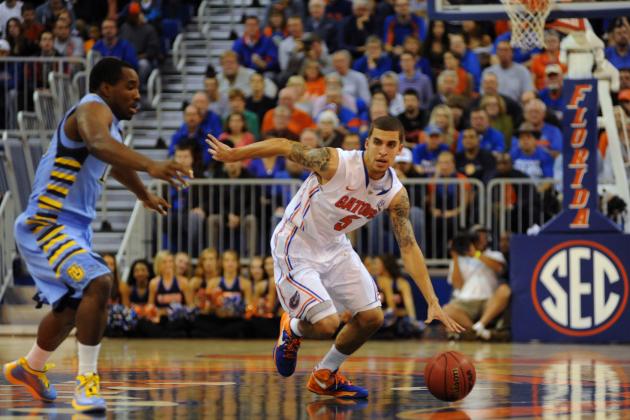 Al Messerschmidt/Getty Images

Another week, another easy victory for the class of the SEC.
This week's victim was Florida State, as the Gators held their in-state rivals to 15 first-half points en route to an easy 25-point victory. Florida forced 22 Seminole turnovers and held their opponents to 35-percent shooting.
Right now, there isn't an SEC team that is playing close to as well as the Gators are.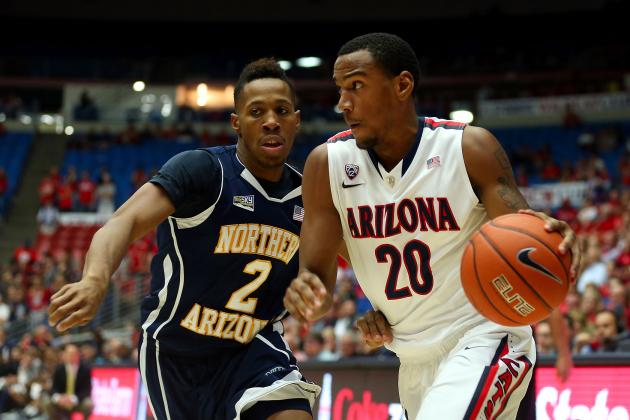 Christian Petersen/Getty Images

1. Boise State vs. LSU: Friday, December 14, 9 p.m.
Tennessee-Wichita State is probably a more noteworthy matchup, but this game represents the first big test of LSU's season. The Broncos have already beaten Creighton on the road this year and played Michigan State close, so they will be tough to beat at home.
2. VCU vs. Alabama: Saturday, December 15, 4 p.m.
Credit Alabama for playing this game on the road, but it will be no easy task for Anthony Grant's new club to beat his old one. Given the Crimson Tide's recent struggles, they could really use a win here.
3. Arizona vs. Florida: Saturday, December 15, 10 p.m.
This game will almost certainly have no impact on next week's rankings, but it is definitely this week's marquee SEC matchup. The Gators will once again put their perfect 2012-13 record to the test, and a win here could go a long way toward netting Florida a potential No. 1 or No. 2 seed in March.