Which 2013 Duke Recruit Will Have a Bigger Impact: Matt Jones or Semi Ojeleye?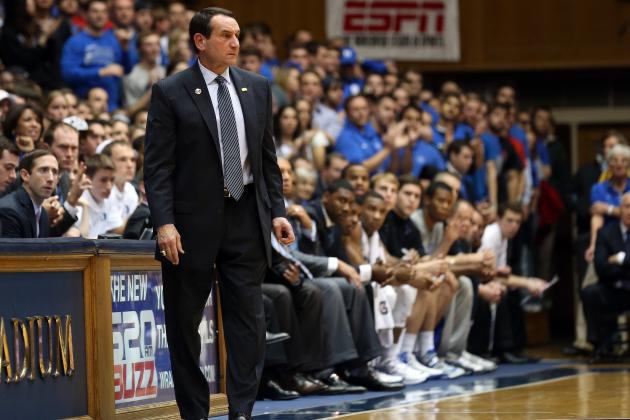 Streeter Lecka/Getty Images

It seems like every year Mike Krzyzewski and the Duke Blue Devils have the Midas touch when it comes to hauling in stellar recruiting classes. And it's looking more and more like 2013 is no exception.
So far, Duke has two basketball recruits who have committed to play in Durham next season: Matt Jones and Semi Ojeleye. Both players possess a ton of talent and potential, as Rivals.com has rated them as four-star players.
But which of these future Dukies will go on to have a greater impact playing for Coach K?
It's time to take a look at what each of these bright, young talents bring to the court and answer this pressing question.
Begin Slideshow

»
Duke has a great history of impeccable sharpshooters, and it appears Matt Jones is the next in line.
A high school senior shooting guard out of DeSoto, Texas, Jones certainly possesses a great shooting stroke. That stroke already has some Duke fans on the message boards comparing Jones to former legendary Blue Devil J.J. Redick.
Those comparisons may be a bit ridiculous, considering Jones has yet to play one second in a Duke uniform and Redick is school's all-time leading scorer. Nevertheless, it's easy to see why Duke fans are excited about Jones' impending arrival to campus.
He's got good size at 6'4" and can get to the rim occasionally, along with killing opponents from beyond the arc. One knock on Jones' game is that he's not considered the most athletic guard out there, according to some scouts.
Big deal.
Redick wasn't the most athletic of guards out there, either, and it still turned out pretty well for him and Duke.
The bottom line is that Jones has the size, stroke and balance in his offensive game that Coach K loves. He'll have a big impact as a Blue Devil on the court and potentially an even bigger one off of it if he can convince best friend Julius Randle to commit to Duke, also.
Matt Jones will bring the swagger and scoring from the outside for Duke.
Meanwhile, Semi Ojeleye will bring the grit and muscle down low for Mike Krzyzewski in the future. Ojeleye is a 6'6" small forward who hails from the plains of Kansas (the town of Ottawa, to be more specific).
In the recruiting world, Ojeleye is viewed as the prototypical interior banger. Eric Bossi, one of the recruiting experts over at Rivals.com, labeled Ojeleye as one of the 10 most physical prospects in the class of 2013.
Here's what Bossi had to say about Ojeleye:
The recent Duke commit is a power wing who has the strength of an interior player and build of a football player. He seeks contact around the rim, plays strong and isn't going to get pushed around as a freshman.
Not only can Ojeleye get it done down low, he can occasionally step out and drain a three-pointer. But don't get Ojeleye confused with sharpshooters like J.J. Redick or Andre Dawkins. Scouts think Ojeleye still needs to work on his scoring touch and ball handling abilities. Still, it's easy to see why Ojeleye is such an intriguing prospect in the eyes of the Cameron Crazies.
Ojeleye's power and athleticism will be a welcomed addition to Duke's frontcourt, given the inevitable graduation of seniors Mason Plumlee and Ryan Kelly.
And the sooner he can contribute the better, since it certainly won't be easy replacing Plumlee and Kelly.
Trying to say whether Matt Jones or Semi Ojeleye will have the better Duke career may be like comparing apples to oranges.
Both players are expected to contribute to the Blue Devils in different ways. Jones will do his damage from the perimeter, while Ojeleye will cause problems for opponents from the interior and the wings.
However, Jones has the chance to become the more productive player at Duke because Coach K's offensive system is very friendly to players like him. Blue Devils with elite shooting ability thrive under Krzyzewski.
If you don't believe that statement, just go ask J.J. Redick, Andre Dawkins, Seth Curry and Jon Scheyer, among many other Duke long-range snipers. Putting Jones in this kind of system could allow him to have a great career in Durham.
Of course, that's not to say that Ojeleye will be chopped liver at the collegiate level. Hopefully for Coach K and Duke fans alike, both Jones and Ojeleye will go on to have great runs while playing at Cameron Indoor Stadium.